Finder is committed to editorial independence. While we receive compensation when you click links to partners, they do not influence our opinions or reviews. Learn how we make money.
BMW Z4 car insurance rates
What to expect when insuring your BMW Z4
Compare car insurance quotes
Enter your ZIP code below and click Compare to see the cheapest rates in your area.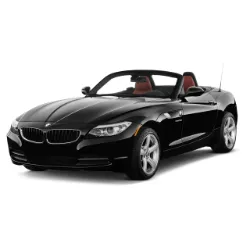 Car insurance rates for the BMW Z4 vary depending on your provider, driver profile, model year and the level of coverage, but let's talk averages. The national premium for insuring a BMW Z4 is around $160 a month, which comes to $1,920 a year. The state with the cheapest rate is Maine at $96 a month, while the most expensive is Georgia, where you can expect to pay around $279 a month.
When you're comparing coverage, be sure to look at your state's specific requirements. In states like New Jersey and Michigan, car insurance is notoriously expensive, no matter what make or model you drive.
Discover coverage that's broader than competitors, valuable discounts up to 30% off and perks like shrinking deductibles that reward no claims.
Broad coverage, including for custom car parts or ridesharing
Transparent pricing tools that help you buy within budget
Accident forgiveness on small claims or for staying claim-free
Stack a variety of discounts for multiple cars, autopay or homeownership
Compare insurance for your BMW Z4
BMW Z4 car insurance rates
To put this into perspective, the average 25-year-old driver in the US spends $198 a month on car insurance, or $2,374 a year. In New York, residents pay on average $98 a month, or $1,173 a year. Based on these numbers, insuring a BMW Z4 is generally more costly than covering your average vehicle.
| Model | Monthly insurance rate | Base car price |
| --- | --- | --- |
| 2 Series | $238.00 | $33,150 |
| 3 Series | $178.00 | $33,450 |
| 4 Series | $238.00 | $41,950 |
| 5 Series | $169.00 | $51,200 |
| 6 Series | $160.00 | $77,600 |
| 7 Series | $167.00 | $81,500 |
| i3 | $181.00 | $46,250 |
| i8 | $161.00 | $143,400 |
| M2 | $238.00 | $52,500 |
| M3 | $167.00 | $64,000 |
| M4 | $159.00 | $66,200 |
| M6 | $161.00 | $113,700 |
| X1 | $179.00 | $33,750 |
| X3 | $180.00 | $40,050 |
| X4 | $238.00 | $45,550 |
| X5 | $178.00 | $56,600 |
| X6 | $173.00 | $62,500 |
How to compare insurance for the BMW Z4
When you're comparing insurance for the BMW Z4, take these factors into account:
Price. To ensure you're getting the most value out of your insurance, decide how much coverage you want, and then use that sample to compare prices for different providers.
Deductible. The higher your deductible, the lower your premium — and vice versa. Choose a number that suits your budget and situation. Compare the cost of parts most likely to need replaced based on your model year and driving habits, and how much you'd have to pay out of pocket to fix them.
Minimum coverage. Car insurance is legally required in all states except New Hampshire and Virginia. You'll most likely need liability protection before you can hit the road, but be sure to research the ins and outs of your state's requirements.
Additional coverage. Beyond basic protection, you can opt into a slew of extended coverages. Since repairs can be expensive with the BMW Z4, you might want to add collision coverage to your policy to cover those expenses. And if you live in an area with high crime or prone to flooding or rock slides, comprehensive coverage may be something to consider. Pick a provider that offers the additional coverage you need.
Extras. Not all providers allow you to dress up your policy with features like accident forgiveness, vanishing deductibles and roadside assistance. If these extras are important to you, ask questions. Insurance carriers should readily tell you what extras are available.
Restrictions. Read the fine print. Since the BMW Z4 is a sports car, some providers may not cover teen drivers. Others may have restrictions on ridesharing or traveling out of the country. Find out about these now, to avoid any gaps in coverage or denied claims later.
Manufacturer offers or loyalty discounts. Are you in the military? BMW offers military members discounts when they lease or purchase a new BMW. USAA members and their families living in the US may be eligible.
Warranty. A transferable four-year and 50,000-mile basic warranty comes standard with any new BMW Z4. Powertrain coverage is included in this, instead of being separated like it is with similar manufacturers. Find out what's covered by your warranty to avoid paying extra for coverage you don't really need.
The lowdown on the BMW warranty
BMW is generous with its maintenance and warranty plans. With the Z4, the manufacturer goes above the industry standard, offering the following:
Basic warranty: 4 years/50,000 miles
Maintenance warranty: 4 years/50,000 miles
Powertrain warranty: 4 years/50,000 miles
Roadside assistance coverage: 4 years/unlimited distance
Corrosion performance warranty: 12 years/unlimited distance
What factors affect car insurance for a BMW Z4?
Your premium is a product of your provider, driving history, where you live and the car you drive. Carriers put their own emphasis on elements like mileage, body styling and the car's engine. For a BMW Z4, the insurance rate is affected by the following factors:
Body type. This car is a two-door roadster. This means it'll probably be more expensive to insure than a sedan, but less than a high-end luxury car.
Fuel option. The Z4 is powered by petrol. Since 2011, the model has been equipped with a turbocharged engine.
Type of car. The BMW Z4 is classed as a roadster or sports car, which are generally pricier to insure because of the cost of repairs. That being said, the new model is launching in 2019, so the cost of insuring older models may drop.
Likelihood of theft. By all reports, the Z4 is not a frequently stolen vehicle. In comparison, BMW's midsize sedan, the M5, has a high theft rate.
Cost of repairs. The Z4 is a luxury sports car, so replacing the interior or repairing body damage can be costly. BMW has a pretty generous warranty system for defects, though.
Safety features. The car has safety features, like airbags and brake assist, that can mitigate the damage to occupants and the vehicle itself in case of an accident. This may help to cut the cost of insurance.
Driver factors
When calculating your premium, your provider looks at your driving history and any violations, accidents and claims. If your driving record is free from major violations in the past three to five years, you'll most likely be rewarded with a better rate. The carrier will also assess your nominated drivers. If your teen or someone with a few blips on their record will be driving your car, that may impact your rate.
Other factors that affect your rate include:
Your gender and age
Where you live
Whether you own your home
Your credit score
Does the BMW Z4 qualify for discounts?
Depending on your provider, this model might be eligible for auto insurance discounts. Typically, these kinds of discounts can slash the cost of your insurance by 5% to 30%.
These are some discounts that may apply to the Z4:
New car discount
Anti-theft discount
Anti-lock brake discount
Passive restraint discount like airbags and motorized seatbelts
Reliability and safety ratings for the BMW Z4
The safety and reliability of your car could be at the top of your list of priorities.
Like most luxury sports cars, the 2016 Z4 didn't undergo crash testing by the National Highway Traffic Safety Administration or the Institute for Highway Safety. However, US News awarded the Z4 a score of 7.8 out of 10 in its 2016 Luxury Sports Cars category. This score reflects reliability data and a range of features, including safety.
The Z4 is equipped with standard safety features, including:
Anti-lock brakes
Traction control
Electronic stability control
Four-wheel disc brakes
Driver, passenger and front-side airbags
Adaptive headlights
Motorized seatbelts
Front and rear parking sensors
If you want to invest in extra safety features, you can. Since these reduce the chance of injury or damage in case of an accident, they may lower your premium. To explore this option, ask your insurer about the safety and security features you can add in return for a discount.
The BMW Z4 has been around since 2002, and two generations of the model have hit the market in that time. The brand worked through issues with the vehicle as they arose, such as steering, fuel and cooling system problems. The most recent recall was in 2014, when 8,988 vehicles were affected by a failure of the brake vacuum pump. The 2016 BMW Z4 has had no recalls.
As for fuel, the Z4 has a 14.5-gallon tank. The average fuel cost is $2,000 per year, which is based on the current fuel prices, as well as 45% highway and 55% city driving over 15,000 annual miles. This means it'll cost you around $51 each time you fill the tank. While the Z4 isn't the most fuel-efficient car, its turbo engine does well against other sports cars.
BMW Z4 facts
Founded in 1917, BMW was originally an aircraft manufacturer, which is why its logo resembles propellers to this day. It began manufacturing cars in 1928, and turned its attention to producing pots, pans and bicycles for a while after World War II.
The Z4 was first released in 2003, and a revised edition hit the market in 2009. The German company stopped production in 2016, but it's been busy working on the new prototype. The third generation is due in showrooms in 2019, and Top Gear has hailed it a "return to form" for BMW roadsters.
Compare BMW Z4 competitors
Not set on a BMW? Check out similar manufacturers or compare makes that are completely different.
Bottom line
The BMW Z4 is a luxury sports car, and those two descriptors don't make it the most wallet-friendly car on the market. It tends to be on the pricier side to insure, but you may be able to cut down costs with discounts for safety features and defensive driving. Plus, as a bonus, BMW's warranty and maintenance program is better than the industry standard.
To get the most bang for your buck, you can find the best rate by comparing providers.
Get the cheapest quotes
Compare car insurance companies near you.
Your information is secure.
Frequently asked questions about the BMW Z4
More guides on Finder