Best crypto exchanges and platforms of October 2022
Find the best crypto trading platform or app for low fees, beginners, trading features and more.
Each year, we conduct an extensive review of the crypto exchanges and trading platforms available in the US. To arrive at these picks, we evaluated more than 25 platforms on user experience, fees, payment methods, selection of coins and more.
When deciding on the best crypto trading platform for your needs, think about what you plan on using it for. It's quite common to use multiple exchanges to benefit from their different areas of specialty, like using one for its range of coins and another for access to NFTs or crypto savings accounts.
Read more about our "best for" selections below for a helpful head start.
Finder's best crypto exchanges and trading platforms in the US
Disclaimer: This page is not financial advice or an endorsement of digital assets, providers or services. Digital assets are volatile and risky, and past performance is no guarantee of future results. Potential regulations or policies can affect their availability and services provided. Talk with a financial professional before making a decision. Finder or the author may own cryptocurrency discussed on this page.
Kraken: Best crypto exchange (overall)
eToro USA: Best crypto broker
Kraken: Best value exchange
Crypto.com: Best for altcoin trading
Kraken: Best for beginners
FTX.US: Best for advanced traders
SoFi Invest: Best for investment portfolio guidance
Binance.US: Best for staking rewards
Coinbase: Best learning rewards program
Crypto.com: Best for NFTs
Gemini: Best for coverage — supports all 50 states
KuCoin: Best for emerging altcoins
How to choose the best crypto exchange in the US
It's important to research a wide range of platforms and weigh up the pros and cons of each option. The best crypto exchange for you depends on what you're looking for.
Consider the following factors when comparing crypto exchanges.
Compare more crypto exchanges in the US
Use our table to evaluate crypto exchanges and platforms on fees, fiat currencies, deposit methods and more. Once you've found the right fit, select Go to site to get started.
How to use a crypto exchange in the US
For the sake of our example, let's assume that you have $500 that you want to use to buy Bitcoin.
Research cryptocurrency exchanges to find one that offers the right service for you.
Register for an account on the platform, including providing any personal details and proof of ID required.
Navigate your way to the "Buy" screen.
Select Bitcoin as the cryptocurrency you want to buy.
Select your payment currency, which in this case is USD, and specify the amount you want to spend as $500.
Select your payment method, such as a credit card payment or bank transfer.
Enter your payment details, such as your account number if sending a bank transfer or your card number and CVV if paying by credit card.
Review the full details of your transaction, including the fees that will apply and the amount of BTC you are purchasing.
If you're happy to proceed, click "Buy BTC".
Once the transaction has been processed, the BTC will be deposited into your exchange wallet. However, please note that some brokers will automatically send your purchased BTC to an external wallet address nominated by you.
How to pay for your cryptocurrency
You'll need to deposit funds on your cryptocurrency exchange or otherwise make a transfer. US-based crypto exchanges accept all sorts of deposit methods, including the following:
PayPal and other payment apps like Venmo and CashApp
Bank transfers
Cryptocurrency transfers
Wire transfers
The payment types accepted will vary between exchanges though, so it's worth checking to make sure your preferred payment method is on offer before you sign up.
The different types of cryptocurrency exchanges
The term "exchange" can be used to refer to a variety of cryptocurrency brokers, trading platforms and other services. Different types of exchange are often more geared towards beginners or experienced users.
For beginners – cryptocurrency brokers. Buy directly from cryptocurrency dealers for simple, quick and easy purchases. Many beginners use brokers for their first purchase. eToro is an example of a cryptocurrency broker.
For intermediates – cryptocurrency trading platforms. Buy and sell cryptocurrency on an open market for competitive fees, a wide selection of cryptocurrencies and optional extra features like margin trading. While a bit trickier than brokers, these platforms can still be quite beginner-friendly. Binance is an example of a cryptocurrency trading platform.
For advanced users – cryptocurrency derivatives platform. These trading platforms don't sell cryptocurrency outright. Instead, they let you trade cryptocurrency derivatives. They're for advanced traders who want high speed, high leverage, deeply liquid platforms with a full range of features.
Is it safe to store your cryptocurrency on an exchange?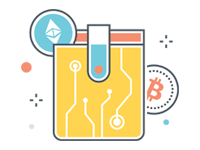 Securely store your crypto:
Cryptocurrency is held in digital wallets. Some exchanges will give you your own wallet, which lets you hold cryptocurrency in your exchange account and then transfer it anywhere as desired, while others will require you to have your own wallet at the time of purchase.
However, using an exchange for long-term storage is not recommended. As the exchange controls the private key to your wallet, you don't have total control of your funds. And with exchanges regularly (and sometimes successfully) targeted by hackers, storing crypto on an exchange long-term is very risky.
Next steps
Not all crypto exchanges are created equal, and not all crypto buyers and sellers have the same trading needs. The best exchange for one person might not necessarily be the right choice for someone else, so it's essential that you do your own research.
Check out our reviews on a range of leading cryptocurrency exchanges in the US and around the world. Consider the features, fees and pros and cons of each crypto exchange and how they align with your investment goals and budget.
Frequently asked questions
A-Z list of crypto exchange reviews