Finder is committed to editorial independence. While we receive compensation when you click links to partners, they do not influence our opinions or reviews. Learn how we make money.
Best home improvement loans
Before you tackle your next renovation project, compare your funding options and interest rates.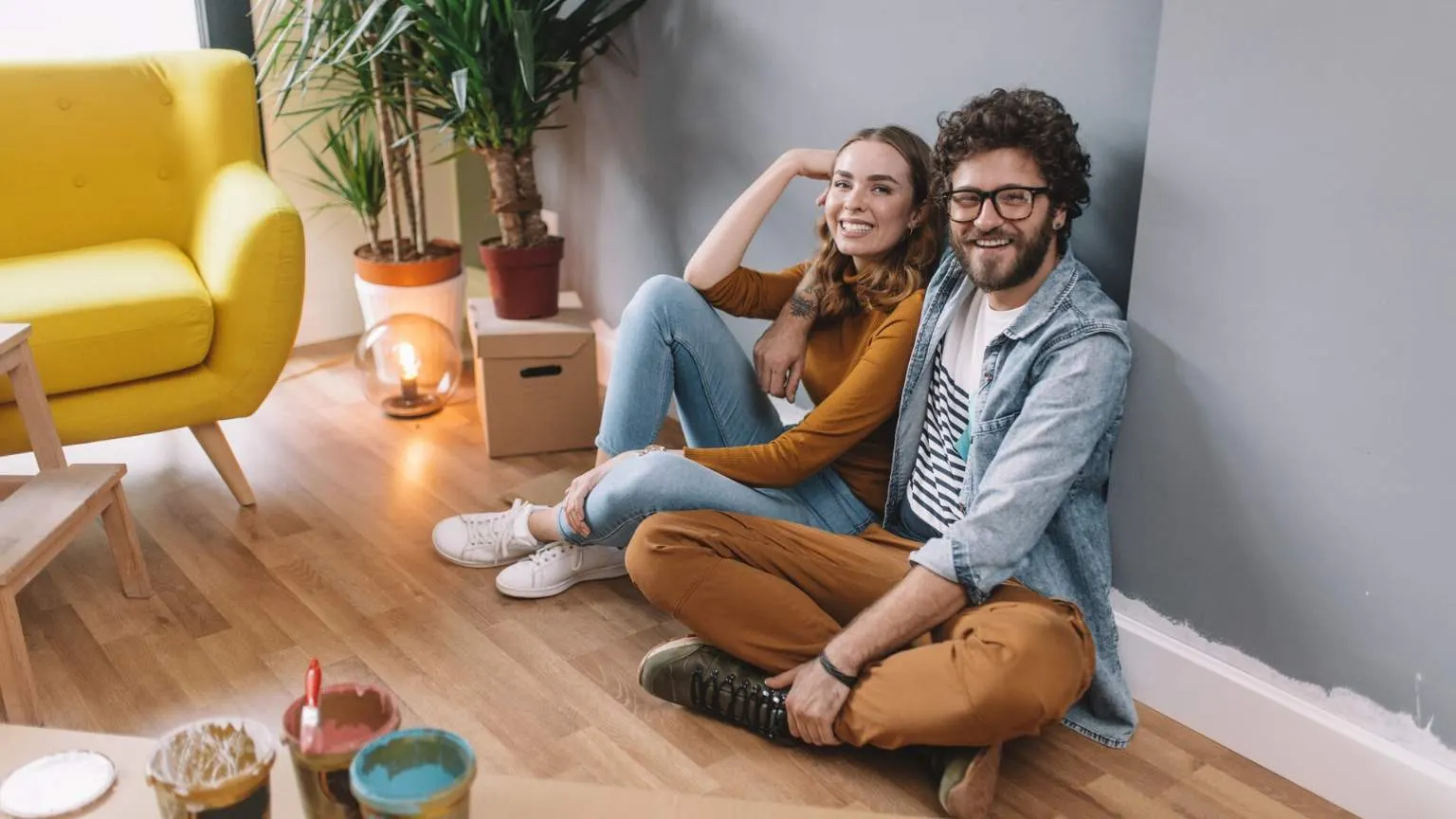 A home improvement loan could be the difference between a small renovation and a big one. When you're looking to spruce up your home, bring it into the current decade or simply give yourself a nice space to relax in, consider your loan options to finance your next project.
3 best home improvement loans
Best for home improvements: GreenSky home improvement loans
GreenSky's sole focus is on home improvement loans, which means you'll have a lender that understands the ups and downs of home renovations. It offers a low starting APR of just 4.99%, and borrowers with credit scores as low as 640 are eligible to apply.

But what we like best is its financing process. You get six months to spend up to your credit limit on your GreenSky payment card, which means you'll only pay interest on the amount you end up using. And if you decide to use a professional from GreenSky's network, you won't pay interest on your purchases for 12 months.
No down payment required
Coapplicants welcome
0% interest promotional offer
High potential APR
Spending limited to a six-month period
Immediate repayments
| | |
| --- | --- |
| Loan Amount | $3,500 – $50,000 |
| APR | 3.99% to 26.99% |
| Interest Rate Type | Fixed |
| Min. Credit Score | 640 |
| Min term | 36 months |
| Max term | 84 months |
Best for fair credit: Alliant Credit Union personal loans
Alliant is one of the best options out there for borrowers with fair or better credit. Its APR caps at a low 10.49%, and you can borrow up to $50,000 — perfect for smaller home improvement projects. But you'll need to become a member first. Fortunately, membership is available nationwide by donating $10 or more to the nonprofit Foster Care to Success.
Extremely low rates
Fair credit OK
Large range of loan amounts
Must become a member
Negative customer reviews
| | |
| --- | --- |
| Loan Amount | $1,000 – $50,000 |
| APR | 6.24% to 27.24% |
| Interest Rate Type | Fixed |
| Min. Credit Score | 640 |
| Max term | 60 months |
| Turnaround Time | As fast as the same day |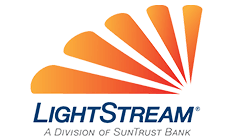 Finder Rating: 4.9 / 5
★★★★★
Check my rate
at LightStream home improvement loan's secure site
Best for : LightStream home improvement loan
LightStream offers some of the best terms out there for borrowers with good to excellent credit. You can borrow up to $100,000 for your home renovation, and LightStream even offers financing specifically for adding a pool to your backyard.
But there's no preapproval process. When you apply, LightStream will do a hard pull of your credit. There's also no way to email or call its customer service team. Instead, you'll have to fill out a form on its website if you have any questions before or after you apply.
Easy online process
No extra fees
No equity required
You must have a valid Visa or MasterCard credit card
| | |
| --- | --- |
| Loan Amount | $5,000 – $100,000 |
| APR | Competitive |
| Interest Rate Type | Fixed |
| Min. Credit Score | 680 |
| Min term | 24 months |
| Max term | 144 months |
| Turnaround Time | Varies |
Disclaimer
All loans are subject to credit approval by LightStream.

Truist Bank is an Equal Housing Lender. © 2020 Truist Financial Corporation. SunTrust, Truist, LightStream, the LightStream logo, and the SunTrust logo are service marks of Truist Financial Corporation. All other trademarks are the property of their respective owners. Lending services provided by Truist Bank.
How did we choose these lenders?
We chose lenders based on their APR, loan terms and overall rating. To ensure you have the best options available to you, we separated our top three choices into categories: best overall, small renovations and large renovations. This way, you can decide which lender suits your project and make a more informed decision.
How to choose the best lender
Because best is subjective, here are a few tips to guide you toward the best lender for your home improvement project:
APR. Most lenders charge an APR between 5% and 36%. Try to pick a lender that has a lower minimum and maximum APR. After all, if your lender doesn't offer an APR above 20%, you won't have to worry about hitting the upper end of 36% — the highest possible rate a personal loan provider can offer due to government regulations.
Loan amount. If a lender has a low maximum amount, you may not be able to borrow as much as you need to complete your project with the materials and labor you want. Make sure your lender offers loans that fit your budget before you apply.
Credit requirements. Not every lender accepts borrowers with scores lower than 640. Make sure your lender will work with your credit history and finances — or improve your credit score to avoid rejection.
Preapproval process. A preapproval process allows you to check your rate before taking a hit to your credit. This allows you to compare offers from multiple lenders to see which is the best deal.
Alternatives to home improvement loans
Beyond personal loans, there are a handful of other ways you can pay for a home improvement or renovation:
Home equity loans. A home equity loan allows you to borrow a lump sum against the equity of your house. This keeps rates low, and lenders typically allow you to borrow anywhere from 80% to 90% of your home's value.
HELOCs. A home equity line of credit (HELOC) functions similarly to a home equity loan. Your credit limit is still based on the equity in your home, but rather than a lump sum, you'll receive a line of credit that can be drawn from as needed to pay for work and supplies.
Federal programs. A Title I Property Improvement Loan can be used for both small and large projects. They have low, fixed interest rates and are typically secured by your mortgage or deed. If you plan on making improvements to make your home more green, you may also want to consider the Energy Efficient Mortgage Program.
Credit cards. Credit cards should be used sparingly for home improvements because of their high interest rates. However, they can be useful for weekend projects and emergency repairs. And if you qualify, you may want to look into a 0% APR promotional period to keep your expenses low.
Cash-out refinance. A cash-out refinance allows you to get a new mortgage for more than your home is worth. The extra cash can be used for home improvements. The exact amount you can borrow depends on your home's equity.
What is a home improvement loan?
Home improvement loans are unsecured personal loans you can use to pay for renovations and repairs. You won't need to use your home's equity as security, and lenders typically consider your credit score and other finances when determining approval.
How does a home improvement loan work?
When you borrow a home improvement loan, your funds can be used to pay for labor, equipment and supplies to complete projects on any part of your home. Like any personal loan, repayments are due monthly — and cover both principal and interest.
Loan terms and interest rates vary significantly between lenders. Each has its own benefits and drawbacks, so it's important to compare your options to find the best one to suit your budget and renovation plans.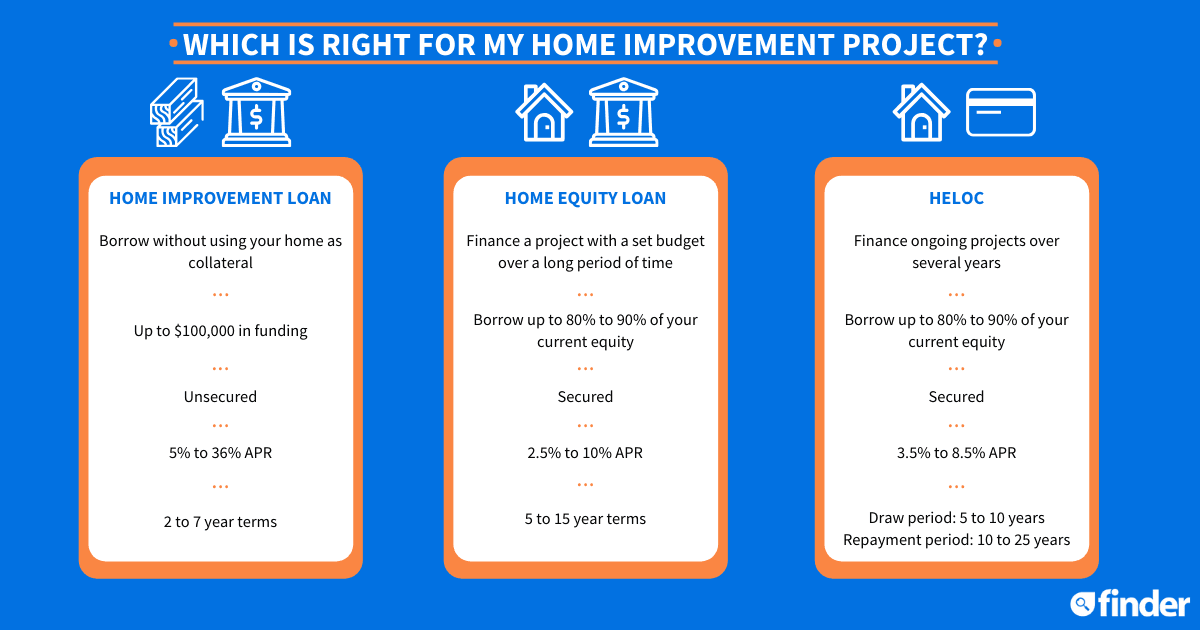 When is a home improvement loan a good idea?
Most people don't have the ability to save up thousands of dollars for necessary repairs and improvements. This makes a home improvement loan a good choice in a few circumstances, including:
Emergency repairs your savings can't cover
Improvements to existing spaces
Increasing your home's overall value before selling
Are home equity loans or HELOCs ever a better option?
It depends on your needs. People turn to home equity loans and HELOCs for lower rates and longer terms. But because the amount you borrow is limited to the current equity in your home, it may not be enough to cover the full cost of a large renovation.
However, if you struggle to qualify for an unsecured personal loan, a home equity loan or HELOC can be a good choice, since your credit won't play as much of a role in determining approval.
What are the benefits of taking out a home improvement loan?
Here are a few ways a home improvement loan can beat out other types of financing:
Fund time-sensitive repairs. Home improvement loans typically cost less than credit cards — and may only take a few business days to process. If you don't have the savings to cover a big expense, a home improvement loan can help you save money without postponing repairs.
Low rates. While some loans are more expensive than others, borrowers with good to excellent credit are likely to get a lower rate than they would on a credit card. This means less money paid overall, cutting the cost of your home reno.
Flexible terms. Not every lender offers the same terms.There are loans with shorter terms if you're looking to flip your house and loans with longer terms for people who want to pay a little every month to modernize their home.
Minimal restrictions. Home improvement loans can be used to fund equipment, supplies and labor. Just be sure to calculate how much you'll need before you get started — if you don't borrow enough, it may be hard to qualify for a second loan.
How can I increase my home's value?
While there's no guarantee that your home's value will increase after a renovation, picking the right lender and project can help add equity back into your property.
Consider the project. Different projects have different effects on your home's value. A necessary repair will likely keep the value the same, while an upscale kitchen remodel may be a pricey way to sell your home quickly.
Plan for the future. Certain renovations may not add thousands of dollars to your home's value, but if you're planning on staying rather than selling, then it might be a worthwhile project to invest in.
Request an estimate. Keeping costs down and getting good work done depends on your contractor. Have a few contracting companies come in to give you an estimate on the project's costs. This will help determine your budget and get you the most value for work done.
Compare lenders. Once you have a good idea about the cost and scope of your project, you can find a lender that meets your needs. This will help you avoid over- or under-borrowing — and ensure you're getting the most out of your renovation or repair.
How do I apply?
The application process differs between lenders, but in general, you'll need to follow these steps:
Visit the lender's website and navigate to its application.
Enter information about yourself, including your income and employment.
Submit your application and wait for a response.
Your lender will process your information and either approve or deny your application. If approved, you may be required to submit additional documents to prove your identity, employment or income.
What do I need to apply?
When you apply, you will typically be required to provide some basic information, including:
Social Security number
Date of birth
Monthly or annual income
Bank account information
Government-issued photo ID
How much do home improvements cost?
The cost of your home improvement or renovation depends on the type of project you're looking to complete.
How much do home improvements cost?
The cost of your home improvement or renovation depends on the type of project you're looking to complete.
| Improvement | What it involves | Average cost |
| --- | --- | --- |
| Adding square footage | Removing walls to expand the interior of a home or apartment. | $7,000 to $100,000 |
| Basement remodeling | Putting down a floor, building walls, installing electric and plumbing lines. | $10,500 to $27,000 |
| Plumbing | Hiring a plumber to replace old pipes or install new plumbing systems. | $300; $45 to $150/hour |
| Electric work | Hiring an electrician to redo part of your building's wiring. | $350; $50 to $100/hour |
| Permits | Getting permission from your state and local authorities to start construction. | $900 |
| Solar energy | Buying and installing solar panels. | $25,000 to $35,000 |
Renovation cost guides
Back to top
What to consider before getting a home improvement loan
A home improvement loan can be helpful if you don't have time to build up your savings, but it's still an expensive option.
Avoid taking on too much debt. If you apply for a loan you can't afford to pay off, you run the risk of taking on debt you can't manage. Make sure you budget for your repayments based on your financial situation before you apply.
Budget for the unpredictable. Construction doesn't always go exactly as planned. If anything happens that affects the budget or schedule of your renovations, it could leave you without the money you need to finish the job. In this case, a personal line of credit may be a better way to cover unexpected costs.
Bottom line
If you don't have the savings to handle an emergency repair or a much-needed renovation, a home improvement loan may be able to help — especially if you don't have enough equity in your home to take out a home equity loan or HELOC.
You can learn more about how personal loans work and find even more lenders with our guide.
Frequently asked questions
More guides on finder