Finder is committed to editorial independence. While we receive compensation when you click links to partners, they do not influence our opinions or reviews. Learn how we make money.
International money transfers to help you make business payments
Safely and affordably manage your overseas payments with money transfers.
For an increasing number of businesses, the days of dealing only within the domestic market are long gone. From suppliers and customers to sourcing and selling products, a modern business must regularly send and receive funds from overseas. But if you aren't sure how to get the best value for your money, sending funds overseas can become a significant business expense. Read on to learn about the most cost-effective ways to send international business transfers.
Compare international money transfer services for businesses
Use our comparison calculator to assess transfer fees, exchange rates and other details for sending funds overseas with our money transfer partners.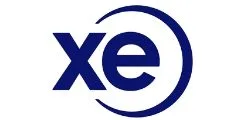 XE Money Transfer
XE specializes in a wide range of foreign currency solutions and offers an affordable solution when you need to send money overseas.
Send money to 200+ countries.
Competitive exchange rates that are often better than banks.
Transfer up to $500,000 online.
See exchange rates in real-time.
Back to top
Why should I compare my options beyond my bank?
For business owners, time can sometimes be more valuable than money. You may think that because it handles your other finances, your local bank is the simplest option when sending money overseas. In truth, international money transfers are no longer a game for only tried-and-true players like banks. Newer companies promise to undercut the competition to earn your business.
Because banks offer a diverse range of financial products and services, their exchange rates can be among the weakest around. Poor exchange rates and high fees — as high as $64 per international transfer — can take up a sizable chunk of the amount you're sending.
Online money transfer services, however, specialize in one thing: sending money overseas. Their work with large volumes of currency means they can beat the banks with competitive exchange rates and minimal to no fees — all good news for your bottom line.
Case study: James' business transfers
For the past 25 years, James has bought kitchen and bathroom supplies for his homewares store from France. Whenever he's needed to make an international payment, he's gone to his bank for a wire transfer. He recently saw an ad for an online transfer service offering significantly better exchange rates than his bank, James decided to compare their fees on a $1,000 payment to France to see which offers the best financial solution for his business.
| | Major US bank | Money transfer service |
| --- | --- | --- |
| Exchange rate | 1 USD = 0.858 EUR | 1 USD = 0.877 EUR |
| Transfer fee | $45 | $5 |
| Transfer method | Wire transfer | Online bank account transfer |
| Transfer speed | 1–3 business days | 3 business days |
| Total euros received | €858 | €877 |
With an online money transfer service, James discovers that he can save $40 in fees and send an extra €19 to France.
Which services will let me send international business transfers?
There's no shortage of providers that allow you to manage your overseas business transactions with international transfers. Major US banks like Wells Fargo, Chase and Bank of America offer this service, as do global brands like HSBC and Citibank.
If you'd prefer to save money with an online transfer provider, you still have several options — OFX and WorldRemit and more. Use our comparison calculator above to weigh their fees and features.
How to safely transfer $500,000 to $1 million overseas
Back to top
How should I compare money transfer services?
While exchange rates and transfer fees affect how much you'll pay, you'll also need to consider how quickly your money needs to get to where it's going, among other factors.
Exchange rates. Money transfer services skew exchange rates to make a profit. To discover who offers the better rate, look for a company that's close to the mid-market rate — or the rate banks and transfer services use when trading among themselves.
Transfer fees. Find out exactly how much you'll need to pay each time you send a transfer. Fees will vary depending on where you're sending the money, how much you're sending, and even your payment method.
Transfer options. In addition to forward contracts and limit orders, some companies offer the convenience of scheduling recurring transfers. Learn which offer them, how easy they are to use and whether they come with extra fees.
Transfer speed. If your transfer is urgent, make sure there's an expedited option.
Available currencies. How many currencies does each provider support? Is your currency available?
Customer support. If something happens with your transfer, you'll want help without a hitch. Some services offer live chat in addition to phone and email support.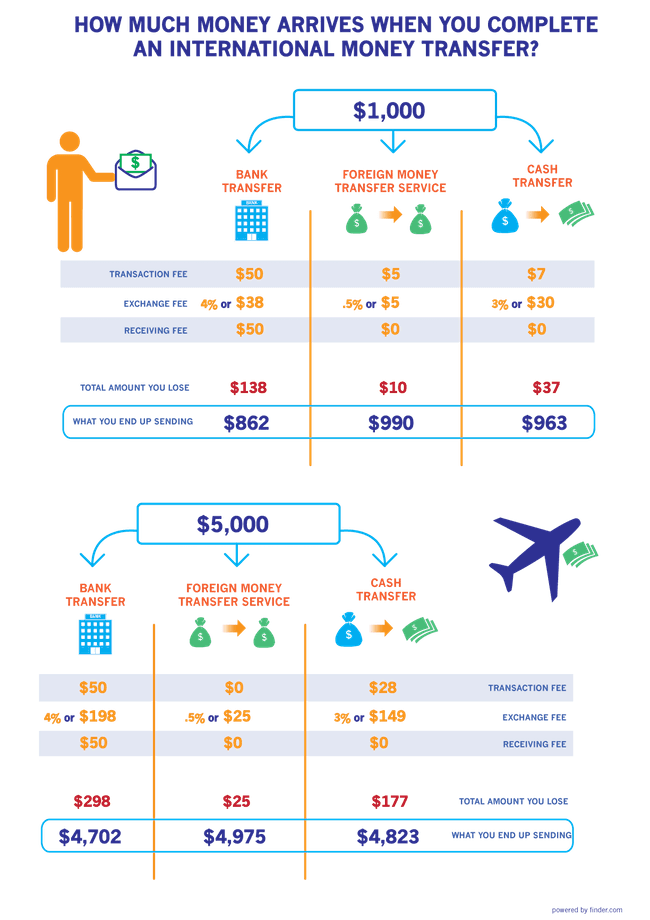 What is the mid-market rate?
The mid-market rate is what your money's actually worth compared to another currency. "Mid-market" refers to the midpoint between worldwide supply and demand for that currency. Use this rate as a baseline to compare against the rates provided by your bank or transfer service. With it, you'll discover which companies offer the best deal.
Case Study: Forward Contracts
Many online transfer companies offer flexible transfer options like limit orders and forward contracts to save you both time and money. Limit orders are transfers that are sent only when the conditions you specify are met, such as your currency reaching a certain exchange rate.
Similarly, a forward contract allows you to secure the current exchange rate for a transaction that will take place up to a year into the future.
Say Bob knows he'll need to pay his regular French supplier $10,000 in three months. The current exchange rate is 1 USD = 0.88 EUR. But Bob is certain the rate is going to drop within the next three months, and so he places a forward contract to lock in the current rate.
Bob's hunch proves correct. Three months later, the best rate available on the foreign exchange market is 1 USD = 0.86 EUR. But with his forward contract in place, he sends the $10,000 overseas at his locked-in rate of 1 USD = 0.88 EUR. Which means Bob can send an extra €200 to his supplier just by planning ahead.
Frequently asked questions
Read more on this topic