Finder is committed to editorial independence. While we receive compensation when you click links to partners, they do not influence our opinions or reviews. Learn how we make money.
BMW 2 Series Gran Coupe car insurance rates
This upcoming model could come with a grand car insurance premium.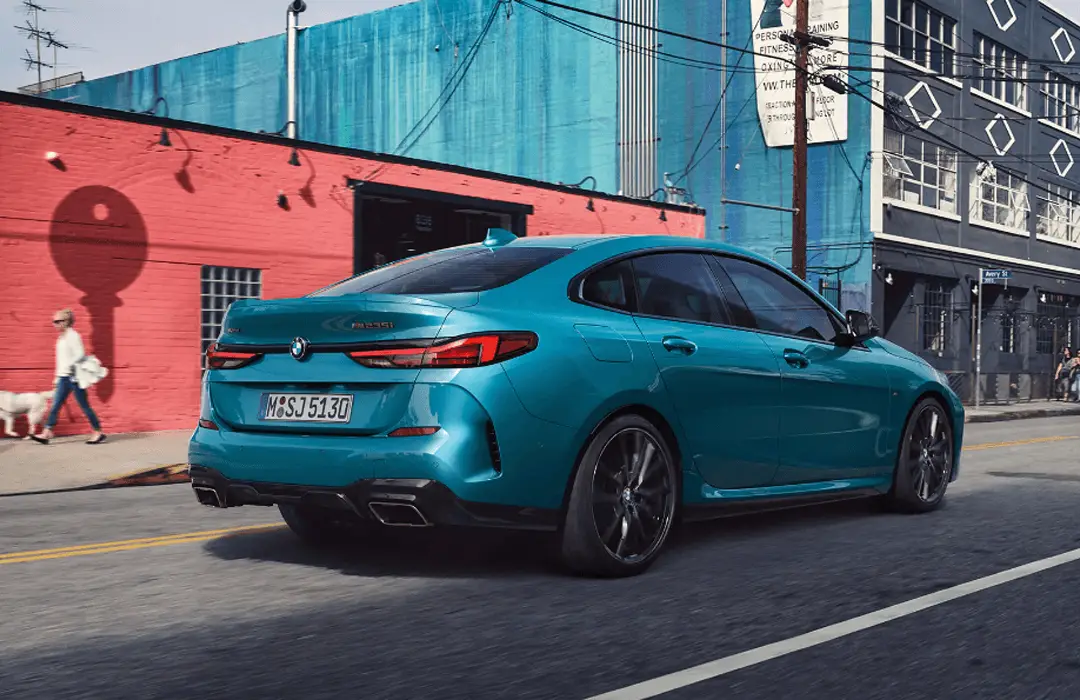 Compare car insurance quotes
Enter your ZIP code below and click Compare to see the cheapest rates in your area.
The 2-Series Gran Coupe will probably enter the market with a steep insurance rate given the car's size and price. The compact car could bring a similar premium to other BMWs like the 4 Series, totaling $238 a month or $2,856 a year, nearly $1,600 above the national average. With a base price of $38,000, that would leave the annual insurance cost-to-base car price ratio at 7.5%, above the national average of 4%.
Discover coverage that's broader than competitors, valuable discounts up to 30% off and perks like shrinking deductibles that reward no claims.
Broad coverage, including for custom car parts or ridesharing
Transparent pricing tools that help you buy within budget
Accident forgiveness on small claims or for staying claim-free
Stack a variety of discounts for multiple cars, autopay or homeownership
Compare car insurance for your BMW 2 Series Gran Coupe
How do I compare insurance for the Gran Coupe?
The Gran Coupe is a luxury sedan with specialty repair and coverage needs. Factors to consider when insuring this car:
Body type. Although coupe is in the name, this model's four doors could qualify it as a sedan, which are cheaper cars to insure.
Fuel. While there are no fuel ratings for the Gran Coupe yet, the regular 2-series gets at or above-average gas mileage for its class. For example, the BMW 230i gets 24 mpg in the city and 35 mpg for highway driving.
Theft rates. Most BMWs see a few hundred thefts each model year. But many of the newest models have seen fewer than 50, meaning safety is improving over time.
Maintenance. BMW has a reputation for high maintenance costs, and the BMW 328i sits at the top for the most expensive cars to maintain. Plus, you may need specialized parts and skill to repair your BMW, which means higher insurance rates.
Coverage. Despite being entry-level luxury, the Gran Coupe probably needs luxury insurance to get higher maximums and protection, which translates to higher rates.
Insurer options. You won't have as many provider choices as with standard cars, and fewer choices almost always drive up rates. Look to luxury car insurers like Chubb for help.
Warranty. The Gran Coupe gets BMW's standard four-year, 50,000-mile warranty plus four years of roadside assistance, so you'll save by skipping that coverage on insurance. BMW also tosses in wheel balancing, alignment and wiper blade inserts up to 2,000 miles.
Does the BMW 2 Series Gran Coupe qualify for discounts?
The Gran Coupe should come outfitted with similar safety technology as the standard 2 Series cars with features like:
Antitheft system
Antilock brakes
Airbags
Driver assistance tech
Stability control
Why is insurance so expensive for the Gran Coupe?
This car will skirt the bottom of luxury with its price and performance compared to other luxury models. But it still has features that could lead to an above-average premium, such as its higher price and higher coverage expectations. A mechanic might need added skill and imported German car parts to make repairs.
How reliable is the BMW 2 Series Gran Coupe?
Since the Gran Coupe was crowned a 2 Series model, you can take hints from the safety of the 2 Series. That means fairly high safety and reliability but with some anticipated recalls.
Safety. The 2019 2 Series coupe had high marks in all crash test categories with the IIHS, except for its headlight visibility.
Reliability. The 2 Series was the most reliable sporty car in 2016 from Consumer Reports. The 2019 model also held a reliability rating of 3.5 out of 5 stars from J.D. Power.
Recalls. Each model in the 2 Series has seen one or two recalls. For example, the 228 was recalled for improper construction of the fuel pump, and the 230 was recalled for incorrect firmware that could lead to the vehicle stalling and flawed software for the instrument panel display.
Bottom line
The BMW 2 Series Gran Coupe should compete with entry-level luxury sedans, making its insurance premium higher than standard cars but not as elite as the best in its class. However, its premium might look steep compared to its lower ticket price versus other luxury cars.
Lower that premium by getting quotes from several luxury insurers, or if you're curious about another model, find car insurance rates on other cars too.
Frequently asked questions about the BMW 2 Series Gran Coupe
Read more on this topic