Finder is committed to editorial independence. While we receive compensation when you click links to partners, they do not influence our opinions or reviews. Learn how we make money.
Personal Loan Finder
Take a few simple steps to get the funding you need to reach your goals.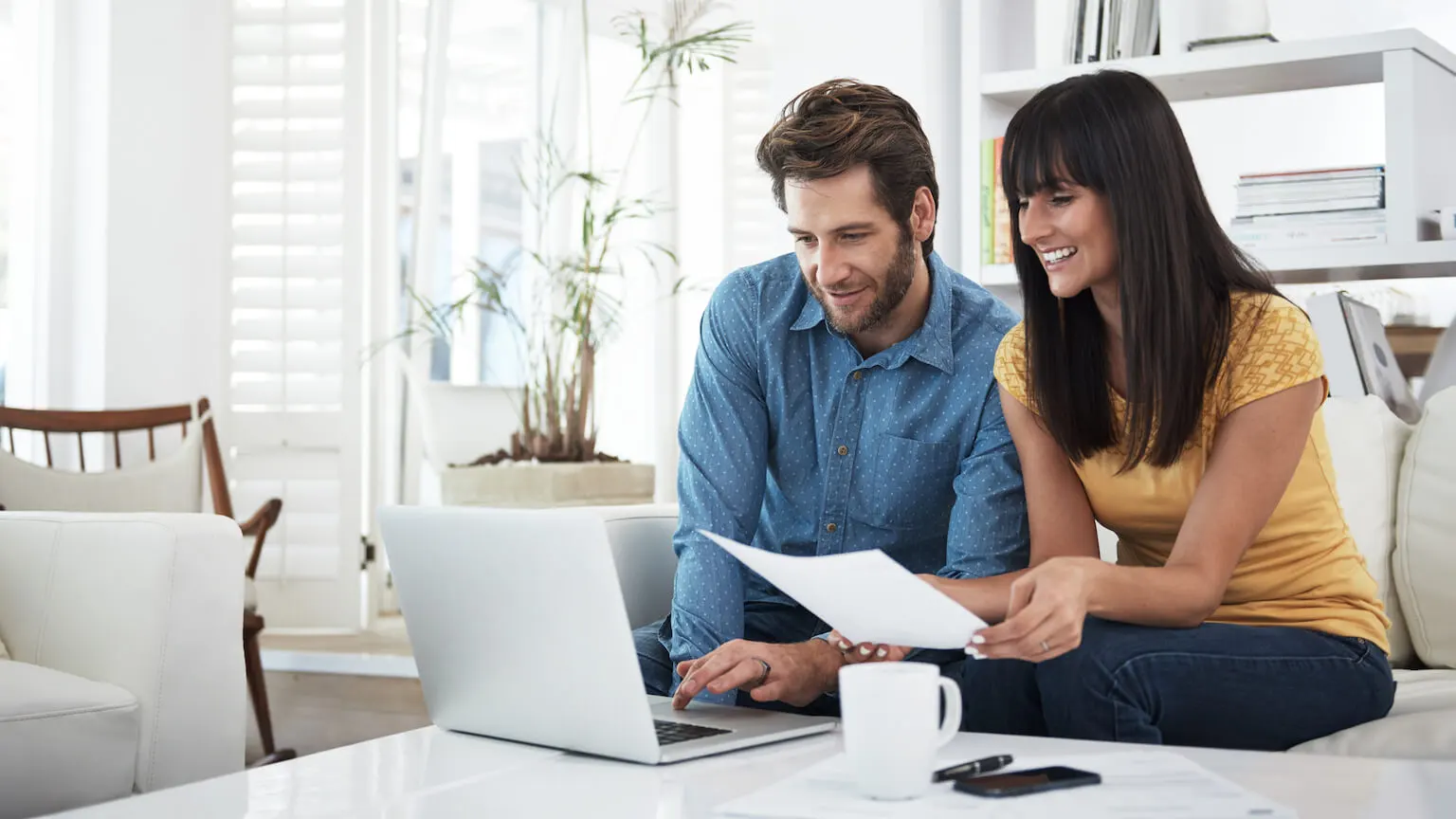 Take control of your finances with a personal loan to cover a large expense, renovate your home, consolidate debt and more. But before you get started, hone up on the borrowing process to ensure you find the best deal available to you.
Compare personal loans
Use your credit score range and state to find loans available to you. Click the green button to prequalify on a lender's website.
How to apply for a personal loan
1. Figure out how much money you need

Crunch some numbers to figure out how much you need to borrow and how much you can afford to pay back each month. Also, compare different types of loans to find the one that suits your needs best.
2. Shop around

Look for lenders that offer the type of loan you need and eligibility requirements you can meet. Then compare factors like rates, fees and terms.
3. Prequalify

After you narrow down your choices, fill out a quick preapplication with a few different lenders to learn which rates and terms you might get. This usually doesn't affect your credit.
4. Finish the application

After you decide on a lender, follow the steps to complete the full application and submit documents like pay stubs to verify your income.
Why trust us?
120
Personal loans reviewed
Based on extensive research, ongoing product updates and market analysis, we present an unbiased comparison of personal loans. At Finder, our goal is to make finding the right personal loan easy.
Some of the top lenders we review
Top personal loan guides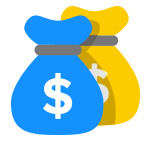 Choose a loan type
What rates can I expect on a personal loan?
Personal loan rates can range from 4% to 36% and the average personal loan APR is around 9.5%, according to a 2019 Experian study.
The rate you get depends on the following factors:
Credit score. You need near-perfect credit to qualify for the lowest advertised rate.
Income. Lenders will likely check if you have enough regular cash flow to easily afford monthly repayments.
Debts. The lowest rates go to borrowers with a debt-to-income ratio (DTI) below 20%. Use our calculator to find out what your DTI is.
Collateral. Securing your loan makes it less risky to the lender and gets you lower rates.
Loan amount and term. Some lenders — especially credit unions — offer different rates depending on how much you want to borrow and how long you need to repay.
Your loan cost depends on the loan term and your rate. You can figure out the monthly cost of a loan by using our payment calculator.
What goes into a personal loan APR?
Most lenders' annual percentage rate (APR) tells you how much you'll pay in interest and fees over one year. This makes it the easiest way to compare the cost of loans with the same term.
It often includes an origination fee, which lenders charge after you sign your loan contract. But it doesn't include penalties like late fees, nonsufficient funds (NSF) fees or prepayment penalties.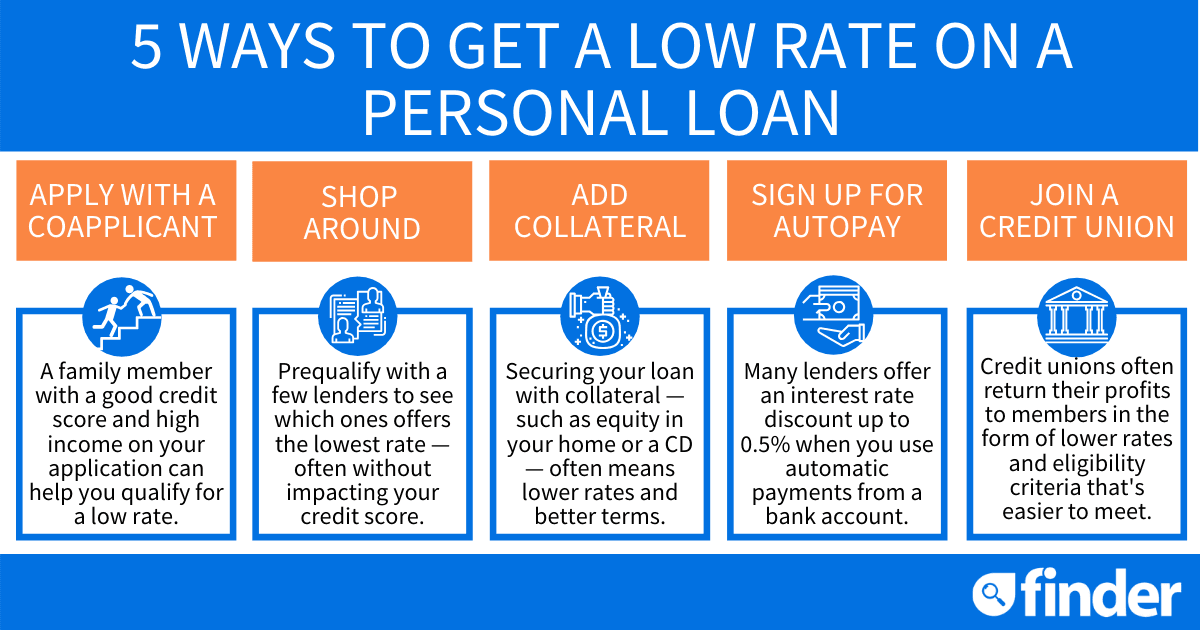 VIDEO: Tips to get the best rate on a loan
How to find the right lender
Ask yourself the following questions when comparing lenders:
Does it offer what I need? Check if the amount you need falls into a lender's range and if it offers the type of loan you're looking for.
Am I eligible? Make sure you meet the lender's minimum credit, income and other requirements before you apply.
What's the APR? This gives you a quick snapshot of the loan's total cost per year.
How long will I be in debt? Look at the loan terms available to make sure you'll be out of debt in time to meet other financial goals, like buying a house or car.
Will repayments fit my budget? Use the available loan terms and APR to figure out how much you could owe each month.
Are there any fees? Many lenders charge up to a 5% origination fee, which they take out of or add to the loan balance. This affects how much you need to borrow and your monthly cost.
Is it legit? Read customer reviews to look out for personal loan scam red flags and make sure its website is secure.
Where can I get a personal loan?
You have a variety of personal loan providers to pick from. However, you'll typically more loan options if you have stronger credit. Depending on the type of provider you choose, you can apply for a personal loan in person, online or over the phone.
Direct online lenders
Online lenders have more flexible lending criteria and offer a straightforward application process. If approved, your loan amount can be deposited into your bank account as soon as the next business day — but it may take up to a week.
Brokers and connection services
Brokers and connection services work slightly differently but have the same goal: to pair you with a lender that will approve you. Brokers have you fill out a preliminary application and often charge a fee for their service. Connection services are automated and don't make lending decisions themselves.
Banks
Getting a loan from a bank might be the tradition choice, but it's not the fastest. Banks tend to have stricter approval criteria and longer turnaround time. The benefit of borrowing with your bank is that some banks offer discounts to people who have an existing account.
Credit unions
If familiarity is important to you, consider taking out a personal loan at a credit union. Credit unions tend to evaluate your financial history with the institution, adding a layer of flexibility to approval. Similar to banks, credit unions tend to have longer approval and turnaround times than online lenders.
Peer-to-peer lenders
Relatively new to the financial market, peer-to-peer lenders operate as marketplaces that bring borrowers and investors together. A peer-to-peer loan is funded by a pool of individual investors online. Although the process of applying is a lot like that of a traditional loan, the turnaround time is often much longer.
5 best places to get a personal loan
Where can I get a loan during the coronavirus outbreak?
US Bank, Gesa Credit Union, Key Bank and many others are offering low-cost emergency loans to customers affected by COVID-19. These typically come with low or no interest and the option to defer payments for several months.
Read our guides to COVID-19 financial assistance and payday loan alternatives to learn about all of the options available to you.
What are the requirements for a personal loan?
There's a personal loan for almost any type of borrower. But you have to meet the following criteria to qualify with most lenders:
Good credit. The credit score cutoff is often around 670 — and usually higher if you want a low rate.
Steady income. You typically need to bring in at least $24,000 a year.
Employment. Some lenders will only work with borrowers who are employed full time.
Low debt-to-income (DTI) ratio. Most lenders require your monthly expenses to be no more than 43% of your monthly income, though the lower the better.
US citizen or resident. If you don't have a green card or citizenship, your options are limited to the few lenders that work with nonresidents.
Age of majority. In most states, you must be 18 to borrow. It's 19 in Alabama and Nebraska, and 21 in Mississippi.
What documents do I need?
Most lenders ask to see these three documents at a minimum:
Proof of your identity. You're legally required to submit a driver's license, passport or other government-issued ID.
Proof of income. This includes pay stubs, tax returns, W-2 forms or bank statements.
Proof of residence. A utility bill in your name, mortgage payment or other verification of your address.
Am I eligible for a personal loan?
Can't I just use my credit card?
You could, but personal loans typically have lower interest rates than credit cards. But if you need cash right away, a credit card is faster. You can also use credit cards for a wider variety of expenses, including education costs.
Find out when a personal loan or a credit card makes more sense
Frequently asked questions about personal loans
Read more on this topic