Finder is committed to editorial independence. While we receive compensation when you click links to partners, they do not influence our opinions or reviews. Learn how we make money.
BMW X3 insurance rates
Average BMW X3 insurance rates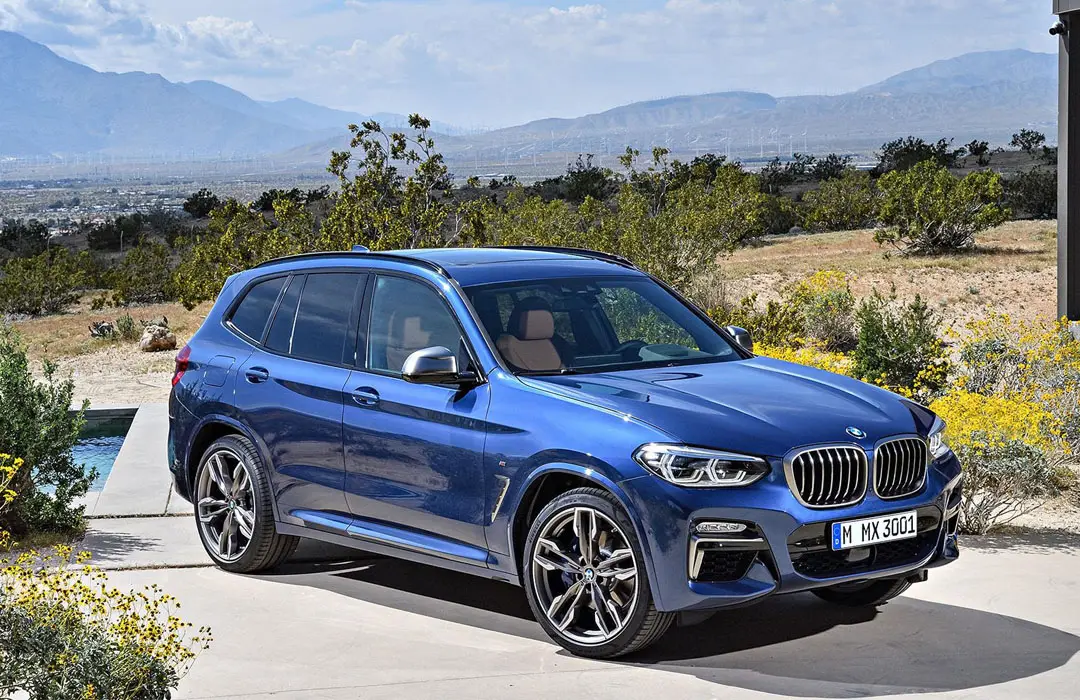 Compare car insurance quotes
Enter your ZIP code below and click Compare to see the cheapest rates in your area.
The BMW X3 is a compact luxury crossover SUV that's been in production since 2003. Starting at just over $40,000, it's one of the more affordable models in BMW's lineup of Sports Activity Vehicles. With that being said, it comes equipped with all of the bells and whistles you'd expect from BMW, many of which could help you save on auto insurance.
On average, auto insurance for the BMW X3 costs roughly $180 a month — or $2,160 a year. While this estimate is nearly $1,000 higher than the national average, your actual rates may vary since the cost of auto insurance is influenced by a number of factors. For example, the average cost in Arizona is $1,222 compared to $2,201 in Georgia. This discrepancy highlights why its so important to get quotes from multiple providers.
Discover coverage that's broader than competitors, valuable discounts up to 30% off and perks like shrinking deductibles that reward no claims.
Broad coverage, including for custom car parts or ridesharing
Transparent pricing tools that help you buy within budget
Accident forgiveness on small claims or for staying claim-free
Stack a variety of discounts for multiple cars, autopay or homeownership
Compare insurance for your BMW X3
BMW X3 car insurance rates
| Model | Monthly insurance rate | Base car price |
| --- | --- | --- |
| 2 Series | $238.00 | $33,150 |
| 3 Series | $178.00 | $33,450 |
| 4 Series | $238.00 | $41,950 |
| 5 Series | $169.00 | $51,200 |
| 6 Series | $160.00 | $77,600 |
| 7 Series | $167.00 | $81,500 |
| i3 | $181.00 | $46,250 |
| i8 | $161.00 | $143,400 |
| M2 | $238.00 | $52,500 |
| M3 | $167.00 | $64,000 |
| M4 | $159.00 | $66,200 |
| M6 | $161.00 | $113,700 |
| X1 | $179.00 | $33,750 |
| X3 | $180.00 | $40,050 |
| X4 | $238.00 | $45,550 |
| X5 | $178.00 | $56,600 |
| X6 | $173.00 | $62,500 |
How to compare insurance for the BMW X3
Shopping for auto insurance can be overwhelming. Many insurers use similar terminology, even though policies and coverage can vary drastically depending on your choice of provider. However, coverage is mandatory in almost every state, meaning you won't be able to avoid it. That being said, finding the right policy is much easier when you know what to look for. Here are a few characteristics to consider when shopping around.
Price. It's important to use the same information when getting quotes from providers. This will help you compare similar options to find out which provider has the best price.
Deductible. Your deductible amount can influence the cost of your monthly premiums. Policies with higher deductibles usually have lower premiums, whereas those with lower deductibles will cost more.
Minimum coverage. Outside of New Hampshire and Virginia, almost every state has mandatory coverage requirements. Before purchasing a policy, ensure your state's minimums are met.
Additional coverage. Additional coverage can help protect against things that are not included in your standard policy. Be sure to include any additional coverage options when getting quotes to get a more accurate estimate.
Extras. Extras like accident forgiveness and vanishing deductible may be available through your provider. Find out what your policy includes and what features you'll need to pay extra for.
Restrictions. Policy restrictions can limit coverage and lead to denied claims if you're not aware of them. Ask your provider if any apply to you or your vehicle.
Manufacturer offer or loyalty discount. Ask your dealership if you're eligible for any manufacturer offers or loyalty discounts with certain providers.
Warranty. Find out what's covered by your manufacturer or extended warranty to avoid paying for overlapping coverage.
What factors affect car insurance rates for BMW X3?
Insurance providers consider your chances of filing claims and the cost of paying them out when calculating your premiums. While your driving history and location can affect your risk, the vehicle you drive often plays a much larger role. This is because vehicle performance, safety features, repair costs and other factors can all vary depending on your make, model and build options. Here's how the X3 measures up:
Body type. The X3 is a crossover SUV that is best suited for daily driving, road trips, and other low-risk driving activities. This could make it cheaper to insure.
Type of car. Like most other BMWs, the X3 is a luxury vehicle, which could increase the cost of insurance.
Theft. SUVs are stolen far less than sedans and pickup trucks. The lower risk of theft could bring down the cost of coverage.
Repairs. While the X3 has a reasonable $40,000 price tag, parts and service could still be expensive. This could make for higher premiums.
Safety ratings. The X3 was awarded the 2018 IIHS top safety pick and has great crash test results. Both of these factors could make coverage more affordable.
Fuel type. The X3 has a gas engine, which generally costs less to insure compared to diesel or electric engines.
Trim & packages. Adding features that improve visibility or safety can help reduce your premiums, whereas features that increase its power or price could have the opposite effect.
BMW X3 money-saving safety features
You could save money on car insurance for your BMW X3 if it comes equipped with these safety features.
Airbags
Anti-lock brakes
Anti-theft device
Parking sensors
Surround view camera system
Daytime running lights
Electronic stability control
Seatbelt pretensioners
Rear backup sensors
Lane-departure warning systems
Adaptive cruise control
Does the BMW X3 qualify for auto insurance discounts?
Your vehicle may be eligible for various auto insurance discounts depending on which provider you choose. However, the exact discounts you receive may vary depending on location, provider, options, and other factors. Here are a few that should apply to the BMW X3:
New car discount
Anti-lock brake discount
Anti-theft discount
Passive restraint discount (Airbags, motorized seat belts, etc.)
Emergency roadside assistance discount
BMW X3 reliability & safety ratings
The BMW X3 received the 2018 IIHS top safety pick, indicating that it is one of the safest vehicles in its class. It also has great safety ratings and a number of safety features that could help to reduce the cost of insurance.
According to U.S. News and J.D. Power, the 2018 BMW X3 holds a 3.5/5 star reliability rating, which is better than most vehicles in its class. With that said, parts and repairs could be expensive, so you may want to ask about the extended warranty.
BMW X3 maintenance
The X3 is a luxury vehicle that's designed to provide an enjoyable driving experience anywhere you take it. It can handle all sorts of terrain and driving conditions without needing much maintenance or upkeep. However, a routine service schedule can ensure that all parts and features function properly so that you can spend more time on the road. Here's what to expect in terms of maintenance and upkeep for the X3.
BMW suggests an oil change every 10,000 miles or 12 months. Depending on how you drive your vehicle, you may want to consider having it changed more often.
Oil changes should cost between $100 to $200, but your cost may vary.
Newer BMW models come equipped with a Condition Based Servicing system and a Service Interval Indicator. Both of these systems will monitor your vehicle and let you know when parts need replacing and when the vehicle should be brought in for service. However, here is BMWs standard maintenance schedule:
| Parts | Replacement period |
| --- | --- |
| Engine oil | Every 10,000 miles or 12 months |
| Fuel filters | Every 20,000 to 40,000 miles |
| Oil filter | Every 10,000 miles or 12 months |
| Air filter | Every 60,000 miles |
| Coolant | Every 10,000 miles |
| Spark plugs | Replace them every 60,000 miles |
| Brake fluid | First 30,000 miles then every 60,000 miles after that |
Is an extended warranty worth it for the BMW X3?
The X3 is backed by BMW's standard four-year/50-000 mile warranty. This covers issues due to defective parts and service, along with free roadside assistance and a separate corrosion warranty.
The X3 is slightly above average in terms of reliability, but parts and service can be expensive if it happens to break down. While the standard warranty is great, the extended warranty can provide peace of mind after it expires. It's available in multiple terms and includes service from certified BMW technicians, OEM part replacements, mechanical breakdown towing and more.
Additionally, eligible X3 vehicles come with BMW Ultimate Care, which is a three-year/36,000-mile complimentary maintenance plan. There are other extended maintenance plans available for an extra fee.
About the BMW X3
The BMW X3 has been around since 2004 and is a compact luxury SUV. The 2018 model will feature plug-in hybrid technology. The latest model was awarded 5-Star Overall Rating from the National Highway Safety Administration for safety.
BMW X3 car insurance rates
A 2017 BMW X3 starts at a base price of $40,050. With the average insurance rate at $2,160 per year, the annual insurance cost–to–base car price ratio is 6.5%.
Compare BMW competitors
Explore other BMW models or find other manufacturers that offer vehicles similar to the X3.
Compare all car makes & models
Bottom line
The BMW X3 is luxury crossover SUV that comes equipped with a number of great features you'd expect to find on a much higher end BMW. While it's more reliable and safer than many other vehicles in its class, parts and service could still be expensive, which could affect the cost of coverage. However, its impressive crash test ratings and safety features could help you get discounts, but you should compare your options to find a policy and provider that's right for you.
Get the cheapest quotes
Compare car insurance companies near you.
Your information is secure.
Frequently asked questions about the BMW X3
More guides on Finder