Finder is committed to editorial independence. While we receive compensation when you click links to partners, they do not influence our content.
Best mortgage lenders
Explore the country's top lenders based on your unique circumstances.
Buying a new home is an exciting time at any stage of life. But amid a multitude of mortgage lenders, choosing the right one can be a challenge. To point you in the right direction, here are our picks for America's top lenders.
What are the best mortgage lenders?
How we picked the best lenders
We chose these five lenders based on several criteria, including fees, loan amounts, interest rates and eligibility requirements. We also considered customer reviews from sites such as Trustpilot and the Better Business Bureau (BBB). Learn more about our home loan rating methodology.
Best for refinancing
Better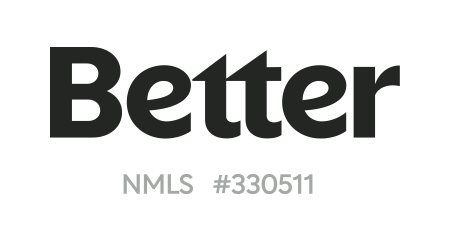 Go to site
at Better's secure site
Read review
Plenty of mortgage lenders offer refinancing loans, but few are as impressive as Better. Better is a direct lender that doesn't charge origination fees. Plus, the company price-matches competitors if you find a better deal elsewhere. Better's loan officers don't earn commissions on loans, so you don't have to worry about pressure to pick options you're not interested in.
Fast approval. The online preapproval process takes three minutes.
No origination fee. Better never charges processing fees on applications.
Direct lending. You deal directly with Better. And unlike some other direct lenders, it doesn't charge application or origination fees.
Limited loan options. Better doesn't offer some types of loans, including VA and USDA loans.
Not available nationwide. Better is growing, but as of September 2020 it's not licensed in Hawaii, Massachusetts, Minnesota, Nevada, New Hampshire, Vermont or Virginia.
Loan types

Conventional, Jumbo, FHA, Refinance

Minimum credit score

Refinance: 680
All other loans: 620

Minimum down payment (Conventional)

3%

States available

Not available in: HI, MA, MN, NV, NH, VT, VA
Best for first-time buyers
Rocket Mortgage
Go to site
at Rocket Mortgage's secure site
Read review
Between the seemingly endless documents and the confusing terminology, buying a home can be stressful if you've never done it before. With Rocket Mortgage, the preapproval process takes place online, and you can get a conditional prequalification in less than 10 minutes. The company offers more options than many other mortgage lenders, and there's no penalty for paying your loan off early.
Speedy service. Conditional prequalification approval takes only minutes, and most loans close within one week.
Flexible options. Rocket Mortgage offers a variety of loan terms, giving you more control.
No prepayment penalty. If you pay off your loan early, Rocket Mortgage won't penalize you.
Deposit required. You'll need to pay between $400 and $750 to have Rocket Mortgage process your application.
Limited loan types. Rocket Mortgage doesn't offer loans for construction or mobile homes.
No face-to-face service. Rocket Mortgage doesn't have any brick-and-mortar branches. If a personal touch is important to you, it won't be a fit.
Loan types

Conventional, Jumbo, FHA, VA, Refinance

Minimum credit score

Conventional: 620
FHA: 580
VA: 620
Jumbo: 700

Minimum down payment (Conventional)

3%

States available

Available in all states
Best for low rates
Guaranteed Rate
When it comes to mortgage rates, a difference of just 1 percentage point can translate to tens of thousands of dollars over the life of your loan. Guaranteed Rate offers some of the lowest mortgage rates in the industry, online prequalification only takes a few minutes and the company is committed to transparency when it comes to calculating rates.
Competitive rates. Guaranteed Rate offers some of the lowest interest rates available to qualified borrowers.
Transparent website. The company clearly details the factors it considers when determining interest rates.
Prequalify online. The online prequalification process offers near-instant decisions.
Slow service. Customer reviews are critical of Guaranteed Rate's slow service at branch locations.
Must have decent credit. You must have a credit score of at least 620 to qualify for the best rates.
Limited locations. Guaranteed Rate operates nationwide, but some states have only one or two branches.
Loan types

Conventional, Jumbo, FHA, VA, USDA, Home Equity/HELOC, Refinance

Minimum credit score

Conventional: 620
Other mortgages: As low as 580, depending on type

Minimum down payment (Conventional)

3%

States available

Available in all states
Best for veterans
Veterans United
To thank veterans for their service to our country, the US government has established exclusive programs that help members of the military purchase homes. Several mortgage lenders specialize in these programs, but among them all, Veterans United is the best. Its specialists can walk you through every step of the process. The lender also has low rates, earns an impressive rating of 4.9 out of 5 on Trustpilot and offers approval with no down payment to qualified veterans.
Options. Veterans United offers a variety of loan types, even if you aren't in the military.
Easy application. The online application process is intuitive and speedy.
Excellent for veterans. Veterans are likely to qualify for better terms than with other lenders.
Limited locations. As of September 2020, offices are in AL, AK, CA, CO, FL, GA, HI, ID, IL, KT, NB, NC, OK, SC, TN, TX, VA and WA.
No HELOCs. Veterans United doesn't offer home equity loans or lines of credit.
Not ideal for civilians. Only veterans and active-duty service members get the best terms.
Loan types

Conventional, FHA, VA, USDA, Jumbo, Refinance

Minimum credit score

Conventional: 640
Jumbo: 640
VA: 640

Minimum down payment (Conventional)

3%

States available

Available in all states
Best lending marketplace
Credible
This San Francisco–based company was founded in 2012 with a focus on student loans. Today it can help you secure a mortgage as well. Yet unlike traditional mortgage lenders that loan out their own capital, marketplace lenders like Credible act as brokers that match borrowers with investors. Credible's loan officers aren't commissioned, so they won't try to upsell you on options you're not interested in. Plus, the excellently rated marketplace doesn't charge fees and offers higher lending limits than many of its competitors.
No fees. Credible doesn't charge any fees, although the lenders it pairs you with might.
Strong reviews. Credible currently earns a rating of 4.7 out of 5 on Trustpilot.
Soft inquiry. Credible performs soft credit checks during prequalification, which means it won't hurt your credit score.
No negotiation. Credible is not a direct lender, so you can't negotiate interest rates or loan terms.
Limited availability. Credible mortgages are not available in all states.
No face-to-face support. Credible is online-only, so you can't meet with representatives in person.
| | |
| --- | --- |
| Loan types | Conventional, FHA, VA, Jumbo, Refinance |
| Minimum credit score | Mid-600s (varies by lender) |
| Minimum down payment (Conventional) | 3% |
| States available | Not available in: NY |
Compare mortgage lenders and brokers
Compare these lenders and lender marketplaces by the type of home loan you're searching for, state availability and minimum credit score (for a conventional loan). Select
See rates
to provide the company with basic property and financial details for personalized rates.
How do I choose the best mortgage lender?
Choosing the right lender can be a challenge if you're not sure what to look for. A few features to compare while you're shopping around:
Types of loans. There are several types of mortgages — including jumbo, conventional, fixed rate, adjustable rate and government insured. Not all lenders offer all types, so knowing which kind you want can help you narrow down your options.
Mortgage rates. Generally speaking, the lower the rate on a home loan, the less you'll pay over time.
Down payment requirement. If the amount you're able to put down on a home is limited, the lender's requirements based on your financial situation can make or break your purchasing power.
Cost and fees. Some are less than transparent. Comb through the fine print and ask about all fees involved.
Prepayment penalties. Some lenders penalize you for paying off your loan early, while others don't. If you plan on paying off your mortgage ahead of time, look for a lender that won't charge you a fee for it.
Credit score flexibility. Different lenders have different requirements when it comes to credit scores, and some are more strict than others. Knowing where your score stands can help you find the lenders most likely to approve you.
Face-to-face service. Many modern digital lenders lack brick-and-mortar branches. If in-person service is important to you, a more traditional lender might be a better fit.
Bottom line
Our top five mortgage lender picks offer some of the lowest rates and best loan terms around — and they're each well-reviewed by their customers. But if they don't align with your needs, continue comparing your mortgage options until you find the right fit.
Home loans ratings
★★★★★ — Excellent
★★★★★ — Good
★★★★★ — Average
★★★★★ — Subpar
★★★★★ — Poor
We analyze top home loan providers and rate them one to five stars based on factors that are most important to you. These factors include: rates and fees, product selection and borrower experience.
Read the full methodology of how we rate home loan providers.