Finder makes money from featured partners, but editorial opinions are our own.

Advertiser disclosure
Compare life insurance companies
We help you compare online life insurance quotes in 5 minutes, considering your age and coverage.
Finder's life insurance experts spent over 500 hours analyzing quotes and policies from 100+ companies, fact-checking their approval process, age cutoffs, medical exam requirements and more. We highlight the fine print as well as each company's strengths and downsides.
Read accurate, unbiased reviews that help you narrow down insurers to meet your lifestyle and budget.
Some of the brands we've reviewed
How much does life insurance cost?
The average cost for life insurance is less than $50 a month, according to analyzed data provided by PolicyGenius. For example, a $500,000, 20-year term life policy for a healthy 35-year-old non-smoker costs around $28 a month on average.
However, your rate depends on many factors like your age, gender, health, job or smoking habits. The coverage amount, term length and the type of policy come into play too.
Insurers weigh factors differently, which is why it's important to compare quotes from multiple companies.
How much life insurance do I need?
Choose the right amount of coverage — known as your policy's face value — based on your budget and needs. Consider the following:
Add income. The golden rule is to buy a policy that can replace your income and cover your family's cost of living for five to 10 years. To do this, multiply your salary by five or 10.
Add financial responsibilities. Include the costs of all of your expenses now and any future expenses you can expect, including childcare, mortgage, car payments or even college tuition.
Add final expenses. Tally up the cost of your end-of-life arrangements such as burial costs.
Subtract assets. Subtract any existing savings, investments, or other assets that can contribute to your family's financial security.
Life insurance quote comparison
To find the best deal on a comprehensive life insurance policy, look at coverage amounts compared to your premiums and other features that attract you to an insurer, including:
Minimum and maximum coverage. Learn your insurance policy's limits and what your loved ones will receive after you die. Some insurers cap coverage for specific careers and age groups.
Age restrictions. Research whether your age will affect getting approved or whether a policy stops covering you at a specific age. Seniors may find limited insurance options.
Policy features and riders. If your policy's features don't offer the flexibility you'd like, ask about riders that can customize your policy.
No medical exam policies. You can buy coverage without taking a medical exam or with only a short health questionnaire, though this policy may cost more than standard policies.
Combining multiple policies. You might buy multiple policies through one company for a cheaper rate than separate insurers, such as standalone disability income, critical illness and life insurance policies.
Specialty policies for your job. If you encounter risks on the job, make sure a policy doesn't exclude paying out for those situations. You could buy from insurers that specialize in your field.
Life insurance definitions
If you run into insurance terminology that you don't know, use our life insurance definitions to understand the details of your policy.
What is life insurance and how does it work?
Life insurance offers a financial safety net to your loved ones in case you die. You pay a premium to maintain your policy, and when you die, your insurer pays out a death benefit to your beneficiaries — and they can use the money however they like. There are several types of policies, but they all serve the same purpose: to protect your family financially if you die unexpectedly.
Who needs a life insurance policy?
If you have loved ones who depend on you financially, you most likely need life insurance. Your policy can help provide for their needs when you're gone, which is why life insurance is important.
Those with the greatest need for life insurance are:
People with children or other dependents
Main income earners
Those with cosigned debt
Business owners
Homeowners
Those with medical expenses
Wealthy individuals planning their estate
Stay-at-home parents or partners
Those who may need future long-term care
Take our quiz: Do you need life insurance?
How do I buy life insurance online?
2. Apply for coverage
Submit your personal and contact details, including income and employment information. You might have to fill out a health questionnaire or take a medical exam, too.
3. Pay your premium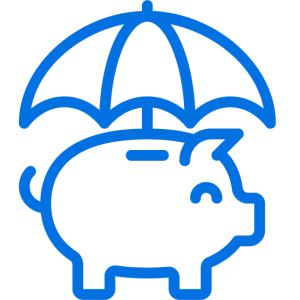 Your insurer will charge a monthly or annual premium to keep your policy active. Try to make timely payments to avoid a policy lapse.
How do I get coverage if I have a medical condition?
Having a pre-existing condition like heart disease complicates getting life insurance, but you can find a policy. Boost your chance of getting approved:
Explain your condition. Give the name of your condition, details about your medications and list any treatments or surgeries you've had.
Request a doctor's letter. Your insurer will ask for an Attending Physician's Statement, so you'll need to contact your doctor about this official letter.
Apply with multiple insurers. Since some insurers are more lenient than others, get multiple quotes to score the cheapest rate.
Take a medical exam to set your risk level. If your results aren't ideal, you might apply for a no-exam policy, but brace for higher premiums.
Medical conditions that can raise your rates
Expect to pay more for coverage if you have a pre-existing condition or a family history of the following conditions:
Heart disease
Stroke
Specific cancers — e.g. lung, skin, colon, bowel, breast, ovarian and prostate cancer
Diabetes
Kidney disease
Alzheimer's
Parkinson's disease
Aneurysm
Cardiomyopathy
Huntington's disease
Amyotrophic Lateral Sclerosis (ALS)
Porphyria
Sickle cell anemia
The guidelines vary between providers. Some insurers might only hike up your rates if a parent suffers from one of those conditions (rather than a sibling). Others will charge a higher premium if your family member died prematurely from a serious disease — the diagnosis is less important. And some insurers are more lenient about mental illnesses like Alzheimer's.
To find out exactly how your family history will be treated, ask the insurer when you apply for coverage.
What if you're adopted?
If you're adopted and don't know your biological family's medical history, your insurer won't penalize you. It'll calculate your rates based on your personal health history only.
When is life insurance paid out?
The death benefit is paid out when you die, typically as a lump sum — but you can specify paying the death benefit in installments or annuities. Your beneficiaries can use the money however they wish, including:
Mortgage payments
Living expenses — like utilities or car insurance
Cosigned debt that won't disappear when you die — like student loans or credit cards
End-of-life expenses — including funeral costs and medical bills
Child care
Long-term care — like a nursing home or medical expenses for ailing parents
College tuition
Is the death benefit taxed?
No, your life insurance payout isn't taxable income unless your estate is worth more than the federally set threshold, according to the IRS. If so, your estate is subject to federal estate taxes. The life insurance payout is considered part of your estate.
Can I access the money before I die?
Tap into your policy while you're alive in several ways, including:
Living benefits riders
Some insurers offer living benefits riders that offer early payments in particular cases. Types of living benefits:
Accelerated death benefit rider. If you're diagnosed with a terminal illness, this rider pays a portion of the death benefit.
Critical illness rider. If you're diagnosed with a critical but not terminal illness like heart disease or stroke, this rider pays a lump sum.
Disability income rider. If you can't work due to total disability, this rider will pay a monthly benefit for a set time.
Long-term care rider. If you're diagnosed with a chronic illness, you can use the death benefit to pay for a nursing home or similar expenses.
Cash value in permanent policies
These policies accumulate cash value over time. Once you've built up enough cash value, you can begin to borrow against your policy.
What are the types of life insurance I can buy?
Life insurance plans are lumped into several main types of life insurance: term, permanent, no-medical exam and group life policies.
Compare the main types of life insurance
Features like whether a policy is permanent or temporary or has fixed monthly premiums could help you decide which policy type is right for you.
| Feature | Term | Whole | Universal | Variable |
| --- | --- | --- | --- | --- |
| Lifelong coverage | | | | |
| Requires medical exam | | | | |
| Fixed premiums | | | | |
| Builds cash value | | | | |
| Offers tax-free loans | | | | |
What is temporary life insurance?
Temporary life insurance is similar to a test drive of your insurance policy while underwriting is underway. While you're supplying documentation and medical tests, you pay your premiums and get the coverage you're applying for on a temporary basis. If something happens to you before your actual insurance policy is finalized and signed, your family can make a death benefit claim for the full amount of your temporary coverage.
Can anyone get temporary life insurance?
Before you're offered TLIC, your insurer will ask you medical and health questions. If you have a disqualifying medical condition, you won't be offered temporary coverage. Your age may also make you ineligible, depending on which insurance company you're working with.
As with any life insurance policy, if you lie on your application, your coverage can be revoked, and your death benefit claim can be denied.
What life insurance riders can I get?
Most insurers allow you to add riders to your policy, including these popular ones:
Conversion rider. Lets you convert term to permanent life insurance within a set time frame.
Waiver-of-premium rider. Waives premiums if you become unemployed or fully disabled and can't work.
Child rider. Pays out if your child dies, and typically expires when your child gets married or turns 25.
Return-of-premium rider. Reimburses you for premiums paid if you outlive your term life policy.
Guaranteed insurability rider. Lets you boost coverage without another health questionnaire or medical exam.
Cost-of-living rider. Keeps your policy's death benefit in line with inflation.
How do I take out a life insurance policy on someone else?
It's possible to buy life insurance for someone other than yourself. But you must meet a couple of criteria first.
You have to prove an insurable interest. Insurable interest is the possibility that you'll suffer a financial loss if the person you're insuring dies. For example, if you rely on your parents for financial support, you could take out a policy on them.
You must have permission. The other person has to give you written approval allowing you to take out the policy. This might be in the form of key man insurance, for example, where a company insures its CEO after getting permission.
Insurance company vs insurance broker
Both brokers and agents work on behalf of insurers to sell you a life insurance policy, but they have a few differences:
Buying from a broker
Open to various insurers, offering a wide variety of products.
Can flex their market knowledge to find coverage that suits your circumstances.
Can offer advice on the type of life insurance or annuities you need, evaluating your situation.
May offer higher coverage levels and stronger features due to shopping the market.
Buying from an insurance company
Limited to one insurer's products, though with expertise to talk about them in detail.
May let you sign up online or by phone with immediate conditional approval.
Online companies may offer faster approvals.