Compare car insurance in Maryland
Get the cheapest car insurance in Maryland for 2022
Compare and save on car insurance
Enter your ZIP code to see insurers near you.
Your information is secure.
---
In Maryland, drivers pay an average of $1,327.40 annually or about $111 monthly for car insurance, according to the National Association of Insurance Commissioners (NAIC). That's 12% above the national average, which sits at $1,190 per year.
But you could fall outside the average depending on your driving record, age, the car you drive and a handful of other factors. Plus, the NAIC's average includes policies with state minimum coverage alongside those with higher coverage, like comprehensive and collision. Your rate will look different based on the coverage you choose.
Maryland car insurance quick facts
Minimum liability requirements
30/60/15
Average annual car insurance cost according to the NAIC
$1,327.40
At-fault state
In at-fault states, the at-fault driver pays for the damages.
Maryland's state minimum car insurance requirements
To legally drive in Maryland, you need at least liability and uninsured or underinsured motorist coverage. When shopping for car insurance, you may see the amount of coverage required written as 30/60/15. These numbers are called your coverage limits, and they tell you the maximum that your insurance will pay after an accident.
You also need at least $2,500 in personal injury protection (PIP), although you can get this requirement waived if you have plenty of health insurance.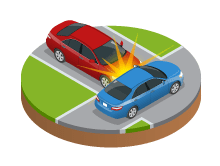 Bodily injury liability
$30,000 for bodily injuries per person
$60,000 for injuries to two or more people per accident
Maryland requires you to keep 30/60 in bodily injury liability, which pays up to $30,000 for injuries to one person and $60,000 total if you injure several people in the same accident.
These coverage levels are standard compared to other states, but think about buying higher limits to protect beyond minor accidents.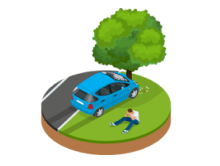 Property damage liability
$15,000 in property damage liability
You also need at least $15,000 in property damage liability, which covers the other driver's car damage as well as replacing personal belongings like a phone, car seats or cargo. You'll see this coverage limit required by many states, but it offers a low level of protection in an accident.
Personal injury protection
$2,500 for personal injury protection
In Maryland, personal injury protection covers accident-related medical expenses for you and any passengers, and it covers you even if you're riding in someone else's car.
Your PIP kicks in after an accident regardless of who is at fault. You can use the coverage to pay for hospitalization, ambulance rides, surgery, therapy or rehabilitation.
However, you can choose to get this coverage waived if you have plenty of health insurance coverage. You also can choose to buy limited PIP, which protects children under age 16 in your household and injured pedestrians. It won't cover you, the policyholder or anyone in your household who's older than 16.
Uninsured or underinsured motorist
$30,000 for uninsured motorist injuries to one person
$60,000 for uninsured motorist injuries to multiple people
$15,000 for uninsured motorist property damage
Some states require drivers to purchase uninsured or underinsured motorists coverage, and Maryland is included in those states. This coverage protects you or your passengers if you get in an accident with a driver who doesn't have proper insurance coverage. It also can apply to hit-and-run situations.
Also, uninsured motorist property damage coverage kicks in to repair or replace your car after getting hit by an underinsured driver.
Finder tip: Maryland's state minimum coverage isn't enough
Even though Maryland requires a variety of car insurance coverage, the coverage may not help with all expenses after an accident. For example, if your car is totaled by an uninsured driver and is worth $25,000, your insurance would pay up to $15,000 to replace it. In this scenario, you could be left paying the rest out of pocket for a new car.
Think about raising your liability limits and adding optional coverage, depending on your budget and driving needs.
Cheapest rates by age in Maryland
In Maryland, you'll pay a pretty penny for car insurance if you're under age 25. USAA is this age group's best bet, although you might go with Allstate if you don't qualify for USAA. For other ages, Geico offers some of the cheapest rates around.
| Age | Allstate | Progressive | Geico | USAA |
| --- | --- | --- | --- | --- |
| 16-24 | $253.71 | $317.51 | $329.52 | $201.72 |
| 25-34 | $212.44 | $209.22 | $185.08 | $191.91 |
| 35-44 | $190.36 | $192.95 | $172.47 | $168.35 |
| 45-54 | $191.69 | $175.81 | $156.74 | $158.03 |
| 55-64 | $175.36 | $157.18 | $145.16 | – |
Cheapest rates by gender in Maryland
Geico again offers some of the lowest rates in Maryland for both men and women, although men tend to pay $18 less per month. See how rates differ between genders with these major car insurance companies.
| Company | Allstate | Progressive | Geico | USAA |
| --- | --- | --- | --- | --- |
| Men | $190.82 | $212.66 | $133.75 | $184.09 |
| Women | $194.10 | $186.45 | $151.27 | $175.91 |
Sample rates in Maryland from major car insurance companies
By far, Geico lays the lowest cost on the table in Maryland at $108 per month, which is just under the state average. We found these rates by analyzing major insurers' costs according to Savvy.
| Company | Allstate | Progressive | Geico | USAA |
| --- | --- | --- | --- | --- |
| Rate | $204.71 | $216.46 | $107.61 | $180.00 |
Best car insurance in Maryland
Big-name companies tend to be your best bet when you're looking for car insurance in Maryland. We recommend starting your search with these companies, which we chose by looking at ratings from J.D. Power, Better Business Bureau, AM Best and the National Association of Insurance Commissioners.
We considered both national companies and companies praised by locals. Finally, we looked at each company's coverage options and discounts to make sure you get the best deal.
Best for bundling: Progressive
Progressive is a popular choice in car insurance for a reason. The major brand offers a balanced blend of wide coverage, steep discounts especially for safe drivers, competitive rates and pricing tools to work with your budget.
Get all your necessities covered, plus choose from extras like rideshare, gap or customer parts coverage. Need other types of insurance too? Progressive probably covers it, offering insurance for home, classic cars, RVs and more. To seal the deal, we've found that Progressive offers some of the lowest rates for many drivers. You'll get the best deal if you've stayed claim-free, which could save you up to 30% off your premium.
Pros
Third-largest US auto insurer
20% average savings for bundling home and auto
Competitive rates
Pricing tool helps you buy within your budget
24/7 online chat or phone support
Cons
Average customer service
Slow to respond to complaints
Must be a 5-year customer to qualify for accident forgiveness
Best for safe drivers: Allstate Drivewise
Drivewise is Allstate's version of telematics, which tracks your driving and sets premiums or discounts based on how safely you drive. Drivewise offers one of the highest discounts possible for a telematics program. It was also one of the first telematics programs, giving Allstate a leg up on user experience over other telematics options.
Another plus: you can try Drivewise without becoming an Allstate customer. Non-customers earn cashback rewards rather than an insurance discount.
Pros
Discount up to 40% + cashback for driving safely
Try Drivewise before becoming a customer
Won't raise rates if you're not deemed a safe driver
App can find your parking spot or nearest gas station
Cons
Focuses on few driving behaviors, which could skew results
Requires you to have at least 25% battery power
Android users give low app ratings
Best for low rates: Geico
When you're looking to save money on car insurance, Geico probably comes to mind. The commercials are true — many drivers can save big, especially when insuring multiple vehicles or cars endowed with many safety features.
Another much-loved feature: Geico's user-friendly app. You can access your ID card, file a claim, upload photos of your car's damage or text an agent for answers to your questions. The app also connects with Carfax to remind you about maintenance you need to do for your vehicle.
Pros
Known for offering low prices to most drivers
Discount up to 25% for multiple vehicles
One of the highest-rated insurance apps
Cons
Online-focused customer service
Few local agents available &mdash
mostly in major cities
No gap coverage
Best customer service: Erie
Unlike some car insurance companies, Erie keeps a longstanding reputation for top-notch service. It's consistently ranked high by J.D. Power across multiple states since 2013. Its secret? The company focuses on local customer support and broad protection to back you if you ever need help with a claim.
In terms of coverage, you can get better car protection, rideshare coverage or free glass repairs with comprehensive coverage. Plus, qualify for first accident forgiveness after staying accident-free as an Erie customer for three years. However, its best feature is Erie Rate Lock, which ensures that your rates stay the same unless you change cars, drivers or addresses.
Pros
13,000+ independent agents offer personalized service
No. 2 in customer satisfaction by J.D. Power in MidAtlantic
Rates locked in unless you make a major policy change
25% discount for bundling auto + home policies
Cons
Not the cheapest rates around
No online signup or claims
7 factors that affect car insurance rates in Maryland
Factors are characteristics specific to you that car insurance companies use to set how much you'll pay for car insurance. The less risky each of your factors is the less you pay, the riskier you are the more you'll pay. We'll break down Maryland's rating factors to keep in mind.
Factor
How it affects your rates

Age

How old you are is a top factor in determining your car insurance rates. With each passing year, you earn more experience on the road. More experience can equal cheaper rates. Teen drivers pay the most, but rates begin to level off around your 20's with drivers over 50 paying the least.

Gender

Maryland takes gender into account when determining your rates. Our analysis of Quadrant data found that men under 18 pay 17% more for car insurance compared to women of the same age. But, between 31 and 45, women see rates 5% higher than men. After 45, rates differ between men and women by only 1%, with women on the higher end.

Location

Where you live affects your rates, including where you park your car. High theft rates, high traffic and a high number of uninsured drivers could mean higher rates. Plus, Maryland has a lot of coastline and sees natural weather disasters every season. Hurricanes, floods, tornadoes, hailstorms and ice storms are possible, and severe weather conditions can drive up the cost of insurance.

Maryland vehicle theft rates stand at 172.9 vehicle thefts per 100,000 inhabitants, according to the FBI's most recent report on vehicle theft rates. That's well below the national average of 246 vehicle thefts per 100,000 inhabitants.

As for uninsured drivers, 14.1% of Louisianans on the road are uninsured. That's more than average for the percent of uninsured drivers in a state according to Insurance Information Institute, with the national average standing at 12.6%.

Vehicle and mileage

Your car's make, model and trim directly affect how much you'll pay for car insurance. Things like its cost, safety ratings, the likelihood of theft and sportiness all help insurers determine its cost to insure.

Safer and cheaper vehicles score the lowest rates, with luxury vehicles with higher repair costs resulting in higher premiums.

Maryland residents drive a little more than the average US resident. The average driver in Maryland drives 42 miles daily while the US average is 36.1.

Credit score

Maryland allows auto insurance companies to use your credit score as a rating factor. But insurers in Maryland can't use your credit score alone to deny your application, non-renew your policy, raise your premiums at renewal time or cancel your policy.

Coverage

The more coverage you get and the higher limits you choose, the more protection you'll have and the more you'll pay in monthly premiums. And, if you opt for full coverage car insurance that includes comprehensive and collision, the amount of your deductible weighs into your costs too, higher deductibles mean lower monthly premiums.

Driving Record

The better your driving record, the lower your premium. If you're in an at-fault accident you could see rates increases from 20% to 50%. And DUI's in Maryland can increase your rate by around 51%. These types of violations typically stay on your record for about three years.
Do I need SR-22 insurance in Maryland?
No, Maryland is one of a few states that don't require an SR-22 for any violation. However, you may get other penalties for major violations such as getting your license suspended. Also, insurance companies see you as a high risk if you have violations on your driving record. You can expect higher-than-average insurance rates if you do.
Coverage that we recommend in Maryland
The point of car insurance is to help you recover financially after an accident, and Maryland's required coverage doesn't protect you from a few common types of accidents. Make sure that all your bases are covered by considering these add-ons.
More liability = peace of mind for major accidents
You can easily deplete Maryland's low liability limits, especially if you injure someone, go to court or have multiple people involved in the accident. For example, a hospital stay or legal expenses can cost tens of thousands of dollars. For peace of mind that these expenses are fully covered, talk with your insurance agent or financial adviser about how much liability coverage you need.
Collision coverage is worth the cost for most drivers
Every time you drive, there's a chance that you could be at fault for an accident. Some accidents like rearend collisions can be deemed your fault even if you did everything possible to stop it.
If you have wiggle room in your budget, buying collision coverage helps you with car repairs or buying another car if you cause the accident. The coverage is usually worth it unless you drive an old beater car that's worth a few hundred dollars.
Consider this coverage if . . .
You drive a lot and rely on your car.
Your car loan requires it.
You can't pay for major repairs on your own.
You don't have the savings to buy another car.
Comprehensive coverage protects from theft and more
Whether you're trekking through Maryland's mountains or plains, you can stay protected for "other-than-collision" damages with comprehensive coverage. This coverage helps with theft, vandalism, windshield cracks, harsh weather, hitting an animal and more. Since it costs $14 per month according to the NAIC, this coverage is worth the extra premium if it fits in your budget.
Consider this coverage if . . .
Your auto loan requires it.
You can't pay for major car repairs on your own.
You live in an area known for theft or crime.
Your area sees harsh weather.
You're in rural Maryland where you might run into wildlife.
Roadside assistance to call for help
Because Maryland drivers roam over more miles than those in other states, think about adding roadside assistance for peace of mind. You also deal with many different terrains from mountainous to coastal areas that cause extra wear and tear on your car. With roadside coverage, help is a phone call away.
Consider this coverage if . . .
You rely heavily on your car.
You drive a lot.
Your new or used car warranty doesn't include roadside assistance.
Top 10 auto insurance companies in USA that serve Maryland
We've pulled the top 10 companies by market share that offer coverage in Maryland, according to S&P Global. Compare top companies by three major rating agencies along with our overall Finder score.
Better Business Bureau (BBB) rating measures how a business interacts with its customers, with the highest rating being A++.
J.D. Power determines customers' overall satisfaction with their car insurer's price, billing, claims and customer support. The higher the J.D. Power score out of 1,000, the better.
NAIC complaint index shows how a company's number of complaints compares to similar companies of its size. Scores lower than 1.00 show the company receives less than the average number of complaints, and scores above 1.00 show more complaints than average.
Finder's score shows you an overall look at the company by taking into account scores from each of these agencies as well as the coverage and discounts each company offers.
Cheapest car insurance in Maryland
Which city has the cheapest car insurance in Maryland?
Of Maryland's largest cities, Gaithersburg has the cheapest rates and Parkville has the most expensive car insurance rates. Parkville drivers could face rates 4 times more than Gaithersburg drivers.
Car insurance quotes in Parkville
| Company | Annual car insurance rate |
| --- | --- |
| Allstate | $2749 |
| Progressive | $3060 |
| Geico | $1504 |
| StateFarm | $2764 |
Car insurance quotes in Silver Spring
| Company | Annual car insurance rate |
| --- | --- |
| Allstate | $2508 |
| Progressive | $2383 |
| Geico | $1458 |
| StateFarm | $2426 |
Car insurance quotes in Gaithersburg
| Company | Annual car insurance rate |
| --- | --- |
| Allstate | $2145 |
| Progressive | $2103 |
| Geico | $1284 |
| StateFarm | $2126 |
Car insurance quotes in Pasadena
| Company | Annual car insurance rate |
| --- | --- |
| Allstate | $2361 |
| Progressive | $2321 |
| Geico | $1308 |
| StateFarm | $2172 |
Car insurance quotes in Germantown
| Company | Annual car insurance rate |
| --- | --- |
| Allstate | $2145 |
| Progressive | $2172 |
| Geico | $1318 |
| StateFarm | $2148 |
Compare car insurance providers in Maryland
In Maryland, the driver at fault pays for damage
Maryland is an at-fault state, which means that the driver responsible for the accident pays for the damage. The insurance companies and legal authorities will determine who's at fault.
However, Maryland's contributory negligence law won't let you receive any payment from the other driver if you're found partially at fault, according to the legal website Nolo.
For instance, if the other driver is 95% at fault and you're 5% at fault, you won't get reimbursed for your damages by the other driver. Instead, you'd file under your own collision or personal injury protection if you bought these optional types of coverage.
Bottom line
Carrying auto insurance protects you, your family and fellow drivers. Research your insurance options to make sure that you're receiving the coverage that you need — and that your state requires.
To learn more about this topic, from rules and regulations to the best discounts and rates, visit our comprehensive guide to car insurance.
Frequently asked questions about car insurance in Maryland