Finder is committed to editorial independence. While we receive compensation when you click links to partners, they do not influence our opinions or reviews. Learn how we make money.
Honda Accord insurance rates
Average Honda Accord insurance rates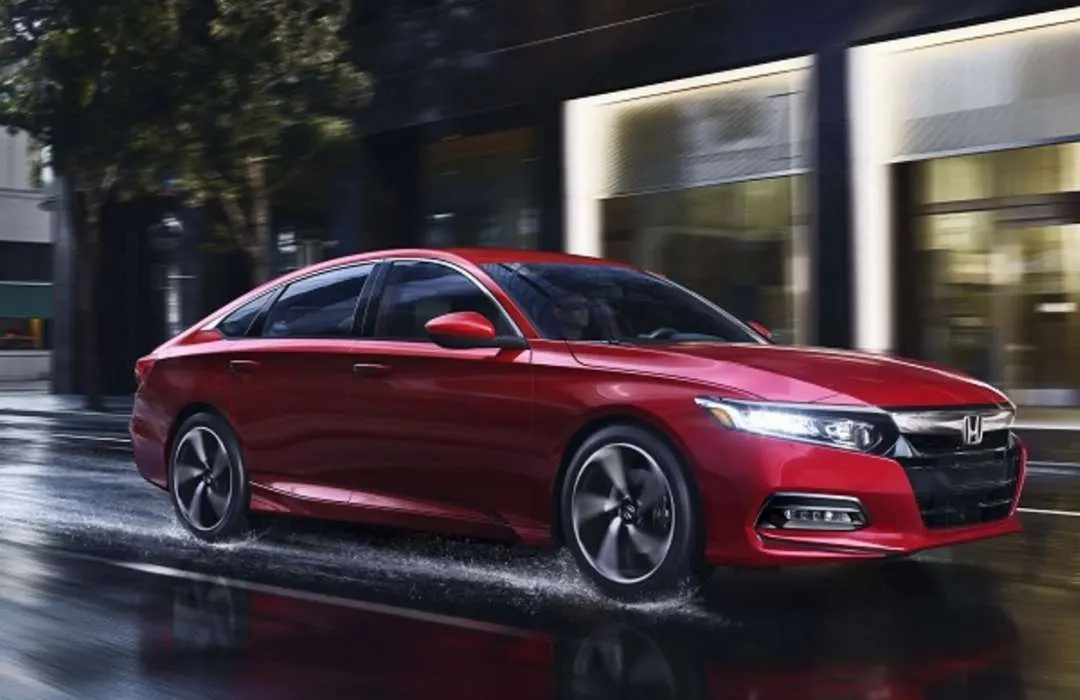 Compare car insurance quotes
Enter your ZIP code below and click Compare to see the cheapest rates in your area.
How much is car insurance for a Honda Accord?
The Accord is a cheap sedan, but high theft rates for this popular car cause slightly higher insurance rates. On average, auto insurance for a Honda Accord is $151 a month, which works out to $1,812 a year. With a base price of $22,455, the annual insurance cost–to–base car price ratio is 8.2%, higher than the average of 4%.
Introduced in 1976, the Honda Accord has become one of the best-selling vehicles in North America. The accord is best known for its incredible safety ratings and comfortable design that make it a great family car or daily driver. Equipped with a number of safety and driver assistance features, coverage for the Accord should be easy to find.
Discover coverage that's broader than competitors, valuable discounts up to 30% off and perks like shrinking deductibles that reward no claims.
Broad coverage, including for custom car parts or ridesharing
Transparent pricing tools that help you buy within budget
Accident forgiveness on small claims or for staying claim-free
Stack a variety of discounts for multiple cars, autopay or homeownership
Compare insurance for your Honda Accord
How to compare insurance for the Honda Accord
Auto insurance is a necessary but often overwhelming purchase that almost every driver makes. Shopping around can be difficult, as providers use confusing language and ambiguous claims when describing policies. But since coverage is mandatory in almost every state, you won't be able to go without. That said, knowing what to look for can make shopping for insurance easier and can even save you money if you play your cards right.
Price. Coverage can vary between providers, making it hard to compare by price. Use the same driver and vehicle details when getting quotes in order to accurately compare your options.
Deductible. Higher deductibles often make for lower premiums, whereas lower deductibles will drive up the price. Choose an amount that fits your financial situation.
Minimum coverage. Every state has different coverage requirements. Be sure that any potential policy meets your state minimums before committing.
Additional coverage. Personal injury protection and medical payments coverage are two of many ways you can improve your policy. Be sure to include any additional coverage options when getting quotes from providers.
Extras. Features like roadside assistance and accident forgiveness may be included in your policy. If not, find out how much you'll have to pay for extras and whether they're worth the cost.
Restrictions. Find out if any restrictions apply to your policy to avoid gaps in coverage or denied claims.
Manufacturer offer or loyalty discount. Ask your dealership if you are eligible for any manufacturer offers or loyalty discounts and you may be able to save on auto insurance.
Warranty. Find out what's covered by your manufacturer or extended warranty to avoid paying for overlapping coverage.
Car insurance rates for Honda Accord by year
The average car insurance for an Accord is $1,812 a year. While this estimate is about $500 higher than the national average, your actual cost may vary. The price of auto insurance is influenced by a number of factors, meaning that your driving history, location and vehicle can directly affect your rates.
| Year | Progressive | Geico | State Farm | Average |
| --- | --- | --- | --- | --- |
| 2009 | $310 | $223 | $151 | $228 |
| 2010 | $305 | $223 | $152 | $227 |
| 2011 | $308 | $212 | $167 | $229 |
| 2012 | $307 | $212 | $174 | $231 |
| 2013 | $305 | $212 | $176 | $231 |
| 2014 | $304 | $212 | $184 | $233 |
| 2015 | $480 | $322 | $206 | $336 |
| 2016 | $497 | $328 | $226 | $350 |
| 2017 | $497 | $333 | $214 | $348 |
| 2018 | $383 | $295 | $230 | $303 |
| 2019 | $501 | $303 | $236 | $347 |
What factors affect car insurance rates for Honda Accord?
Your location and driving history can both affect your chances of getting into an accident. However, the vehicle you drive has a much larger impact, because performance, safety features, theft rates and other details can vary depending on your make and model. And since providers consider your risk and cost of filing claims when calculating your premiums, your choice of vehicle can directly affect your rates. Here's how:
Body type. The Accord is a four-door sedan, best suited for families or other light use. This may be part of the reason why coverage is affordable.
Type of car. The Accord is a midsize sedan that starts at just over $20,000. It should be cheaper to insure than luxury or performance vehicles.
Theft. The Honda Accord is one of the most stolen vehicles in the US, which could increase the cost of insurance.
Repairs. Parts and service for the Honda Accord should be readily available, which will likely lead to lower insurance premiums.
Safety ratings. The Accord has incredible safety ratings and features that could make for cheaper auto insurance.
Fuel type. The gas version of the Honda Accord should be cheaper to insure than the Hybrid version, mostly due to the lower cost of repairs.
Trim & packages. There are a number of safety and driver assistance options available on the Honda Accord. Adding them could help reduce the cost of insurance.
Does the Honda Accord qualify for auto insurance discounts?
You could save money on car insurance for your Honda Accord if it comes equipped with these safety features.
Anti-lock brake discount
Anti-theft discount
Passive restraint discount (airbags, motorized seat belts, etc.)
Emergency roadside assistance discount
Honda Accord safety & reliability ratings
According to U.S. News and J.D. Power, the 2018 Honda Accord holds a perfect 10/10 score for safety. This is backed by the highest possible scores in every category from the NHTSA and the 2018 IIHS Top safety pick.
U.S. News and J.D. Power give the 2018 Honda Accord a 4/5 star rating for reliability, which is better than most vehicles in its class.
The Honda Accord has been around since 1976, but has been one of the best selling cars in America since 1989. In 2016, there were over 345,000 Honda Accords sold in the United States. The 2017 model was awarded Top Safety Pick+ by the Insurance Institute of Highway Safety and given a 5-Star Overall Rating from the National Highway Safety Administration.
Honda Accord maintenance
The Accord is designed to provide a comfortable and convenient driving experience, which means that it requires little maintenance to keep it on the road. But like most vehicles, routine service appointments to change the oil and inspect parts can help extend its life and ensure it drives smoothly.
Honda doesn't have a recommended oil change schedule for the Accord. In fact, all newer vehicles come equipped with the Maintenance Minder system that tells you when oil and other parts need to be replaced.
An oil change for the Accord should only cost about $75-$125, but your cost may vary depending on where you have it serviced. As a rule of thumb, dealerships usually cost more than independent repair shops.
Speak with your Honda dealer or consult your owner's manual to find out more details on the Honda Accord maintenance schedule.
Is an extended warranty worth it for the Honda Accord?
All new Honda vehicles come equipped with a standard 3-year/36,000-mile Limited Vehicle Warranty, plus the 5-year/60,000-mile Powertrain Limited Warranty. Genuine Honda accessories are also covered for 3 years or 36,000 miles if they are installed when the new vehicle is purchased. The Accord also comes with a 5-year/Unlimited-miles corrosion warranty and 24/7 emergency roadside assistance.
Honda also offers a few Vehicle Service Contracts, which are essentially extended warranties. They cover components, powertrains and a number of benefits like rental car reimbursement, 24/7 concierge emergency services and more. While the Accord is generally considered a reliable vehicle, these service plans can protect your car once the initial warranty expires.
Compare Honda competitors
Find out what other models Honda has to offer or explore entirely different manufacturers for vehicles similar to the Accord.
Compare all car makes & models
Bottom line
The Honda Accord is a popular midsize sedan that provides a smooth, comfortable drive. It requires little maintenance and comes equipped with a suite of great safety and driver assistance features that add to its appeal. The Accord is a fairly low-risk vehicle that would hold up well in an accident, which could be part of the reason why coverage is affordable. That said, you might be able to reduce the cost of coverage even further by comparing your options to find auto insurance discounts and prices from some of the top providers.
Get the cheapest quotes
Compare car insurance companies near you.
Your information is secure.
Frequently asked questions about the Honda Accord
Read more on this topic