Compare car insurance in Texas
Get the cheapest car insurance in Texas for 2022
Compare and save on car insurance
Enter your ZIP code to see insurers near you.
Your information is secure.
---
Texas drivers pay an average of $1,372.25 per year for car insurance according to the National Association of Insurance Commissioners (NAIC), that's about $114.35 per month. Texas drivers pay about 15% more than the countrywide national average of $1,189.64.
The NAIC takes into account all car insurance policies within the state such as drivers who select only state minimum coverage, as well as policies that include various levels of comprehensive and collision coverage. Because car insurance rates are influenced by personal factors, you could find yourself paying significantly less.
Texas car insurance quick facts
Minimum liability requirements
30/60/25
Average annual car insurance cost according to the NAIC
$1,372.25
At-fault state
In at fault states, the driver who caused the accident pays for damages.
Texas state minimum car insurance requirements
Drivers in Texas are required to carry a minimum amount of liability coverage to legally drive. You may see it written as 30/60/25, but we'll break down what that means.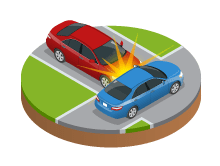 Texas bodily injury liability
$30,000 bodily injury liability per person
$60,000 bodily injury per accident
Texas requires $30,000 in bodily injury liability per person and $60,000 of bodily injury per accident to legally drive. It's not the highest requirement across the US, but it is more than the typical 25/50 requirement.
This means $30,000 is the most your insurer will pay for a single person injured by you in an at-fault accident. And $60,000 is the maximum amount your insurer will pay if there is more than one person injured by you in an at-fault accident. Any costs outside of your bodily injury limit are required to come out of your pocket.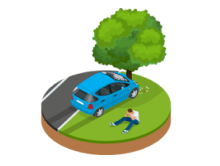 Texas property damage liability
$25,000 property damage liability
Texas requires drivers to carry $25,000 of property damage liability to legally drive. This limit is the highest property damage liability requirement, though it's common among the states.
This means $25,000 is the maximum amount your car insurance company will pay towards damages you cause to another person's car or property, such as repairs to a car, fence or building. You'll have to pay out of pocket for any costs beyond your property damage liability limit.
Texas' state minimum coverage isn't enough
These state-mandated requirements are the lowest amount of coverage you need to legally drive in Texas, but may fall short if you're in a major accident. To avoid high out-of-pocket costs after an accident, consider raising your liability limits by balancing coverage, your budget and what you can afford to pay out of pocket for certain damage.
I always recommend having limits around 100/300/100 to cover serious injuries and damage to expensive vehicles. The average cost of a new car or truck is above $30,000, and totaling one would wipe out the minimum property damage limit."
In Texas, the driver at fault pays for damage
Texas is an at-fault state, which means that the driver who caused the car accident pays for the damage. Your insurance company and legal authorities will determine who's at fault, based on the accident details.
However, Texas also considers whether both drivers are partially at fault under a law called modified comparative fault, according to the legal website Nolo. Under this law, both drivers will be assigned a percentage of fault. Drivers who are less than 50% at fault can get paid for damage caused by other drivers.
For example, if you're 80% responsible for an accident, your insurance will pay 80% of the other driver's damages. However, since you're over 50% at fault, the other driver isn't required to pay for your damages, even though they're 20% at fault.
Cheapest rates by age in Texas
Shopping around proves to save young drivers under age 24 a bundle of money in Texas. In our analysis, these drivers can pay $64 per month less by going with Allstate compared to Geico. Allstate tends to stand as one of the cheapest companies across all age groups in the state.
| Age | Allstate | Progressive | Geico | USAA |
| --- | --- | --- | --- | --- |
| 16-24 | $180.06 | $210.68 | $244.40 | $219.65 |
| 25-34 | $158.46 | $161.23 | $158.17 | $160.53 |
| 35-44 | $138.41 | $144.63 | $145.99 | $154.84 |
| 45-54 | $125.83 | $136.71 | $140.74 | $157.31 |
| 55-64 | $116.15 | $135.58 | $128.36 | $141.44 |
| 65+ | $111.75 | $127.11 | $114.20 | $145.69 |
Cheapest rates by gender in Texas
When comparing major car insurance companies, Allstate again offers some of the lowest rates in Texas. Progressive is another solid option to compare just in case.
| Company | Allstate | Progressive | Geico | USAA |
| --- | --- | --- | --- | --- |
| Men | $150.53 | $155.95 | $166.25 | $167.42 |
| Women | $138.24 | $149.36 | $169.82 | $175.18 |
Sample rates in Texas from major car insurance companies
Allstate costs drivers the least in car insurance premiums at $144 per month, according to our analysis of rates from Savvy.
However, you could try getting that cost even lower by opting into Allstate Drivewise or Milewise, which tracks your driving and sets rates based on your safety and mileage.
| Company | Allstate | Progressive | Geico | USAA |
| --- | --- | --- | --- | --- |
| Rate | $144.39 | $152.65 | $168.03 | $171.30 |
Best car insurance in Texas
Texans don't get the luxury of low average car insurance premiums, but that shouldn't stop you from shopping for the best deal. We recommend starting with these top companies.
When comparing the best options, we considered a variety of insurance companies, including those suggested by locals. We then looked at ratings from organizations like J.D. Power, Better Business Bureau and AM Best. Last, we compared the coverage and discounts available to make sure you're getting the best value for your money.
Best for low rates: Geico
The green gecko really does offer some of the lowest rates for many Texan drivers. Plus, for those who like self-service, Geico's online tools let you buy and manage a policy without the help of an agent. Plus, you won't sacrifice coverage options by choosing this discount insurer.
While Geico isn't known for customer service, it receives a below-average number of complaints with the National Association of Insurance Commissioners. That's a difficult feat for major insurance brands like Geico that serve hundreds of thousands of customers.
Pros
Known for offering low prices to most drivers
Discount up to 25% for multiple vehicles
One of the highest-rated insurance apps
App features ID cards, photo claims, gas finder and more
Cons
Online-focused customer service
Few local agents available, mostly in major cities
No gap coverage
Best for safe drivers: Allstate Drivewise
Drivewise is Allstate's version of telematics, which is a program that tracks your driving and sets premiums or discounts based on how safely you drive. Drivewise offers one of the highest discounts possible for a telematics program. It was also one of the first telematics programs, giving Allstate a leg up on user experience over other telematics options.
Another plus: you can try Drivewise without becoming an Allstate customer. Non-customers simply earn cashback rewards rather than an insurance discount.
Pros
Discount up to 40% + cashback for driving safely
Try Drivewise before becoming a customer
Won't raise rates if you're not deemed a safe driver
App can find your parking spot or nearest gas station
Cons
Focuses on few driving behaviors, which could skew results
Requires you to have at least 25% battery power
Android users give low app ratings
Best for customer service: Texas Farm Bureau
Locals praise Texas Farm Bureau for its competitive rates and a customer experience that sets the bar high among Texas insurance companies. Texas Farm Bureau is ranked No. 1 for customer service by J.D. Power for the 10th consecutive year.
That means Texas Farm Bureau has weathered the unexpected and seen customers through the damage of hurricanes, winter storms as well as individual claims. It offers all the coverage you need, plus extras like rental car reimbursement, roadside assistance and rideshare coverage.
Pros
No. 1 for customer satisfaction by J.D. Power in Texas
Over 850 local agents offer personalized support
App lets you access your ID card, photo claims and more
Cons
Must buy a Texas Farm Bureau membership
Can't keep your policy if you move states
7 factors that affect car insurance rates in Texas
Factors are characteristics specific to you that car insurance companies use to set how much you'll pay for car insurance. The less risky each of your factors is the less you pay, the riskier you are the more you'll pay. We'll break down Texan's rating factors to keep in mind.
Factor
How it affects your rates

Age

How old you are is a top factor in determining your car insurance rates. With each passing year, you earn more experience on the road. More experience can equal cheaper rates. Teen drivers pay the most, but rates begin to level off around your 20's with drivers over 50 paying the least.

Gender

Texas takes gender into account when determining your rates. Our analysis of Quadrant data found that men under 18 pay 17% more for car insurance compared to women of the same age. But, between 31 and 45, women see rates 5% higher than men. After 45, rates differ between men and women by only 1%, with women on the higher end.

Location

Where you live affects your rates, including where you park your car. High theft rates, high traffic and a high number of uninsured drivers could mean higher rates.

Texas vehicle theft rates stand at 287 vehicle thefts per 100,000 inhabitants, according to the FBI's most recent report on vehicle theft rates. That's well above the national average of 246 vehicle thefts per 100,000 inhabitants.

As for uninsured drivers, 8.3% of Texans on the road are uninsured. That's on the lower end for the percent of uninsured drivers in a state according to Insurance Information Institute, with the national average standing at 12.6%.

Vehicle and mileage

Your car's make, model and trim directly affect how much you'll pay for car insurance. Things like its cost, safety ratings, the likelihood of theft and sportiness all help insurers determine its cost to insure.

Safer and cheaper vehicles score the lowest rates, with luxury vehicles with higher repair costs resulting in higher premiums.

And, the more you're on the road, the more at-risk you are to get in an accident, which means higher premiums. However, according to the Bureau of Transportation, Texans drive an average of 38.1 miles per day, that's above the average across the US of 36.1 miles per day.

Credit score

Your credit score is included in your credit-based insurance score which insurers use to help calculate rates. According to the Insurance Information Institute, there is a strong correlation between your insurance score and claims filings. A good credit-based insurance score could mean lower rates.

Texans have protections under state laws that regulate the use of your credit history when issuing car insurance policies. Credit score can't be the only factor used to determine your rates and insurance companies have to share credit scoring models with the Texas Department of Insurance.

Coverage

The more coverage you get and the higher limits you choose, the more protection you'll have and the more you'll pay in monthly premiums. And, if you opt for full coverage car insurance that includes comprehensive and collision, the amount of your deductible weighs into your costs too, higher deductibles mean lower monthly premiums.

Driving Record

The better your driving record, the lower your premium. If you're in an at-fault accident you could see rates increases from 20% to 50%. And DUI's in Texas can increase your rate by around 44%. These types of violations typically stay on your record for about three years.
Does Texas require SR-22 car insurance?
An SR-22 form is proof that a driver is carrying enough liability insurance to meet the state's minimum requirements, and is usually required after serious driving offenses. In Texas, you may be mandated to file an SR-22 if you're convicted of a DUI, have multiple speeding tickets, were caught multiple times driving without car insurance, or have other serious driving offenses. Texas typically requires that you have SR-22 insurance for two years minimum, starting from the judgment date of the offense, or two years from the date of your latest conviction. Learn more about Texas SR-22 insurance.
Coverage to consider in Texas
It's smart to consider multiple coverage options and choose a policy that fits your personal needs. For Texans, we have a few recommendations.
Texas minimum liability requirement may be too low
In Texas, it's required that you carry $25,000 of property damage liability to drive. If you go with the minimum, this is the maximum amount your insurance will pay to cover damages if you're at fault in an accident. Considering that many new vehicles go for well over $25,000 (especially trucks), getting a higher liability limit may be something to consider.
Consider roadside assistance in rural Texas
Texas is diverse. It has heavily populated cities and very rural areas. If you drive a lot and live in the countryside, roadside assistance could be well worth the cost. This coverage can give you help if you need gas, have a flat or break down. It's also a good idea to review your vehicle's manufacturer warranty (if it's still valid) to see if roadside assistance is already included.
Consider roadside assistance if . . .
If you live in a rural area.
You tack on the miles.
You have an older vehicle that's prone to breakdowns.
You heavily rely on your car.
Comprehensive coverage is smart in states with high theft risk
Comprehensive coverage is almost always required if you have an auto loan, but it's still worth it to consider adding to your policy even if you're not financing. This coverage is often called "everything other than collision," because it can cover repairs from unexpected events such as fire, flood, theft, storm damage, and more. Texas has a higher vehicle theft rate than the national average as well. You can't control everything that happens to your vehicle, but comprehensive coverage can offer peace of mind.
Consider comprehensive coverage if . . .
Your lender requires it.
You live in an area with a high theft rate.
You can't afford to pay for major repairs out of pocket.
You live in an area with unpredictable weather.
You drive your car regularly.
Top 10 auto insurance companies in USA that serve Texas,
We've pulled the top 10 companies by market share that offer coverage in Texas according to S&P Global. Compare top companies by three major rating agencies along with our overall score.
Better Business Bureau (BBB) rating measures how a business interacts with its customers, with the highest rating being A++.
J.D. Power determines customers' overall satisfaction with their car insurer's price, billing, claims and customer support. The higher the J.D. Power score out of 1,000, the better.
NAIC complaint index shows how a company's number of complaints compares to similar companies of its size. Scores lower than 1.00 show the company receives less than the average number of complaints, and scores above 1.00 show more complaints than average.
Finder's score shows you an overall look at the company by taking into account scores from each of these agencies as well as the coverage and discounts each company offers.
Which city has the cheapest car insurance in Texas?
Of Texas's largest cities, Keller has the cheapest rates and Houston has the most expensive car insurance rates. Houston drivers could face rates 3 times more than Keller drivers.
Car insurance quotes in El Paso
| Company | Annual car insurance rate |
| --- | --- |
| Allstate | $2172 |
| Geico | $2897 |
| StateFarm | $1279 |
| USAA | $2295 |
| State Auto | $3405 |
Car insurance quotes in Houston
| Company | Annual car insurance rate |
| --- | --- |
| Allstate | $2368 |
| Geico | $3353 |
| StateFarm | $1450 |
| USAA | $2540 |
| State Auto | $4165 |
Car insurance quotes in Katy
| Company | Annual car insurance rate |
| --- | --- |
| Allstate | $2368 |
| Geico | $3219 |
| StateFarm | $1422 |
| USAA | $2605 |
| State Auto | $3815 |
Car insurance quotes in Keller
| Company | Annual car insurance rate |
| --- | --- |
| Allstate | $2204 |
| Geico | $3045 |
| StateFarm | $1301 |
| USAA | $2108 |
| State Auto | $3458 |
Compare car insurance providers in Texas
How does personal injury protection (PIP) work in Texas?
PIP isn't required for Texas drivers. You can choose from $2,500 up to $10,00 per person in coverage. PIP coverage in Texas covers 100% of medical expenses and funeral costs and up to 80% in lost income and related expenses such as childcare, house cleaning or yard work.
When you file a claim for PIP coverage, you'll file through your own insurance as your primary coverage, regardless of who caused the accident. You might be asked to provide proof of these expenses when you make your claim.
Texas car insurance and driving laws
Nearly every state requires car insurance, and states vary in their driving laws. In Texas, here's what you need to know before hitting the road:
Texas requires car insurance.

You're required to carry 30/60/25 in liability car insurance. Uninsured and underinsured motorist coverage is not required in Texas.

Electronic proof of insurance.

Since 2013, Texans have been allowed to use their cell phones to provide proof of insurance.

Cell phone laws in Texas.

Texting while driving isn't allowed in Texas, and you can't use any handheld devices at all in a school zone. Cell phone driving laws can also change from city to city.

Teen cell phone laws.

Any driver under 18 is prohibited from using handheld devices while driving.

Texas seatbelt laws.

All drivers and passengers must wear a seatbelt in Texas.

Aggressive drivers.

Texas prohibits road rage, and if you're found driving your car in a way that endangers others you could be fined for aggressive driving, up to $200 for each violation.

Smog and emissions test.

Texas requires gas vehicles in some counties to pass an emissions test, and all vehicles in the state to pass a safety inspection annually.
Bottom line
Car insurance is designed to protect you, your passengers and your vehicle against bumps in the road. Unlike other states, Texas requires only minimum liability coverage to legally drive its expansive roads. But with so much scenery to take in from the state's nearly 700,000 miles of highway, you might want the broader protection of comprehensive and other optional coverage to protect against the unexpected. (The state's not part of Tornado Alley for nothin'.)
To learn more about how you can stop paying too much for coverage, read our comprehensive guide to car insurance.