Finder is committed to editorial independence. While we receive compensation when you click links to partners, they do not influence our opinions or reviews. Learn how we make money.
J.G. Wentworth mortgage review
finder.com's rating: 3.9 / 5.0
★★★★★
Shop several home loan options with transparent lender fees up front.
If you live in Washington DC or one of the 46 states J.G. Wentworth is licensed in, you'll find a number of home loan products for conventional, jumbo and government-backed loans.
Details
| | |
| --- | --- |
| Loan types | Conventional, Jumbo, FHA, VA, USDA |
| Other fees | Fees vary depending on loan type. It doesn't offer a typical fee associated with mortgage closing costs: points. |
| Available States | Not available in: HI, ID, NV, NY |
Pros
Fee transparency
Online rate check available
Well-rounded suite of loan options
Cons
Not available everywhere
Limited branch locations
The Better Business Bureau (BBB) gives J.G. Wentworth an A+ rating, and it's been accredited since 1996. In more than two decades of business, it only has nine customer reviews on BBB that average just over 2 out of 5 stars. Several of the complaints site unsatisfactory customer service.

Reviews through Consumer Affairs, Zillow and Lendingtree paint a much kinder picture — each averaging 4.9 out of 5 stars with over 2,400 reviews among the three as of September 2019.

What types of loans does J.G. Wentworth offer?
Several standard and government-backed mortgage options are available through J.G. Wentworth. Outside of mortgages, it also offers a special refinancing option and a home improvement loan.
Conventional mortgages
J.G. Wentworth offers 15-, 20- and 30-year fixed-rate mortgages, and adjustable-rate mortgages with intro periods of three, five and seven years.
Jumbo loans
Mortgages that go over the standard loan maximums are considered jumbo loans. J.G. Wentworth recommends a down payment of at least 20% to qualify.
VA loans
Military service members, retired veterans and their spouses could qualify for this type of government-backed loan. VA loans sport a number of features, including no down payment, no PMI requirements, limited closing costs, no early repayment fees and interest rates that are lower than conventional mortgages.
FHA loans
Another government-backed loan option is an FHA loan that makes it easier for those with fair credit to qualify for a loan. One of the most notable features of an FHA loan is its minimum down payment — depending on your eligibility, you may be able to put as little as 3.5% down.
USDA loans
A USDA guarantee provides benefits for borrowers who live or want to buy a house in a rural area and have low or moderate income compared to the local median. No down payment, low insurance premiums, lower than conventional rates and 100% financing are all available with a USDA loan.
Other loans offered by J.G. Wentworth
J.G. Wentworth fees
One appeal of J.G. Wentworth is its declaration of complete transparency when it comes to mortgage fees. Its commitment to no hidden fees is reflected by the fact that it doesn't offer a typical fee associated with mortgage closing costs — points.
Home loan fees you may still run into include:
Processing and underwriting. You'll find these included in typical closing costs. Application processing, underwriting and origination fit under this category.
Third party. Appraisal, title services and inspection typically aren't charged by the lender, and are instead outsourced.
Ongoing. Insurance and property taxes will likely be your two biggest ongoing fees to consider.
Requirements
While J.G. Wentworth doesn't provide exact eligibility requirements, it does have a mortgage qualifier calculator which shows what loan amount you may qualify for. You can also get prequalified with J.G. Wentworth by working with a loan officer who will evaluate your creditworthiness and income, among other factors.
Documentation
J.G. Wentworth doesn't provide a list of documents you might need, but most lenders require the following info to apply:
W-2 forms from the past two years
Pay stubs from the past month
Federal taxes from the past two years
Bank statements for the past two months, including all deposit and investment accounts
Divorce decree
Proof of child support
Proof of additional properties and assets
Verification of rental or mortgage payments for the past two years
How to get a home loan with J.G. Wentworth
J.G. Wentworth offers the opportunity to apply online or over the phone. To start the process:
Go to the J.G. Wentworth mortgage site and select Start a conversation under Talk to a specialist.
Fill out the form with your state, loan type, first and last name, email address and phone number, then click Submit.
When you get a call from a J.G. Wentworth loan officer, you'll receive a rate quote.
The loan officer reviews your creditworthiness, assets and income to determine if you prequalify.
If you're prequalified, apply over the phone, which requires submitting in-depth documentation.
Your application is sent to underwriting to determine if you're approved.
If you're approved for the loan, you can schedule a closing and receive your mortgage.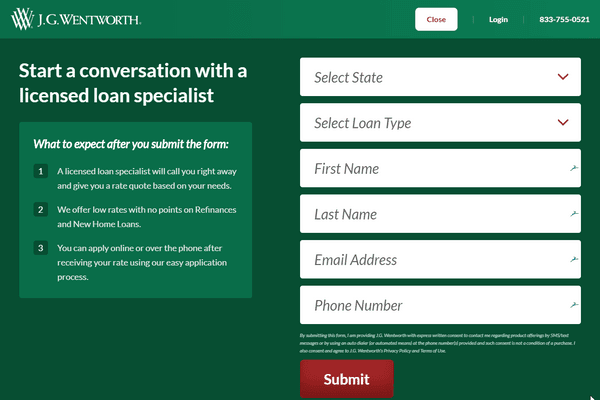 Pros and cons of J.G. Wentworth
Pros
Fee transparency. J.G. Wentworth claims it clearly states all possible fees before closing to avoid surprises.
Online rate check. Quickly check out possible rates with its online quote tool.
Well-rounded suite. Choose from renovation and refinance options and several government-backed loans.
Cons
Not available everywhere. If you live in Hawaii, Idaho, Nevada or New York, you won't be able to apply for a mortgage with J.G. Wentworth.
Limited branch locations. Of the states it's licensed in, it only has branch locations in 14.
What is J.G. Wentworth?
Founded in 1991 as a bank, J.G. Wentworth Company offers structured settlement, presettlement and annuity services outside of its home mortgage products. In August 2019, J.G. Wentworth Home Lending was purchased by Freedom Mortgage. Details on how it will affect the process of getting a home loan with J.G. Wentworth aren't yet available as of September 2019.
Frequently asked questions
Home loans ratings
★★★★★ — Excellent
★★★★★ — Good
★★★★★ — Average
★★★★★ — Subpar
★★★★★ — Poor
We analyze top home loan providers and rate them one to five stars based on factors that are most important to you. These factors include: rates and fees, product selection and borrower experience.
Read the full methodology of how we rate home loan providers.
Expert review
Review by
rhys.subitch@findercrew.com
---
Rhys Subitch is a writer and editor at Finder who tackles topics across the site. With half a decade of experience researching, editing and writing for a Fortune 500 company, university and several independent publications, Rhys brings readers the most up-to-date and curated info on all things finance.
Expert review
J.G. Wentworth offers home loan products to meet a variety of needs. It's a well-reviewed company — outside of its BBB profile — and claims fee transparency.
While its products are robust, you may still want to look into other lenders before settling. Compare your home loan options and determine the best provider for your financial situation.