Finder is committed to editorial independence. While we receive compensation when you click links to partners, they do not influence our opinions or reviews. Learn how we make money.
Vanderbilt Mortgage and Finance review
finder.com's rating: 2.4 / 5.0
★★★★★
You can finance a mobile home — but it can be hard to get help when applying.
Vanderbilt specializes in mortgages for modular and mobile homes. But its customer service can be frustrating, and it isn't always easy to get ahold of a representative.
Details
| | |
| --- | --- |
| Loan types | Conventional, FHA, VA, USDA |
| Minimum credit | 620 |
| Minimum down payment | 3% |
| Available States | AL, AR, AZ, CA, DE, FL, GA, ID, IL, IN, KS, KY, LA, MD, MO |
| NMLS | 1561 |
Pros
Loan options
Experience
Simple application process
Cons
Difficult to contact
Limited information available
Vanderbilt Mortgage and Finance has been accredited with the Better Business Bureau since 1974 and has an A+ rating as of September 2019. But it only has just over 1 out of 5 stars on the site based on 10 reviews.

Reviews on other sites are much more favorable. On Consumer Affairs, Vanderbilt gets almost 5 out of 5 stars based on 462 reviews.

Positive feedback tends to focus on an easy application process and helpful loan officers, while negative feedback focuses on unsympathetic customer service when dealing with financial hardships and late payments.
What types of loans does Vanderbilt offer?
Vanderbilt Mortgage offers several different types of mortgages, including:
Conventional
Vanderbilt offers conventional mortgages for new or used manufactured, modular and mobile homes. These loans offer competitive rates and can be tailored to suit your individual needs.
FHA
Backed by the Federal Housing Administration, this type of mortgage helps you qualify for a loan if you're a first-time buyer. FHA loans offer lower down payment requirements, more flexible lending criteria and competitive interest rates.
Other loan types offered by Vanderbilt
Vanderbilt offers several unique mortgages, including:
eScore loans.Vanderbilt Mortgage has partnerships with the Tennessee Valley Authority (TVA) and local power companies to offer loans to customers who want to make their homes more energy efficient.
Biweekly Advantage Mortgage. Instead of making monthly payments towards the amount you borrow, this mortgage allows you to make a half payment every two weeks, meaning more of your money pays off the principal of your loan, paying your debt down more quickly.
Land Home Mortgage. Designed for you if you own land and would like to build a home or need a loan for a land purchase and the construction of a home. Your mortgage payments and fees are conveniently combined into one payment.
Vanderbilt's fees
Vanderbilt doesn't list what fees you'll need to pay on its website. If you're considering this lender, talk with your loan officer to find out what fees you'll need to pay.
Closing costs on a new mortgage are typically 2% to 5% of the home's price, and include:
Application fees
Origination fees
Underwriting fees
Rate lock fees
Ongoing fees
Third party fees
Requirements
Vanderbilt doesn't list loan requirements on their page. But to qualify for an FHA loan, you need to have at least a 580 credit score and a 3.5% down payment. And most lenders will require at least a 620 credit score to qualify for a conventional mortgage.
Documentation
Be ready to supply:
Information about the property. Be ready with the address, if it will be your primary or second residence and the amount of your down payment.
Personal information. Provide the name, address, date of birth, and Social Security number of each borrower. You'll also need to provide your email address, phone number and marital status as well as details of your current living arrangements.
Employment information. Provide details about your employer, including the company name and contact details, how long you've been working there and your monthly gross income.
Other income. Provide details about any other income you receive from things like alimony, child support or foreign investments.
Assets and liabilities. Vanderbilt needs to know how much you have in liabilities like other loan payments, alimony and child support you pay. You'll also need to provide your monthly household living expenses along with your checking and savings balance.
Declarations. Be sure to include any outstanding judgments against you or if you've ever had a bankruptcy, repossession or foreclosure in the last seven years.
How to get a home loan with Vanderbilt
To apply for a mortgage with Vanderbilt:
Visit the lender's website.
Click Apply for a home loan.
Click I'm ready.
Follow the onscreen prompts to provide information about yourself, your finances and your home.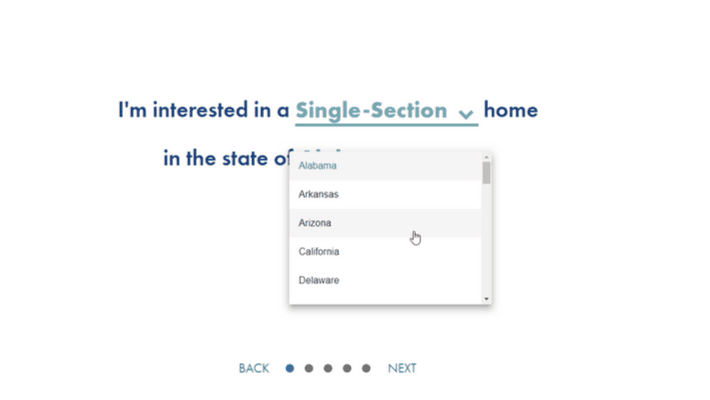 Pros and cons of Vanderbilt mortgages
Pros
Loan options. Vanderbilt offers loans for mobile and modular homes, which can be difficult to finance with traditional lenders.
Experience. Vanderbilt Mortgage and Finance has more than 40 years of experience and currently services over 200,000 loans.
Simple application process. It's quick and easy to begin the application process online for a home loan.
Cons
Difficult to contact. When writing this article, I was not able to contact a Vanderbilt loan officer, despite trying two of the phone numbers listed on the site. The phone number for new customers just screeched like a fax machine, and the number for existing customers wouldn't let me past the robot directory without having an existing loan.
Limited information available. The website doesn't offer much information about interest rates and other loan details. Contact the lender directly for more information about the features of each mortgage.
What is Vanderbilt Mortgage and Finance?
Located in Maryville, Tennessee. Vanderbilt Mortgage and Finance is a national housing lender that provides and services a number of home loan programs. It focuses primarily on the manufacturing housing sector, offering loans for new and used modular homes. It has serviced over 200,000 loans in its more than 40 years of service.
Vanderbilt offers traditional home loans, Federal Housing Administration (FHA) mortgages and loans for purchasing land. It even has an inventory of land and homes to sell to potential buyers.
Historical mortgage data for Vanderbilt Mortgage and Finance
All numbers based on 2019 nationwide data from the Home Mortgage Disclosure Act.
| Loan type | Applications denied | Loans originated | $ Amount (originated loans) |
| --- | --- | --- | --- |
| Conventional | 44,260 | 15,661 | $1,868,365,000 |
| FHA | 254 | 1,837 | $293,865,000 |
| VA | 18 | 396 | $100,760,000 |
| USDA | 16 | 149 | $20,315,000 |
Frequently asked questions
Home loans ratings
★★★★★ — Excellent
★★★★★ — Good
★★★★★ — Average
★★★★★ — Subpar
★★★★★ — Poor
We analyze top home loan providers and rate them one to five stars based on factors that are most important to you. These factors include: rates and fees, product selection and borrower experience.
Read the full methodology of how we rate home loan providers.
Expert review
Review by
marc@hiveempire.com
---
Marc Terrano is a lead publisher and growth marketer at Finder. He has previously worked at Finder as a publisher for frequent flyer points and home loans, and as a writer, podcast host and content marketer. Marc has a Bachelor of Communications (Journalism) from the University of Technology Sydney. He's passionate about creating honest and simple reviews and comparisons to help everyone get value for money.
Expert review
Vanderbilt Mortgage and Finance specializes in providing loans for manufactured or modular homes — a market that many lenders won't touch. But you'll need good credit to qualify.