Finder is committed to editorial independence. While we receive compensation when you click links to partners, they do not influence our opinions or reviews. Learn how we make money.
On Q Financial mortgage review
finder.com's rating: 3.3 / 5.0
★★★★★
Take advantage of an easy-to-use site and responsive loan teams.
On Q Financial offers conventional, jumbo and government-backed mortgages with additional programs to help you pay a down payment. The bank operates primarily online, with branch locations in only 16 states, and it doesn't offer mortgages in four states.
Details
| | |
| --- | --- |
| Loan types | Conventional, Refinance, Jumbo, FHA, VA, USDA |
| Available States | Not available in: HI, NJ, NY, OH |
Pros
Well-rounded product suite
Down payment assistance
Site available in four languages
Cons
Not available everywhere
Limited branches
On Q Financial has a rather sparse presence online when it comes to customer reviews. It's accredited with the Better Business Bureau (BBB), and receives an A+ rating from the agency. As of September 2019, there are only three customer reviews and three complaints, resulting in a low 1 out of 5 stars.

The Zillow review page for On Q Financial has more customer reviews to offer, and a much better average score. Over 1,600 customer reviews as of September 2019 put On Q Financial at a high 4.98 out of 5 stars. Many of the reviews praise the service of loans teams across several states, several saying that they've worked with a specific loan team more than once.

What types of loans does On Q Financial offer?
You'll find a wide variety of home loans in the On Q Financial suite of products, including those for refinancing and manufactured homes.
Conventional mortgages. On Q Financial offers adjustable-rate mortgages, and fixed-rate mortgages with terms between 10 and 30 years. It recommends having good to excellent credit to qualify for a conventional mortgage.
Jumbo mortgages. You can potentially borrow up to $5 million with a jumbo loan through On Q. The maximum amount varies by state, and there may be certain property type restrictions. Despite being a higher amount, On Q still has low down payment options and fixed-rate, adjustable and interest-only loans.
FHA loans. Benefits of an FHA loan include a low minimum down payment requirement and flexible creditworthiness and income requirements. To qualify for an FHA loan with On Q, you'll need a credit score of at least 580 and a minimum down payment of 3.5% of your home's value.
VA loans. Current and former military service members and their spouses can apply for a 15- or 30-year fixed-rate mortgage with a minimum down payment of $0. Credit score requirements are also flexible with VA loans, with the minimum sitting at 600 instead of the conventional 620.
USDA loans. While it doesn't have a higher minimum credit score than a conventional loan, USDA loans come through with the potential for no down payment. You'll have to live or be looking to live in a rural area to qualify for this type of loan.
Other loans offered by On Q Financial.

Home improvement loans
Investment property loans
Refinancing
Native American Home Ownership (HUD 184)
Construction loans
Self-employed home loans
On Q Financial fees
The exact amount you'll pay in fees varies based on several factors, but some common threads exist that you can keep in mind.
Points. You're not required to purchase discount points, but doing so will lower your interest rate. Each point is worth a percentage of the interest rate, and comes at the cost of 1% of the loan amount per point.
Application processing. Fees for applying, document processing, underwriting and origination are all potential costs when applying for a mortgage.
Third-party fees. Appraisals, inspections and title service fees are typically all paid to third-party providers rather than the lender.
Ongoing. Property taxes and mortgage insurance are two of the biggest ongoing costs that you could pay after closing.
Down Payment Assistance
On Q helps connect customers with Down Payment Assistance (DPA) programs that provide loans and grants to help you make all or some of your down payment. Two of the national programs On Q works with — the CHENOA Fund Program and Within Reach Program — aren't available in Hawaii, New Jersey, New York, Ohio or Washington.
Requirements
Your credit history, debt-to-income (DTI) ratio and the type of loan you're applying for impact your application. On Q offers a prequalification process, which confirms in a letter the maximum loan amount you're approved for. It's not a guarantee to lend, but it can give you an edge when you shop for your home and compare lenders.
Documentation
You may need some or all of the following documents in order to fully complete an application with On Q:
W-2 forms from the past two years
Pay stubs from the past month
Bank and investment account statements from the past year
Proof of any existing debt and monthly payments
Divorce decree
Verification of ownership for any existing properties
Letter verifying any gifts of funds for your down payment
How to get a home loan with On Q Financial
Go to the On Q Financial website and select Purchase or Refinance.
Click I don't have a mortgage consultant.
Select the home type you're looking for and details about the property and your budget — then enter your first and last name, email and phone number and click Apply.
On Q will have a loan officer call you to discuss your prequalification and loan options.
Gather and turn in the required verification documents.
Your application will be fully processed and a determination made.
Upon approval, schedule your closing date and location.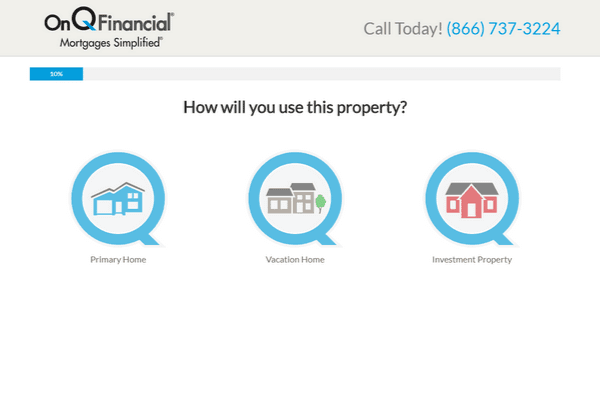 Pros and cons of On Q Financial
Pros
Well-rounded product suite. With options varying from traditional to specific programs for those who are self employed, On Q has options for almost every situation.
Down payment assistance. On Q can help you find local programs to help make some or all of your down payment with a loan or grant.
Site available in four languages. You can navigate the site in English, Spanish, Simplified Chinese or Russian.
Cons
Not available everywhere. On Q Financial is not licensed in Hawaii, New Jersey, New York or Ohio.
Limited branches. You can only sit down with a loan officer in person in 16 states.
What is On Q Financial?
On Q Financial was founded in 2005 by John Bergman, a former loan officer and current president of the company. The stated mission of the company is to simplify the mortgage process, and as of September 2019 its website states that it helped 10,000 families in 2018.
Frequently asked questions
Home loans ratings
★★★★★ — Excellent
★★★★★ — Good
★★★★★ — Average
★★★★★ — Subpar
★★★★★ — Poor
We analyze top home loan providers and rate them one to five stars based on factors that are most important to you. These factors include: rates and fees, product selection and borrower experience.
Read the full methodology of how we rate home loan providers.
Expert review
Review by
rhys.subitch@findercrew.com
---
Rhys Subitch is a writer and editor at Finder who tackles topics across the site. With half a decade of experience researching, editing and writing for a Fortune 500 company, university and several independent publications, Rhys brings readers the most up-to-date and curated info on all things finance.
Expert review
If you're self-employed or a Native American looking for a loan, you could qualify for On Q's nontraditional loans with flexible underwriting. But it's not available in all 50 states and branch locations are limited.