Finder is committed to editorial independence. While we receive compensation when you click links to partners, they do not influence our opinions or reviews. Learn how we make money.
Reali Loans mortgage review
finder.com's rating: 2.1 / 5.0
★★★★★
This lender charges no origination fees, but availability is limited.
Previously known as Lenda before being acquired by real-estate broker Reali, Reali Loans offers a paperless approach to mortgages. But its product range, customer service options and state availability are limited.
Details
| | |
| --- | --- |
| Loan types | Conventional, Refinance |
| Other fees | Vary |
| Available States | Only available in: AZ, CA, CO, FL, GA, IL, MI, OR, PA, TX, VA, WA |
Pros
Fully online process
Quick loan decision
No origination fees
Cons
Limited availability
Limited support
High interest rates
Reali has an A+ rating with the Better Business Bureau and 4.5 out of 5 stars on Trustpilot as of September 2019. But most of those reviews are for the company's real estate services, not its mortgages.

Reali Loans has only been around since April 2019, and there aren't many customer reviews yet. And Lenda, the loans company purchased by Reali and rebranded as Reali Loans, doesn't have many reviews, either.
What types of loans does Reali offer?
Reali offers just a few types of mortgages:
Conventional
You can get a 15- or 30-year fixed-rate conventional mortgage. But you can't get an adjustable-rate conventional mortgage through Reali.
Refinance
Reali can also help you refinance your current mortgage to a new fixed-rate mortgage.
Reali's fees
Reali doesn't charge any origination or application fees, but you will have to pay third-party fees. You can get an estimate on their website. As of September 2019, a $300,000 house with 10% down would cost $8,083 in closing costs, according to Reali's calculator. That figure includes $392 in loan points, the least amount possible with the calculator.
Keep in mind that these fees are just for the loan. If you decide to use Reali real estate agents to help you find and purchase a house, those fees will be separate.
Requirements
To qualify for a loan with this provider, you'll need to be a resident of Arizona, California, Colorado, Florida, Georgia, Illinois, Michigan, Oregon, Pennsylvania, Texas, Virginia or Washington.
Reali states nothing about a minimum credit score requirement on its website but suggests that borrowers with higher credit scores typically qualify for more competitive rates.
Documentation
Gather the following information before you apply:
W2s and 1099s from the past two years
Personal tax returns from the past two years
Current monthly housing expenses such as rent or mortgage payments
Driver's license, state ID or passport
Bank statements from the past two months
Business tax returns from the past two years, if self-employed
How to get a home loan with Reali
Go to Reali's website and click Get a Home Loan.
Click Apply Now.
Enter your personal details and click Save & Continue.
Tell Reali more about your living situation. Click Save & Continue.
Enter details about your employment history and income. Click Save & Continue.
List any available assets you have, including your checking and savings account balances. Click Save & Continue.
Choose whether you'd like to provide info about your ethnicity, gender and race, or opt out. Click Save & Continue.
Review Reali's qualification questions and click Save & Continue.
Enter your Social Security number for Reali to complete a credit check on your behalf.
Upload supporting documentation, then submit your application.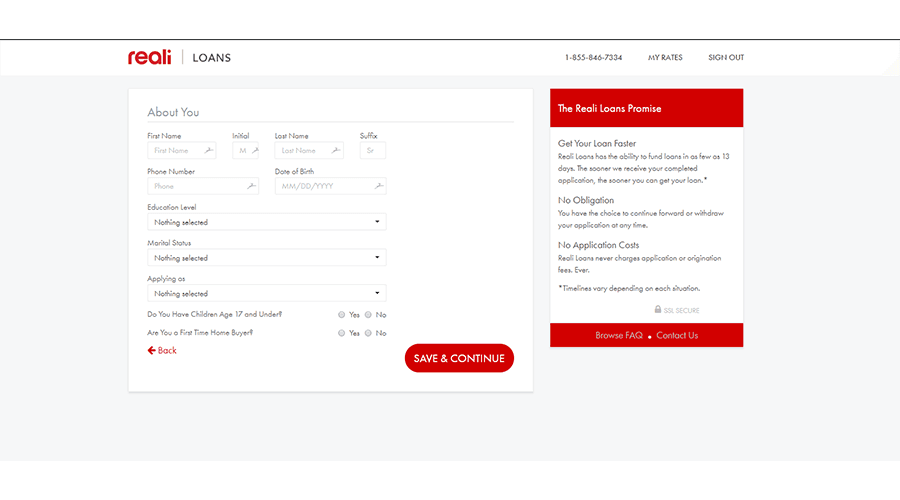 You'll hear back from a Reali loan specialist within one business day to discuss your application.
Pros and cons of Reali
Pros
Fully online process. From supporting documentation to signing off on your loan, Reali's mortgage application takes place entirely online.
Quick loan decision. After you submit your application, a Reali loan officer contacts you within one business day.
No origination fees. Thanks to its online lending model, Reali can offer its fixed-rate home loans without any origination or application fees.
Cons
Limited availability. Reali is currently only available to residents of Arizona, California, Colorado, Florida, Georgia, Illinois, Michigan, Oregon, Pennsylvania, Texas, Virginia and Washington.
Limited support. Reali is an online lender, which means support is limited to email and phone inquiries weekdays from 9 a.m. to 5 p.m. PT.
High interest rates. Reali tends to charge higher interest rate than its competitors. When we checked in September 2019, it offered a 5.301% APR. In comparison, Quicken Loans offered a 4.498% APR, and First Internet Bank offered a 4.582% APR.
What is Reali?
Reali began as a real estate broker. Instead of charging a commission, it helps people buy and sell homes at a flat rate.
In April 2019, Reali acquired online lender Lenda and rebranded it as Reali Loans. The company now offers home loans in addition to real estate services, making it a one-stop-shop for homebuyers.
Frequently asked questions
Home loans ratings
★★★★★ — Excellent
★★★★★ — Good
★★★★★ — Average
★★★★★ — Subpar
★★★★★ — Poor
We analyze top home loan providers and rate them one to five stars based on factors that are most important to you. These factors include: rates and fees, product selection and borrower experience.
Read the full methodology of how we rate home loan providers.
Expert review
Review by
shannon.terrell@finder.com
---
Shannon Terrell is a writer for Finder who studied communications and English literature at the University of Toronto. On any given day, you can find her researching everything from equine financing and business loans to student debt refinancing and how to start a trust. She loves hot coffee, the smell of fresh books and discovering new ways to save her pennies.
Expert review
With only two loans to choose from and rates higher than the national average, Reali is good for borrowers with excellent credit who want a fully-online experience. And loans are limited to residents in Arizona, California, Colorado, Florida, Georgia, Illinois, Michigan, Oregon, Pennsylvania, Texas, Virginia or Washington.