Finder is committed to editorial independence. While we receive compensation when you click links to partners, they do not influence our opinions or reviews. Learn how we make money.
Ally mortgage review
Buy a new home or refinance an existing mortgage with the help of this online-only lender.
Ally provides a fair selection of fixed- and adjustable-rate mortgages and refinancing options. While it works with a program assisting first-time homebuyers, Ally doesn't provide any government-backed home loans. If you're not a first-time home buyer, and are considering government assistance, you may want to look elsewhere.
Details
| | |
| --- | --- |
| Loan types | Purchase, Refinance, Jumbo |
| Minimum credit | 620 |
| Other minimum credits | Conventional: 620 |
| Available States | Not available in: HI |
Pros
Clear application timeline
Customer discounts available
Guides and resources available
Cons
No government-backed loans
No branch locations
No home equity line of credit (HELOC) options
Reviews across Trustpilot and the Better Business Bureau (BBB) are overwhelmingly negative, but they number relatively fewer compared to bigger-name financial institutions — with only 21 and 180, respectively. As of September 2019, it has an A+ rating with the BBB, but it's not accredited and the average customer rating is 1 out of 5 stars.

Complaints generally focus on poor customer service experiences, misinformation and mishandling of funds, among others. While the reviews are mostly negative, it's important to keep in mind that people aren't as likely to go out of their way to leave positive reviews in general.
What types of loans does Ally offer?
Ally has a fairly modest selection of home loans available to help you make your purchase or refinance an existing mortgage.
Conventional loans
Ally offers 15-, 20- and 30-year fixed-rate mortgages. Look into a 10/1, 7/1 or 5/1 adjustable rate mortgage (ARM) if you're looking to get a lower rate upfront. Though your rate can go up every 12 months after the initial period if you choose to go with an ARM.
Jumbo loans
Take out a jumbo loan if the mortgage amount is more than the standard loan limit, which depends on your location. Jumbo loans with Ally require a 10% down payment.
Other loans offered by Ally
Refinance. If you think you could get a better rate or terms on your mortgage, you could refinance it with Ally. The terms are 15, 20 or 30 years — same as a conventional loan.
HomeReady by Fannie Mae. Ally works with Fannie Mae's HomeReady mortgage program to provide assistance to first-time buyers. You're required to take an online course, but you can potentially get a 30-year mortgage for as little as 3% down.
Ally fees
While Ally doesn't directly list its home loan fees, there are several common ones that may apply:
Points. To get a discounted rate, pay an upfront fee to Ally. Points are calculated as a percentage of the loan.
Underwriting. This fee goes towards your documentation review and evaluation.
Ongoing. It's possible to be settled with an account maintenance fee. Most lenders also have fees for returned and late payments.
Third party. Appraisal, title company and survey fees — along with taxes — are just a few of the potential third-party fees you could shell out for.
Existing customer discount
Customers with accounts over 30 days old can receive $500 towards closing costs. While not an extravagant discount, it's $500 you can put towards moving costs, paint or new decor.
Requirements
To apply, you'll need to be a US resident — Ally provides home loans in every state except for Hawaii. Though Ally doesn't list any credit score requirements on its site, you can apply for preapproval online or over the phone to see if your finances might meet its underwriting criteria.
Documentation
The documents you need vary based on your circumstances, but you may want to prepare any of the following that are applicable to you:
Pay stubs
Employment records and former employer information
An explanation for any employment gaps over 30 days.
Bank statements
Tax returns
Proof of other income or assets
Verification of rent payments
Student loan payment history
Divorce decree or separation agreement
Proof that all judgements or liens are paid
Pros and cons of Ally
Pros
Clear timeline. Ally offers time estimates for each part of the application process, so you won't be stuck wondering.
Customer discount. If you've had an account with Ally for over 30 days, you may be eligible for a $500 discount on closing costs when you prequalify.
First-time buyers guide. Access a free set of articles and resources on buying a home for the first time to learn more about the process.
Cons
No government-backed loans. You can't get an FHA, VA or USDA loan through Ally.
No branch locations. While it's nice not to have to go into a branch, sometimes it's easier to deal with financial matters in person.
No home equity line of credit (HELOC) options. If you're looking to capitalize on the equity of your home, you can't through Ally.
Compare Ally to other lenders
How to get a home loan with Ally
The application starts online or over the phone, and it's generally best to start by prequalifying. To do so, simply:
Go to the Ally website and select Home loans.
Click Get prequalified.
Choose your state and whether you're buying or refinancing, then click Submit.
You'll either be taken to an application powered by Better.com or be presented with a form to fill out, in either case you'll need to give several pieces of information and submit them for review. Have your email, credit score range, cost estimate and the type of house you want to purchase ready for this section.
Wait to be contacted by your Ally home loan team to find out if you prequalify.
If you prequalify, send in the required documentation and Ally completes the underwriting process. This can take anywhere from three to five weeks, but you can track the progress online or talk to your loan team over the phone.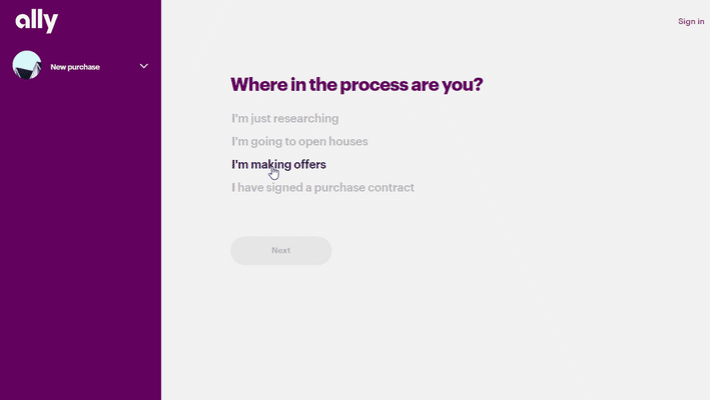 What is Ally?
Ally is a financial services company that operates completely online. It was established back in 1919 as the General Motors Acceptance Corporation, but was rebranded in 2010 as Ally.
In addition to mortgages, Ally provides a number of personal banking products — including checking and savings accounts, CDs, IRAs, investment accounts and auto loans. As of late August 2019, Ally has expanded its relationship with the car subscription service, Fair.
Frequently asked questions
Expert review
Review by
rhys.subitch@findercrew.com
---
Rhys Subitch is a writer and editor at Finder who tackles topics across the site. With half a decade of experience researching, editing and writing for a Fortune 500 company, university and several independent publications, Rhys brings readers the most up-to-date and curated info on all things finance.
Expert review
If you have a good credit score and are looking for a conventional or jumbo loan, Ally offers a clear, online application process. Current Ally bank customers can even get $500 towards closing costs. However, it doesn't offer government-backed loans so veterans or first-time home buyers may have better luck with another bank.