Finder is committed to editorial independence. While we receive compensation when you click links to partners, they do not influence our opinions or reviews. Learn how we make money.
Wells Fargo mortgage review
finder.com's rating: 3.3 / 5.0
★★★★★
Loans for first-time homebuyers, union members or military service members.
If you're looking to buy your first home, refinance, borrow against your house or fund a home improvement, this big-bank lender offers choices. But it's also been caught up in a few big scandals.
Details
Loan types
Purchase, Refinance, Jumbo, HELOC, FHA, VA, USDA
Minimum credit
620
Minimum down payment
3%
Origination fee
N/A
Other fees
Expect fees to include appraisal fees, title charges, closing fees and state taxes. Wells Fargo doesn't disclose actual costs; nor does it include fee estimates through an online calculator.

Ask your loan consultant for the specific fees associated with your pending loan, and keep an eye out for additional fees in your loan documentation.
Available States
Available in all states
Pros
Low down payment
Use gift funds
Easy application process
Cons
Fees
Slow customer service
Reviews for this lender are mixed, but trend toward negative. First-time homebuyers recommend Wells Fargo for its thorough guidance through the home loan process. Other borrowers praise its mortgage specialists for their professionalism and helpful advice over the phone.

Of the complaints, the most frequent was of customer service's slow response time and the excessive documents needed to assess loan applications.

As of September 2019, Trustpilot gives Wells Fargo a rating of 1.5 out of 5 stars based on 157 ratings. The Better Business Bureau doesn't give Wells Fargo a rating, but it gets a customer score on the site of 1 out of 5 stars based on 442 reviews, and the BBB has recorded over 1,000 complaints closed in the last year alone.



What types of loans does Wells Fargo offer?
Wells Fargo offers several different types of mortgages, including:
Conventional
Wells Fargo offers conventional loans with fixed-rate terms of 30 and 15 years. It also offers adjustable-rate terms of 10, 7 and 5 years.
Jumbo
Fixed- and adjustable-rate jumbo loans are available to qualifying homebuyers who can put down more than 10%.
FHA
Designed for low- to moderate-income homebuyers, FHA loans are available with as little as 3.5% down, and often have more flexible lending criteria than conventional loans.
USDA
Wells Fargo participates in USDA loans through the Guaranteed Rural Housing Program. USDA loans are available to homebuyers in select rural and suburban areas with $0 down. You can use the USDA website to check if your home qualifies.
VA
Qualifying active service members, veterans and spouses may be eligible for a VA loan with $0 down.
But in February 2019, Wells Fargo stopped accepting applications for new VA refinance loans, with the exception of certain eligible VA interest rate reduction refinance loans. As of September 2019, new applications have not been opened back up.
Other loans offered by Wells Fargo
Refinance. You can refinance your current mortgage with Wells Fargo to get a new interest rate or change your loan term.
Construction. Wells Fargo can help you build a new home and lock down interest rates with Builder Best Extended Rate Lock program
Union Plus. Qualifying active and retired union members can get a Union Plus mortgage, which offers interest-free mortgage assistance for an unexpected loss of income.
HELOC. A home equity line of credit (HELOC) allows you to borrow against the equity you've built up in your home.
Wells Fargo's fees
Expect fees to include appraisal fees, title charges, closing fees and state taxes. Wells Fargo doesn't disclose actual costs, nor does it include fee estimates through an online calculator.
Ask your loan consultant for the specific fees associated with your pending loan, and keep an eye out for additional fees in your loan documentation.
Requirements
Some factors that Wells Fargo will consider when determining whether or not you qualify are your credit score, debt to income ratio, how well you've managed prior credit and the length of your credit history.
To find out if you might qualify, go to Wells Fargo's mortgage loan page and click Get Prequalified. There, you can fill out your personal and financial information to see where you stand.
Documentation
Before beginning the mortgage application process, have the following documentation and information handy:
Case study: Jon's experience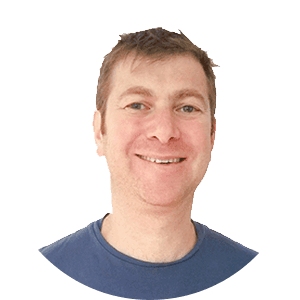 Jon Brodsky
CEO, Finder US
I got my mortgage for my home with Wells Fargo in 2014, which was near the height of the account fraud scandal. My experience was the exact opposite — the team I worked with at Wells Fargo was and has continued to be unbelievably responsive and committed to getting the job done correctly. They found the right product for my family in one day, and it took about four months for us to go from initial contact to funded mortgage. Most of this time us waiting for our previous home to sell; Wells Fargo could easily have gotten the mortgage done in a month.
The real standout in the process was that our key mortgage banker had a major family issue just two weeks before our closing, which was pretty nerve wracking for us because we had to be out of our old home pretty quickly. The team at Wells Fargo immediately let us know what was going on and picked up as if nothing had happened, allowing us to close and move into our new house on time.
They were also realistic with us throughout the process — we had HGTV dreams of home renovation and we had wanted our mortgage to fund that, but they were clear with us from the get-go that a construction loan on top of a mortgage would break us financially. Since then, we were a little late on one mortgage payment, and Wells Fargo made sure that we didn't trip any of our mortgage covenants when that happened so that we could maintain our interest rate.
How to get a home loan with Wells Fargo
Wells Fargo allows you to begin the application process online. To apply for a home loan with Wells Fargo, fill out a series of questions about yourself, including personal info, assets, income, real estate, declarations and demographic info.
Go to the Wells Fargo website. Under the Personal tab, hover over Loans and Credit and click Mortgage Loans.
Scroll down and click on Apply Online.
If you're already a Wells Fargo customer, sign in and apply. If not, click Apply as New Customer.
Work through the application's questions, upload any relevant documents, then review and submit your application.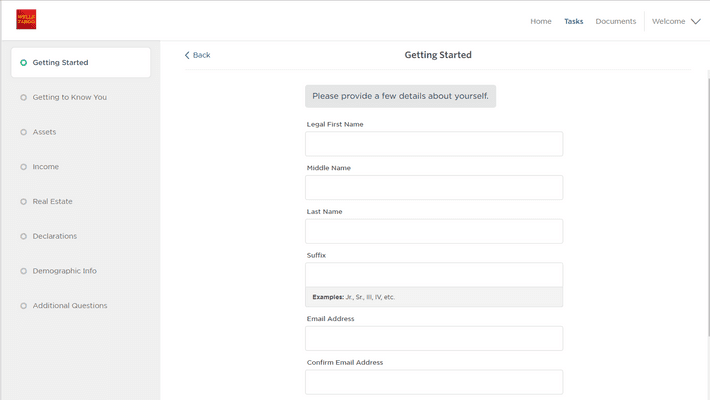 Pros and cons of Wells Fargo
Compare the benefits and drawbacks of a mortgage with Wells Fargo.
Pros
Low down payment. Get a conventional fixed-rate mortgage with a down payment as low as 3%.
Use gift funds. You can use gift funds and down payment assistance programs.
Easy application process. Easily apply for a mortgage online.
Cons
Fees. You won't know the fees associated with your loan upfront.
Slow customer service. Some customers complain of slow response times.
What can I expect with Wells Fargo?
High loan amounts. Borrow up to 89.9% of your home's value through a nonconforming jumbo loan with fixed-rate and adjustable-rate loans available.
Automated payments. Wells Fargo's mortgage payment program deducts your payments automatically each month.
Reasonable closing. After pre-approval, expect to close on your loan within 30 to 90 days.
Discounts. Veterans, service members and active or retired union members could be eligible for up to $500, among other discounts available to borrowers.
What is Wells Fargo?
Founded in 1852, Wells Fargo is one of the country's largest banks, offering bank accounts, investment accounts, mortgages, personal loans and financial products for small and large businesses.
But the company has been involved in several major scandals over the last several years.
And there are more scandals and lawsuits that we don't cover here.
Frequently asked questions about Wells Fargo
Home loans ratings
★★★★★ — Excellent
★★★★★ — Good
★★★★★ — Average
★★★★★ — Subpar
★★★★★ — Poor
We analyze top home loan providers and rate them one to five stars based on factors that are most important to you. These factors include: rates and fees, product selection and borrower experience.
Read the full methodology of how we rate home loan providers.
Expert review
Review by
shannon.terrell@finder.com
---
Shannon Terrell is a writer for Finder who studied communications and English literature at the University of Toronto. On any given day, you can find her researching everything from equine financing and business loans to student debt refinancing and how to start a trust. She loves hot coffee, the smell of fresh books and discovering new ways to save her pennies.
Expert review
Wells' Fargo offers mortgages and discounts for union members — current and retired. If you don't qualify for a government-backed loan like USDA or FHA, look in to its Union Plus mortgages.