Finder is committed to editorial independence. While we receive compensation when you click links to partners, they do not influence our opinions or reviews. Learn how we make money.
TorFX: Money transfer solutions for personal or business
TorFX offers businesses and individuals great rates on international money transfers.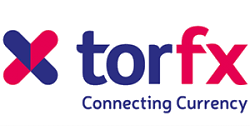 Whether you're an individual looking to send money to a relative, or a business that needs to pay staff overseas, TorFX offers a wide range of personal and business foreign exchange services. Get bank-beating exchange rates, free transfers and a safe and secure transaction with TorFX.
Personal transfers
TorFX offers a range of services so they can tailor a solution to suit your individual needs. They aim to help you make the most out of every currency transfer, with award-winning service and fee-free transfers.
Services
TorFX provides the following transfer options:
Spot contracts. Make on-the-spot international money transfers.
Forward contracts. Fix a rate up to 2 years in advance.
Limit orders. Target a specific rate and TorFX will execute your transaction when that rate hits.
Stop loss orders. Wait for a better rate while locking in a worst case rate if the market should move against you.
Business transfers
TorFX can help you protect your bottom line by carefully managing your foreign exchange exposure. Pay for imported goods, receive overseas payments or pay staff overseas while accessing the best exchange rates.
Services
TorFX offers businesses the following services:
Forward contracts. Even if your funds aren't available today, fix an exchange rate for a future transfer.
Order types. Set a maximum or minimum buying rate.
Currency analysis. Market professionals will provide you with an analysis tailored to fit your business's needs.
Free transfers. Transfers are free, with no hidden costs.
Excellent exchange rates. Save money with a great exchange rate.
How much does it cost to transfer funds with TorFX?
TorFX charges no transfer fee or a commission. TorFX makes money from the foreign exchange rate spread, which includes a small margin. You're still guaranteed the best price on your international money transfer when you use TorFX. The company will beat any competitor's quote as long as it's above the interbank rate, the rate large institutions use to buy and sell foreign currency.
TorFX exchange rates
TorFX prides itself on offering excellent exchange rates. The company also provides a best rate guarantee so you can be confident you're getting the most for your money.
TorFX aims to make their exchange rates as close to the interbank rate as possible. As exchange rates are volatile and fluctuate throughout the day; the exact exchange rate of your transfer will be available when you request a quote.
TorFX offers a best rate guarantee. If you can show TorFX a competitor's quote offering a better price, TorFX will beat it. The best price guarantee doesn't apply if you've already accepted the TorFX quote or if the competitor's rate is lower than the interbank rate.
Calculate your exchange rates
Disclaimer: Exchange rates change often. Confirm the total cost with the provider before transferring money.
Available currencies
TorFX limits their offerings from the US to just two currencies:
Australia (AUD)
New Zealand (NZD)
Fees and transfer limits
TorFX does not charge a fee to transfer money, and there is no limit to how much you can transfer.
How do I use TorFX?
Transfer money with TorFX in four steps.
Register. Register for an account with TorFX online or by phone.
Get a rate. Obtain an exchange rate for your transfer either online or by phone.
Trade online. Buy your desired currency and TorFX will send it to your recipient.
Complete transfer. Depending on the currency and where you're sending the money, the money will arrive that same day or within 1-2 days.
What is TorFX?
TorFX is a foreign exchange service provider largely located in Europe, with offices in the US, Australia and South Africa as well. They hold the highest credit rating with Dun & Bradstreet, and have many 5-star reviews on TrustPilot.
TorFX provides business and personal services for transferring money overseas, with a range of transfer options. You'll even be provided an account manager to help you navigate the process and offer guidance.
How does TorFX protect my money?
Keeping your personal information safe is of utmost importance at TorFX, and it's an area in which the award-winning company excels. TorFX has safely served more than 50,000 individuals and 4,000 companies.
Highly rated. TorFX has a Level 1 credit rating —the highest rating from Dun & Bradstreet.
Security. Online payments to TorFX are encrypted and safe from fraud.
Established. In operation since 2004, it's an industry leader in foreign exchange transfers.
Customer service. TorFX provides an account manager to assist in transactions and offers 24-hour support online. It also won Consumer Moneyfacts' 2016 Award for Best Customer Service.
Verification. A PIN is sent to your mobile phone to confirm your address and ID and activate your account.
How do I report suspicious activity to TorFX?
TorFX will never email you to confirm passwords, transaction details or personal information. If you are the recipient of an email from someone claiming to be TorFX, do not respond. If you're wary about an email or phone call, contact TorFX online.
What do customers say about TorFX?
TorFX gets an overall "excellent" rating on TrustPilot, with customers praising its "first class service." Other customers noted the smooth, speedy process.
Frequently asked questions
Read more on this topic