Finder is committed to editorial independence. While we receive compensation when you click links to partners, they do not influence our content.
Credit score finder: Get your credit score
Your credit score determines your borrowing power - do you know yours?
Editor's choice: Experian Credit Report
Free FICO Score
Credit alerts and monitoring
Report & score updated every 30 days
Go to Experian
What is a credit score?
Your credit score is a three-digit numerical representation of your credit report that falls between 300 and 850.
It is calculated by credit bureaus that include the "big three": Equifax, Experian and TransUnion. Each credit-scoring bureau uses different criteria for measuring your credit score, weighing your history against a proprietary algorithm.
The higher your credit score is, the better position you're in to get approval for financial products with low interest rates and flexible terms.
Get your score or rebuild your credit
Where can I get my credit score for free?
In 2014, the Consumer Financial Protection Bureau pushed for top credit card companies to show consumers their credit score free of charge. Since then, many of the main credit card issuers have obliged, letting customers see their score either on a monthly statement or online.
While many of the lenders only allows its customers to view their credit score, Discover and Capital One allows everyone — customer or not — to access their credit score.
Why is my credit score important?
Lenders and credit providers use both your credit score and the information in your credit report to make decisions about whether you're a reliable borrower for credit cards, personal loans, a mortgage or auto loans — plus the rates you'll receive. On top of that, it can also determine how much you'll pay for car insurance and rent.
Knowing your credit score can tell you where you fall in the credit range, from poor to excellent credit, and how your overall financial health is viewed by potential lenders.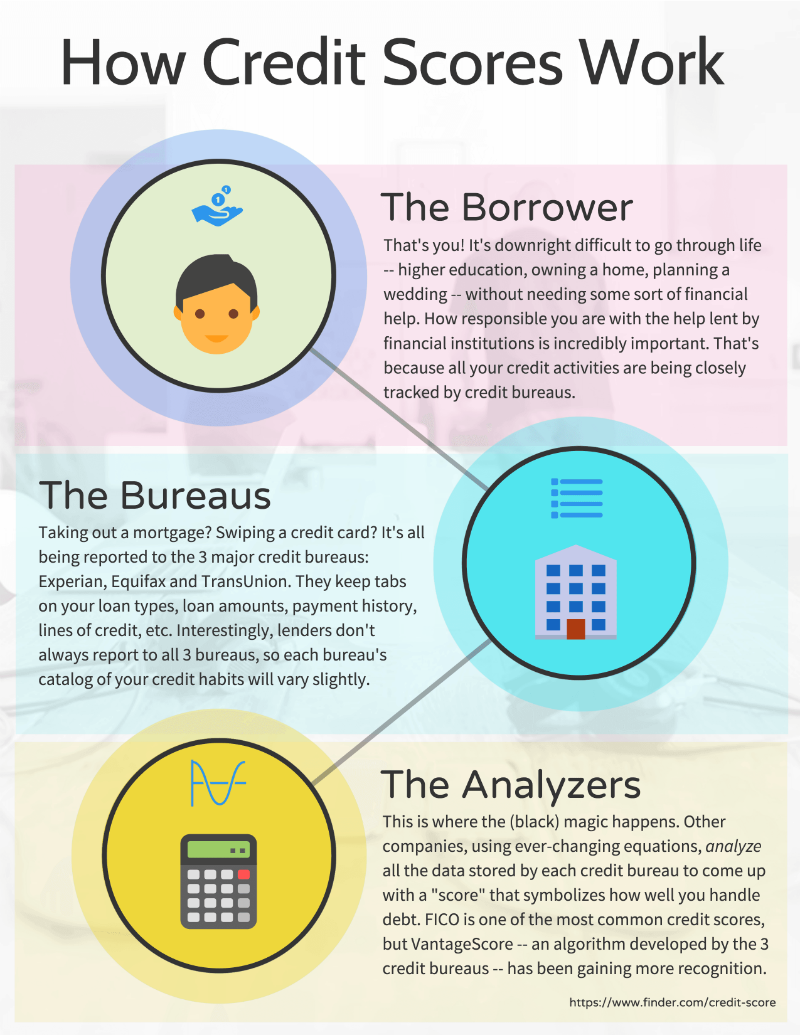 How is my credit score calculated?
You have a few different types of credit scores and each one is calculated differently depending on the credit reporting agency. In general, each of the factors below are what credit bureaus use to calculate your overall credit score.
Payment history. Whether you've paid past and current credit accounts on time is a major factor in your overall score.
Credit utilization ratio. Experts advise carrying a balance with a utilization of 30% or less.

For example, if your credit limit is $1,000, keep your balance below $300, which is 30% of your limit.

Length of credit history. A credit report that's been active a long time can improve your score.
Types of credit. For instance, holding an account with a bank carries a different level of risk than a store finance provider.
New credit accounts and inquiries. Frequent applications for credit raise your risk index and lower your credit score. Thankfully, there are ways to prequalify for a card without affecting your credit.
5 credit score pitfalls
Avoid these five common credit mistakes that could potentially impact and drag your score down:
Having a credit utilization ratio of 30% or more.
Missing or making late payments.
Closing old credit accounts that have reported healthy activity to the three credit bureaus.

Not taking the time to monitor each credit report for inaccuracies at least once a year.

Making too many credit inquires at once.
What's a good FICO credit score?
Today, FICO Scores are used in 90% of credit decisions, which makes it a good barometer of how potential lenders might see you when determining approval.
| Rating | FICO score range |
| --- | --- |
| Very good | 740+ |
| Good | 670–739 |
| Fair | 580–669 |
| Poor | 579 and below |
Scoring systems will vary depending on where you're getting your score from. However, they're all similar in that the higher the credit score, the better your chances are at being approved for a loan.
What are the different credit score models?
Lenders and even the bureaus weigh the information in your credit history differently, but they've widely adopted two scores: FICO Score and VantageScore.
Both weigh the same factors when determining your credit score, including how long you've had credit, your payment history, your credit utilization rate and how many loan and other types of credit you carry.
What are the ranges of different credit score models?
Here's a list of credit score ranges for the scoring models you may come across.
FICO Score: 300 -850
VantageScore 3.0: 300-850
Score from Experian: 300-850
Score from Equifax: 280-850
Score from TransUnion: 300-850
Experian PLUS score: 330-830
What do different credit scores mean?
Each credit-scoring model (FICO and VantageScore being the most widely used) has different criteria for measuring scores. Here's how applicants with different scores are viewed by credit issuers.
| Credit rating | How a lender sees your credit score | FICO Score | VantageScore |
| --- | --- | --- | --- |
| Very good | You're more likely than the average American to maintain healthy credit, and it's unlikely you'll incur an adverse event in the next 12 months. | 740+ | 720+ |
| Good | You're less likely to declare bankruptcy, miss a payment on a debt or have a judgment against you, indicating less likelihood of a default. | 670–739 | 658–719 |
| Fair | You're likely to incur an adverse event such as a default, bankruptcy or something similar in the next year. | 580–669 | 601–657 |
| Poor | You're highly likely have adverse events listed on your credit report within the coming year, including court judgments, bankruptcies, insolvency or defaults. | 579 or lower | 600 or lower |
What does it mean that I'm unlikely or likely to have an adverse event occur?
Your credit score calculates your level of risk as a borrower based on your past behavior. It's not a guarantee that an adverse event won't occur but simply an indication that Equifax considers it unlikely.
5 tips to improve your credit score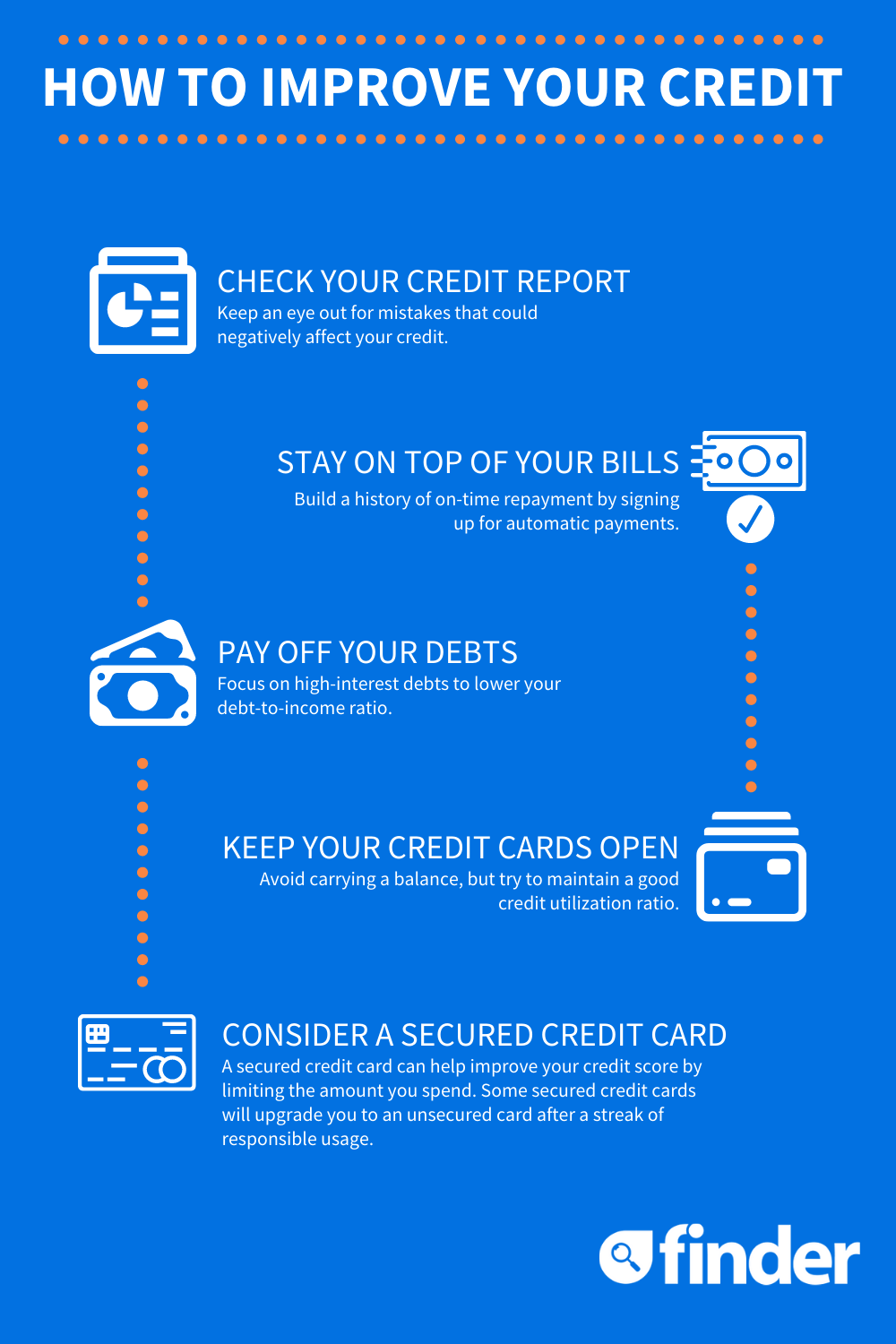 Here are just a few ways to increase your credit score:
Check your credit report. Keep an eye out for mistakes that could negatively affect your credit.
Stay on top of your bills. Build a history of on-time repayments by signing up for autopay.
Pay off your debts. Focus on high-interest debts to lower your debt-to-income ratio.
Keep your credit cards open. Avoid carrying a balance, but try to maintain a good credit utilization ratio.
Consider a secured credit card. A secured credit credit card can help improve your credit score by limiting the amount you spend. Some secured credit cards will upgrade you to an unsecured card after a streak of responsible usage.
What's the difference between your credit score and your credit report?
Your credit report is a detailed record of your borrowing history, while your credit score is a numerical representation of your creditworthiness based off of your credit report.
On your credit report is list of the applications you've made for different forms of credit (whether they've been approved or not); your repayment history; details of any defaults you may have; and information about the consumer and commercial accounts you hold.
It also contains personal information including your name and age as well as data held on public record, such as bankruptcies. Your credit score is calculated by credit bureaus using the information on your credit file. The higher your credit score, the lower your risk as a borrower.
Frequently asked questions
How do I order my credit report?
Order a free copy of your credit report once every 12 months or if you have been denied credit in the past 90 days. Your free credit file is instantaneously downloaded if you access it online. You can also pay a fee to have your credit file arrive sooner or if you are not eligible for a free credit file.
What is a good credit score?
A good credit score is any score that falls in the top two credit ranges – good or very good.
How does continually carrying a balance affect my credit score?
No. You should use your credit card regularly to show you can responsibly manage a line of credit, but at the end of each billing cycle you should pay the balance in full to avoid extra interest charges.
How does getting married affect your credit score?
Some people think that once you get married you have a joint score with your spouse — but this is a common credit myth. Marriage has no affect on your credit score.
What is an "adverse event"?
An adverse event refers to a default, bankruptcy, court judgement or writ or personal insolvency.
Read more on this topic