Seeking the best exchange rate will help you get more foreign currency for your dollars, and understanding how to exchange money is key.
How do I get the best exchange rate on international transfers?
It's always best to shop around and compare your options when sending an international money transfer. And the more time you can leave yourself before needing to send the transfer, the better. A few tips to help you find the best exchange rate:
Compare exchange rates of money transfer services
Enter the amount you want to send, select your destination currency and click Calculate to see what your transfer could cost.

Disclaimer: Exchange rates change often. Confirm the total cost with the provider before transferring money.
How do I get the best exchange rate when traveling internationally?
When traveling internationally, you'll typically get the best exchange rates at banks, ATMs and post offices. Using an ATM — especially if you have a bank card that doesn't charge international ATM fees — will almost always be the strongest and most convenient option when traveling internationally. It may be possible to exchange money at your hotel, but double check the rate it's offering against the mid-market rate to see how strong it is. In short:
Do exchange money at:
ATMs
Post offices
Banks
Your hotel
Do not exchange money at:
Tourist destinations
Street-side exchange bureaus
Airports, train stations, bus stations and the like
Depending on where you're traveling, some local shops and restaurants may offer to accept payment in your native currency. For instance, several tourist destinations in Mexico will accept both US dollars and Mexican pesos. This is convenient, but you'll almost always be overpaying when using dollars instead of pesos — but it might be worth the convenience depending on your situation.
What's the best way to exchange money in the US?
Preparing for a trip can be an exciting time, and holding a foreign currency for the first time comes with its own special thrill. If you're eager to get your hands on some international bills, here's how to get the best exchange rates for your USD:
Check your local bank
Even small banks can often order money from larger branches. If you bank at one of the larger bank chains in the US, they will almost certainly be able to sell you a wide range of foreign currency. Just beware of poor exchange rates.
Use a currency ordering service
Travelex allows you to order more than 50 currencies and have them delivered straight to your doorstep. As with the bank, though, you won't be getting the mid-market rate.
Use an international transfer service, but have it delivered for cash pickup at your destination
Use the following quiz to find a provider who can deliver your transfer to an agent location and have it waiting for you when you arrive.
Our guide on exchanging currency gives you the full breakdown on the best and worst ways to get foreign currency before and during your trip.
Find the best provider for your transfer
Answer three quick questions and we'll give you an instant recommendation for a money transfer service based on your needs.
Based on your answers, check out: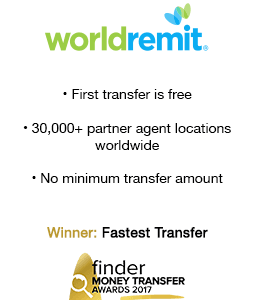 How important is an exchange rate?
When exchanging large amounts of money, a small variance in exchange rate can lead to hundreds of dollars lost or gained when exchanging. Exchange rates are calculated based on what people are willing to buy and sell foreign currencies for. You'll often hear the phrase "mid-market" rate thrown around when looking for the best exchange rates — pay attention to this.
How to calculate an exchange rate
Let's say you're planning a trip to Europe and need to secure some Euros. In order to calculate the exchange rate you're getting on your transfer:
Look up the mid-market rate on Google or XE.com by searching USD to EUR.
You'll see something similar to 1 USD = 0.91 EUR.
Compare the rate you're being offered by your bank, money transfer service or currency transfer bureau against the mid-market rate.

If the rate you are offered is 1 USD = 0.89 EUR, calculate the change by subtracting the bank rate from the mid-market rate: 0.91 – 0.89 = 0.02
Turn it into a percentage by dividing it by the original exchange rate and multiplying by 100 and rounding for simplicity: 0.02/0.91 = 0.02198 x 100 = 2.2%

Repeat these steps for various exchange rates to find out which offers the most competitive deal.
Being offered a rate that only appears to vary by a cent or two could be the difference of a percentage point or more. When transferring $1,000, a 2% loss on the exchange rate would cost $20.
Bottom line
There's no straightforward solution to finding the best exchange rates since the best option changes based on so many variables. But by understanding how to calculate the strength of an exchange rate, knowing what to avoid and comparing your options, you can save money and maybe even secure the best exchange rate. Learn more about how to compare your money transfer options to get started today.
Frequently asked questions
More guides on Finder