Finder is committed to editorial independence. While we receive compensation when you click links to partners, they do not influence our opinions or reviews. Learn how we make money.
Mercedes-Maybach S 650 Cabriolet car insurance rates
Limited production and luxury means higher insurance rates.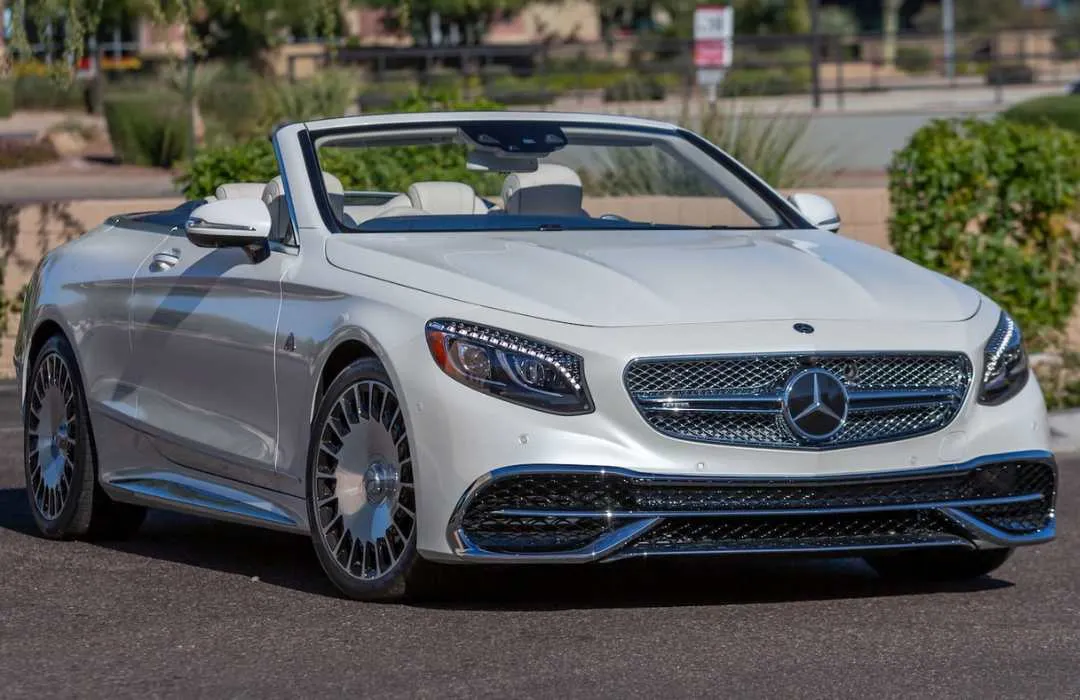 Compare car insurance quotes
Enter your ZIP code below and click Compare to see the cheapest rates in your area.
This sleek convertible packs luxury value into its frame and high-powered engine that brings $814 per month or $9,768 a year for insurance. Although the cost is thousands more than average cars, it compares well with other luxury rides, like the Ferrari 488 Spider at $10,416 a year.
Discover coverage that's broader than competitors, valuable discounts up to 30% off and perks like shrinking deductibles that reward no claims.
Broad coverage, including for custom car parts or ridesharing
Transparent pricing tools that help you buy within budget
Accident forgiveness on small claims or for staying claim-free
Stack a variety of discounts for multiple cars, autopay or homeownership
Compare car insurance for your Mercedes-Maybach S 650 Cabriolet
How much does Maybach S 650 Cabriolet car insurance cost?
| Model | Monthly insurance rate | Base car price |
| --- | --- | --- |
| AMG GT | $220.00 | $111,200 |
| B250e | $220.00 | $39,900 |
| C-Class | $220.00 | $39,500 |
| CLA-Class | $152.00 | $32,400 |
| CLS-Class | $152.00 | $74,850 |
| E-Class | $220.00 | $52,150 |
| G-Class | $220.00 | $122,400 |
| GLA-Class | $227.00 | $32,850 |
| GLC-Class | $220.00 | $39,150 |
| GLE-Class | $227.00 | $52,000 |
| GLS-Class | $227.00 | $67,050 |
| Maybach s650 | $814 | $250,000 |
| Metris | $220 | $25,995 |
| S-Class | $229 | $96,600 |
| SL-Class | $140 | $86,950 |
| SLC-Class | $220 | $47,950 |
| Sprinter | $227 | $32,495 |
How do I compare insurance for the Maybach S 650 Cabriolet?
This exclusive luxury car might require extra care and coverage to protect your pride and joy, driving up your premium. Plus, its stylish convertible top also poses more safety risk during an accident.
Body type. This luxury car sports a sleek convertible body, making it stylish but a bit less safe than hardtop cars.
Fuel. At 16 mpg for combined city and highway driving, this car isn't built for its fuel economy.
Theft. The Mercedes-Benz S-Class models include several reports of theft that range between one and three per 1,000. However, this exclusive car is likely to have few theft reports due to its limited production.
Maintenance. This car's European parts and limited production may mean higher maintenance and repair costs. You might also pay more if you choose a specialist repair shop for your exclusive car.
Coverage. Due to this car's top price tag and specialty design, you might opt for luxury car insurance to receive agreed value coverage and higher maximums. In addition, consider uninsured/underinsured motorist, comprehensive, umbrella and loan or lease gap insurance for added protection.
Insurer options. You might find yourself limited to luxury car insurance providers, which could drive your premium higher.
Warranty. Each new Mercedes-Benz comes with a four-year, 50,000-mile basic warranty and roadside assistance, including towing and trip interruption.
Does the Mercedes-Maybach S 650 Cabriolet qualify for discounts?
This car may have high coverage needs with an insurance premium to match, but it does include several discountable safety features:
Airbags
Antilock brakes
Antitheft device
Anti whiplash restraints
Seatbelt pretensioners
Stability control
Why is insurance so high for the Maybach S 650 Cabriolet?
This Maybach model warrants higher rates for several reasons:
High MSRP. This car's base price starts out around $250,000, making it risky for your insurance company.
Limited production. Mercedes-Benz kept this model exclusive with only 75 out of 300 cars manufactured for the US.
Convertible top. A dropdown top automatically bumps up insurance rates due to added safety risk.
Luxury car insurance. Opting for specialty insurance comes with an understandably higher cost.
Powerful engine. This convertible offers a zippy maximum speed of 155 mph with its turbocharged V-12, 621-horsepower engine in exchange for higher insurance premiums.
Why is insurance so expensive for the Mercedes-Benz Maybach S650 Cabriolet?
The Mercedes-Benz Maybach S650 Cabriolet costs more to insure because it boasts a high powered engine made for speed and power categorizing it as high-risk. Also, limited production and a specialty design make for high priced parts and labor.
How reliable is the Mercedes-Maybach S 650 Cabriolet?
This specific car offers little information on its safety and reliability. However, Mercedes-Benz includes high safety ratings and few reported problems for most of its other models.
Safety. Although top safety organizations haven't rated this model, other Mercedes-Benz vehicles have received top marks.
Reliability. This car is a recent, limited production model, meaning it has little information about its reliability. However, most Mercedes-Benz cars include few reported problems.
Recalls. The Maybach S 650 Cabriolet has no recalls to date, suggesting the car's solid remake of older Maybach models.
Bottom line
The Maybach S 650 Cabriolet brings high rates because of its exclusive make, convertible top and coverage needs. However, paying extra for a specialty policy may be worth the added protection for your rare ride.
Find insurance providers that offer the luxury car protection you need. Still looking around? Compare rates for another make or model.
Get the cheapest quotes
Compare car insurance companies near you.
Your information is secure.
Common questions about the Mercedes-Maybach S 650 Cabriolet
Read more on this topic