Finder is committed to editorial independence. While we receive compensation when you click links to partners, they do not influence our opinions or reviews. Learn how we make money.
Ferrari F12 car insurance rates
What to expect when insuring your Ferrari F12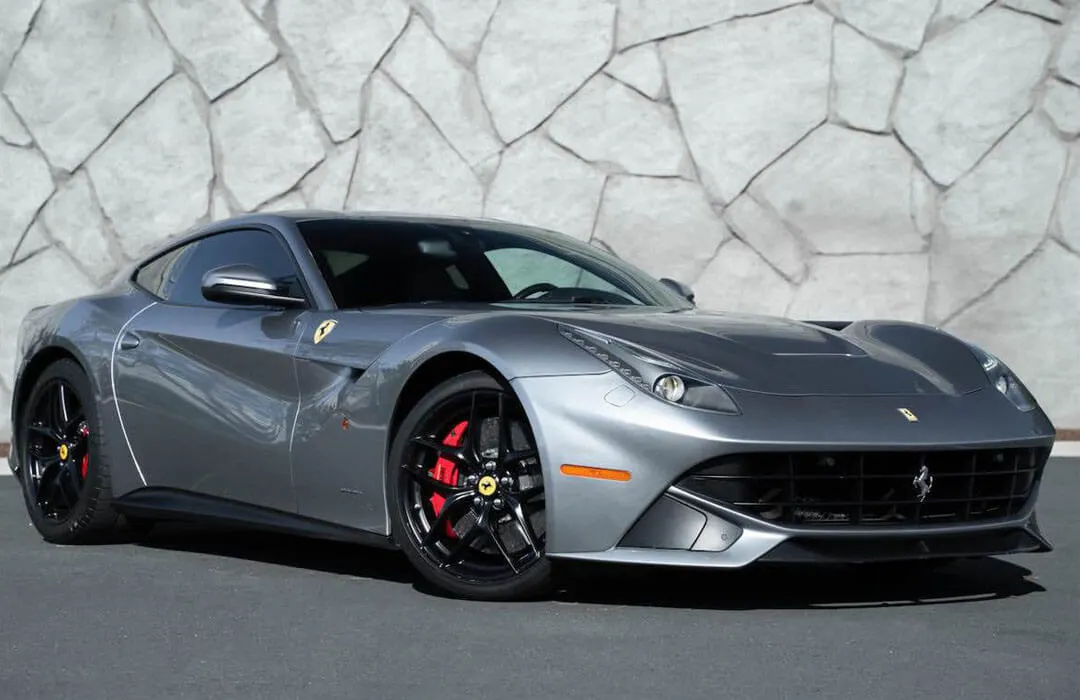 Compare car insurance quotes
Enter your ZIP code below and click Compare to see the cheapest rates in your area.
The F12 — also known as the F12berlinetta, Berlinetta and F12B — has a high cost and specialized Italian parts that will automatically place it at the upper end of insurance premiums. However, you can aim for discounts based on the F12's safety features.
Discover coverage that's broader than competitors, valuable discounts up to 30% off and perks like shrinking deductibles that reward no claims.
Broad coverage, including for custom car parts or ridesharing
Transparent pricing tools that help you buy within budget
Accident forgiveness on small claims or for staying claim-free
Stack a variety of discounts for multiple cars, autopay or homeownership
Compare insurance for your Ferrari F12
How much does Ferrari F12 car insurance cost?
The F12's average insurance rate is $1,015 per month, or $12,180 per year. That cost is a whopping $10,750 above the national average of $1,426 per year.
| Model | Monthly insurance rate | Base car Price |
| --- | --- | --- |
| 488 GTB | $783 | $245,400 |
| 488 Spider | $868 | $272,700 |
| 812 | $1,188 | $335,275 |
| California T | $648 | $202,723 |
| F12 Berlinetta & TDF | $1,015 | $319,995 |
| FF | $935 | $295,000 |
| GTC4 Lusso | $953 | $300,000 |
How do I compare insurance for the Ferrari F12?
The Ferrari F12 is an expensive and sporty coupe, automatically lending it to higher insurance rates. Luckily, the manufacturer warranty and maintenance plan should help lower your repair costs for the first few years.
Body type. The Ferrari F12 is a luxury coupe with a sporty, racing edge.
Fuel. This car gets 13 mpg city and highway combined, an expected but low fuel economy.
Maintenance. Maintenance costs can be expensive on any luxury vehicle due to specialized parts or labor. In addition, this car tends to guzzle premium gas, especially when driven for its speed and performance.
Coverage. Since you're paying the hefty price tag for a Ferrari, consider getting luxury car insurance, which often allows you to choose agreed value coverage. You can also consider add-ons such as uninsured/underinsured motorist, loan gap and comprehensive.
Insurer options. Not every insurer will offer coverage for a Ferrari vehicle, so you might need to shop around to find one who will.
Warranty. Ferrari offers a 3-year, unlimited mileage warranty. Plus, you'll receive its 7-year maintenance plan at no extra charge.
Why is insurance so expensive for the Ferrari F12?
The Ferrari F12 costs more to insure because it's a sporty car with a V12 engine and faster than some of the other Ferrari models, making this vehicle especially high-risk for a speedy accident. Also, its high ticket price reflect its superior parts making it more expensive to repair.
Does the Ferrari F12 qualify for discounts?
The F12 comes with several standard safety features that could qualify for discounts. Those include:
Anti-theft system
Airbags
Anti-lock brakes
Electronic stability control
Low tire pressure warning
Parking sensors
Why is insurance so high for the Ferrari F12?
The F12 has amazing performance qualities that make it a bit pricier to insure:
High sale price. The F12 will set you back $300,000+ upon purchase. Its high price means it'll cost more for your insurance company to repair or replace.
Powerful engine. The F12 includes a very high amount of horsepower, putting it at a higher risk level.
Higher coverage. You've invested a lot of money into this car, so you may want higher coverage limits, special luxury car insurance or other add-ons to your policy.
Specialized repairs. Want a dedicated Ferrari mechanic or original manufacturer parts? Those will increase the cost of repairs and spike your insurance rates.
How reliable is the Ferrari F12?
This car's lack of safety information may contribute to its high insurance cost. It has also included a few recalls common in older Ferraris. However, car owners attest to its reliability on the road.
Safety. The Ferrari F12 doesn't hold safety ratings with top safety testing organizations. That fact may be related to the car not being a consumer's first choice. Its pricing caters to a luxury class.
Reliability. There is not much official information about the F12's reliability. However, Ferrari owners on forums and review sites tend to view their cars as reliable vehicles, especially when maintained properly.
Recalls. Older models of the F12 have had recalls for improper airbag installment and an airbag inflator that may explode upon deploying. The newer 2016 and 2017 models haven't seen this issue.
Bottom line
The Ferrari F12's ticket price and specialized parts needed for repair contribute to the car's high insurance costs. It also doesn't have much safety information available. Still, the car may qualify for insurance discounts and it includes a warranty that covers basic repairs for several years.
Compare car insurance options for the F12 or check out costs for other vehicles.
Get the cheapest quotes
Compare car insurance companies near you.
Your information is secure.
Frequently asked questions about the Ferrari F12
More guides on Finder