Finder is committed to editorial independence. While we receive compensation when you click links to partners, they do not influence our opinions or reviews. Learn how we make money.
Rolls-Royce Ghost insurance rates
Insuring this ultra-luxurious sedan might be just as pricey as you'd expect.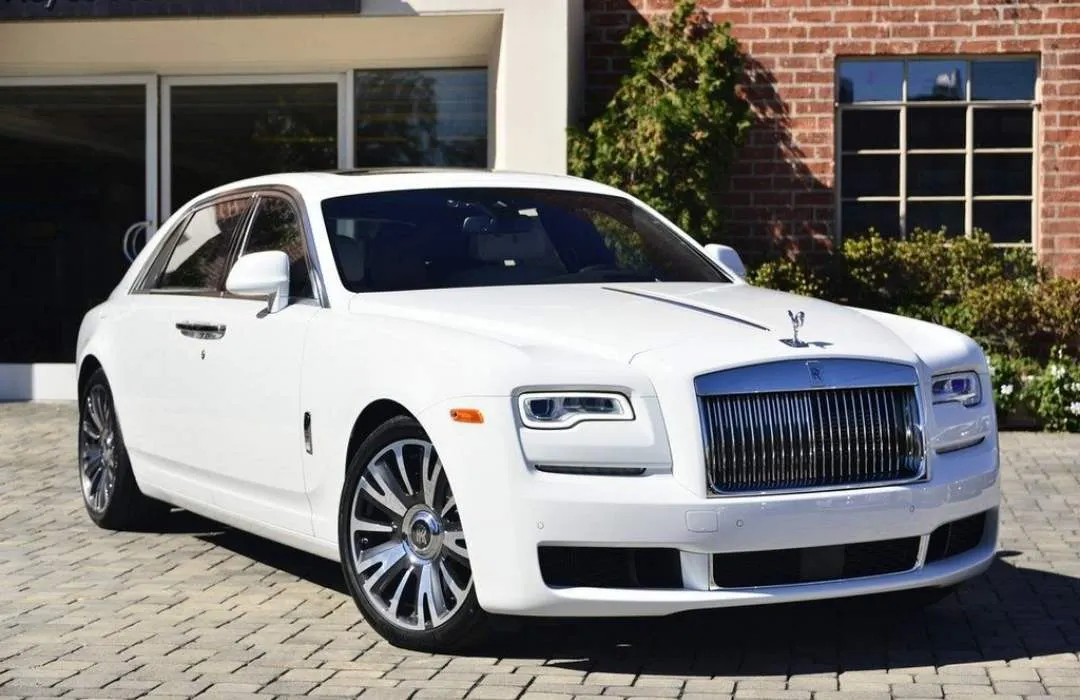 Compare car insurance quotes
Enter your ZIP code below and click Compare to see the cheapest rates in your area.
Released in 2009 at the Frankfurt Motor Show, the Rolls-Royce Ghost is a high-end luxury sedan designed as a more realistic alternative to the $450,000 Rolls-Royce Phantom. We don't know about that "more realistic" part, but it's considered Rolls-Royce's entry-level car that starts at a cool $250,000.
According to our research, car insurance for a Rolls-Royce Ghost costs about $428 a month or $5,138 a year. This quote is roughly four times the national average of $1,318, making the Ghost one of the most expensive cars to insure.
Discover coverage that's broader than competitors, valuable discounts up to 30% off and perks like shrinking deductibles that reward no claims.
Broad coverage, including for custom car parts or ridesharing
Transparent pricing tools that help you buy within budget
Accident forgiveness on small claims or for staying claim-free
Stack a variety of discounts for multiple cars, autopay or homeownership
Compare insurance for your Rolls-Royce Ghost
Why is insurance so expensive for the Rolls-Royce Ghost?
The Rolls-Royce Ghost costs more to insure because it requires specialty providers to receive coverage. Also, this cars exclusivity means hard to find parts and a high cost to repair.
Rolls-Royce Ghost price
A 2018 Rolls-Royce Ghost starts at a base price of more than $250,000, with an average annual insurance rate of $5,138.
| Model | Monthly insurance rate | Base car price |
| --- | --- | --- |
| Ghost | $428 | $250,000 |
| Phantom | $1,427 | $420,325 |
| Wraith | $1,083 | $317,700 |
| Cullinan | | $350,000 |
How to compare insurance for the Rolls-Royce Ghost
With a car worth upward of $250,000, it's clear you'll want the right coverage to protect it. When shopping with major providers or delving into smaller insurance companies, look out for:
Price. Insurance for a car of this caliber could be pricey. That said, quotes from multiple providers can help you find the best price for the coverage you need. To save on your premium, look for discounts like those for bundling your auto and home insurance policies or paying your bill annually, rather than monthly.
Deductible. Your deductible directly affects your monthly premiums. Find a balance between a monthly premium that fits your budget and the amount you can afford after filing a claim.
Minimum coverage. Make sure that potential policies meet your state's minimum insurance requirements.
Additional coverage. Personal injury protection and uninsured motorist coverage are two options for protection. With a car this expensive, also consider comprehensive and collision coverage.
Extras. Vanishing deductibles or roadside assistance may be included with your policy or available for purchase. If you're covered by the Ghost's warranty, you may not need roadside assistance.
Restrictions. Because of its value and repair costs, many providers aren't willing to cover your Rolls-Royce Ghost at all. If you're eligible, look into any restrictions that can apply to your policy to avoid gaps in coverage or denied claims.
Manufacturer offers or loyalty discounts. Some manufacturers offer special or loyalty discounts. Speak with your dealer to find out if you're eligible for any.
Warranty. The Rolls-Royce Ghost comes with a four-year, unlimited-mileage regional warranty that includes service, repairs and maintenance and roadside assistance.
Why is car insurance so expensive for the Ghost?
The Ghost's exorbitant price tag and exclusivity are major reasons why insuring it is so expensive. Your cost will vary depending on your age, gender, location, driving history and other factors.
What factors affect car insurance rates for the Rolls-Royce Ghost?
Where you live and who you are can influence the cost of car insurance, but the vehicle you drive plays a much larger role. This is because performance, theft rates, repair costs, safety ratings and other factors vary among makes and models.
With high-end luxury vehicles like a Rolls-Royce, you can bet that providers will think about:
Body type. A four-door sedan, the Ghost features top-tier construction that's likely to hold up well in an accident. It just might help reduce the cost of coverage.
Type of car. Like other Rolls-Royces, the Ghost is an ultra-luxury vehicle, which can be expensive to insure.
Theft. While sedans are stolen more frequently than other vehicles, the Ghost has a low risk of theft. This could bring down the cost of insurance.
Repairs. Parts for your Rolls-Royce are rare and often imported, which can contribute to higher insurance costs.
Safety ratings. While Ghosts are too few for official safety ratings, it's extremely well-built and should hold up well in an accident.
Fuel type. Gas-fueled vehicles like the Rolls-Royce Ghost are cheaper to insure compared with diesel or hybrid vehicles.
Trim and packages. Choosing options that improve visibility or safety could help you save on insurance. That said, features that drastically increase its power or value might increase costs.
Rolls-Royce Ghost money-saving safety features
Aside from scoring a new car discount, you could save money on car insurance for your Rolls-Royce Ghost thanks to safety features that include:
Front-impact, side-impact, overhead and knee airbags
Antilock brakes
An antitheft security system
Electronic stability control
Seatbelt pretensioners
Antiwhiplash head restraints
Parking sensors
A surround view camera system
Daytime running lights
Rear backup sensors
Lane-departure warning systems
Adaptive cruise control
Rolls-Royce Ghost safety and reliability ratings
As of July 2018, you won't find official safety ratings for your 2018 Rolls-Royce Ghost from the Insurance Institute for Highway Safety or the National Highway Traffic Safety Administration. Because the Ghost is a high-end vehicle produced in small batches, there isn't enough data for official reliability ratings from major sources.
You'll find one recall for the 2018 Rolls-Royce Ghost, with the manufacturer warning that head airbags may not fully inflate, potentially increasing the risk of injury in an accident. However, none of the three vehicles affected by this recall were sold to customers, so dealers inspected and replaced the head airbag as necessary.
Rolls-Royce Ghost maintenance
The Ghost is a high-end luxury vehicle that's built to provide an unbeatable driving experience. Between its luxurious design and industry-leading technology, it offers an extremely smooth and comfortable ride wherever you decide to take it.
Given its price tag and clientele, you can expect to rely on the Ghost with little maintenance, and routine service appointments can reduce the chances of unexpected issues.
If you're the kind of driver with the means to afford a Rolls-Royce, potential drawbacks will likely not be an issue:
No clear guidelines for oil changes. Rolls-Royce doesn't mention how often you'll need to change the engine oil. Instead, the Ghost comes with a system that monitors your vehicle, letting you know when service is necessary.
Oil changes can be pricey. You'll pay anywhere from $600 to $4,000 for an oil change. Fortunately, it comes with a comprehensive ownership package that includes service, repairs and maintenance for the first four years, regardless of mileage.
Expensive repairs. After the ownership package expires, expect for repairs to cost a lot.
Is an extended warranty worth it for the Rolls-Royce Ghost?
The Ghost comes with a four-year, unlimited-mileage regional warranty. This means your vehicle and service appointments are optimized for its environment. The standard warranty covers servicing, repairs, maintenance and vehicle components to ensure your vehicle spends less time in the shop and more time on the road.
Rolls-Royce offers an extended warranty called the Rolls-Royce Service Inclusive, available in two-, three- or five-year terms. If purchased, it becomes active after the initial four-year warranty. Considering this vehicle's price tag and cost of repairs, the extended warranty might save you money in the long run.
About the Rolls-Royce Ghost
Introduced in 2009, the Rolls-Royce Ghost is a four-door sedan released as a more reasonable alternative to the $450,000 Rolls-Royce Phantom. This vehicle features some of the most advanced technology and design considerations available, making it a desirable choice for those looking for the best luxury vehicle that money can buy.
Rolls-Royce prides itself on bespoke vehicles, with many customers personalizing their Ghost with colors and trim to fit their unique tastes.
Compare Rolls-Royce competitors
Explore other Rolls-Royce models or find out what other manufacturers have to offer.
Compare all car makes and models
Bottom line
The Rolls-Royce Ghost is among the top luxury vehicles on the market today, with a price tag to match. Given its value and limited production numbers, insurance can be expensive.
Maintenance and repairs on this vehicle are also costly, making the right coverage an important part of recovering from an accident. Compare your insurance options to find the best rates on the coverage your Rolls needs.
Get the cheapest quotes
Compare car insurance companies near you.
Your information is secure.
Frequently asked questions about the Rolls-Royce Ghost
Read more on this topic