Finder is committed to editorial independence. While we receive compensation when you click links to partners, they do not influence our opinions or reviews. Learn how we make money.
Explore Santander Bank's suite of bank accounts
Offers a range of checking and savings accounts for individuals and businesses.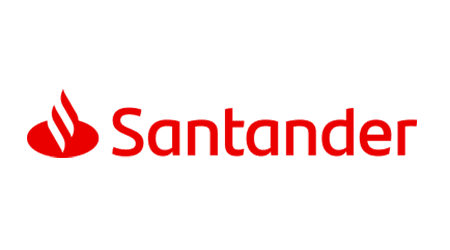 Santander Bank is a Boston-based bank with more than 10 checking and savings account options for businesses and individuals. But you may find it's lack of branch locations and ATMs limiting if you don't live in the Northeast or Florida.
What banking products does Santander Bank offer?
How does Santander Bank compare to other banks or services?
Santander Bank is a global financial institution. It got its start in Madrid, Spain, but its US headquarters is in Boston, Massachusetts. The company manages nearly $1.7 trillion in assets worldwide and is ranked #85 on Fortune 500.
Santander Bank has over 575 branches and 2,000 ATMs throughout the northeast. As a full-service financial institution, it provides bank accounts, loans and investment solutions to consumers, businesses and commercial institutions.
Checking accounts
Pros
Earns interest. Santander's Premier Plus and Select checking accounts accrue interest.
Instant card hold feature. Put a lost or stolen card on hold instantly through the Santander Bank mobile app.
Signup bonuses. Business checking accounts have signup bonuses ranging from $120 to $650 and some personal savings accounts have promotional interest rates for the first six months of account opening.
Cons
Monthly fees. While most fees are waivable under certain conditions, you'll pay anywhere from $3 to $75 a month for most accounts.
Varying opening deposits. While basic checking accounts can be opened with as little as $10, higher-tiered accounts require $150 or more.
ATM fees. Expect to pay $3 if you use a domestic non-Santander ATM.
Savings accounts
Pros
Minimal monthly fees. The Santander Savings account has a $1 avoidable monthly fee. There are a couple of money market accounts with $10 waivable fees, which is much lower than money market fees charged by other banks.
Low opening deposits. You only need $25 to open most accounts — which is shockingly low for money market accounts, which typically require deposits of $1,000 or more.
Cons
Mediocre interest rates. Santander's interest rates are higher than most traditional banks but still lower than others.
In-person applications. Youth Savings and money market accounts must be opened in-person at a local branch.
CDs
Pros
Flexible terms. CD terms range from three months to five years.
Low opening deposits. All you need is $500 to open a CD — which is low considering some banks have deposits starting out at $1,000 to $10,000.
Free interest withdrawals. Santander Bank gives you the flexibility to have your interest deposited back into your CD or transferred to another bank account if you need it.
Cons
Low rates. Interest rates for CDs aren't widely advertised on Santander Bank's website. Based on APYs that were advertised, you could earn more elsewhere.
Can't open online. You'll have to visit a branch to open a CD with Santander Bank — unlike other institutions that let you get started online.
Overall banking
Pros
Convenient customer service. Santander Bank's call center is open 8 a.m. to 8 p.m. ET, seven days a week.
Full-service institution. If you're looking for a one-stop-shop for all your banking needs, Santander's full suite of accounts could be what you're looking for.
Cons
Regional bank. While you can bank online, branches and network ATMs are concentrated in the Northeast and Florida.
Some accounts must be opened in-person. You're not required to live near a branch to bank with Santander, but some accounts must be opened in-person, such as CDs and youth savings accounts.
Santander Bank customer service
There are three ways to get in touch with Santander Bank:
Call 877-768-2265 daily from 6 a.m. to 10 p.m. ET
Complete the contact form on its website
Visit a branch location near you
Compare Santander Bank to the competition
If Santander Bank isn't what you're looking for, check out these popular accounts from the competition:
Bottom line
Santander Bank's wide selection of checking and savings account options may be a good fit if you live in the Northeast or Florida, but others may find its lack of branches and ATMs, average interest rates and monthly fees limiting.
If more accessibility, fewer fees and a higher APY is what you're after, shop around for other bank accounts.
Frequently asked questions
Read more on this topic