Guide to Avianca LifeMiles rewards program
Redeem rewards on international flights with the Star Alliance.
Avianca's recent inclusion of Capital One and American Airlines as LifeMiles transfer partners has drawn greater attention to the brand.
Not only is there a number of ways to earn LifeMiles — including regular and lucrative deals on purchasing LifeMiles — but you'll also find a solid rewards program for traveling with Star Alliance.
How much are Avianca LifeMiles worth?
Based on redemption values from Avianca's site at the time of writing, each LifeMile is worth about 1.5 to 1.7 cents.
This value varies depending on a few factors, including how you're obtaining miles. For example, purchasing LifeMiles on a promo can increase the relative value of those miles upon redemption.
Do Avianca LifeMiles expire?
Yes. Your LifeMiles expire after 12 months if you don't make at least one accrual transaction within that time. Purchases made on an Avianca credit card also count toward this increase.
How do you earn Avianca LifeMiles?
The primary ways to earn LifeMiles are to either book flights with Avianca or spend with eligible credit card purchases.
Using one of Avianca's cobranded cards with a signup bonus can help jump-start your LifeMiles earnings. For example, the Avianca Vuela Visa® Card offers a 40,000-LifeMile bonus after your first card use. This bonus alone could be enough for two round-trip economy flights to Cancun.
Back to top
Compare cards for earning LifeMiles
Avianca's cobranded credit cards offer the most direct method of earning LifeMiles with a credit card. Alongside the signup bonus, you'll also earn additional LifeMile bonuses on spending in certain categories.
Consider a card from one of Avianca's transfer partners if you want a credit card with broader reward opportunities that can still earn LifeMiles. Points earned on these cards can transfer to your LifeMiles account, often at a 1:1 ratio depending on the card's reward program.
Back to top
Loyalty program elite levels
Avianca LifeMiles members can work toward attaining Elite status within the program for additional travel benefits and LifeMiles earnings. Elite status is divided into three levels: Silver Elite, Gold Elite and Diamond Elite.
To qualify for a particular level you'll need to meet a few requirements: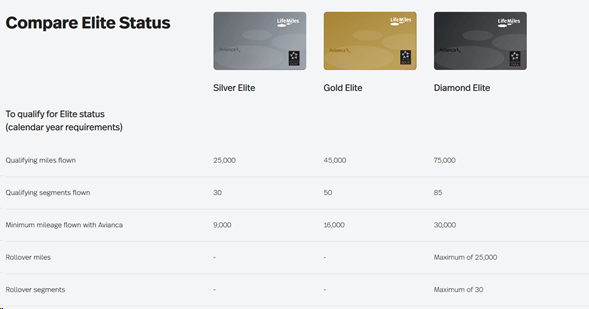 Elite status benefits
Elite status with Avianca offers a nice spread of benefits for travelers, including access to lounges, priority boarding and unlimited upgrades to business.
Take note of the LifeMiles associated perks, including earning bonuses, redemption fee waivers and advanced notice of when Avianca plans to offer LifeMiles at a juicy promo price.
| Benefits | Silver Elite | Gold Elite | Diamond Elite |
| --- | --- | --- | --- |
| Unlimited upgrades to business | Yes | Yes | Yes |
| Business class upgrade confirmation | At the airport | 48 hours prior | 48 hours prior |
| Yearly LifeMiles upgrade certificates | | | 2 |
| Access to Avianca VIP lounges | Yes | Yes + 1 guest | Yes + 1 guest |
| Access to Diamond VIP lounges | No | No | Yes + 1 guest |
| Access to partner VIP lounges | No | Yes + 1 guest | Yes + 1 guest |
| LifeMiles Elite bonus | 25% | 75% | 100% |
| Priority airport check-in | Yes | Yes | Yes |
| Priority boarding | Yes | Yes | Yes |
| Priority baggage handling | Yes | Yes | Yes |
| Additional checked baggage | | 1 piece | 1 piece |
| Additional carry-on baggage | | 1 piece | 1 piece |
| Elite call center assistance | Yes | Yes | Yes |
| Advanced notice of LifeMiles promotions | Yes | Yes | Yes |
| LifeMiles redemption fee waiver | | | Yes |
| Elite Maternity | Yes | Yes | Yes |
Data obtained March 2019. Values are subject to change and should be used only as a general guide.
Star Alliance benefits
Earning Avianca Elite status will also grant you the comparable Star Alliance status, affording you benefits even when you're not flying with Avianca directly.
Back to top
Bottom line
If you're a fan of flying with Star Alliance, you'll want to add Avianca's LifeMiles to your repertoire of airline reward programs. Even if you don't fly with Avianca directly, Avianca LifeMiles have terrific earning potential. Couple that with great LifeMiles Star Alliance redemption options means you'll want to keep this tool in your back pocket.
Frequently asked questions
Images: Getty Images
Back to top