Finder is committed to editorial independence. While we receive compensation when you click links to partners, they do not influence our content.
Zoom review: pros, cons and how to use it
Its features are useful and easy to learn with a little training.
finder.com's rating: 4.0 / 5.0
★★★★★
Quick verdict: Zoom's powerful collaboration tools can make it convenient to host virtual meetings or provide education services – as long as you've got the bandwidth and skills to understand its interface.
Wide variety of pricing plans
Supports multi-screen sharing and private chat
Works across several device types
Can suffer under bad bandwidth conditions
Only as intuitive as its users
Details
| | |
| --- | --- |
| Features | Video |
| Price starts at | Free, and paid plans start at $14.99/month |
| App Integration | Yes |
| Tech Support | Phone, Email, Live chat |
| Monthly Plan | $14.99 |
WATCH: How to schedule a Zoom meeting
Step-by-step guide on how to use

Zoom
Download the desktop app at zoom.us/download. You can also download the mobile

Zoom

app for iOS and Android devices.
To schedule a meeting, click the Schedule button.
Under Topic, add in a title for your meeting.
Under Start, set the date, time and duration of your meeting. If you want it to be recurring, tick the box Recurring meeting.
Note: The free version of

Zoom

will only allow you up to 45 minutes at a time. Once your meeting ends, simply start a new meeting and pick up where you left off.
Under Time Zone, chose the timezone for your meeting in case you're inviting people from across the globe.
Tick the box Password if you want to set a password to join a meeting for added privacy.
Under Video, choose On if you want to enable your web cam for yourself and for everyone joining the meeting.
Under Audio, choose On if you want to enable audio for your computer and mobile devices.
Under Calendar, choose which calendar do you want to add in the meeting.
Under Advanced Options, check off which advanced options you want for your meeting:

Enable waiting room. Allows you to control who is able to join the meeting.
Enable join before the host. Allows participants to enter the meeting before you do.
Mute participants on entry. Automatically mutes participants as they join your meeting.
Only authenticated users can join. Enable this if you want only authenticated users to join.
Automatically record meeting on the local computer. Enable this if you want the meeting to automatically record when it starts.

Once you finished selecting your preferences, click the Schedule button.
Whichever digital calendar service you use, it will direct you to sign in and add the meeting in your calendar. For Google Calendar, a pop-up message saying

Zoom

wants to access your Google account appears, you will then click Allow.
On your calendar, you can adjust settings like your meeting title, date, time and description. Once you're done, click Save to add the meeting in your calendar.
To join a meeting from a Zoom invite in your calendar
Go to your calendar and click the

Zoom

meeting link under Join from PC, Mac, Linux, iOS or Android.
Once the page opens in a separate window, a pop-up message Open

Zoom

? will appear. Click Open

Zoom

.
When you join the meeting, you can enable your microphone and webcam settings by clicking Join with Computer Audio and Start video.
Design
Multi-user interface makes it easy to host meetings and share data
Can get more complex, which can be confusing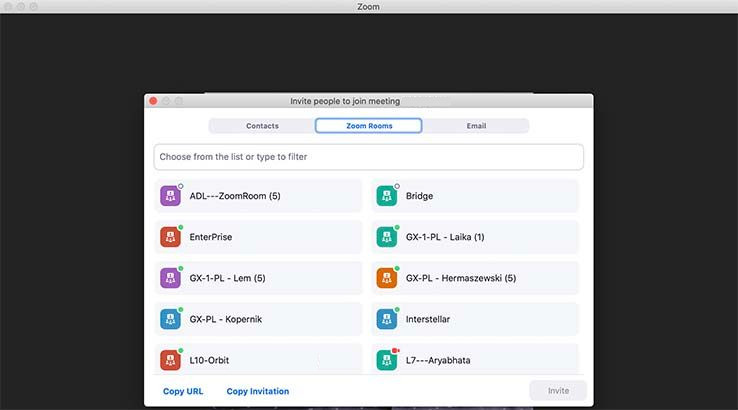 The core of Zoom's success can be attributed partially to the way the system — rather than the interface — has been designed. No matter the tier you're on, you can set up a meeting and share a single link with every participant. They can then launch the Zoom app for their platform of choice or log in via a standard web browser interface.
For the more basic levels of usage, the core UI revolves around the primary host's view — either webcam if supported or a shared desktop view — and then smaller screen images of participants.
The UI allows you to create or schedule meetings with a unique ID that you then send out to meeting participants to click on. The first time they do so, they'll usually be asked to download the client application for their platform, but this isn't mandatory.
Zoom's UI starts simple, but can quickly ramp up depending on the package you're subscribed to and your desire for additional features such as breakout groups, screen annotations or cohosted meetings. This is where Zoom can suffer a bit, depending on the training and tech expertise of your host.
Performance
Capable of delivering quality video to all participants
Can be choppy depending on broadband speed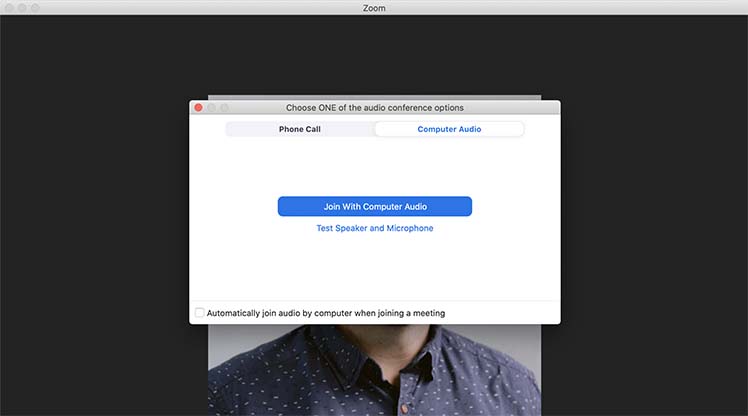 I've been using Zoom for a number of years now, both in a professional capacity across a number of jobs and in an educational setting. It's given me an appreciation of where the platform can really sing — as well as where it can falter.
Flexibility in how your group connects is a huge plus for Zoom, which supports native clients on PC, macOS, Linux, Android and iOS/iPadOS as well as a web-only experience if there are users who can't or won't install the Zoom Meetings app itself. In my experience, primarily as a guest rather than a host, you're better off on the dedicated app than the web client — I've seen more issues with core video and audio when connecting that way.
How hardware and Internet connection affects Zoom's performance
Rather predictably, Zoom lives and dies on the strength of your group's broadband connections. When it's good, Zoom can fly. When you've got group members with shaky connections, expect difficulties. If you experience lag time or blips in quality, it's sometimes worth experimenting with disabling video if you can get by with audio only.
Is it worth upgrading to a higher tier?
I've worked in places that simply used the free tier of Zoom, and it's surprising how solid it can be for no cost. The 40-minute time limit can be a little challenging, but there's something to be said for shorter meetings anyway. All tiers allow you to record your meetings, though the free tier doesn't offer any cloud-based storage.
Recorded video quality is typically fair, though Zoom's systems tend to take a minute or two at the start of a meeting before settling on a video quality setting. If the later presentation of one of your meetings in some professional capacity is important to your brand image, it's worth keeping this in mind.
One of the better aspects of Zoom's model is that you can start small and scale up to meet the growing needs of your business. If you need more features, more hosts or enterprise integration of other services, Zoom can handle that when you're ready.
Verdict
★★★★★
Solid video and audio conferencing tools for just about every usage scenario
Should you buy it?
Zoom has many fans and it's not hard to see why. The barrier to entry is literally nothing, and the service you get for free is astonishingly robust. Some small businesses could get by almost entirely without sending a cent Zoom's way.
Equally, there's plenty of value that larger businesses will find on its paid tiers.
The basic tier is a good place to determine if Zoom is right for your needs compared to services such as Google Hangouts, WebEx and others. But for many, Zoom will likely be more than enough, and at a competitive price.
Pricing and availability
Zoom offers a suite of software applications depending on the size of your business and the scope of your needs. Most will use Zoom for its user-friendly videoconferencing platform, Zoom Meetings, which comes in four different subscription tiers:
Basic
The Basic ("Personal Meeting") version of Zoom is free and is surprisingly full-featured, with support for up to 100 participants, group collaboration, web-based desktop sharing and local recording of meetings. Note that the free tier only supports meetings of a maximum length of 40 minutes, and you can only have a single host.
Pro
The Pro Zoom package runs $14.99 per month, but your meetings can run up to 24 hours. There's the same basic 100-user limit, but with the option to buy add-on packages for up to 500 or 1,000 active participants if needed.
Business and Enterprise
The $19.99 Business tier gives you up to 300 participants, plus cloud-recording transcript options and company branding options. The same pricing applies to the Enterprise tier, which bumps up regular participant numbers to 500.
Compare collaboration software