Travel money guide: Colombia
The insider's guide to travel money for Colombia
Whether you're walking the street of Bogota or exploring the Colombian Caribbean, cash is king, with credit cards and debit cards less widely accepted than in the US. Read our guide to save on fees and avoid getting taken for a ride by your bank when you travel to Colombia.
Our picks for traveling to Colombia
What is the best way to take money to Colombia?
If you're planning a trip to Colombia, it pays to do your research before you leave. Colombian pesos (COP) are the currency of the Republic of Colombia and the only currency accepted in Colombian towns and cities.
Credit, debit and travel money cards are accepted in fewer places than the US and ATMs are expensive to use, so compare travel money options and apply for the product that's going to let you withdraw cash for less.
These are your options for spending money in Colombia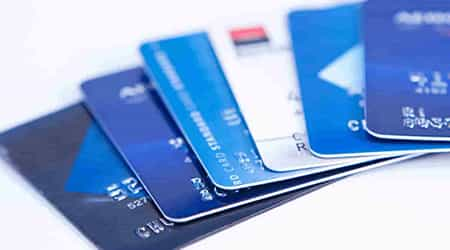 Compare credit cards for travel
Using a credit card
Visa, Mastercard and American Express are widely accepted in Colombia, though you'll find it difficult to make any online payments for reservations. Save money by finding a credit card that waives the foreign exchange fee, like the Capital One Venture Rewards Credit Card. For added savings, take advantage of the interest-free period by paying your balance in full each month.
Cash advance fees, interest charges, ATM charges and foreign currency conversion charges all apply when you withdraw cash on credit. As a general rule, credit cards should only be used for over-the-counter purchases.
A couple of things to remember when you're traveling in Colombia:
Número de cuotas. When the teller asks you "numero de cuotas?" they want to know how many months it will take to pay off the credit card transaction. For example if you make a $300 purchase and you ask for 10 months, you're charged $30 a month in addition to any interest charges the credit card transaction accrues each month. One is always your answer.
Identification. It's likely that you need to show photo identification, such as your passport, when you make an over-the-counter credit card payment. In most cases anything with your picture and your name will be enough to prove you're the cardholder.
Tip: It's worth researching credit cards that offer travel benefit and rewards for things you'll buy anyways like flights and hotel stays.
Pros
Some credit cards waive overseas ATM fee
Protected by PIN and chip
Accepted worldwide
Features such as complimentary travel insurance and reward points earning
Cons
Cash advance fees
Higher spending limit
Compare travel credit cards
Narrow down top travel credit cards by welcome offers, rewards and annual fees to find the best for your budget and financial goals. Select Compare for up to four products to see their benefits side by side.
Best international debit cards
Using a debit card
It's good to have cash when you're traveling in Colombia. Keeping a debit card is handy because you'll have access to your cash each time you come across an ATM. Compare debit cards based on if it waives the currency conversion fee and international ATM withdrawal fees, like cards from Betterment Checking.
Tip: A debit card can be used to shop over the counter, online and for ATM withdrawals in Colombia.
Pros
Security with chip and PIN
Direct access to money
Save on overseas ATM fee when you withdraw
$0 account keeping fees if you deposit the minimum requirement
Unlimited free withdrawals at selected banks
Cons
No American card holds the Colombian peso
Currency conversion and international ATM fees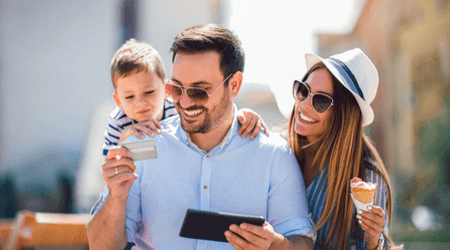 Prepaid travel money cards
Using a prepaid travel card
There are some restrictions to use travel cards in Colombia, including:
Currency conversion fees. There are no prepaid travel money cards that let you load and spend COP. This means you'll be charged a currency conversion of 3% every time you use the card to make a purchase in Colombia.
Travel card foreign currency exchange rates are also often worse than Mastercard and Visa debit and credit card rates. You'll also incur an ATM withdrawal fee as well as the local ATM operator fee when you withdraw COP from a Colombian ATM.
Pros
Protected by PIN and chip
Multiple supported currencies
Emergency card replacement and backup cards
Accepted worldwide
Ideal for managing your travel budget
Cons
No prepaid travel money cards that let you load and spend COP
May charge currency conversion fees, ATM withdrawal fees and local ATM operator fee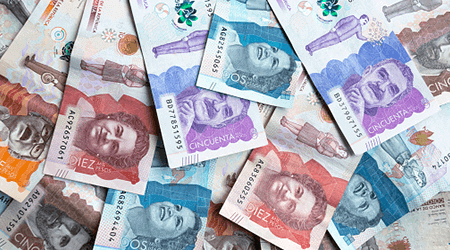 Compare cash pickup services in Colombia
Paying with cash in Colombia
You'll have a tough time using your credit card off the beaten track so make sure you have cash if you plan on visiting small towns. For example taxis, tiendas esquina (corner shops), tiendas barratera (discount shops) and cafeterias don't take cards.
Pros
Greater payment flexibility
Convenience
Cons
Difficult to manage expenses
Higher risk of theft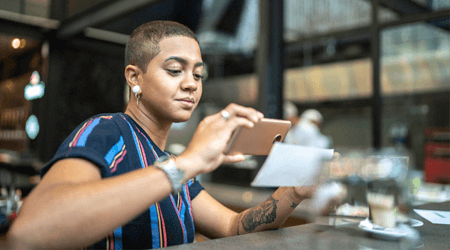 Traveler's checks guide
Using traveler's checks
Cons
Can be costly with initial purchase charges
Not all merchants accept travelers checks
A guide to Colombian pesos
Colombian pesos come in 1,000, 2,000, 5,000, 10,000, 20,000 and 50,000 banknotes. Battered and worn 1,000 pesos notes are accepted by vendors within reason.
Foreign exchange and changing cash
COP is the national currency of the Republic of Colombia, though Colombian pesos are not the same as Mexican pesos. COP is a volatile currency and exchange rates may change marginally during your trip.
You can get your money changed at a bank or at a dedicated money changer. Banks are everywhere and money changers are found in a shopping centers in all Colombian capital cities.
Foreign exchange offices have a cap on the amount of money you can change at a time. Brush up on some basic Spanish to ask about how much money you can change in one go.
¿Cuál es el máximo?: What is the maximum?
Live Rate
Refreshing in: 60s | Fri, Mar 24, 11:01AM GMT
The main banks in Colombia are:
Banco de Bogota
Bancolombia
Banco Davivienda
Banco de Occident
BBVA Colombia
Banco GNB Sudameris
Banco Popular Colombia
Citibank Colombia
Scotiabank Colombia
Using an ATM
In the big cities such as Bogota, Medellín (pronounced Meh-de-YEEN), Cali, Ibague, Cartagena and Barranquilla, ATMs and banks are everywhere. Keep in mind that if you need to see a teller, the lines can get long. It helps to bring a debit card from a provider that doesn't charge international ATM fees, like Betterment Checking.
Here's what to know about using an ATM in Colombia.
Security. ATMs are usually inside a small room behind a locked door adjacent to the street. If the ATM is attached to a bank, security guards stand right outside during business hours and your hotel may even be able to arrange an armed escort if you plan on withdrawing a large amount of cash.
ATM limits. The maximum withdrawal is lower for foreign cards — most Colombian banks let you withdraw up to 600,000 pesos at a time (about $200). Banks vary their limits foreign cards, usually displayed on the ATM welcome screen. Citi has the highest ATM withdrawal limit — but also with the highest fees.
Fees. You'll pay international ATM fees for mostccash withdrawal in Colombia. Some ATMs tell you how much they charge, but some claim it's not available. They vary between 6,000 and 9,000 pesos ($2 to $3) per withdrawal.
Language. Banco de Bogotá, BanColombia and Banco de Occidente ATMs are Spanish only. Davivienda gives you the option of selecting English after you insert your card.
Donations. You're given the option of making a donation to Colombian charities when you make an ATM withdrawal. You have a couple of options for how much you'd like to donate. Press No if philanthropy isn't your thing.
Find ATMs in Colombia
Don't be a papaya!
Avoid being an easy target for thieves by showing some common sense and keeping your valuables on hand at all times.
Don't leave your cellphone on the table when you're at a bar or restaurant.
Keep a sharp eye on your bags — thieves are crafty and can switch one of your bags with a dummy bag in half a second.
Only carry what you need when you leave your hotel or hostel.
Aguardente is the local spirit and one of the most popular drinks. Don't drink too much, it can sneak up on you.
Carry identification with you at all times. Police will often stop locals and tourists randomly to check for weapons and drugs.
Colombia is safer than most people think it is. The civil war is all but finished and the dark days of Colombia's history are just that: history.
How much should I budget to travel to Colombia?
In a country where it costs a couple of pesos for a bed, you'll have plenty of money to travel around the country. Travel in Colombia is very cheap for Americans, and you could survive on only a few dollars a day. Even the most luxurious vacation can be done for under $100 daily.
All prices are in US dollars.
Budget (Cheap)
Mid-range
Luxury (High-end)
Accommodation
Hostel dorm beds per night

$1–$5

Hotel rooms per night

$8

Hostel private rooms per night (based on double occupancy)
$8–$34
Meals
Arepa con queso, boiled/salted potatoes, fresh sliced mango street food
$1
Full meals including a meat (chicken) with small side (potatoes, french fries), hot dogs, hamburgers
$2–$4

Typical set lunch (soup, meat, side of potatoes, rice or beans) with fresh fruit juice
$2–$6

Dinner (appetizer, entree) at a restaurant in a touristy area (or Zona Rosa)
$8–$13

Transportation
City buses
$.50–$.75
City taxi (metered, average distance)
$1.50–$4

Regional (inter-city) buses:
$3–$15 for up to a few hours.
$30 to go 8–12 hours between major cities like Bogota, Cali, Medellin and Cartagena
Prices are approximate and are subject to change.
Case study: David's experience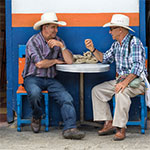 David
An expat in Medellín
What's your travel money recommendation?
Don't carry too much cash around with you. Like anywhere else you travel, thieves look for tourists as targets. It's best to have a variety of money options, and to leave some cards in your hotel room safe just in case.
Back to top
Frequently asked questions
How do I open a Colombian bank account?
You must show that you are a resident of Colombia before you can open a bank account. You'll need to show residency papers or your cedula (Colombian national identification card) as well as provide a residential address.
How safe is Colombia?
Bogota, Medellín, Cali and Cartagena receive the majority of tourists to Colombia. These cities are safe to travel to and explore — but be smart and use common sense.