South America is made up of 12 different countries, each with different currencies. For example, Colombia has Colombian pesos, Argentina uses Argentinian pesos, Brazil the real and Peru the nuevo sol.
We highlight cards with the lowest fees that you can use over the counter and make withdrawals from ATMs on your South American getaway.
Our picks for traveling to South America
Travel card, debit card or credit card?
It's important to take a combination of travel money options wherever you go in the world, but this is especially true for a trip to South America. Having a combination of cards and cash to use as a backup is necessary to ensure you won't run into any spending roadblocks on your vacation.
Credit cards, debit cards and travel cards are widely accepted in South America. You'll have no problem using your Visa or Mastercard at any business that can accept credit cards, however, American Express is typically only accepted at high-end businesses.
Stick to a Visa or Mastercard so you can make withdrawals and payments in a variety of places.
These are your options for spending money in South America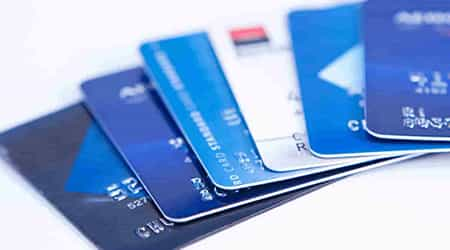 Learn more about travel credit cards
Using a credit card
Look for a credit card designed for travel that doesn't charge foreign transaction fees to save money on international purchases when traveling through South America. Skip ATM withdrawals using your credit card because you'll be charged high cash advance fees.
If you're a frequent traveler, use a rewards credit card that pays miles for each dollar you spend. This way you can maximize rewards and use those miles towards the purchase of your next flight.
Pros
Some credit cards waive overseas ATM fee
Protected by PIN & chip
Accepted worldwide
Features such as complimentary travel insurance and reward points earning
Cons
Cash advance fees
Higher spending limit that could make budgeting difficult
Best international debit cards
Using a debit card
A travel friendly debit card that waives international ATM fees or foreign transaction fees is a smart travel money option for a trip to South America. Look for a debit card provider that is part of the Global ATM Alliance because you'll be able to avoid currency conversion fees — Barclay Bank and Bank of America are members.
If you're planning on using a debit card that doesn't waive ATM fees, take out the maximum amount of money so you don't have to make as money withdrawals.
Pros
Security with chip and PIN
Direct access to money
Save on overseas ATM fee when you withdraw
$0 account keeping fees if you deposit the minimum requirement
Unlimited free withdrawals at selected banks
Cons
Currency conversion and international ATM fees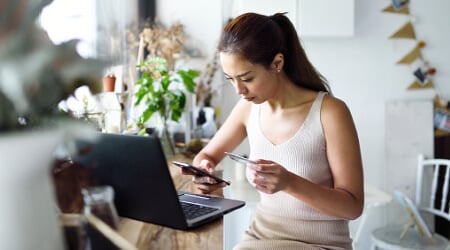 Prepaid travel money cards
Using a prepaid travel card
No prepaid travel cards support the currencies of the South American countries, so these products shouldn't be considered for a trip to the continent. Although you can load US Dollars onto these travel money products, acceptance is limited and you'll pay to convert funds twice.
Tip: The South American regions of French Guiana off the coast of Brazil and the Falkland Islands adjacent to Argentina use the euro and pound, so you could use a travel card to spend in either destination with no problem.
Pros
Protected by PIN & chip
Multiple supported currencies
Emergency card replacement and backup cards
Accepted worldwide
Ideal for managing your travel budget
Cons
Most prepaid travel money cards won't let you load any South American currency
May charge currency conversion fees, ATM withdrawal fees and local ATM operator fee
Compare cash pickup services in South America
Paying with cash in South America
South America is one destination where you're going to need to have cash in case of an emergencies. Although you can use your card in more places now more than ever, there's no guarantee that you'll be able to access cash at any given moment — especially outside of major cities.
Where debit and credit cards are accepted can vary greatly depending on the location. You won't have a problem with a card in the capital cities, especially in countries like Chile, Brazil, Colombia and Argentina for example. However, there are major tourist attractions, like the Amazon, where you're going to need enough cash to last you for the entire leg of your trip.
Pros
Greater payment flexibility
Convenience
Cons
Difficult to manage expenses
Higher risk of theft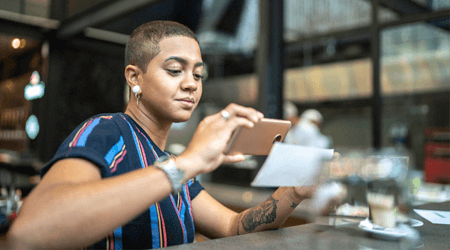 Traveler's checks guide
Using traveler's checks
Don't bother taking traveler's checks to South America. They're difficult to cash and can be expensive. Also, it is no more secure than using a debit card (ATMs in South America are everywhere), credit card or prepaid travel card.
Cons
Can be costly with initial purchase charges
Not all merchants accept travelers checks
Compare travel credit cards
Back to top
Exchanging cash in South America
ATM withdrawals are by far the most efficient way to get local currency in cash on your holiday. ATMs are located all throughout the continent. If you want to carry cash as an emergency backup, US Dollars are widely accepted if you can't pay in the local currency.
Live Rate
Refreshing in: 60s | Wed, Jul 06, 08:40PM GMT
Buying currency for South America
It'll be cheaper if you wait to exchange your money when you arrive compared to converting currency with banks in the US. However, you could always consider using an online money transfer service to send money to your destination and pick it up when you arrive. This option makes getting foreign currency extremely convenient for travelers.
A quick guide to the Brazilian Real
Did you know?
The Brazilian word for the national currency, "real" means both real and royal and all Brazilian coins feature the Southern Cross!
What are the major South American currencies?
Argentine peso
Bolivian boliviano
Brazilian real
Chilean peso
Colombian peso
Peruvian nuevo sol
Uruguayan peso
Venezuelan bolivar
The main banks in South America are:
Banco Do Brasil, Brazil
Itaú Unibanco Holding, Brazil
Caixa Economica Federal, Brazil
Banco Bradesco, Brazil
Banco Santander Brasil, Brazil
BBVA Bancomer, Mexico
Banco Santander Mexico, Mexico
Citibanamex, Mexico
Banorte, Mexico
Banco del Estado de Chile
ATMS in South America
Visa and Mastercard should work at all ATMs where you can see a Maestro, Cirrus, Mastercard or Visa logo on the front of the machine. Always try to use ATMs attached to the side of a bank.
Tip: ATMs in the Amazon region of Brazil, some parts of Venezuela and Bolivia may not accept foreign debit cards. Make sure you have enough cash to last you the duration of your stay if you're visiting these regions.
Cash pickup services in South America
Disclaimer: Exchange rates change often. Confirm the total cost with the provider before transferring money.
How much money do I need to bring to South America?
It depends on what country you travel to in South American. Prices in Brazil are more expensive than Ecuador, and Ibague (the 7th largest city in Colombia) is cheaper than Medellin (the 2nd biggest city in Colombia).
Wherever your travel, the continent can be as expensive or cheap as you make it. Below you can find some budget prices for different countries in South America. All prices are in US dollars.
Bogotá (Colombia)
Brasília (Brazil)
Lima (Peru)
Santiago (Chile)
Accommodation
Hostel dorm bed
$10 per night
Hostel dorm bed
$20 per night
Hostel dorm bed
$10 per night
Hostel dorm
$12 per night
Meals
Arepa con queso on the street
$1.50
El Negro Food Truck. El Matanza (hot dog)
$4.50
Ceviche pescado in a cheap restaurant
$2 -$3
Empanada on the street
$1
Activities
Bogota graffiti tour
Free (donation based on satisfaction)
See the city from the top of the television tower
Free
See the changing of the guards at the Presidential Palace
Free
Museo Histórico Nacional
Free on Sundays and holidays
Prices are approximate and are subject to change.
Case study: Will's experience
Will
Case study: Interview with Will about travel money for South America
Will spent almost four months climbing volcanoes, diving and bussing around Colombia, Peru, Bolivia, Chile and Brazil. He started his trip in Central America visiting Mexico and Cuba.
Do you have any travel money tips for South America?
ATM withdrawals. He says be careful when withdrawing at ATMs. Although nothing happened to Will, he'd heard many stories of other travelers being held up when withdrawing cash. And check your account balance regularly, cards get skimmed quite frequently.
Cash. Will says make sure you have cash to use in emergencies.
Back to top
Read more on this topic:
Best time to travel to South America
Travel insurance to South America
Our latest travel deals to South America