A beautiful country with beautiful people, there's so much to see in Cambodia. You'll find that you can cary both USD and the local currency, the Cambodian riel. Most vendors accept both, so there's no need to exchange your money when you arrive.
Like most countries in Southeast Asia, cash speaks loudest, so be sure to bring an ATM card to access money when you need it. Here we look at the different travel money options for travel in Cambodia.
How much Cambodian riel (KHR) will I need for my trip?
You'll find your money will go far in Cambodia. You can spend any where from $15 to $100 a day if you budget properly. You'll find that there are many vendors who are willing to negotiate prices — another way to keep costs down.
Phnom Penh (capital of Cambodia)
Budget
Mid-range
Expensive
Cheap guesthouse room
$3.50–$10
Air conditioned hotel room
$12–$40
Boutique hotel or resort
$30–$350
Local meals and street eats
$1–$3
Decent local restaurant meal
$5–$10
Fancy meal with drinks
$20–$40
Local buses
$2
Local tour guide per day
$15
4WD rental per day
$50–$100
*Prices are approximate and are subject to change.
Back to top
What's the best way to take money to Cambodia: Travel card, credit card or debit card?
You can use USD in Cambodia, but if you plan to go to more countries or you want flexibility to pay in riels, you have other travel money options:
Credit cards make the perfect travel companion. You can make interest-free purchases and there are a number of perks like emergency card replacement, access to emergency cash and complimentary insurances to protect you, your family and the things you buy. Find a credit card that waives foreign transaction fees to save the most when you spend.
Take a preloaded travel card and withdraw USD from an ATM in Cambodia. Travel card ATM fees can be lower than debit cards — Cambodia is one country where a travel card can work in your favor.
The other choice is to use a debit card to get cash. There are a few travel-friendly debit cards for you to compare. Some debit cards waive international transaction fees such as ATM fees and currency conversion fees. Checking accounts are free to open and won't cost you anything unless you use the card.
Travel money options for Cambodia at a glance
Travel money option
Pros
Cons
Debit cards for travel

Emergency cash facilities
Ideal for managing your travel budget
Unlimited free withdrawals at selected banks
Save on ATM fees when you withdraw overseas

Currency conversion and international ATM fees
Can't be used over the counter
No emergency cash
No backup cards

Prepaid travel money cards

Can preload USD which is widely accepted in Cambodia
Protected by PIN & chip
Accepted worldwide
Emergency card replacement and backup cards
Ideal for managing your travel budget

No prepaid cards support the KHR
Local ATM fee
Reloading time

Credit cards for travel

High availability of ATMs in Cambodia for cash withdrawals
Protected by PIN & chip
Accepted worldwide
No currency conversion or transaction fees
Benefits include rewards points on spending, 0% purchases, frequent flyer perks
Emergency card replacement

Can charge high withdrawal and cash advance fees
Higher spending limit (depends on your approved credit limit)

Traveler's checks

2% charge for cashing traveler's checks can be cheaper than the flat fee for using an ATM
Secure and can be easily replaced if lost or stolen
Photo ID needed to cash checks

Can be costly with initial purchase charges
Not all merchants accept traveler's checks

Cash

Both USD and KHR are used in Cambodia
Payment flexibility
Convenience

Difficult to manage expenses
Higher risk of theft
This table is a general summary of the travel money products in the market. Features and benefits can vary between cards.
How different travel money products work in Cambodia
There are many ways you can take your money to Cambodia, but the most valuable option will depend on your financial situation, spending habits and travel plans.
Using a debit card
Debit cards are another way you can take your cash overseas. They are a great way to keep your budget on track, making it easy to keep track of how much you spend. Not all debit cards are suitable for overseas use though, so you'll want to compare your options. Using your debit card for ATM withdrawals can cost you between $50 and $100 in fees. Find a bank that waives foreign ATM withdrawal fees, and spend the money you save on a guided tour.
Using a travel money card
Travel cards can lock in conversion rates once you load USD. Use it for purchases without worrying about rates each time you spend — debit and credit cards often charge a currency conversion fee of 3% for each transaction. But In Cambodia, because the US dollar is an accepted currency, you won't pay the the currency conversion fee.
Where you save in the conversion rates you may pay in fees. You'll pay fees each time you load the card, ATM withdrawals and sometimes even an inactivity fee.
Using a credit card
Credit cards are accepted in larger restaurants and hotels, and you'll likely have to show ID to use them. Find yourself a credit card that waives foreign transaction fees. Carrying a credit card gives you the added benefit of travel insurance and discounts, depending on your provider. For added savings, take advantage of the interest-free period by paying your balance in full each month.
Cards that offer travel perks and waive fees often charge an annual fee, so make sure the fee is worth it before you bring it along on your travels. If you're ever in a jam, credit cards also offer cash advances, though we don't recommend it. You'll pay high fees and interest rates apply the moment you get your money.
Using a traveler's check
Security is the main advantage of using traveler's checks. Each check has a unique serial number and can only be cashed with photo identification. Fees are the main disadvantage. Banks charge a fee to get a check and to cash them. You're better off using a debit or travel card which lets you make cheap or free ATM withdrawals.
Bringing cash
You can bring US dollars to use in Cambodia, but if you run out of cash or would like to have it waiting for you upon arrival, you can use a money transfer company to get it there safely.
Compare travel credit cards
Back to top
Case study: David's experience

David Cheng
David in Cambodia and Southeast Asia
David and his friends spent three weeks in Southeast Asia: One week in Cambodia and a week each in Thailand and Vietnam. He visited Angkor Wat and Bayon Temple in Siem Reap and then headed to Sihanoukville on the coast. This is what he told us about using travel money in Cambodia.
What cards did you take with you?
Charles Schwab debit card
Why did you take these cards?
David says he used the Charles Schwab debit card for his everyday expenses at home, but it offers the benefit of no foreign transaction fees or ATM withdrawal fees when he travels. He used his Barclaycard for big purchases like flights and other travel and for much of his accommodations.
Where could you use your cards?
David says he mainly used cash in Cambodia. For the times he did use his card, besides ATMs, David says he was able to use his cards at convenience stores, supermarkets, restaurants — both big and small, department and clothing stores.
What about ATM withdrawals?
He withdrew funds from his travel card at Canadia Bank ATMs, which he read online were free, but when he checked his statement, he saw that he was charged a $4 fee by the ATM operator. But luckily for him, Charles Schwab reimbursed him for all those charges. He didn't have problem using ATM machines and was able to withdraw about $200 each transaction.
What is your travel money recommendation?
He says he didn't have to worry about any purchases or ATM withdrawals with the Charles Schwab debit card. David said he liked the flexibility of not searching out a certain ATM when he needed cash.
Do you have any travel money tips?
David says that it's always a good idea to tell your bank about your travel plans so it doesn't think the charges are fraudulent and block your account.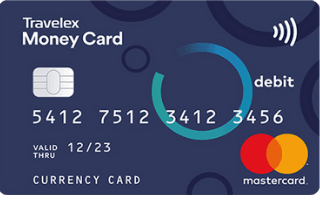 Our pick for a prepaid travel card
Travelex Money Card
Load your card with your choice of 6 available currencies: Euros, British pounds, Australian dollars, Japanese yen, Canadian dollars, and Mexican pesos.
Lock in your exchange rate.
Use your card abroad at millions of locations.
A quick guide to Cambodian riel
Two currencies, one country: USD and KHR
USD and KHR are both used in Cambodia. Buying an item worth $2.50 and paying with $5.00 gives you $2.00 in change and the rest in Cambodian riels. There are different exchange rates between riels and dollars used in Cambodia, too. $1.00 works out to be roughly 4,000 to 4,200 Cambodian riels.
For example:
If an item costs $1, pay $1 or 4,200 riels.
If an item costs 5,000 riels, pay $1 and 1,000 riels.
The value of a dollar changes between 4,000 and 4,200 riels depending on how you pay. Use riels to make smaller purchases to get the best price.
Tip. Make sure all the money you get back as change and money you get from the ATM is clean, crisp and untorn. Many Cambodians will not accept dirty or weathered bank notes.
Did you know?
The riel has been issued twice in Cambodia's history. During the Pol Pot period, the country did not have a currency.
How do I access money in Cambodia?
You shouldn't have any issues finding an ATM in the large cities that accept Mastercard and Visa issued credit, debit and travel cards. Note there are some ATMs that only accept Visas. Be sure to look for the Visa and Mastercard logos displayed on the front of the ATM if you're unsure which cards the ATM takes.
The standard charge is approximately $5 per withdrawal. ANZ Royal charges the most and Bank of Canadia ATMs are the cheapest. Most ATMs dispense USD, while some dispense riels.
ATMs will dispense large denominations, which can be hard to change. Request an ATM withdrawal that includes multiples of $20. For example, instead of withdrawing $300, you can ask for $280. This way you get some smaller notes as well as larger notes.
Tip: Be sure to spend all your riels before you leave, as the currency has no value outside Cambodia.
Common ATMs where you can withdraw cash in Cambodia
Agribank
ANZ
ACLEDA
Canadia bank
Maybank Cambodia
Sacombank
Western Union
Cash pickup services in Cambodia
Disclaimer: Exchange rates change often. Confirm the total cost with the provider before transferring money.
Get a travel insurance quote for your vacation in Cambodia
Back to top
Frequently asked questions
You might be also interested in:
More guides on Finder