Learn which types of travel money to take on a trip to China, Hong Kong and Macau so you can spend for less in the Pearl of the Orient and beyond. Renminbi is the official currency of mainland China, Hong Kong dollars (HKD) is the currency of Hong Kong and Macanese Patacas (MOP) is the currency of Macau — though you can also use HKD in Macau.
China is a huge country with an even bigger history, making it one of East Asia's must-see travel destinations. Hong Kong is the financial hub of Asia and Macau is known as the Vegas of the East.
Our picks for traveling to Hong Kong, China
Should I choose a travel card, debit card or credit card?
China is still largely a cash economy. You can use your card to make payments at major department stores, hotels and restaurants. Taxi drivers, guides, any merchant on the street and most shops outside big cities accept cash only.
Spread your travel money options across a number of products to ensure your vacation will go off without a hitch. Debit and credit cards are the best options for getting access to the money you need on your trip to Hong Kong, China and Macau. Save money by finding cards that waive fees for foreign transactions, withdrawals and maintenance.
Travel card options for China
While travel cards, debit cards and credit cards can all come in handy in China, though there are restrictions and conditions. It's common for businesses in Beijing, Shanghai, Chengdu, Guangzhou and Tianjin to take credit cards, but, you'll likely need cash to make payments outside these cities.
Travel card options for Hong Kong
Hong Kong is an international hub for financial services. Visa, Mastercard and American Express products are accepted almost everywhere in the region, the same applies to Macau. You can use your credit card, debit card in hostels, hotels and shops. Look for the Visa and Mastercard stickers in shop windows and at the point of sale to find out whether a business takes cards.
There are times when you will need cash. Cheap restaurants, market shopping and small purchases at convenience stores are predominantly cash only — you should factor the price of ATM withdrawals in your comparison — you won't have trouble finding an ATM that takes your card.
Tip: Don't use your USD to make over-the-counter purchases. You'll lose in the currency exchange.
These are your options for spending money in Hong Kong, China and Macau
Learn more about using a credit card in Hong Kong
Using a credit card
You're going to need a credit card to pay for large holiday related expenses in China — credit cards are the preferred means for deposits at big hotels. You can use your credit card at large hotels, large department stores, retail chains and larger restaurants. If in doubt, ask if credit cards are accepted before you make your purchase. Pay your credit card within the interest-free days, and you'll save on interest.
If you're traveling outside the city, get cash for your day-to-day purchases. Stop off at an ATM and get cash for your travels on the countryside.
Tips:
Some credit cards provide complimentary travel insurance when you pay for your return airfare with your card.
Withdrawing funds once you get to China is a popular way of getting your hands on some cash. The Visa and Mastercard foreign exchange rate applies when you use your credit card or debit card to make an over-the-counter purchase or to withdraw cash. The rate offered by Visa and Mastercard is similar to the interbank rate and may be better than what's offered by Chinese banks and licensed exchange offices.
Best international debit cards
Using a debit card
Visa and Mastercard debit cards can be used for purchases or ATMs located in the main cities in both China and Hong Kong. Look for card that waive currency conversion and international ATM withdrawal fees when using a debit card overseas.
Chinese banks don't charge local ATM fees, so if you find a bank that will waive withdrawal fees, you'll save. If you find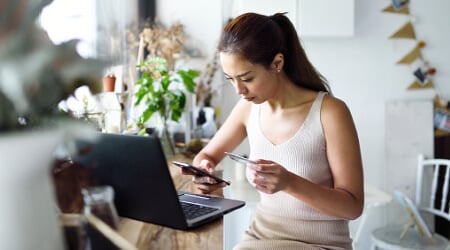 Prepaid travel money cards
Using a prepaid travel card
Travel cards can lock in conversion rates once you load USD. Use it for purchases without worrying about rates each time you spend — debit and credit cards often charge 3% for each transaction. Unfortunately there's no American travel card that holds either Chinese renminbi or the Hong Kong dollar. You're better off using a debit card.
Tip: Travel cards are dual card accounts. You get a second card to use in case the first card is lost or stolen.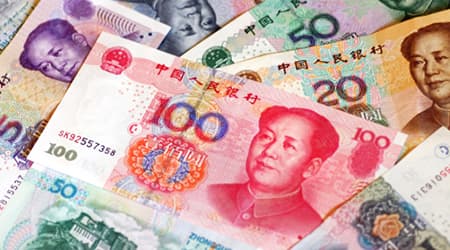 Compare cash pickup services in Hong Kong, China and Macau
Paying with cash in Hong Kong, China, and Macau
China
China is developing at a rapid pace and is emerging as a center for global banking and financial services. However, outside of the major cities such as Beijing, Shanghai, Xi'an and Hong Kong, you won't be able to rely on using your card and should carry cash.
Hong Kong
There are no restrictions on the amount of US dollars you can bring into Hong Kong. You'll need cash in Hong Kong, for example, if you want to purchase the Octopus Card, which is a popular and widely accepted prepaid debit card that works at a number of businesses in Hong Kong.
Still, if you want to get a taxi, go market shopping, eat at cafeterias and buy goods from street stalls you'll need cash. Your options: change US dollars when you arrive or withdraw from an ATM (this is the best option to get Hong Kong dollars). Furthermore, in some places you'll get a better price if you pay cash.
Macau
Although the official rate of exchange between HKD and MOP is 1HLD to 1.3MOP, the currencies are basically treated 1:1. The main thing to note here is that the Macau currency can not be used in Hong Kong, it isn't worth your time to exchange your Hong Kong dollars to Macau patacas.
Tip: Have cash waiting when you arrive. Always consider using an international money transfer service you can always send money to China or send money to Hong Kong beforehand.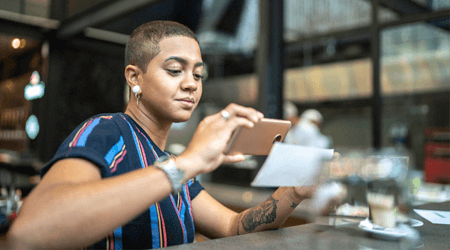 Traveler's checks guide
Using traveler's checks
China
Banks in China usually refuse to cash traveler's checks. The time spent searching for a bank to cash your checks and waiting in line to see a teller can mean that traveler's checks are more hassle than they're worth.
Hong Kong
Traveler's checks can be exchanged at banks and currency exchange offices in Hong Kong and Macau. These businesses and financial institutions will charge a commission when you cash your checks, which can be as high as $8 at some banks (avoid Hang Seng Bank).
The Bank of China and Travelex can cash your checks for a reasonable commission. However, the exchange rate will be much poorer than what you can get by using a debit or travel card to make an ATM withdrawal.
Tip: You will need photo identification to cash traveler's checks.
Compare travel credit cards
Back to top
Exchanging cash
The best way to get foreign cash is to make an ATM withdrawal in the airport when you arrive at your destination. You're subject to the Visa and Mastercard exchange rate, which is the best everyday consumers can get. And if you're using a no currency conversion and no international ATM fee product to avoid the international ATM withdrawal charges, it's the cheapest way to get foreign cash.
Hong Kong
US dollars can be changed at banks and exchange offices in Hong Kong and Macau. Hang Seng Bank, Wing Lung Bank and the Bank of China are popular for changing cash due to low commissions and better rates.
Live Rate
Refreshing in: 60s | Fri, Jan 28, 02:12AM GMT
Tip: You'll pay more to exchange cash at international hotels. Money changers in the tourist districts (Tsim Sha Tsui) are likely to provide a poor rate and charge a higher commission.
China
You shouldn't have any trouble finding a bank or licensed exchange office that can exchange USD for CNY. The renminbi is regulated by the Chinese government. The rate you get at the airport is the same as the rate you get at banks and at official exchange offices.
Live Rate
Refreshing in: 60s | Fri, Jan 28, 02:12AM GMT
The main banks in Hong Kong and China are:
Standard Chartered Bank (Hong Kong)
The Bank of East Asia
Industrial and Commercial Bank of China (Asia)
DBS Bank (Hong Kong) (Asia)
Hongkong and Shanghai Banking Corporation (HSBC)
Bank of China (Hong Kong)
Hang Seng Bank
Nanyang Commercial Bank
Exchange rate history
The Hong Kong dollar is tied to the US Dollar — $1 gets you $7.75 Hong Kong dollars. Two travel products let you lock in a rate: prepaid travel cards and traveler's checks. You can secure your travel budget using these products if you think the value of the dollar will fall during your trip to China.
Using ATMs in China, Hong Kong and Macau
Looking for an ATM in China
Visa, Mastercard and American Express cards can be used at Chinese ATMs. Look for the logo on the front of the machine. Bank of China, HSBC, ICBC and China Construction Bank ATMs all accept foreign cards and offer instructions in English.
Six-digit PIN. Chinese cards have a 6-digit PIN. Contact your card issuer before you travel to China to find out how you should withdraw cash if you have a four-digit PIN. It's possible you can enter two zeroes followed by your PIN.
ATM withdrawal limit. Chinese ATMs have low maximum withdrawal limits. A common withdrawal limit is approximately 2,000 CNY or about $300 a day, so keep this in mind when managing your travel budget.
Tip: Citibank has a presence in China. You won't be charged international ATM fees using the Citibank Plus transaction account to withdraw from a Citibank ATM.
ATMs in Hong Kong and Macau
You'll find ATMs everywhere in Hong Kong and Macau; airports, ferry terminals, shopping centers, convenience stores and train stations all provide ATM facilities. ATMs are linked to the Cirrus and PLUS international Mastercard and Visa networks and are available 24 hours a day. If you're using an American Express travel or credit card, you can use Aeon ATMs to withdraw cash.
Find ATMs in China, Hong Kong and Macau
Cash pickup services in Hong Kong, China and Macau
Disclaimer: Exchange rates change often. Confirm the total cost with the provider before transferring money.
How much should I budget for my trip to China, Hong Kong and Macau?
Hong Kong's status as an international city puts prices on par with New York, Sydney or Paris. Although Hong Kong is about as expensive as New York, you can make your trip as cheap or expensive as you want it to be. If you do your research and know the right places to eat and are willing to share a room with other travelers, you could could get by on less than $60 a day, though if you're not careful, you could spend up to $400 a day. All prices are in US dollars.
Hong Kong
Budget
Mid-range
Expensive
Accommodation
Hostel dorm
$15–$80 per night
2-star hotel
$60–$200 per night
5-star hotel
$300–$1000 per night
Meals
Tsim Chai Kee Wanton Noodles from a street stall
Less than $5
SuperStar Seafood Restaurant
$20–$40 per dish
5-star dining at Island Tang
$100 per person
Activities
Museum of Tea Ware, Railway Museum, Lei Cheng Uk Han Tomb Museum
Free
Hong Kong half day guided tour
$50 per person
Private full day tour to Macau from Hong Kong
$300 per person
The official currency of China is called the renminbi and it is made up of yuan. When referring to the name of the Chinese currency we use the title renminbi, which means "the people's currency" in Mandarin.
Vacation prices in China little cheaper than other developed nations in the region like South Korea and Japan, although expenses can easily stack high if you're on a 5-star vacation. Budget travelers can expect to pay around $30 a day, while travelers with a bigger budget can plan for $80 to $250. All prices are in US dollars.
Beijing
Budget
Mid-range
Expensive
Accommodation
Hostel dorm
$10–$20 per night
2-star hotel
$20–$150 per night
5-star hotel
$150–$600 per night
Meals
Yang rou chuan'r (street food lamb kebab)
$1
Mid-range restaurant
$10–$20 per person
High-end restaurant experience
$60 per person
Activities
Visit and hike on The Great Wall of China
$6–$8
1-day Forbidden City tour
$50 per person
Beijing photography tour
$300 per person
Prices are approximate and are subject to change.
Case study: Shirley's experience

Shirley
Shirley's Hong Kong & China holiday
Before joining her family in mainland China, Guangzhou for Chinese New Year, Shirley traveled to Hong Kong with her friends.
Do you have any travel money tips?
Shirley says if you're traveling during the Lunar New Year, expect all the banks to be closed for as long as two weeks straight — so have your money already exchanged beforehand. She also says the Octopus Card is a popular option; while she didn't get one, a friend of hers did. It simplifies the payment process on public transport and many retailers take the Octopus card too.
Bargaining in China
If you're shopping for tourist items, haggle for a price you think is fair. The point is to come to an agreement over what the item is worth. Remember that haggling is a friendly and social interaction and should always be approached with a smile. There are no hard or fast rules about haggling, but keep these tips in mind when you're hunting for the best price:
Shop around. The same item is often sold at different shops and stalls. Visit a few places to find the best deal before you make a purchase.
Don't be afraid to walk away. If you don't like the price, smile and say thank you and move on to the next place.
Don't feel bad. The vendor isn't going to sell something for a loss. Don't think the price you're paying is too low if the vendor agrees to a sale.
Back to top
Read more on this topic:
Our latest travel deals to Hong Kong, China