South Korea is a modern and cosmopolitan country, with exciting culture and food. What's the best way to pay for your travel in South Korea? Use credit. According to the Bank of Korea, only about 20% of financial transactions in Korea are made with cash. Between credit card, debit cards and the popular T-money cards, the South Korean central bank has an ambitious goal of being cashless by 2020.
We'll help you navigate the best cards to bring and help save you money on fees.
South Korean T-money
South Korea uses the T-money card to streamline payments for busses, taxis and the subway. Just recently they extended those payments for retail and restaurants, making it the most popular way to pay your way in South Korea.
Like a debit card, it's connected to your bank and makes automatic withdrawals each time you make a payment. You can use the T-money card on your smartphone, making payments as easy as a tap of your phone.
From 2016–2018. South Korea is promoting travel with it's Korea Tour Card. For less than $4, it's offered to tourists for all the benefits of the T-money card, but with additional discounts to tourist attractions and shopping.

What should I budget for my trip to South Korea?
South Korea can be considered expensive compared to budget destinations like Thailand, Cambodia and Vietnam. But you'll find it more affordable than other developed countries like Japan. You can expect to spend up tp $50 if you're traveling on a tight budget. If you loosen those purse straps, you can find yourself spending up to $100 to $300 a day.
Average cost of travel in South Korea
Cheap
Midrange
Expensive
Travel money options for South Korea at a glance
Hostel
$20–$60 per night
2 Star Hotel
$50–$100 per night
5 Star Hotel
$140–$500 per night
Jajangmyeon (traditional noodle dish) and pork ribs
$3–$5
Bibimbap (traditional Korean rice dish)
$7
Korean Royal Court Cuisine
$70
Museaums
Free
Guided tour of Seoul and museums
$30
Private DMZ Tour
$150 or more
*Prices are indicative and subject to change
Exchange rate history
South Korea is one of the fastest-growing economies in the world and the fourth-largest economy in Asia. Remarkably it was able to rise from one of the poorest countries in the world to a highly developed country in just one generation. Historically, the US dollar has been stronger against the won. Over the past decade, the USD has generally been worth between 1,000 and 1,200 KRW.
Travel card, debit card or credit card?
You can use your Visa or Mastercard and travel money card almost everywhere in South Korea. While debit cards can be used to make purchases, not all ATMs accept foreign cards. Always look for the word "Global" on ATMs before you try it.
Mobil payments are wildly popular with the youth in South Korea. SO load your credit cards onto your smartphones and leave your credit cards back at the hotel when you go out in big cities. That said, always carry a bit of cash on you for tips or smaller restaurants and street food.
Travel money options for South Korea at a glance
Travel money option
Pros
Cons
Debit cards

Use at stores and hotels, online and ATMs
Protected by PIN & chip
Spending your own money means avoiding interest charges

International ATM and currency conversion fees

No access to cash advances
Only ATMs with the "global" sign accept foreign cards

Prepaid travel money cards

Can hold multiple currencies.
Protected by PIN & chip
Emergency card replacement and backup cards
Reloadable online
Korea offers the Korea Travel Card

Come with lots of fees for loading and reloading, inactivity and ATM withdrawals.
Your name isn't printed on the front
Many won't load South Korean won

Credit cards

Major credit cards widely accepted
Protected by PIN & chip
Accepted worldwide
Interest-free days when you pay your account in full

Some cards offer travel benefits

Emergency card replacement

Fees and interest for cash withdrawal
Many cards charge 3% currency conversion fees
ATM machines are out of service after 11:00PM
Some merchants do not accept payments for transactions under 10,000 won

Traveler's checks

Fees for purchasing and cashing checks
Not accepted by many merchants
Currency exchange rate varies over time

Cash

Greater payment flexibility
Convenience

More difficult to manage expenses
Higher risk of theft
This table is a general summary of the travel money products in the market. Features and benefits can vary between cards.
How travel cards, credit cards and debit cards work in South Korea
Using credit cards
Visa, Mastercard and American Express credit cards are accepted throughout much of South Korea. You want to find cards that will waive the foreign transaction fees, offer travel benefits and insurance to get the most from your spending. You'll find that Visa and Mastercards use their own exchange rates that are close to the market rate, and better than the rate offered on most prepaid travel cards.
Tip: Some South Korean merchants won't accept a credit card payment for transactions under 10,000 won (about $10 AUD).
Using debit cards
A debit card is a good way to access your cash while in South Korea, though be aware that not all ATMs accept foreign debit cards. Look for the "Global" sign on machines that will take your cards. Also, many ATM machines shut down after 11 p.m.
A debit card is a good choice if you want to avoid racking up debt and carrying a balance on your credit cards. It's best if you can find a card that wives international teller fees.
Tip: A debit card can be used to shop over the counter, online and for ATM withdrawals in Vietnam.
Using prepaid travel cards
Though many of the travel cards you find on the market will carry South Korean won, South Korea has it's own travel card. Buy the Korean travel card for less than $4 and get discounts on museums and shopping, covered by travel insurance and pay for food, travel and entertainment. It's sold at convenience stores and can be bought in denominations of 100,000, 200,000, 300,000 and 500,000.
Using traveler's checks
Traveler's checks once had a place — in a money belt tucked under your shirt. Today, this travel money product is a hassle to buy, carry and cash. The main benefit of a traveler's check is security because only you can cash your traveler's checks and they can be replaced if lost or stolen. However, credit cards, debit cards and travel cards have taken the place. Your bank will give you your money back if you're the victim of card fraud.
Getting a refund if you're the victim of a fraudulent transaction
Paying with cash in South Korea
Although card payments are the norm in South Korea, street food, small restaurants and some public transport are cash only — some merchants also won't take cards for purchases under 10,000 won, about $10.
You can make withdrawals at Cash Dispenser Machines or visit an exchange office or bank to get foreign currency changed when you arrive in South Korea. Banks are open from 9 a.m. to 4 p.m. Monday to Saturday.
ATM withdrawals in South Korea
There are two types of ATMs in South Korea, those which accept foreign cards and those which don't — cash dispenser (CD) machines generally accept international cards. If you insert your card into an ATM and it gives you an error message, you'll need to search for another machine. Look for the "Global" logo on the front of the ATM and select the English option before you insert your credit, debit or travel card. These types of ATMs are common in public places such as bus and train stations, and are out of service after 11 p.m.
Local ATM operator fees will apply. You'll save on each withdrawal if you find a debit card that waives foreign transaction fees.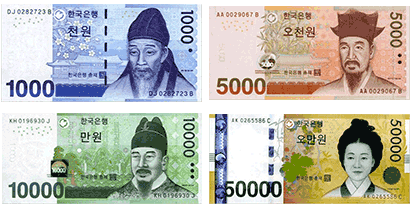 Compare travel credit cards
Case study: Peter's trip to Seoul
On his last trip to South Korea, Peter visited Seoul for one week before heading to Hong Kong. While in Seoul, he took a flight from Gimpo International Airport (Western Seoul) to Jeju Island so he could see the Seongsan Sunrise Peak, one of the New Seven Wonders of Nature.
What cards did you take with you?
Bank of America debit card
South Korean travel card
Why did you take these cards?
BankAmericard. Peter took this card mainly because there's no foreign exchange fee. And because he's a Bank of America customer he gets travel rewards for using his card on purchases like his flight and hotels.
Bank of America debit card. This is the card he uses at home in the US. He took it hoping he could find a

Deutsche Bank — part of the Global ATM Alliance, but he didn't find one in South Korea. He kept his withdrawals to a minimum, using his card mostly for purchases.

South Korean travel card. It allowed him to load money from his bank to use for travel, food and shopping. Most of the locals can be found using this type of payment, so it helped him go with the flow of busy South Korean life.
Where could you use your cards?
Peter says card acceptance was much the same as at home — convenience stores, supermarkets, restaurants, hotels, train stations and even vending machines.
What about using ATMs?
Peter had to look for Global ATMs that accepted international cards, not too hard in larger cities. He found he needed more cash on Jeju Island, so he was withdrew about 300,000 KRW before he arrived.
What travel money tips do you have for South Korea?
Peter purchased a Korean travel or T-money card to make payments easier. It can be used to pay for goods and services at most Korean merchants. What's more, Peter says you can get a discount when you use the T-money Card to pay for public transport.
Buying currency in the US
The import and export of local currency is allowed up to KRW 8,000,000, about $7,000. Be sure to declare any incoming money greater than $10,000, including traveler's checks. And you can't take out more than you bring in.
You can always send your money to South Korea ahead of time with a money transfer service and have it waiting to be picked up when you arrive.
Back to top
Cash pickup services in South Korea
Disclaimer: Exchange rates change often. Confirm the total cost with the provider before transferring money.
You might also be interested in
Read more on this topic