Travelers to Canada will be glad to hear that you can use your cards in the same type of places as you would at home. There's a similar number of ATMs and banks, and prices for accommodation and food are more or less the same — though it gets more expensive if you're going skiing or snowboarding.
As you'll be making transactions in Canadian dollars, there are some fees you'll need to look out for. Here is we compare the different travel money products and strategies that will help you get the most out of your trip.
How much should I budget for my vacation to Canada?
Canada and the US are similar countries when it comes to daily spending and vacation expenses. Like all places around the world, prices jump up significantly in ski resorts. So, you're going to need more cash if you head up the slopes.
Whistler
Budget
Mid-range
Expensive
Motel (Whistler)
$90 per night
Hostel (Winnipeg)
$30 per night
3-star hotel (Whistler)
$200–$300 per night
3-star hotel (Winnipeg)
$100 per night
5-star hotel (Whistler)
$400–$500 per night
4-star hotel (Winnipeg)
$150 per night
Whistler's best burgers
$10–$15
Drive in fast food (Winnipeg)
$4–$8
Mexican food (Whistler)
$20
Pub food (Winnipeg)
$10–$20
Araxi restaurant 10 oz. steak (Whistler)
$54
Angus Sirloin (Winnipeg)
$36
Snowshoe walking tour (Whistler)
$80 per person
Manitoba Museum (Winnipeg)
$7 per person
10 days skiing (Whistler)
$750
WWII Historical Walking Tour (Westminster)
$80 per person
Sea to Sky Exotic Driving (Whistler)
$800
White water rafting (Winnipeg)
$120
*Prices are approximate and subject to change.
Exchange rate history
The Canadian dollar has become stronger than the US dollar in the past five years. That being said, when you exchange your money, it might not stretch as far when traveling in Canada
Back to top
Travel card, debit card or credit card?
Don't stress about using your card to make purchases and to withdraw cash — card acceptance and ATM availability are similar to the US. Canadian merchants accept Visa, Mastercard and American Express credit cards. Canada uses Interac Direct Payment (IDP) and you can use this system to get cash out over the counter if you're paying with your debit or travel card. Travel cards, debit cards and credit cards are all worth comparing before you head out on your trip.
How to use a credit card in Canada
Travel money options for Canada at a glance
Travel money options
Pros
Cons
Travel prepaid cards

Multiple currencies
Avoid currency conversion fees
Supplementary card

Debit cards

No currency conversion fee
No international ATM fee
Unlimited free withdrawals at selected banks

International transaction fees may apply

Credit cards

Complimentary travel and purchase insurance
Interest-free days on purchases
Accepted worldwide
Protected by PIN & chip
Emergency card replacement
Benefits include rewards points on spending, 0% purchases, frequent flyer perks, complimentary travel insurance

Cash advance rates and fees
ATM withdrawal fees
Higher spending limit (depends on your approved credit limit)

Traveler's checks

Secure and can be easily replaced if lost or stolen

Can only be cashed at banks and selected merchants
Fee paid when buying traveler's checks

Cash

Payment flexibility
Convenience

Foreign exchange fee may apply on foreign currency orders
Higher risk of theft
This table is a general summary of the travel money products in the market. Features and benefits can vary between cards.
How travel cards, credit cards and debit cards work in Canada
Using a prepaid travel card
Travel cards let you spend Canadian dollars in Canada, helping you avoid the fee for currency conversion. While you can avoid currency conversion fees, look for international ATM that waive fees to save on withdrawal costs.
Tip: You might be able to miss ATM fees by taking cash out over the counter when you make a purchase.
Using a debit card
Look for a card that doesn't charge for foreign exchange, international ATM fee and has no monthly or account keeping fees. If you want to take your everyday debit card with you, you'll most likely pay $5 for international ATM withdrawals (plus the ATM operator fee) and a 3% currency conversion fee.
Using a credit card
Credit cards are a good way to make purchases, however, you should use your debit card when you want to make ATM withdrawals. Cash advance fees and interest can add up and give you a nasty surprise when you arrive home. Some of these charges can be avoided (look at the FAQs section of our travel money page), but it's better just to keep your credit card for purchases and emergencies. If you plan on using the complimentary international travel insurance feature, double check that your planned activities are covered by the policy.
Using a traveler's checks
Traveler's checks have become a thing of the past when compared to the other forms of travel money compared for the following reasons:
Your bank will give you your money back if you're the victim of card fraud.
You can use your card in a wide number of places in Canada. Meanwhile, traveler's checks can only be cashed at banks and a select number of merchants.
You'll pay a fee to buy traveler's checks.
Paying with cash in Canada
There are always going to be times when you need to pay with cash, especially if you're buying something small — some merchants won't accept a card for a small payment due to surcharge fees.
If you're wondering the best way to exchange US dollars for Canadian dollars, you have these options:
Before you leave. Exchange cash using a foreign exchange service.
When you arrive. Visit a bank or a dedicated foreign exchange office, avoid exchanging cash at the airport as you can easily find a better rate elsewhere.
Withdraw from a Canadian ATM. The simplest way to get CAD is to make an ATM withdrawal when you arrive. There are multiple ATMs at Canadian airports which offer a true rate, just be conscious of ATM withdrawal fees.
Did you know?
The Canadian dollar is one of the most traded currencies in the world, it's referred to as the "buck." This can be traced back to the origins of Canada's history, where the Hudson's Bay Company created a coin worth the pelt of one male beaver, otherwise known as a buck.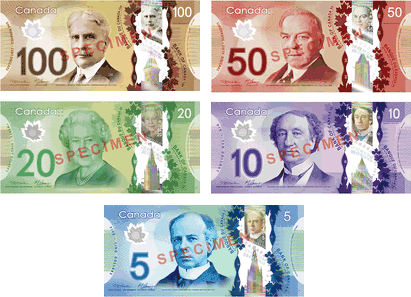 Compare travel credit cards
Back to top
Case study: Michael's experience

Michael
Michael's season in Whistler
Michael spent a season skiing Canada's famous peaks: Whistler and Blackcomb. The season lasts for approximately six months starting in November and ending around May.
What cards did you take with you?
A debit card from a local Canadian bank
Why did you take these cards to Canada?
Michael says that the low rate Simmons Visa® was his card of choice so he could save on purchases. Since he knew he was going to be in Canada for a while, he opened a local bank account instead of taking a travel friendly debit or credit card.
Any tips on how to go about getting a Canadian bank account?
He says that in order to get a Canadian bank account, you have to have two forms of ID – a passport, license or credit card with your name on it will do. Once you have that you can apply for a bank account. Michael says it's something he definitely recommends for someone who is going to be doing a season in Whistler.
Were there any places where you had trouble using any of your cards?
He says more or less, no. Michael told us of one instance where Mastercard flagged a possible fraudulent purchase because of the location. He says make sure you tell your bank about your travel plans to avoid this situation.
Michael's tips for managing travel money in Canada
Michael says he had savings in his US bank account, and he needed to transfer this money to his new Canadian account. He made a lump sum transfer every month or two. He recommends the services of OFX, a foreign exchange and international payments company.
International payments. He says it was very easy to create an account and make a payment to OFX. It only took a couple of days for the funds to clear in his Canadian account. A transfer fee of $25 was charged by OFX for each transaction.
Travel safety. He also says give fanny packs a chance. While they may not be coolest choice of apparel, it's savvy nonetheless. Michael's words: "A travel fanny pack is probably a good idea for people who are prone to losing things."
If you're planning on hitting the slopes while you're in Canada, you will need to make sure that you have additional insurance. Make sure your trip is protected and compare travel insurance policies today.
Withdrawing from Canadian ATMs
Look for the Visa, Visa PLUS or Mastercard logo on the front of the machine to see whether you can use your card to get cash. A local ATM operator fee applies each time you withdraw cash. This fee is comparable to the US where you'll pay $2 to $3 each time your withdraw in addition to international ATM charges and currency conversion charges.
Why you'll need a combination of travel money options
Even though you can get away with making card payment a lot of the time, there are still instances when you'll need cash. Take a combination of the travel money products and use the right card for the right situation so you can save on international transaction charges.
Do your research before you leave so you can enjoy your trip to Canada with peace of mind that you're spending your money smart and not giving it to your bank.
Cash pickup services in Canada
Disclaimer: Exchange rates change often. Confirm the total cost with the provider before transferring money.
Find cheap travel insurance options for your next trip to Canada
Back to top
You might be interested in:
Read more on this topic