Whether you're planning to explore the cobblestone villages, relax on the golden beaches or indulge in the local cuisine, getting your travel money sorted out before you leave is crucial for a successful trip to Portugal.
Portuguese towns and cities have many banks and ATMs and using a major credit card shouldn't give you a problem. If you can steer clear of the currency conversion and international ATM withdrawal fee, you'll be spending smart and saving on fees. For some helpful tips and tricks, use our travel money guide to discover how you can spend for less while you're in Portugal
Why you'll need a combination of travel money options
One of the main differences to take into consideration when looking at different types of travel money is the exchange rate. It can also make sense to load money and lock in a rate on your travel card if you think euros are going to get more expensive to buy in the future. As always, you'll want a credit card for emergencies and to score different travel perks such as complimentary insurance and rewards.
Whether you go for the sun, the olives or to explore the ancient cities of the once great imperial power, compare and apply for the right travel money so you don't get buried in fees when withdrawing money or making purchases.
What should I budget for my trip to Portugal?
While Portugal is not as cheap as it used to be, visitors will find it much cheaper than other popular destinations in Western and Northern Europe. Whether you be someone who prefers to stay in a hotel or a hostel for cheap, Portugal can fit the budget of any traveler. Even eating out and exploring the city is quite affordable if you choose to go that route.Budget travelers can expect to pay about $45 a day, while those with bigger budgets can plan on $100 to $250 a day.
Budget
Mid range
Luxury
Hostel
$15–$30 per night
2-star hotel
$50–$100 per night
>5-star hotel
$100–$300 per night
Casa de pasto
$4–$8
Dinner at a restaurant
$20–$30 per dish
5-star restaurant:
$35–$60 per dish
Free entry to most museums
Free sightseeing of ancient ruins and castles
Lisbon Oceanarium
$20 for an adult ticket
Guided 7-day bike tour of Portuguese castles and vineyards (expenses included): $1,250
*Prices are approximate and subject to change.
Back to top
Should it be a travel card, a debit card or a credit card?
The national currency of Portugal is the euros and conveniently, all travel cards let you load and spend euros. Neighboring Spain and France also use the same currency, so a travel card can make sense if you'll be going all over Europe.
Visa and Mastercard can be used everywhere and advances in contactless payments lets you use your credit or debit card for small purchases at major Portuguese retailers.
Tip: Most Portuguese bank ATMs (multibanco) do not charge a local ATM operator fee. To withdrawal money on the cheap, you should look for a card that doesn't charge a fee for international ATM usage or currency conversion.
A quick summary of travel money options in Portugal
Travel money option
Pros
Cons
Debit cards for travel

PIN & chip protection
Preload euros
Ideal for managing your travel budget
Comes with backup cards

International ATM fees
Foreign transaction fees

Prepaid travel money cards

Euro is a supported currency
PIN & chip protection
Secure your exchange rate in multiple foreign currencies
Accepted worldwide
Emergency card replacement and backup cards
Ideal for managing your travel budget

Loading and reloading fees
ATM withdrawal fees
Exchange rates are lower than credit cards and debit cards

Credit cards for travel

Protected by PIN & chip

Accepted worldwide

No currency conversion or transaction fees
Rewards points on spending, 0% purchases, frequent flyer perks, complimentary travel insurance
Emergency card replacement

High withdrawal and cash advance fees
Can be difficult to manage budget

Traveler's checks

Secure
Easily replaced if lost or stolen
Photo ID needed to cash checks

Banks and exchange offices won't accept traveler's checks in Portugal
Can be costly with initial purchase charges
Limited acceptance

Cash

Greater payment flexibility
Convenience

More difficult to manage expenses
Higher risk of theft
This table is a general summary of the travel money products in the market. Features and benefits can vary between cards.
How travel money products work in Portugal
Using debit cards
Debt cards will have a wide acceptance throughout Portugal, but what you'll want to look for is a card that can either waiver the international ATM fee, currency conversion fee or foreign transaction fee.
If a local merchant or ATM gives you the option to pay in local currency when using your card, always go this route because the conversion rate set in place by your bank will be much more favorable.
Using prepaid travel cards
The euro is a supported currency on all travel cards. Compare fees like charges for ATM withdrawals and loading and reloading your card. You can lock in a rate when you transfer your dollars to euros, which can be handy if you think the value of the dollar is going to drop.
Using credit cards
A travel friendly credit card will allow you to make day to day payments in Portugal without the charge for currency conversion. You could even fall into a pool of perks which would ordinarily be an out of pocket expense — travel insurance, for example.
Credit cards also offer interest free days on purchases when you pay your statement in full by the due date. Avoid using your credit card for ATM withdrawals. This is a cash advance that will accrue high interest immediately and you'll pay a cash advance fee.
Using a credit card in Portugal
Using traveler's checks
Banks and exchange offices in Portugal will likely turn your traveler's checks away. Use the right credit card, debit card or a travel card instead. These travel money products offer all the advantages of traveler's checks and none of the drawbacks.
Using cash
There are going to be situations when you need cash on your trip. For example, some places won't take cards if you're spending less than 10 to 20 euros – other merchants won't take cards at all. If you pick the right card, there's no reason why you shouldn't have euros in your pocket.
If you've brought dollars with you to Portugal, you won't have trouble getting your cash changed to Euros on the street.
Compare travel credit cards
Back to top
Case study: Julie's experience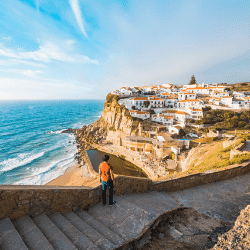 Julie
Interview with Julie in Lisbon
What cards did you take with you?
Julie took these products with her:
Travelex

Travelex provides over 60 foreign currencies
load it with up to 6 different currencies:
euro
British pound
Australian dollar
Japanese yen
Canadian dollar
Mexican peso
No currency conversion fee
Barclaycard credit card
Discover Bank debit card

No fee on foreign transactions
No fee for international ATMs
Why did you take these cards?
Julie says she transferred money from her Discover Bank account to her Travelex travel card as she needed it. She did this so she could make over-the-counter purchases and ATM withdrawals without paying extra for currency conversion.
She brought her Barclaycard to use for emergencies and she took along her Discover Bank debit card incase she lost her Travelex cards.
Where could you use your cards?
Most of the time she didn't have a problem using her cards. Though there was one instance where a restaurant was cash only, which was a little surprising since she said much smaller cafes accepted cards.
She recommends that you always ask whether they take card before you sit down to avoid awkward circumstances. She says that when she went out for drinks with her friends, the bars were mainly cash only.
What about withdrawing money from ATMs?
She had no problems using her Travelex card to make ATM withdrawals. However, she was charged a fee per withdrawal.
Do you have any travel money recommendations for Portugal?
She says the best thing she did was bring a prepaid travel money card which had the ability to lock in exchange rates, so she knew exactly how much money she had to spend and could stick to her budget.
What are your travel money tips for Portugal?
Skip the taxis in Lisbon. Julie says Lisbon is well serviced by a metro, train and bus system. She says you should buy a 7-day carris card for .50 euro and reload as you need — using the card gives you a discount public transit.
Ask about the price of sides. When she was eating out with her friends, restaurants gave them sides like bread and olives. They didn't ask for it, but they were charged a couple of euros.
Back to top
Get familiar with Portugal banknotes and coins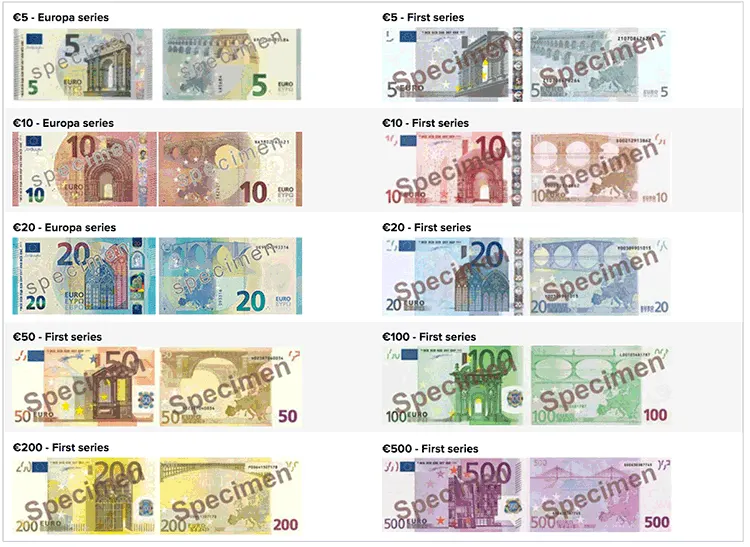 Buying currency in the US
You can take as many euros with you as you want, but you have to declare if you're carrying more than 10,000 euros.
Your options for changing USD to EUR include banks and foreign exchange services like Travelex. Travelex also has rather convenient airport pickup locations.
Cash pickup services in Portugal
Disclaimer: Exchange rates change often. Confirm the total cost with the provider before transferring money.

Back to top
Find travel insurance for your trip to Portugal
A critical component of getting your travel money is order is getting the right travel insurance in place. Travel insurance offers protection from a range of losses including:
Cancellation
Loss or theft of luggage and personal belongings
Medical emergencies
Personal liability
Nobody wants to pay too much for their travel insurance. Compare quotes to help you save even further.
Back to top
You might also be interested in: