Travel money guide: UK
If you're traveling to the UK, learn the best way to carry and spend your money overseas.
When you're visiting the United Kingdom's England, Scotland, Wales and Northern Ireland, US citizens get an automatic visa for six months to drive over London Bridge, explore Stonehenge and sip tea by the Thames. To do so, you'll pay either with your card or the pound sterling, the national currency.
Overall, the UK is becoming increasingly cashless, so you shouldn't have a problem paying with Visa or Mastercard and, in many places, American Express. Go with the Capital One VentureOne Rewards Credit Card to avoid those pesky foreign transaction fees that most credit cards charge.
Our picks for traveling to the UK
Travel card, debit card or credit card?
Like the US, you can pay for most of your travel with a credit card. You'll find that most major credit cards are accepted everywhere. Make the most of your money on your travels and find a card that offers travel rewards or a card without foreign transaction fees.
It's good to carry some cash for smaller purchases or to use for tips. You'll easily find ATMs at banks, stores and gas stations — but try to only use your debit card. You'll pay steep fees getting a cash advance from your credit cards.
These are your options for spending money in the UK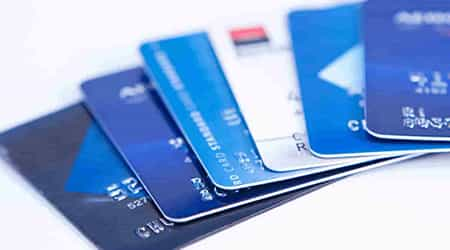 Compare credit cards for travel
Using a credit card
You won't have any problems using a travel credit card in the UK. Most major credit cards are accepted, but you'll find it hard to use your Diners Club, American Express or Discover cards at small businesses.
Find yourself a credit card that waives foreign transaction fees and offers travel rewards like the Capital One Venture Rewards Credit Card , helping you keep more money in your wallet for the nation's ubiquitous tea and biscuits. Carrying a credit card gives you the added benefit of travel insurance and discounts, depending on your provider.
For added savings, take advantage of the interest-free period by paying your balance in full each month.
Pros
Major credit cards widely accepted
Protected by PIN & chip
Accepted worldwide
Interest-free days when you pay your account in full
Some cards offer travel benefits
Emergency card replacement
Cons
Fees and interest for cash withdrawal
Many cards charge 3% currency conversion fees
Which credit card issuers are accepted in the United Kingdom?
You'll find American Express is accepted throughout the UK, but mostly in large cities. Mastercard and Visa are more widely accepted and popular as they're also accepted in villages and smaller vendors.
If you have an Amex card and want to make a cash withdrawal, you'll find most ATMs accept Amex cards. For Discover cards, look for Cardtronics, Moneycorp, Travelex and Yourcash ATMs.
Discover is also accepted through the Diners Club Network, which isn't widely supported in the UK. Discover cards were once more widely accepted in large cities around England, but their popularity has greatly declined in more recent years.
| | Merchant acceptance | ATM acceptance |
| --- | --- | --- |
| Visa | High | High |
| Mastercard | High | High |
| American Express | Medium | High |
| Discover | Low | Low |
Compare travel credit cards
Select Compare for each card that interests you for a side-by-side study on features, rewards and fees to help you decide which card best suits your needs.
Best international debit cards
Using a debit card
A travel debit card could be a good travel money choice to take to the UK. You'll have access to cash each time you come across an ATM without carrying lots of cash on you. Because you're spending your own money, you avoid interest charges.
Betterment Checking
is another account to consider as it offers no international transaction fee and a free daily ATM withdrawal limit of $500.
Tip: A debit card can be used for in-store purchases, online and for ATM withdrawals in the UK.
Pros
Use at stores and hotels, online and ATMs
Protected by PIN & chip
Spending your own money means avoiding interest charges
Cons
International ATM and currency conversion fees
No access to cash advances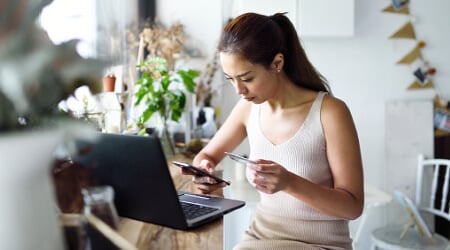 Prepaid travel money cards
Using a prepaid travel card
The biggest benefit of travel cards is that you can load up to three currencies at once and lock in a favorable exchange rate. If you need more than one currency on your travels, you can save money on the 3% currency conversion fee you'll pay with other credit and debit cards.
Where you save in the conversion rates, you may pay in fees. You'll pay fees each time you load the card, ATM withdrawals and sometimes even an inactivity fee.
Tip: Banks that provide travel cards make money by applying a higher margin to the exchange rate. You can get a better rate using a debit card or credit card.
Pros
Lock in exchange rate when you convert USD to GBP
Can hold multiple currencies.
Protected by PIN & chip
Emergency card replacement and backup cards
Reloadable online
Cons
Come with lots of fees for loading and reloading, inactivity and ATM withdrawals.
Your name isn't printed on the front
Businesses won't accept prepaid cards
Cash pickup services
Paying with cash in UK
Pros
Greater payment flexibility
Convenience
Cons
More difficult to manage expenses
Higher risk of theft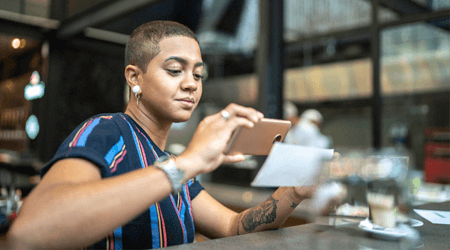 Traveler's checks guide
Using traveler's checks
Cons
Fees for purchasing and cashing checks
Not accepted by many merchants
Currency exchange rate varies over time
Back to top
UK currency
The pound sterling is the official currency of the UK and is the fourth most traded currency in the world. One pound is subdivided into 100 pence and comes in denominations of £5, £10, £20 and £50 banknotes, issued by the Bank of England for over 300 years. All banknotes feature Queen Elizabeth II on the front.
Banknote
Features

£5

The current £5 banknote features Elizabeth Fry, who made her name fighting for improved living conditions for women in European jails.
Issued on May 21, 2002.

£10

The back of the £10 banknote is Charles Darwin, the Victorian naturalist who developed the theory of evolution.
Issued on November 7, 2000.

£20

The £20 banknote features the Scottish economist, Adam Smith with an illustration of 'The division of labour in pin manufacturing'.
Issued on March 13, 2007.

£50

The new-style £50 banknote entered circulation on November 2, 2011.
The note features two Britons on the back — Matthew Boulton and James Watt with steam engine and Boulton's Soho factory.
The main banks in UK are:
HSBC Holdings
Barclay's PLC
Royal Bank of Scotland
Lloyds Banking Group
Standard Chartered PLC
Santander UK
Nationwide Building Society
Schroders
Close Brothers
Coventry Building Society
How the USD compares to the GBP
Since the housing crisis of 2007, the USD lost value against the GBP. But ever since the Brexit vote for the UK to leave the European Union in June 2016, the sterling pound has lost purchasing power. The rates are better than ever for US travelers, so lock in your rates with a travel money card or traveler's checks.
Live Rate
Refreshing in: 60s | Sun, Oct 02, 07:41PM GMT
Find ATMs in UK
You can find ATMs all over the UK, including in banks, post offices, grocery stores, restaurants and hotels. Independently owned ATMs may charge a fee for your transaction, though you can find ATMs without fees. If you go with a Betterment Checking debit card in hand, you can get reimbursed for ATM fees within 24 hours of submitting the reimbursement.
How much should I budget to travel in the UK?
The UK is one of the most expensive places in Europe to travel. From transportation to hotels and food, you'll find you'll spend a lot more on the basics than in many other countries. If you're looking to travel on a backpacker's budget, plan for $60 or so per day, about $150 for a mid-range budget and $400 for you're looking to live it up. All prices are in US dollars.
Budget
Midrange
Expensive
Accommodation
Dorm bed
$30 per night
Double room
$80 per night
Boutique hotel room
$200 per night
Meals
Market-stall lunch
$3
Supermarket sandwich
$3.50 – $4.50
Two-course dinner
w/ glass of wine
$60
Three-course dinner
in top restaurant w/ wine
$150
Activities
Many museums
Free
Theatre ticket
$30
Top theatre ticket
$80
*Prices are approximate and are subject to change.
Case study: William's experience
William Eve
Interview with William Eve about UK travel money options
We interviewed Will, a finder.com user, about his latest trip to the UK. He told us about his experience using credit and travel money cards.
What money tips do you have to anyone traveling to this country?
Pay attention to how much you spend on food and alcohol. Will says eating out and drinking in London and other parts of the UK is extremely expensive. He gives this advice for keeping costs low: "Hunt out good pub meal bargains and shop at Tesco and Sainsbury's for your other meals. Try to avoid drinking coffee out."
Will also recommends AirBnB, especially if you're traveling as a group. Hostel dorm beds were upward of £35 a night.
Case study: Roslyn's experience
Roslyn McKenna
Publisher
I visited the UK with friends in October 2018. I used my Capital One Quicksilver Cash Rewards Credit Card just about everywhere because it has no foreign transaction fees and gives a flat cashback rate on everything. I also brought a few hundred dollars for small transaction amounts and exchanged it in the London Heathrow airport at a fair rate.
The only issue I encountered was the new scanning credit card machines. I'd made sure I had the newer chip-and-PIN card when I traveled to Japan, but I didn't know the UK had already switched over to newer scanning chips. My card was declined at several places, like Tesco supermarkets, because it was a foreign card that could only be inserted or swiped.
If you're going abroad, it's helpful to get a solid cashback card with free foreign transactions that uses the most up-to-date payment style.
Back to top