Southeast Asia is a beautiful and cheap travel destination for Americans. The crystal clear beaches, colorful nightlife and magnetic culture combine to offer a great travel experience at a budget price. But even though it's cheap, picking the right travel money can make a trip to the Land of Smiles even more affordable.
The Thai baht, the currency of Thailand, will go far on your vacation, with more than affordable food, lodging and transportation. Be sure to exchange your money when you arrive a the airport, as USD is not accepted anywhere.
Major brands such as Visa and Mastercard are widely accepted in Thailand, although don't expect to fund your vacation with your card alone. There are many businesses that only accept cash. ATMs are common, so find out how to spend with your card and make withdrawals without the fees.
Our picks for traveling to Thailand
Travel card, debit card or credit card?
As they say, you should never carry all of your eggs in one basket. The same runs true for your money when you travel. No one product will be the best option for your vacation, so using several methods will give you greater accessibility and security.
For example, a credit card gives you peace of mind of not being stuck without money in case of an emergency. Plus, you could get additional perks like complimentary travel insurance and rewards. A travel card can be valuable if it allows you to load Thai baht, however, you'll pay ATM withdrawal fees charged on both ends. A debit card like the Charles Schwab will let you withdraw money for less. Spread your travel budget across a couple of cards so you have multiple ways to access your money. Be savvy with your budget and apply for a product that saves you at least the currency conversion and international ATM fee.
Visa and Mastercard branded travel, debit and credit cards can be used for over the counter purchases and ATM withdrawals in Thailand. Credit cards are accepted at hotels and some hostels, food at medium to large restaurants and when shopping at department stores and retailers. It's harder to find retailers that accept American Express, so plan on bringing a variety of cards just in case. For your trips outside the big cities, you'll need to take cash for all of your expenses including lodging, restaurants and markets.
You'll find ATMs accept most major international bank cards throughout most of Thailand. Even if you have a card that doesn't charge foreign withdrawal fees, you'll find that Thai ATMs charge $4 to $5.
These are your options for spending money in Thailand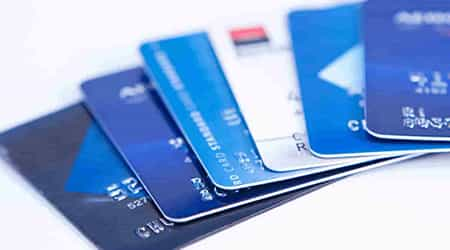 Using a credit card in Thailand
Using a credit card
Credit cards give you the most purchasing power on expensive items like hotels and flights when traveling in Thailand. Find yourself a credit card that waives foreign transaction fees. Carrying a credit card gives you the added benefit of travel insurance and discounts, depending on your provider. For added savings, take advantage of the interest-free period by paying your balance in full each month.
Cards that offer travel perks and waive fees often charge an annual fee, so make sure the fee is worth it before you bring it along on your travels. If you're ever in a jam, credit cards also offer cash advances, though we don't recommend it. You'll pay high fees and interest rates apply the moment you get your money.
Tip: Some credit cards offer complimentary international travel insurance when you charge the cost of your return travel ticket to your card.
Pros
Rewards program and travel insurance
Waived international ATM and conversion fees
Interest-free days on purchases
Cons
Overseas ATM fees and currency conversion fees
Cash advances accrue interest from the moment of withdrawal
American Express and Diner Club are not accepted in many places
Best international debit cards
Using a debit card
Most debit cards will charge a currency conversion fee when you use the card to make a purchase or withdrawal in Thai baht. The Charles Schwab account card waives these fees and allows you to use any ATM for no charge.
In addition to a currency conversion fee, most ATMs in Thailand charge between $4 to $5 fees. Your best bet is to withdraw the maximum amount — 20,000 baht to avoid incurring too many fees.
Tip: Many ATMs offer to automatically convert the charges to your home currency, also called dynamic currency conversion. This exchange rate will be lower, so always refuse this offer.
Pros
Can be used at all ATM and merchants in Thailand
Charge less or $0 fee for ATM withdrawals
No currency conversion fee
Cons
ATM operator fees
No access to cash advance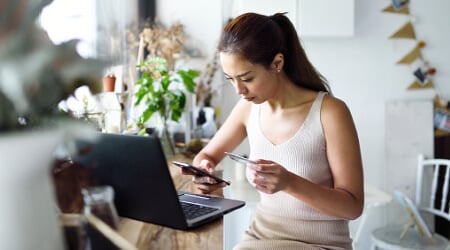 Prepaid travel money cards
Using a prepaid travel card
Travel cards are useful if the card you choose allows you to convert US dollars into Thai baht. And consider the currencies of neighboring countries if you're traveling to other Southeast Asian countries on your vacation. If you pick a travel card which can't hold baht, you'll pay a currency conversion fee when you make a purchase or withdrawal in Thailand.
In this case, a travel money card will cost you more to use than the cards you already have in your wallet. Some travel cards don't charge for currency conversion; however, these cards will certainly charge you to make an ATM withdrawal. There are issue, reload and inactivity fees to consider as well as ATM and currency conversion fees.
Pros
Locked-in exchange rates
A safe way to carry money — protected by pin and signature and can easily be canceled
Cons
Comes with lots of fees for loading and reloading, inactivity and ATM withdrawals
Exchange rates are lower than credit cards and debit cards
Not all travel cards support baht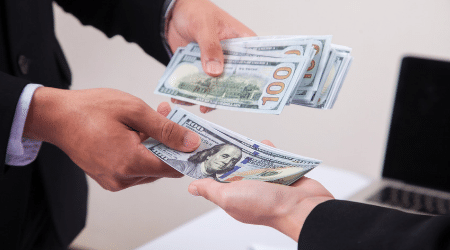 Compare cash pickup services in Thailand
Paying with cash in Thailand
Make an ATM withdrawal when you arrive or exchange USD at an exchange office or bank to get Thai baht. You won't pay a commission to get cash changed, but avoid exchanging cash at hotels, hostels and guesthouses as you'll get a bad rate. There at no fees or commissions to exchange your money at the airport, though you may not get the best rate.
Look for exchange shops like Super Rich and Value Plus who offer the best rates in Thailand. To avoid losing money to fraud or error, be sure to count your money before you leave the exchange counter.
Tip: The people in Thailand expect everyone to respect their currency, that depicts the royal family, by not stepping on it and keeping in clean.
Pros
Accepted anywhere
Convenient
Cons
More difficult to manage expenses
High risk of theft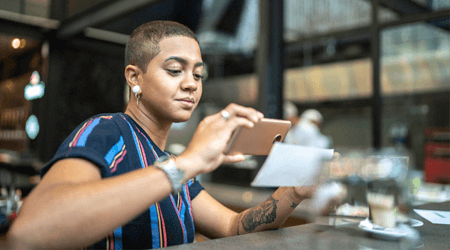 Traveler's checks guide
Using traveler's checks
Unlike other countries, American Express traveler's checks can be easily cashed in Thailand at exchange offices and banks. However, debit cards and travel cards have largely replaced them. Although you can get a better rate transferring funds using traveler's checks, you'll pay a 153 THB fee to cash each check. So it's best to get your checks in larger denominations so you'll have less checks to cash.
Tip: Some enjoy the security that traveler's checks offer. You must have your passport each time you cash your checks — protecting you if they are lost or stolen.
Getting a refund if you're the victim of a fraudulent transaction
Pros
Accepted at most banks
Security
Compare travel credit cards
Back to top
Thai currency
The baht is divided into 100 satang and is issued by the bank of Thailand and is the 10th most traded currency in the world. All currency — paper and coin — depicts the portrait of His Majesty King Bhumibol Adulyadej or a deceased relative. There are strict laws in place that prohibits verbal, physical or written that insults or disrespects the royal family. This means treating the money with respect by not stepping on it, throwing it, tearing or defacing it in any way.
The main banks in Thailand are:
Bangkok Bank
Kasikorn Bank
Siam Commercial Bank (SCB)
Krung Thai Bank
TMB Bank
Bank of Ayudhya
Thanachart Bank
Kiatnakin Bank
CIMB Bank
Standard Chartered Thailand
Buying baht in the US
It's best to wait till you arrive in Thailand before buying Thai baht. The best way to get baht is to make an ATM withdrawal using an account that doesn't charge an international ATM or currency conversion fee. You can do this at the airport as soon as you arrive and throughout your trip when you need more cash. You'll pay a couple of dollars each time you withdraw baht from a Thai ATM, but this will be cheaper than paying the exchange office commission and Visa and Mastercard gives you one of the best rates on the market.
If you do want to purchase baht in the US, you can buy foreign cash at these financial and foreign exchange institutions:
Live Rate
Refreshing in: 60s | Thu, Jun 30, 03:01PM GMT
ATMS in Thailand
Thai ATMs charge a 180THB fee when you make an ATM withdrawal using your credit, debit or travel card. Aeon ATMs charge 150THB per for each withdrawal. Using a Citi card and a Citi ATM is free.
Tip: Currently, there are no ATM machines on the island of Ko Lipe near the Malacca Strait, so make sure you're carrying more than enough cash when you travel there.
Cash pickup services in Thailand
Disclaimer: Exchange rates change often. Confirm the total cost with the provider before transferring money.
How much baht do I need to bring to Thailand?
The average Thai lives on a less than 7,750 THB per month in Bangkok — less than $300 a month. Although prices in Thailand are increasing steadily each year as a result of tourism, it's still a budget destination for American travelers. By taking local buses, eating street food, and drinking local beer, you can live on $25 a day — including a bed in a hostel. Staying at in a hotel and eating in restaurants you can spend as little as $70 a day. For a more luxurious stay you can spend as little at $200 a day.
Some of the daily costs for a Thailand vacation
Bangkok
Budget
Midrange
Expensive
Accommodation
Hostel
$5–$10 per night
2 star hotel
$30–$50 per night
5 star hotel
$90–$150 per night
Meals
Khao Gang (curried rice/street food)
$1–$3
Gaeng Kiew Waan (Green curry with fish balls/restaurant)
$10
5 star restaurant
$75 or more for 3 courses and drinks
Activities
Marketing shopping on Koh Sahn Road
Bangkok food tour
$30 per person
Rent a Lamborghini
$1,500 for a day
*Prices are indicative and subject to change
Case study: Justin's experience
Justin
Case study: Interview with Justin about travel money in Thailand
Justin visited Thailand with his friends, spending a full three weeks exploring the Bangkok and the southern region. They flew into Bangkok and spent some time temple-spotting and exploring Koh Sahn Road before jumping on another plane and heading south to Phuket. We interviewed him about his travel money experience.
What money tips do you have to anyone travelling to Thailand?
He says to be realistic about your travel budget. Be sure to have access to plenty of cash, because you'll need it for shopping at the markets and anytime you leave the large cities. Another pro tip: Monday is cleaning day in Bangkok, so many of the street food vendors take the day off — so plan on other eating options that day.
Back to top
Read more on this topic: