France was one of the first countries to merge into the Eurozone and the euro has been the national currency of France since 1999.
If you're heading to France, you can use debit cards, travel cards or credit cards to spend in more places than not. However, choosing the right travel money product is an important part of planning your trip – it could relieve stress and the fees that are tacked on to your bank account at the end.
Our picks for traveling to France
Travel card, debit card or credit card?
Most retailers and merchants are credit card and debit card friendly. Visa and Mastercard are accepted everywhere, but American Express and Diners Club cards can be used in fewer places.
When making payments, some merchants may have a spending minimum — 10 euros for example. However, if you're making a contactless payment, you can get away with purchases of just a couple of euros using your card.
Take a combination of travel money products to get the most from your travel budget. A credit card is a great way to make large purchases, while using a travel card or a debit card is better for smaller everyday expenses and cash withdrawals.
Give yourself a couple of different ways to access your travel budget in case something happens to one of your cards, as it can take you a couple of days to recieve an emergency replacement card from your bank or lender.
These are your options for spending money in France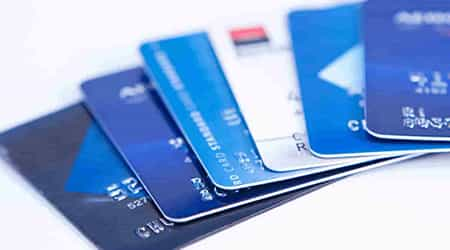 Learn more about using a credit card in France
Using a credit card
Pick a travel friendly credit card if you're looking to apply for an additional line of credit for your trip to France. Look for a card that waives foreign transaction fees and offers travel features like complimentary international travel insurance and complimentary purchase protection insurance that some high-end cards may offer – like the Barclaycard Arrival Plus World Elite Mastercard.
Pros
Widely accepted in France
Waived currency conversion fees
Best international debit cards
Using a debit card
Equipped with a chip, secured with a PIN, and providing direct access to your own money, debit cards get the gold for convenience when it comes to travel money in France. Look for a checking account that doesn't charge for currency conversion or international ATM withdrawals.
Tip: Banks in France won't charge you to make a withdrawal, so you can withdraw euros and make over the counter purchases for roughly the same price as you would back home — and in some cases, it can be even cheaper.
Pros
Security with chip and PIN
Direct access to own money
Widely used in France
Cons
ATM fees
Finding an ATM in your banking network may be difficult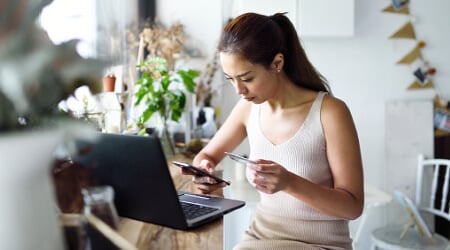 Prepaid travel money cards
Using a prepaid travel card
These travel cards allow you to load dollars and lock in a rate when you convert the funds to euros — letting you spend without paying the 3% currency conversion fee. You can hold different currencies on these cards at the same time, which is handy if you're heading to the UK.
Although you're saving on currency conversion, you may be subject to ATM fees, reload fees, card issue fees and inactivity fees.
Tip: You get two cards when you apply for one of these accounts, so store the second card somewhere safe to be used as a backup.
Pros
Hold different currencies
Save on currency conversion fees
Cons
ATM fees
Reload fees
Card issue fees
Inactivity fees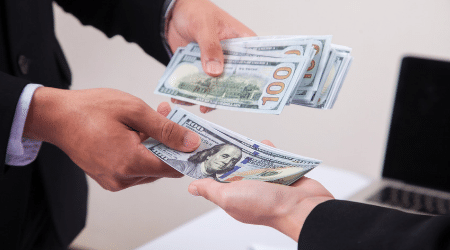 Compare cash pickup services in France
Paying with cash in France
You can use your card in France for most things, but if you want to shop at the street markets, you'll need cash — ATMs are typically onsite. Places like Porte de Clignancourt and Les Puces de Montreuil in Paris have some amazing deals for things you never thought you'd find.
Pros
Greater payment flexibility
Convenience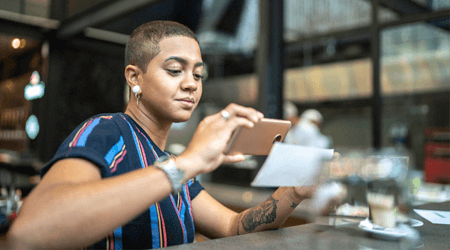 Traveler's checks guide
Using traveler's checks
Don't bother with traveler's checks — they're expensive and inconvenient. There's a commission when you cash traveler's checks and you'll wait in long lines at the bank.
Cons
Can be costly with initial purchase charges
Becoming a phased out travel money option
Compare travel credit cards
Back to top
France currency
The euro comes in the denominations of €5, €10, €20, €50, €100, €200 and €500.
The main banks in France are:
BNP Paribas
Credit Agricole
BPCE
Societe Generale
Groupe Credit Mutuel
Credit Cooperatif
La Banque Postale
Credit du Nord
AXA Banque
Banque Palatine
Buying currency in the US
Euros are a major international currency, you can buy euros at banks, exchange offices, at the airport – the list goes on. You will get a better deal if you wait to buy euros in France, even better if you make an ATM withdrawal using a no ATM fee and no foreign transaction fee debit or travel card.
If you want some cash in your pocket when you land, compare the following foreign cash providers.
Exchange rate history
Euros are a stable currency, so don't expect the rate to change too much when you're in France. If you believe it's going to get more expensive to purchase euros, you can lock in a rate with a travel card or traveler's checks.
Live Rate
Refreshing in: 60s | Sun, Oct 24, 06:09PM GMT
ATMs in France
ATMs are everywhere in France. Ask for a banque électronique if you need directions from a local — though you really won't have to look far to find a machine.
Some key information to know if you're using an ATM in France:
Bank ATMs don't charge a local ATM operator fee.
If you're using a Visa or Mastercard you shouldn't have a problem. Check with your card provider if you'll be using a different brand.
You'll be able to pick a language for the ATM.
You get to pick the denominations you want.
Find ATMs in France
Cash pickup services in France
Disclaimer: Exchange rates change often. Confirm the total cost with the provider before transferring money.
How much should I budget to travel in France?
Paris is one of the top tourist destinations in the world and prices can rise according to the number of tourists and the destination's reputation. For example, Bordeaux is a rich city and famous for its wine and lesser known cities such as Lille are a little cheaper — but only marginally. All prices are in US dollars.
Budget
Mid-range
Expensive
Accommodation
$25–$40
per night
2-star hotel
$75–$150 per night
5-star hotel
$600–$800+ per night
Meals
Falafel sandwich (rue des Rosiers, Le Marais)
$5
Coffee with croissant/ pastry
$8
Lunch at a mid range restaurant
$20–$25 per dish
Michelin star restaurant
$75+ per dish
Activities
Free museum day on the first Sunday of every month
Admission to the Louvre
$18
VIP seating and dinner at the Moulin Rouge
$500
*Prices are approximate and based on summer seasonality and are subject to change.
Case study: Jacob's experience

Jacob
Interview with Jacob about spending travel money in France
Jacob spends a bit of time in Paris. Last time he was in France, he spent two and a half months in Paris and few weeks traveling to some of the smaller cities in the North of France.
Do you have any travel money tips for France?
Coffee. Coffee gets more expensive or cheaper (espresso) based on the location of the cafe. You pay for the view, not the coffee.
Tipping. Tipping is not expected and should be given as a way of saying thanks for good service – rounding up to the nearest euro is appreciated.
Metro tickets. If you're using the Metro in Paris, buy bulk (packs of 10 or 20 tickets at a time) for a discount.
Summer prices. France becomes much more expensive during tourist season, especially the price of accommodation.
Free museums. The first Sunday of every month is free museum day in Paris. Wake up early – it's very popular.
Street food. Head to Rue des Rosiers, Le Marais for a one of the best falafel sandwiches in the world — and for about five euros.
Back to top
Our latest travel deals to France