The Czech Republic is a European Union member state, but like neighboring Poland, the Czech Republic does not use euros. The Czech Crown koruna is the national currency of the Czech Republic. Since the end of communism in 1989 and subsequent split with Slovakia in 1993, the Czech Republic has transformed into a modern European economy.
Like so many destinations in the region, westernization in recent years has lifted the living standards, monthly salaries and daily costs, which in turn has increased expenses for travelers. Although the Czech Republic is not as cheap as it used to be, with local know-how and a bit of travel savviness, your visit there doesn't need to be expensive, either.
Our picks for traveling to Czech Republic
Which should I opt for: travel card, debit card or credit card?
People traveling to the Czech Republic will find that debit, credit and travel cards can be used throughout the country, especially in major cities such as Prague, Brno and Ostrava. Visa, Mastercard and American Express products can be used for purchases and at ATM machines (bancomats) for withdrawals.
In Prague, cards are accepted at restaurants, hotels, supermarkets, retailers, train and metro stations. Bars and small eateries are cash only. Outside the capital and cities, you'll need cash more often. Most Czech banks don't charge ATM usage fees (non-bank affiliated ATMs generally will) so a product which waives the currency conversion fee and international ATM withdrawal fee is most suited for a trip to the Czech Republic.
While emergency cash assistance from companies such as Visa and Mastercard can give you the money in your account if your card is lost or stolen, this request can take a up to a couple of days to process. Travel friendly debit cards combine some of the benefits of a travel card minus the fees. You might want to take a credit card so you can access an emergency line of credit — there will also be times when you'll need to put down a credit card as a security deposit.
These are your options for spending money in Czech Republic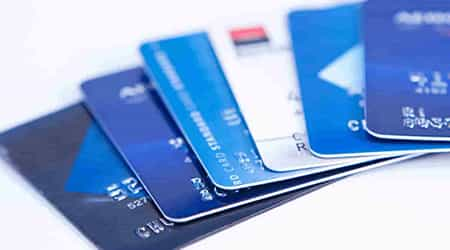 Learn more about using a credit card in Czech Republic
Using a credit card
Look for a card like the Chase Sapphire Reserve® that waives the fee for foreign transaction . This card features complimentary travel insurance when you charge your flight. It also protects you with anti-fraud guarantees. Avoid using your credit card to withdraw cash if possible. This will be considered a cash advance and will cost you a fee and will attract high interest immediately.
Tip: Credit cards allow you to make interest free purchases if you pay your account in full by the statement due date and some even offer a number of interest free days.
Pros
Protected by PIN & chip
Accepted worldwide
Great for larger expenses such as booking hotel rooms as many won't charge fees for currency conversion
Interest-free days when you pay your account in full
Emergency card replacement
Cons
Withdrawing cash can be considered a cash advance and can charge you fees and high interests
Attracts an annual fee
Best international debit cards
Using a debit card
A travel friendly debit card provides a cheap way to buy things over the counter and make withdrawals from ATMs overseas. Look for debit cards that don't charge for international ATM withdrawals and don't charge a currency conversion fee. ATMs in the Czech Republic don't charge a local ATM operator fee.
According to a report published in the New Europe Investor, the Czech Republic is the number one country in the European Union for contactless card payments, so load your credit cards onto your smartphone for simple payments.
Tip: When you use your credit card or debit card to make a purchase or withdrawal in the Czech Republic, the Visa, Mastercard or American Express exchange rate is used for the transaction. This is the best rate consumers can access using a travel money product.
Pros
Widely accepted in the Czech republic
Protected by PIN & chip
Directly linked to your bank account, which means not having to worry about being charged cash advance fees
Save on international ATM fees
Cons
If it's stolen, thieves may have access to your funds since the card is linked to your bank account
No emergency funds available though a cash advance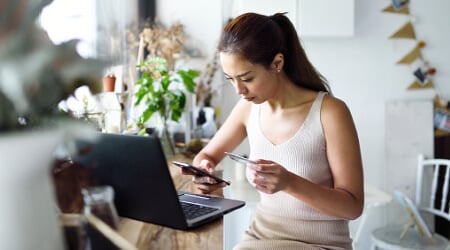 Prepaid travel money cards
Using a prepaid travel card
Unfortunately, no US travel cards allow you to load and spend in Czech koruna.
Tip: Prepaid travel cards offer other benefits to travelers such as a separating your travel funds from your savings or line of credit and you get two cards when you open an account in case the first card is lost or stolen.
Pros
Allow you to load money in multiple currencies
Secured by PIN & chip technology
Emergency card replacement and backup cards
Easily reloadable via a secure online platform
Cons
No travel cards allow you to load and spend in CZK
Reload fees could be high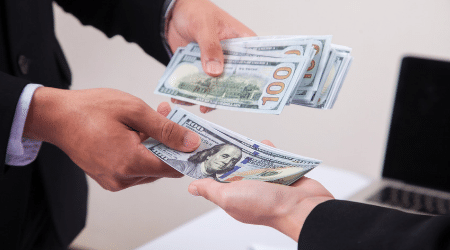 Compare cash pickup services in Czech Republic
Paying with cash in Czech Republic
While cards are widely accepted, there are a handful of times when you'll need cash — markets, hole in the wall bars, small transactions at some stores and rural areas are all cash only.
Tip: Tipping is expected in Prague and the Czech Republic unless the service you got was extremely bad. Add 10% to 15% for good service — and leaving money on the table as a tip is considered rude.
Pros
Payment flexibility
Convenience
Cons
Difficult to manage expenses
Higher risk of theft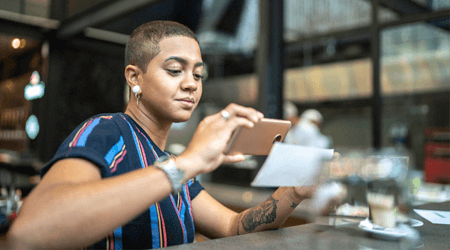 Traveler's checks guide
Using traveler's checks
Although traveler's checks are not a popular way to carry funds to another country any more, traveler's checks can be cashed at banks and exchange offices in Prague and the Czech Republic.
Tip: You can cash American Express travelers's checks with no commission at the American Express exchange office in Wenceslas Square, Prague.
Pros
Easy to cash at banks and exchange offices in Prague and the Czech Republic
Secure and can be easily replaced if lost or stolen
Cons
Expect to be charged a commission when cashing your checks
You'll pay a high commission
Compare travel credit cards
Back to top
Getting familiar with banknotes
What is the official currency of the czech republic, the euro or the czech koruna?
A full member of the European Union since 2004, The Czech Republic has yet to introduce the euro as the official currency. The euro acts as a kind of unofficial currency in the Czech Republic, often readily accepted, sometimes even more than cards. Unless you are sure of the exchange rate between the euros and the koruna, you should pay with koruna to be sure you get the best rate.
Buying Czech koruna in the US
It is likely that your bank can sell you koruna before you travel. You can also buy koruna from Travelex and other foreign exchange providers in shopping centers and airports. The main difference between a provider like Travelex and your bank is that the bank fees are often much lower.
Tip: There's no limit to the amount of cash you can bring into the Czech Republic. If you're carrying more than the foreign currency equivalent of $10,000, you must declare your cash at customs when you arrive.
The main banks in Czech Republic are:
Ceska Sporitelna
Ceskoslovenska Obchodni Banka
Czech Export Bank (CEB)
Czech National Bank (CNB)
Komercni banka
Patria Finance
Raiffeisenbank a.s.
Sberbank CZ
UniCredit Bank Czech Republic and Slovakia a.s.
Živnostenská banka
Find ATMs in Czech Republic
Exchanging cash
It is easy to get cash exchanged in Prague and all over the Czech Republic, even in smaller towns. Look for the word "valuty" meaning change. Some exchange places will charge a flat fee for the service and others will charge a commission.
A commission is more suitable if you are changing a small amount of money and a fixed rate is better for larger amounts.
Stay away from the exchange places in the Old Town, Wenceslas Square and other tourist centers as they often have poorer exchange rates and higher commission designed just for tourists. Banks generally charge two percent.
Tip: The best rates are usually around the main Railway station and some exchange offices are most reliable than others. Never change money on the street, avoid exchanging cash at the airport and using automatic exchange machines.
Live Rate
Refreshing in: 60s | Wed, Jun 29, 06:50PM GMT
Cash pickup services in Czech Republic
Disclaimer: Exchange rates change often. Confirm the total cost with the provider before transferring money.
How much should I budget to travel in Czech Republic?
Although the Czech Republic still enjoys a lingering reputation as a bargain destination, in reality prices have risen considerably in recent years. Travelers will still find it rather affordable in comparison to western European countries. Budget travelers can get around the city for as little as $40 a day, while midrange travelers should plan on budgeting $90 or more. All prices are in US dollars.
Budget
Midrange
Expensive
Accommodation
Budget hostel
$15–$25 per night
2 star hotel
$50 per night
5 star hotel
$200 per night
Meals
Trdelnik/ Kürtőskalács/ Kurtosh (Rolled Pastries) $2–$2.50
Sausages $2
Midrange restaurant
$8–$20 per dish
Degustation menu
$100 a head
Activities
Walk Charles Bridge —
one of the most beautiful bridges
in the world — at dawn or dusk
Free
Private guided walking tour of Prague
Appr. $15 per hour (prices can vary depending
on the size of your group)
Prague communism and nuclear bunker tour
$30 per person
*Prices are approximate and based on summer seasonality and are subject to change.
Case study: Greg's experience

Greg
Greg's trip through Central and Eastern Europe
Greg visited the Czech Republic for the first time on his last trip to Europe. He started his trip in Prague and visited Kutna Hora, Plzen (the home of Pilsner!) and Cesky Krumlov.
Do you have any travel money tips?
Use cash. Greg says his Capital One 360 made it easy and cheap to withdraw cash. Using cash for the majority of his transactions meant he never gave a thought about how to pay when he sat down for a beer or a meal and it helped him feel a little bit more like a local.
Use the metro. Surprisingly, Greg says using the metro was a highlight of his trip. The metro in Prague is ridiculously efficient, cheap, easy to use and operates 24 hours a day. It even saved him a taxi fare from the airport.
Find travel insurance for your trip to Czech Republic
If you are planning Czech adventure, make sure your vacation is protected against the unexpected, with the help of travel insurance. Travel insurance can provide you and your family with protection from the unknown. Situations protected by travel insurance include:
Lost luggage
Cancellations
Personal liability
Emergency medical and dental care
Lost or stolen travel documents
Don't let accidents, illness or travel delays ruin your Czech vacation. Compare travel insurance policies today.
Back to top
Our latest travel deals