Fiji is an archipelago of islands that boasts crystal clear beaches and some of the world's largest hotel chains such as InterContinental, Shangri-La and more. Like any destination, taking the right cards with you can help you enjoy the experience and worry less about fees.
How much money do I need to bring to Fiji?
Fiji can be a cheap destination for travelers looking for a vacation on a smaller budget. At the same time, a Fiji vacation can be as expensive as you make it if you plan on living lavishly. Here are some of the daily costs for a Fiji vacation
Suva
Budget
Mid-range
Expensive
Hostel dorm
$8 per night
2-star hotel
$40–$120 per night
5-star hotel
$200–$1,500 per night
Pizza/tapas
$6
Indian restaurant
$15 per person
5-star restaurant
$25 per dish
Visit the Suva flea market
Free (plus shopping )
30 minute massage at Suva day spa
$25
4-night guided trek to the peaks of Fiji including food and transportation
$675
*Prices are indicative and subject to change
Exchange rate history
The dollar has been steadily gaining value against the Fijian dollar for the last 10 years — with an exception in 2012 when there was a slight drop. It's hard to predict the movements of a currency pair, so it's good to know that prepaid travel cards and traveler's check allow you to lock in an exchange rate.
Compare money transfers to Fiji
Which travel card, debit card or credit card?
Since there are currently no travel cards on the market that allow you to hold and spend FJD, consider travel friendly debit cards and credit cards like Visa and Mastercard to finance your trip; which both have wide acceptance on the Fijian Islands.
Travel money options for Fiji at a glance
Travel money option
Pros
Cons
Debit cards

Most establishments have ATMs
Far cheaper to get cash from an ATM than credit cards
$0 account keeping fees with a minimum deposit into your account each month
Unlimited free withdrawals on selected banks

Currency conversion fees
International and local ATM withdrawal fees
May not always be accepted

Prepaid travel money cards

A safe way to carry money – protected by pin and signature and can easily be cancelled

No travel cards currently support FJD

Credit cards for travel

Accepted everywhere
Some credit cards do not charge a currency conversion fee
Chip and PIN offer extra security
Potential to earn more reward points

International ATM fees and currency conversion fees
Cash advances attract interest from the moment of withdrawal

Traveler's checks

Security
You will be able to cash traveler's checks at banks and hotels in Fiji

Traveler's checks are becoming obsolete
Will be difficult to cash traveler's checks in remote areas

Cash

Payment flexibility
Convenience
Best option for smaller islands

Difficult to manage expenses
Higher risk of theft
This table is a general summary of the travel money products in the market. Features and benefits can vary between cards.
How travel cards, debit cards and credit cards work in Fiji
Debit Cards
Most Fijian merchants are equipped with point of sale terminals, but there will be times when you need to pay cash, especially for smaller transactions. Debit cards are far cheaper to use to get cash from an ATM than credit cards — but watch out for currency conversion fees as well as international and local ATM withdrawal fees.
Credit Cards
The best credit cards to take when traveling to Fiji do not charge a foreign transaction fee when you make purchases or charge for ATM withdrawals — otherwise you may tack on some unnecessary fees. The Barclaycard Arrival Plus World Elite Mastercard particularly stands out because it waives foreign transactions fees and has a 0% interest APR.
If you can, avoid cash advances with your credit card as the fees that come with it can eat your available credit limit quickly.
Tip: Other features to think about are complimentary international travel insurance included with mid to high-end cards, like the Simmons Visa®, when you charge the cost of your return travel ticket to your account.
Travel prepaid cards
Unfortunately, no travel cards currently support Fijian dollars. So unless you have a travel card that doesn't charge a foreign currency conversion fee on unsupported currencies, you could rack up some unnecessary costs.
However, prepaid cards usually come with a supplementary card for emergencies and can be used for ATM withdrawals. So if you can get a card without a currency conversion fee, it could come in handy.
Traveler's checks
Traveler's checks are quickly becoming obsolete. But, unlike other places in the world, you'll be able to cash traveler's checks at banks and hotels in Fiji — but you'll have difficulty finding places to cash them in remote areas.
Cash
You'll be able to use your cards at most businesses in Fijian cities, but if you're heading to the smaller islands or to remote areas, ensure you have enough cash to last you for the duration of your trip.
Exchanging cash
USD can be easily exchanged to Fijian dollars in Fiji. There are exchange offices at Fiji's international airports, transport terminals and hotels can exchange dollars as well. Avoid changing money at your hotel if you want to get the best deal. The best rates are available outside of airports, look for exchange offices in tourist areas.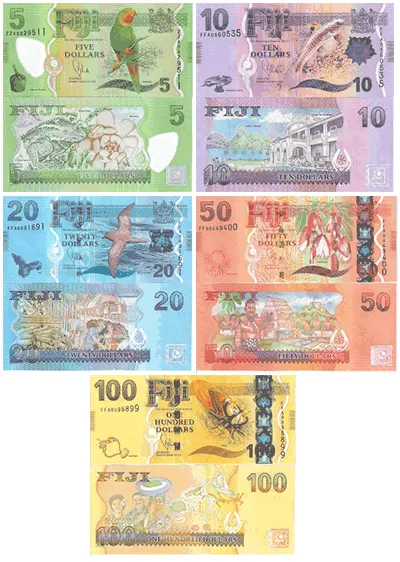 Using ATMs in Fiji
ATMs are common in Fijian cities, but you'll need to plan ahead and make sure you have enough cash if you're heading to rural areas. Banks such as ANZ, Westpac and BSP have a presence in Fiji, that allow travelers to access ATMs cheaply on their island vacation.
The standard ATM withdrawal fee is about $5 Fijian dollars per withdrawal. Expect to pay double this fee if you're using a card that charges for international ATM withdrawal or if you're using an ATM which is not part of your bank's ATM network.
Compare travel credit cards
Camila's 5-Day Blue Lagoon Wanderer Cruise in Fiji
Case study: Camila's experience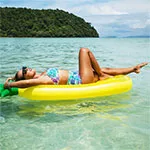 Camila
Camila started her trip in Suva before heading across the island to Port Denarau. She joined a cruise which lasted for four nights. The cruise took her to see the sights of the Sacred Islands, Yasawa Islands and Blue Lagoon region before returning her to Port Denarau. She was in Fiji for a week and a half.
What cards did you take with you?
Camilla took these cards with her to Fiji
Capital One 360 debit card
Why did you take these cards?
Camila took the Capital One 360 debit card because she could use the card to make purchases on the cruise without paying extra for currency conversion, she also used the card to make free ATM withdrawals so she had some cash for spending and gratuities when she was on the cruise.
She paid for her return ticket to Fiji using her Barclaycard to take advantage of the complimentary international travel insurance. She also used the Barclaycard for large purchases because it offers extended warranty and purchase protection through Mastercard's Zero Liability Protection.
Where could you use your cards?
She says she could use her cards on the cruise to pay for drinks and meals (which weren't included in the package). She says she could use her Barclaycard card in Suva in more places than not.
Camila says she had to pay cash when she took taxis and when she picked up souvenirs at Suva's flea markets.
What can you tell us about ATM withdrawals?
Camila says she made a withdrawal at an ANZ ATM using her Capital One 360 card in Suva when she arrived at the airport and was charged a couple of dollars for an ATM operator fee.
What's your travel money recommendation?
She says take a card like the Barclaycard because it's accepted almost everywhere (because it's a Mastercard) and you can earn 2 miles for every dollar you spend.
Do you have any travel money tips for Fiji?
She says some ATMs in the less traveled parts of Fiji are unreliable, so be sure you have extra cash. Camila also says to check whether your hotel charges a credit card surcharge – this can be avoided by using a debit card. Finally she says always pay in the local currency when you're in Fiji.
Buying currency in the US
As a general rule, you'll get a better rate if you wait to purchase foreign currency when you arrive at your destination. ATM withdrawals use the card rate which is a typically above the market rate. If you do want to buy foreign currency, consider these financial institutions.
Tip: Travelex is at most international airports, so you can pick up foreign currency while you wait for your flight.
Why you'll need a combination of travel money options for Fiji
A mixture of credit and debit cards will let you enjoy your vacation with the least amount of stress. Don't bother exchanging your cash prior to your trip, ATM withdrawals are easily made at Fiji's international airports — a card which lets you withdraw and make foreign transactions for cheap is the way to go.
Make sure you have organized your travel beforehand to ensure your island getaway runs as smoothly as possible.
Cash pickup services in Fiji
Disclaimer: Exchange rates change often. Confirm the total cost with the provider before transferring money.

Back to top
Get travel insurance quotes for your vacation in Fiji
You might also be interested in