Travel money guide: Vietnam
Everything you need to know about using cash and cards in Vietnam
The official currency of Vietnam is the Vietnamese dong (VND). Because the dong is tied to the US dollar, you can use your money at most hotels and big shops. To make things easier, prices are often quoted in US Dollars in tourist areas. But beware — you'll pay twice as much if you pay with your US dollars, so exchange your money before you arrive in Vietnam.
Credit cards, debit cards and cash are all accepted, but cash is by far the most accepted form of payment. Outside of major tourist areas, cash should be your primary go-to during your trip.
Our picks for traveling to Vietnam
Travel card, debit card or credit card?
Credit cards can be used for big ticket purchases in Vietnam. For example, in Hanoi mid- to high-end hotels, restaurants and retailers will take Visa and Mastercard — you'll struggle to find merchants who take American Express credit cards and prepaid travel cards. Everywhere else you'll need to pay with cash.
If you bring your debit card, you can expect to pay between $1 and $2, on top on any fees your bank charges. Find a debit card that allows you to withdraw from any ATM without charging a fee. You should never use ATMs to withdraw money from your credit cards — they immediately charge high fees and interest on your withdrawal.
Vietnam is a popular destination for experiencing the rich culture and natural beauty for rock-bottom prices. Plan to bring a number of payment options on your Vietnamese vacation for peace of mind.
Credit cards are good for bigger purchases, and you can earn travel rewards, but cash is what you'll need the most. Only carry the cash you need, keeping the rest on your debit or prepaid cash card.
These are your options for spending money in Vietnam
Trying to decide how to pay for your vacation to Vietnam? Compare these travel money options and see what works best for you.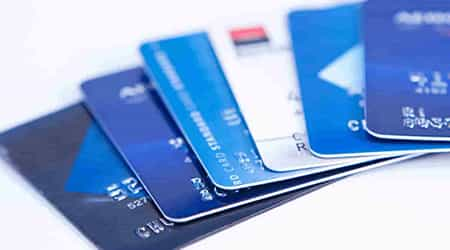 Compare credit cards for travel
Using a credit card
Travel credit cards give you the most purchasing power on expensive items like hotels and flights when traveling in Vietnam. However, you'll find credit cards less useful outside of major hubs or tourist areas.
Find yourself a credit card that waives foreign transaction fees to cut back on extra expenses, such as the Capital One Venture Rewards Credit Card. Carrying a credit card gives you the added benefit of travel insurance and discounts, depending on your provider.
Some travel cards that offer travel perks and waive fees may charge an annual fee, so make sure the fee is worth it before you bring it along on your travels. If you're ever in a jam, credit cards also offer cash advances, though we don't recommend it. You'll pay high fees and interest rates apply the moment you get your money.
Tip: It's worth researching credit cards that offer travel benefits and rewards for things you'll buy anyways like flights and hotel stays.
Pros
Use for big ticket purchases
Protected by PIN and chip
Accepted worldwide
May come with benefits like travel insurance
Interest-free days when you pay your account in full
Emergency card replacement
Cons
Fees and interest for cash withdrawal
Compare travel credit cards
Narrow down top travel credit cards by welcome offers, rewards and annual fees to find the best for your budget and financial goals. Select Compare for up to four products to see their benefits side by side.
Best international debit cards
Using a debit card
A travel debit card could be a good travel money choice to take to Vietnam. You'll have access to cash each time you come across an ATM, without carrying lots of cash on you all at once. Because you're spending your own money, you avoid interest charges.
A debit card that reimburses or waives international ATM fees, like one from Betterment Checking, is an ideal debit card to have on hand to cut down on extra costs.
Tip: A debit card can be used to shop over the counter, online and for ATM withdrawals in Vietnam.
Pros
Use at stores and hotels, online and ATMs
Protected by PIN and chip
Spending your own money means avoiding interest charges
Cons
International ATM and currency conversion fees
No access to cash advances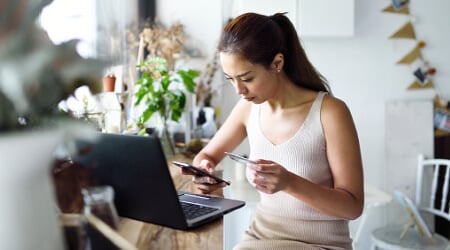 Prepaid travel money cards
Using a prepaid travel card
Travel cards can lock in conversion rates once you load USD. Use it for purchases without worrying about rates each time you spend — debit and credit cards often charge 3% for each transaction.
Where you save in the conversion rates you may pay in fees. You'll pay fees each time you load the card, ATM withdrawals and sometimes even an inactivity fee.
Tip: Banks that provide travel cards make money by applying a higher margin to the exchange rate. Get a better rate using a debit card or credit card.
Pros
Lock in exchange rate when you convert USD to VND
Protected by PIN and chip
Emergency card replacement and backup cards.
Reloadable online
Cons
Come with lots of fees for loading and reloading, inactivity and ATM withdrawals.
Businesses won't accept prepaid cards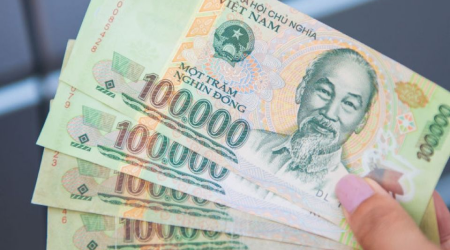 Compare cash pickup services in Vietnam
Paying with cash in Vietnam
In Vietnam cash is king, so be sure you have access to plenty of it. Make sure you don't get any damaged or ripped banknotes — merchants in Vietnam won't accept them. Dongs are delicate, so carefully place money in your wallet rather than in the bottom of your bag or pockets.
Tip: Exchange your money at banks or other licensed exchange stores — Vietcombank doesn't charge a commission. There's a black market for exchanging money in Vietnam that charges a lower exchange rate and — most importantly, it's illegal.
Pros
Payment flexibility
Convenience
Cons
More difficult to manage expenses
High risk of theft
Back to top
Buying Vietnamese dong in the US
While you'll get a better rate if you wait to get Vietnamese dong in Vietnam, you can purchase dong in the US from your bank or a foreign exchange provider like Travelex. If you're flying into Vietnam directly, and you want to get a visa on arrival (VOA), be ready with cash to pay the fee when you pass through customs. Here are some popular ways to exchange your US currency into dong.
Live Rate
Refreshing in: 60s | Mon, Jan 30, 03:24AM GMT
A guide to the Vietnamese dong banknotes
The Vietnamese dong is the major currency used in Vietnam. The dong comes in denominations of 1,000, 2,000, 5,000, 10,000, 20,000, 50,000, 100,000 and 200,000, each a different color. Be sure to pay the right amount when you make your purchases, and always count your change. Familiarize yourself with what the currency looks like and how it works will avoid confusion when handling your money.
The main banks in Vietnam are:
VietinBank
Agribank
Vietcombank
Bank for Investment and Development of Vietnam (BIDV)
Military Bank
SHB
Techcombank
Saigon Commercial Bank (SCB)
Maritime Bank
VP Bank
Using an ATM
Mastercard and Visa cards can be used to make cash withdrawals from a majority of ATMs in Vietnam. The maximum withdrawal limit varies depending on the machine.
Machines from American banks often have a higher daily withdrawal limit compared to Vietnamese banks. But Vietnamese banks often charge a lower withdrawal fee. You can sidestep some fees, such as international ATM fees, by using a debit card from a bank that reimburses such fees, such as Betterment Checking.
Tip: Keep yourself and your money safe when using an ATM. Block your PIN from cameras and onlookers. And be sure to use ATMs in busy areas or inside a business.
ATMs in Vietnam
How much should I budget to travel in Vietnam?
Your money will go along way in Vietnam. Accommodation, food and tourist activities cost a fraction of the price of what they cost in the US. If you want a travel on a backpacker's budget, $40 or less a day will do.
For a more comfortable trip, you can budget $60 to $100 per day. If you have expensive taste, it's easy to find a five star experience with prices to match at a budget of $200 a day. All prices are in US dollars.
Hanoi
Budget
Midrange
Expensive
Meals
Budget meals
at a cafeteria
$1.50 USD
Western breakfast/lunch
$2.50 USD
Western style steak
$25 USD
Activities
Sightseeing at
Hoan Kiem Lake and Turtle towerfree
Walking tour of Hanoi old town
$30 USD per person
Halong Bay overnight cruise
$190 USD per person
Accommodation
Hostel dorm bed
$5–$15 USD per night
2 star hotel
$15–$30 USD per night
5 star hotel
$150+ USD per night
Case study: Dean's trip to Vietnam
We interviewed Dean, a finder.com user who traveled to Vietnam, and asked him about his experience using travel money. He spent two months in Southeast Asia, including a month adventure in Vietnam. He flew from Cambodia to Ho Chi Minh, finished his trip in Hanoi and took a bus to Laos. He was there for the Tet Festival in December — which Dean said is a must-have.
Do you have any other travel money tips?
Dean says make sure you do the following:
Tell your credit card and debit card provider about your travel plans in Southeast Asia.
You'll be carrying cash on you so use caution and make sure it's out of reach from thieves and pickpockets.
Back to top