Travel should be about adventure, discovery and relaxation. You'll find that when you explore the largest synagogue in Europe, Memento Park and Budapest, considered the "Paris of the East".
Our guide breaks down how to use cash and cards — and Hungarian forint — without the extra fees that come with international trips
Why you'll need a combination of travel money options
Don't just rely on one product. Debit cards let you spend your own money but a credit card will protect you in emergencies.
With so much to see and do in Hungary, it makes sense to get your finances in order before you arrive. Your budget should pay for your travel experiences, not bank fees.
How much does a vacation to Hungary cost?
Hungary is no longer the dirt-cheap destination it was before joining the EU, but it's among the most affordable countries in Europe. Though travelers to Hungary and Budapest will still be surprised how far their dollar will go, especially after leaving the big cities. Budget travelers can get by on less than $40 a day, while mid-range travelers could budget less than $100. There are plenty of opportunities to indulge while in Budapest.
Official statistics estimate that the daily costs of living and traveling in Hungary are between one-third to one-half when compared with Western Europe.
Luxury vacation
Budget vacation
Feats on gourmet Hungarian and international food and wine at one of Budapest's celebrated restaurants.
$120 per person
Munch on street food or eat in one of the many cafeteria – style eateries around the city.
$1.50–$4.00 per meal
$1.25 for a half-liter of beer
The ballet at the National Opera Theatre.
$80 per ticket
City's nightlife quarter any night of the week for live music, hole-in-the-wall venues, exhibitions and parties.
Free–$2
A night in one of Budapest's famous 5-star hotels.
$275 per night
Backpacker hostels.
$10 per night for off-season, double it for the summer
Prices are approximate and are subject to change.
Tip: How do you say "how much does it cost?" in Hungary? Mennyi bekerül (men-yii be-ke-ruul).
Back to top
Travel card, debit card or credit card?
The easiest and cheapest route to spending is a travel-friendly card that doesn't charge for international ATM withdrawals — bonus if it also has no currency conversion fee. Visa and Mastercard are widely accepted under the Maestro and Cirrus brands.
While you can probably get by in Budapest with your card, it's important to know that most businesses are still cash-based outside the capital and some provincial cities.
Travel money option
Pros
Cons
Travel cards

PIN security
Spare card if card is lost or stolen
Reloadable over a secure online portal
Load with euros

You'll pay a currency conversion fee
Fees to reload funds

Debit cards

No fees at Citibank ATMs in Hungary
Use at stores and hotels, online and ATMs
Protected by PIN & chip
Spending your own money means avoiding interest charges

Debit cards are directly linked to your bank account if your card is lost or stolen

Credit cards

Protected by PIN & chip
Accepted worldwide
May come with benefits like travel insurance
Interest-free days when you pay your account in full

Emergency card replacement

Withdrawing money from an ATM will be treated as a cash advance, which come with high interest rates
Credit card companies may block your card if they see international transactions without being notified of travel plans
This table is a general summary of the travel money products in the market. Features and benefits can vary between cards.
How different travel money products work in Hungary
Using a travel prepaid card
No travel cards support Hungarian forint, so look for a card that waives currency conversion fee, such as Travelex. It won't charge for currency conversion when you spend in lira, which can be higher than what you'd pay if you use your regular debit or credit card. The downside is these cards charge a couple of dollars for international ATM withdrawal in Hungary. Load these cards with euros to use at some merchants— but don't count on it. And you won't get the best exchange rate.
Tip: In most situations, you will get ripped off if you pay euros instead of Hungarian forint.
Using a debit card
A debit card could be a good travel money choice to take to Hungary. You'll have access to cash each time you come across an ATM, without carrying lots of cash on you all at once. Because you're spending your own money, you avoid interest charges. Find a bank that waives international ATM fees and doesn't charge a monthly account keeping fee.
It makes sense to take a card that doesn't charge for currency conversion when you're spending in a currency other than US dollars. You'll also find that some Hungarian Banks don't charge local ATM operator fees — so you're only on the hook for the exchange rate.
Tip: Though Hungarian banks don't charge ATM fees, non-Hungarian banks do.
Using a credit card
You won't have any trouble using a credit card in Hungary — although American Express is accepted at fewer places. Find yourself a credit card that waives foreign transaction fees. Carrying a credit card gives you the added benefit of travel insurance and discounts, depending on your provider. For added savings, take advantage of the interest-free period by paying your balance in full each month.
Cards that offer travel perks and waive fees often charge an annual fee, so make sure the fee is worth it before you bring it along on your travels. If you're ever in a jam, credit cards also offer cash advances, though we don't recommend it. You'll pay high fees and interest rates apply the moment you get your money.
Using a traveler's checks
Today, traveler's checks are unnecessary. Security is the main advantage of traveler's checks, but now card providers have money back guarantees if you're the victim of card fraud too. Check our guide on how to avoid credit card fraud.
Paying with cash in Hungary
Use the Hungarian forint when you can. Though some merchants accept euros, but you'll get a poor exchange rate.
Compare travel credit cards
Back to top
Case study: Kate's experience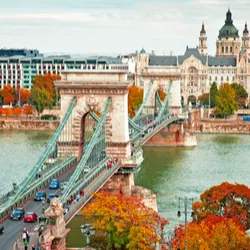 Kate
Interview with Kate on her travel in Budapest, Hungary
What cards did you take with you?
Barclaycard Arrival Plus World Elite MasterCard
TD

Bank Visa

500 euros
Why did you take these cards?
The TD Bank card is the card she uses at home, and it didn't charge for foreign transactions. The Barclaycard was a backup card used for big purchases like flights and hotels. With no foreign exchange fee, rewards for travel points and complimentary international travel insurance, she got the most from purchases with this card. She brought euros because they were easy to get from her US bank.
Where there any places where you cards weren't accepted?
While credit and debit cards are accepted in most places, Kate says the markets were strictly cash only.
What about ATMs?
Hungarian Bank ATMs don't charge a local fee when you withdraw cash. You'll pay when you use a non-bank ATM; however, you won't have to look far to find a place where you can withdraw for cheap or for free.
What travel money tips do you have for Hungary?
Money changing scams. Never exchange money outside of an exchange booth. Always go inside. She says the people who want to change your cash on the street are going to give you fake notes. She also says not to change your money at a banks because they charge a much higher fee than exchange offices.
Festivals. Sziget Festival is now completely cash free and only accepts Metapay Festivalcard or with a bank issued contactless enabled card. The cash free policy applies to other popular Hungarian festivals; Volt Festival, Balaton Sound and Budai Gourmet also.
Back to top
Buying euro or Hungarian forint currency in the US
If you want Hungarian currency once you arrive in Hungary, look at money exchange services like Travelex. You can buy Hungarian forints and pickup the cash at major airports or from one of the many Travelex locations throughout the US.
Exchanging cash
The Hungarian forint sits at roughly 250 to 300 forint to 1 dollar. If you arrive in Hungary without cash, you can withdraw forints from an ATM or you can exchange funds at the airport — for a poor rate. Just change a small amount to get you to the main city.
Foreign currency exchange spots are very accessible in Budapest and in smaller cities, towns and frequented tourist hot spots like Lake Balaton — most will charge a small commission.
Tip: Check out the going exchange rate on finder.com to get an idea of the current exchange before you enter an office. If there's a huge difference between the "buy" and "sell", you should look elsewhere. Do your calculations before you make the exchange so you know how much you're getting.
Using ATMs in Hungary
ATMs are everywhere in Budapest and widely available in other small cities, towns and villages. Hungarian banks do not charge additional ATM usage fees, so the amount it costs to take money out from an ATM will depend on the fees from your bank.
Third party ATMs are also common in Hungary and often found at gas stations and in bars, but many charge a flat rate for usage. Almost all ATMs will ask upfront if you prefer English, German or Hungarian.
Cash pickup services in Hungary
Disclaimer: Exchange rates change often. Confirm the total cost with the provider before transferring money.

Back to top
Find the lowest insurance quote for your next travel in Hungary