Planning a trip south of the border? Preparing your travel money options beforehand is the key to a stress-free holiday. Compare prepaid travel cards, debit cards and credit cards to securely and conveniently access your money overseas.
We cover what money you'll need to use in Mexico, the types of cards to take to save on fees and insider tips on bringing and spending travel money in Mexico.
Which option is right for your next trip?
A combination of a travel credit card, travel debit card and a prepaid travel card that allows you to preload the Mexican peso may be your ideal option for your next trip to Mexico. Don't forget about having cash either, as it can always come in handy if want to shop at a street market or if a business doesn't accept credit cards.
How much should I budget for my trip to Mexico?
Mexico is a huge country with a rich history and culture. Depending on how much you'll be moving around the country will determine how much money you'll need to bring. Budget travelers can plan on spending less than $20 a day! While midrange to luxury vacations can run from $50 to $150.
Mexico City
Budget
Mid-range
Luxury
Hostel dorm bed
$10
Double room
$35–$70
Luxurious hotel double room
$70–$300
Lunch in economical restaurant
$4–$5
Dinner with drinks
$12–$20
Fine dinner
$20–$40
Museum admission
$1–$4
Uxmal Entrance for two
$64
Personalized day tour
$100–$150
*Prices are approximate and are subject to change
Back to top
Travel card, credit card or debit card?
The local currency in Mexico is the Mexican peso and there are a few ways you spend it. Here we compare prepaid travel cards, credit cards and debit cards to help you determine which option is best for your trip to Mexico.
ATM's are widely available in Mexico and are compatible with debit cards, credit cards and prepaid travel cards.
How to use a credit card in Mexico
Travel money options for Mexico at a glance
Travel money option
Pros
Cons
Debit cards for travel

Protected by PIN & chip
Ideal for managing your travel budget

Currency conversion and international ATM fees
No emergency cash
No backup cards

Prepaid travel money cards

Protected by PIN & chip
Preload and secure your exchange rate in multiple foreign currencies
Accepted worldwide
Emergency card replacement and backup cards
Ideal for managing your travel budget

Local ATM fee
Reloading time
No fee if you spend in currency loaded onto the card

Credit cards for travel

Protected by PIN & chip
Accepted worldwide
No currency conversion or transaction fees
Perks including reward points, 0% purchases and frequent flyer program
Emergency card replacement

Can charge high withdrawal and cash advance fees
Higher spending limit (depends on your approved credit limit)

Traveler's checks

Secure and can be easily replaced if lost or stolen
Photo ID needed to cash checks

Costly with initial purchase charges
Not all merchants accept traveler's checks

Cash

Greater payment flexibility
Convenience

Difficult to manage expenses
Higher risk of theft
This table is a general summary of the travel money products in the market. Features and benefits can vary between cards.
How different travel money products work in Mexico
Using debit cards
Like a credit card, using a debit card in Mexico has both benefits and drawbacks. Consider cards that have no foreign transaction and ATM fees when looking at cards. Some debit cards are designed to be used overseas, so they don't charge foreign transaction fees on foreign transactions
Tip:

You can use your card to make a cash withdrawal from an ATM in Mexico, but be aware that you may need a card with a chip.
Using a prepaid travel card
Travel cards are generally a good way to take your funds overseas and spend in multiple currencies. Merchants in major tourist destinations like Tijuana, Cancun and Acapulco will accept US dollar as well as pesos preload onto a card.
Tip:

If you don't have a card that can load pesos, you should know that travel card currency conversion fees are among the highest in the market.
Using credit cards
You can use your credit card almost everywhere, but they won't be accepted accepted for buses, most taxis, tour guides, corner stores and taquerías.
To beat foreign transaction fees, use a card like the Chase Sapphire Preferred® Card® credit card. As for the ATM fee, that will be the least of your concerns when you calculate the interest you'll be subject to for a cash advance transaction.
Tip: Most major lenders can arrange emergency cash or card replacement quickly if you lose your card.
Using a traveler's checks
Unfortunately, as credit card and debit cards have become more secure and offer more protections, traveler's checks have become a dated form of travel money.
Paying with cash in Mexico
You can use USD in Mexico, especially in the major tourist spots. Some merchants give you the option of paying in pesos or dollars and the vendor can give you an "over the counter exchange rate" between the two. The price of the goods can be inflated by as much as 30% if you pay with dollars in Mexico, as vendors generally use an exchange rate of 10 pesos to $1. Use Mexican pesos to make your money go further.
Compare travel credit cards
Banknotes
Dating back to Spanish colonisation, Mexican pesos come in denominations of 10c, 20c, 50c, $2, $5, $10, $20, $50, $100, $200, $500 and $1000. $20 is the lowest value banknote. MXN is the currency code for Mexican peso and Mexico uses the dollar sign ($) as the currency symbol.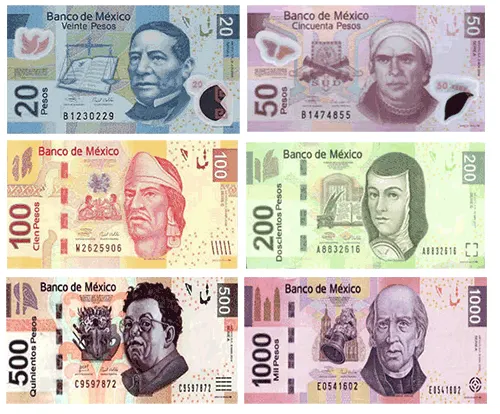 Back to top
Buying Mexican pesos in the US
Mexican Pesos are widely available at most currency exchange offices including Travelex and major banks. Exchanging at your bank can be a good idea to avoid extra fees and charges.
Where can I get money exchanged in Mexico?
There are a number of places you can get cash exchanged in Mexico, including Banco de Mexico (the national bank) and at casa de cambio's (exchange bureaus). You can visit a bank during business hours between Monday and Friday.
You can also get money changed at bureaux de change and casa de cambio outlets. These exchange offices are common and they can offer the same rate, if not better, than banks.
Using a combination of travel money options
There is no single best travel money strategy, as the right one will ultimately depend on how an where you're traveling. If you're going to be making a lot of cash withdrawals, consider a debit card with an ATM alliance or a prepaid card with low withdrawal fees over a credit card. A credit card will make the most sense for larger purchases and you'll likely need one for hotels.
You'll always need cash to make everyday purchases. Withdrawing a substantial amount of cash for when you arrive can be an ideal option to ensure a smooth transition into your destination country. Consider your financial situation, your travel plans and how you'll be spending your money to determine which combination of travel money options is the right one for you.
Cash pickup services in Mexico
Disclaimer: Exchange rates change often. Confirm the total cost with the provider before transferring money.

Back to top
Get travel insurance quotes for your vacation in Mexico
Full guide for travel insurance
Frequently asked questions
Back to top
You might also be interested in