Sri Lanka is packed with beauty, adventure and history, and is overall affordable for US tourists. You can exchange 1 USD for around 156 Sri Lankan rupee (LKR). That means more rupees to ride a tri-shaws to explore the cities, personal tours of the mountains and of course, more to eat and drink. Let us help you figure out the right combination of cash and credit cards to bring on your trip to Sri Lanka.
Our picks for traveling to Sri Lanka
Travel card, debit card or credit card?
If you're traveling to Sri Lanka, learn the pros and cons of your travel money options. Compare prepaid travel cards, credit cards and debit cards to help you determine which option is right for you.
These are your options for spending money in Sri Lanka
ATMs accepting Visa and Mastercard are widely available in cities and towns. Be sure to notify your bank that you'll be traveling so they don't flag any Sri Lankan purchases as suspicious. Because the Sri Lankan government tightly monitors money that is brought in and leave the country, keep all certificates you get when exchanging your money. You may be asked for it when you leave.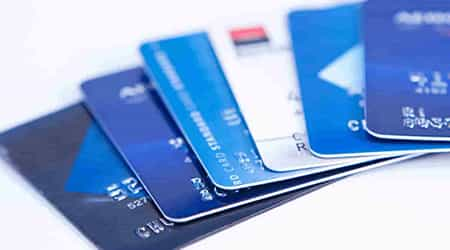 Learn more about travel credit cards
Using a credit card
You'll find that Visa and Mastercard are accepted in the major cities and some towns. It's best to reserve credit cards for purchases rather than cash withdrawals, as they come with hefty fees. Some credit cards charge 3% currency fees when you make purchases in rupees, so look at cards that waive those fee. Some cards offer rewards or frequent flyer programs and can be a good way to pay for flights for future vacations. Always notify your credit card company whenever you plan on using your card abroad.
Tip: Before you leave on your vacation check to see if your credit card offers any travel protection or insurance.
Pros
Protected by PIN and chip
Access to a line of credit
Accepted worldwide
No currency conversion/ transaction fees on some credit cards
Benefits including rewards points on spending, 0% purchases and frequent flyer perks
Cons
Can charge high withdrawal and cash advance fees
Easy to blow your budget
Best international debit cards
Using a debit card
Debit cards can be a good way to access your bank account overseas, making it easier to stick to a budget while on vacation. If you have a bank that offers no foreign transaction fees, like Charles Schwab, you can save on your withdrawals. You'll find that most banks in Sri Lanka charge a withdrawal fee, so limit the amount of transactions you make. And unless your card is designed for overseas use, you'll be charged a currency conversion fee if you use your card to make purchases.
Pros
Protected by PIN and chip
Best exchange rates
Ideal for managing your travel budget
Cons
ATMs in Sri Lanka charge a service fee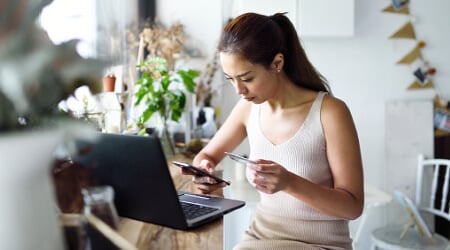 Prepaid travel money cards
Using a prepaid travel card
No travel cards support Sri Lanka rupee, so look for a card which waives the currency conversion fee, such as Travelex, if you're set on taking a travel card when you visit Sri Lanka. These products won't apply the additional charge for currency conversion when you spend in rupees, which can be higher than what you'd pay if you use your regular debit or credit card. The compromise is these cards will charge you to use an international ATM withdrawal in Sri Lanka, which is a couple of dollars for each withdrawal. You can load these cards with another currency to use at some merchants— but don't count on it. And you won't get the best exchange rate.
Tip: When you get a travel card, you'll get two for the same account. This can come in handy if your first card is lost or stolen, so make sure to keep the second card in a safe place.
Pros
Protected by PIN and chip
Pre-load and secure your exchange rate in multiple foreign currencies
Accepted worldwide
Emergency card replacement and backup cards
Ideal for managing your travel budget
Cons
Local ATM and reloading fee
Does not hold LKR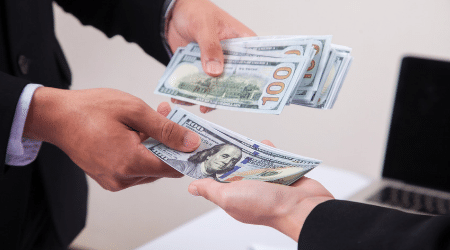 Compare cash pickup services in Sri Lanka
Paying with cash in Sri Lanka
Sri Lanka is unique in that you are not allowed to bring more than 5,000 LKR, about $30, in or out of the countries without a exchange receipt. Exchange your US dollars at exchange bureaus at the airport or at a bank. There isn't a commission and they offer fair exchange rates. Changing your money at a hotel is possible, but you won't get the best rate.
Pros
Greater payment flexibility
Convenience
Cons
More difficult to manage expenses
Higher risk of theft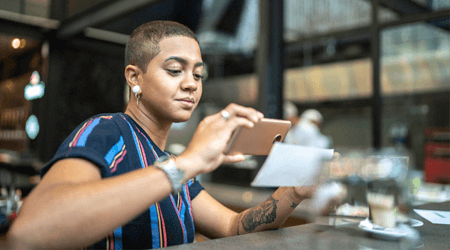 Traveler's checks guide
Using traveler's checks
Once upon a time travelers checks were a popular way to take foreign currency overseas. Today, this type of travel money has been replaced by plastic. travel cards, debit cards and credit cards offer the same security features and are more convenient. In Sri Lanka, traveler's checks can be cashed at most banks, but be aware that you may wait in long lines and pay a commission.
Pros
Accepted at most banks and hotels
Security
Cons
Can be costly with initial purchase charges
Not all merchants accept traveler's checks
Takes a lot of time to cash them at banks
Compare travel credit cards
Back to top
Get familiar with the Sri Lankan rupee
Sri Lankan rupees are exotic currency and you may find it difficult to find a bank or exchange office that can sell you LKR. You'll get a far better deal if you wait till you arrive in Sri Lanka to purchase rupees. The Sri Lankan rupee comes in the following denominations: 10, 20, 50, 100, 200, 500, 1000, 2000, 5000.
The official currency of Sri Lanka is the rupee (LKR). The Sri Lankan government has tight control over the national currency and there are strict limits on the amount of rupees you can bring in and out of the country (up to 5,000 LKR). Because the Sri Lankan rupee isn't an international currency, you'll need to change your US dollars or withdraw rupees from an ATM when you arrive.
The main banks in Sri Lanka are:
Commercial Bank of Ceylon
Sampath Bank Plc
National Savings Bank
People's Bank
Hatton National Bank
Seylan Bank Plc
National Development Bank Plc
Amana Bank
Nations Trust Bank Plc
DFCC Bank
Exchanging money
Exchange offices at Colombo and Hambantota airports offer competitive rates, so don't be afraid to get your cash changed as soon as you get off the plane. Exchange offices at Colombo airport are open 24/7.
Licensed money changers such as jewelers and designated exchange offices may offer a better rate than banks. And sometimes the rates depend on the denominations you want to change. For example, you may be able to get a better rate exchanging $100 bills compared to lots of $20 bills.
Live Rate
Refreshing in: 60s | Fri, Jul 01, 01:45PM GMT
Hotels and street money changers
If you can, avoid changing money at your hotel, as they usually offer a worse rate than banks and dedicated money changers, and charge a commission.
Street money changers may offer an attractive rate, but there's a higher chance of being ripped off. We've been told that tourists have a good chance of being short changed. So get to know the exchange rate and what the rupee notes look like and count your money before you leave the transaction.
Tip: Be sure to keep your exchange slip when you get money changed so you can re-exchange cash when you leave the country.
Withdrawing cash from an ATM
Getting your LKR from an ATM is the best option. If you make large withdrawals each time you use the ATM, you'll save on fees charged by the ATM and your bank. You can save even more if you find a debit card that waives the international fee and withdrawal fee like a Charles Schwab account.
The banks to use to withdraw cash
Not all banks accept foreign cards. You can make cash withdrawals using your US card at these popular Sri Lankan banks:
Sampath
Commercial Bank
Hatton
National Bank
HSBC
Standard Chartered Bank
You might also be interested in:
Make sure you check to see whether the ATM takes your card. The Visa and Mastercard logo should be displayed on the front of the machine.
Cash pickup services in Sri Lanka
Disclaimer: Exchange rates change often. Confirm the total cost with the provider before transferring money.
How much rupee should you bring on your trip?
You'll get a lot for your dollar in Sri Lanka. Though, expect to pay upwards of 10 times more than the locals for sight seeing tours and excursions. If you're traveling on a budget you can spend as little at $15 a day, midrange travelers can expect to spend around $35 a day, and for high end traveling plan to spend around $100 a day.
Colombo
Budget
Midrange
Expensive
Accommodation
Simple guesthouse
$5–$15 per night
Double bed in a nice hotel
$13–$25 per night
5 star hotel
$40 and higher
Meals
Fish Curry and Mixed Rice
$1–$4
Meals at hotel or restaurant
$9–$15
Meals at top-end places
$26 above
Transportation
Bus fares
$2 per day
Tri-shaw, bike rentals and ride trains
$.50–$5 per day
Daily use of car and driver
$59 for a day
Based on the exchange rate of 1USD = 153.65 LKR
Frequently asked questions
Back to top
Read more on this topic:
Our latest travel deals