Is Netflix more confusing than ever? Your guide to the streaming heavyweight.
What is Netflix?
Netflix is an online streaming service that provides both popular movies and TV shows that you watch through the Internet. The service has over 109 million members across 190 countries and began as a mail order DVD rental service in 1997. As part of its major global expansion, Netflix reached the Netherlands in 2016.
Do I get a free trial?
Before you hand over your money for a monthly subscription, Netflix offers a free one month trial. However, in order to get the trial you must sign up and enter in your credit card details. You can cancel any time during that month and won't be charged, though if you forget to cancel the service before the end of the trial period your credit card will be charged.
How does Netflix subscription system work? How much does it cost?
Netflix offers three levels of service to customers. Here they are, as well as what they bring to the table. Essentially, the more you pay the more features you get.
| | BASIC | STANDARD | PREMIUM |
| --- | --- | --- | --- |
| Price per month (EUR) | 7.99 | 10.99 | 13.99 |
| HD available | | | |
| Ultra HD available | | | |
| Screens you can watch on at same time | 1 | 2 | 4 |
| Watch on laptop, phone or tablet | | | |
| Unlimited movies and TV shows | | | |
| Cancel anytime | | | |
| First month free | | | |
How does the Netflix profile system work?
If you live in a household of people with very different tastes, then the Netflix Profile system is about to be your best friend. Basically, you can set up different profiles for each user allowing them to save their ratings, content to watch later and receive their personalised recommendations. This allows each person to have a personal place on Netflix, and will make it easier for you to find and to be recommended the content that you love.
How does the Netflix 'MyList' work?
Netflix 'My List' is an easy way to remember content that you might want to watch later. When you're browsing through Netflix's extensive catalogue, if you see something you want to watch, but don't want to watch right then, you save it to My List. My List then stores all of the titles you want to watch, reminding you and giving you easy access for whenever you're ready.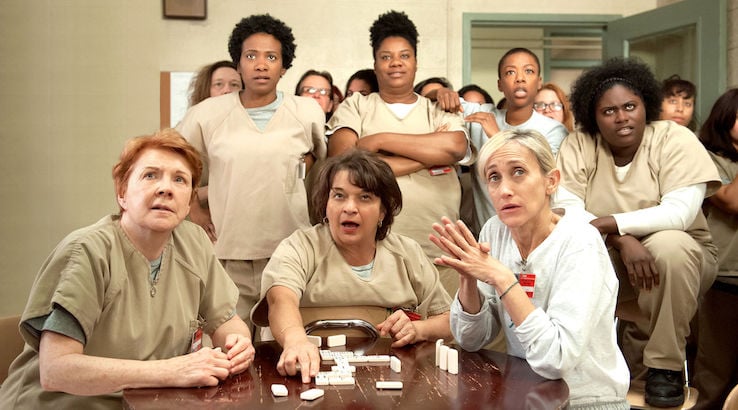 How does the Netflix streaming system work?
It's like a YouTube video, only much longer. Basically the content is played at the same time it is temporarily downloaded, allowing you to watch it in real time. With slower internet connections, this can mean that videos will occasionally stop midway through streaming, as the watching catches up to the downloading.
This is, of course, an incredibly simplified take on it. Streaming is a great service and has changed the course of many industries including entertainment, news and sports.
What are Netflix ready devices?
Netflix can be streamed across almost any device with an internet connection through either a traditional browser or app. There are many suitable devices including PS4, Xbox One and Apple TV.
How does the Netflix app work?
Once the Netflix app is downloaded on a compatible device, you log in with your username and password and just like the web browser version you can browse, stream and save content.
Through the app you can download videos to view in offline mode. This is helpful for the commute to work, road trips or for those all but common internet outages. Content available for download can easily be found through the "available for download" category within the app. If a certain show or movie is available for download, an icon like the below will appear.

What is the suggested internet speed for better picture quality on Netflix?
Streaming data can be quite taxing on many broadband plans. If you have a limit on your internet usage, Netflix can quickly eat through your data in no time (depending on the size of the data plan). To stream good quality video, a reliable internet connection is essential. Netflix has published this helpful connection table to help choose a plan:
Basic Package
Standard Definition (Low Quality): 1.5Mbps
Standard Definition (Medium Quality): 3Mbps
Standard Package
High Definition (High Quality): 5Mbps
Premium Package
Ultra HD Quality (4K): 25Mbps
If you're unsure of your internet speed, you can run a broadband speed test to see what streaming quality your broadband can deliver. If you're unsure of your monthly data allowance then it is worthwhile to check with your provider to see if you have enough to watch Netflix.

How does Netflix unsubscribe system work?
Netflix can be cancelled at any time you see fit as the contract is on a month-by-month basis. Cancelling the service is easy to do and when you do cancel you still get the content until the end of the billing period. For example, if your billing day is the 15th of the month and you cancel on the 5th you have 10 days left of content.
What content does Netflix have in the Netherlands?
Netflix has an impressive list of TV shows, movies and netflix originals that are sure to encourage lengthy binge watching sessions in the Netherlands. White Gold, Stranger Things 2, Marvel's The Defenders and Orange Is the New Black are some of the more popular shows across the service.
Can't find your question? That's okay – post your question below and a friendly member of our crew will get back to you ASAP.