So you can get the most out of your favourite pieces.
We all dread the day our favourite white tee develops too many holes to continue to be wearable. We've all suffered through the experience of losing our favourite jeans to a crotch rip or over-fading. We've all experienced the near-constant laddering of black stockings through winter.
Clothes wear out and parting with well-loved and well-worn items can be hard. So in an effort to maximise the time we have with our favourite pieces, here are 17 of the best and coolest hacks to help your clothes stand the test of time.
---
1. Wash your clothes less
Or at the very least, ditch the spin cycle.
Machine washing clothes makes them wear out a lot faster, particularly if you have a vicious spin cycle on your machine. If you have a favourite t-shirt, try not to wash it too much. If you have to wash, turn off the spin cycle and let your clothes dry naturally on the line.
2. Use garment bags to separate delicates in the wash
Especially if you're washing things with lace.
Try to wash delicates like underwear, bras and slinky evening tops in separate garment bags. Letting your sexy, strappy tops rub up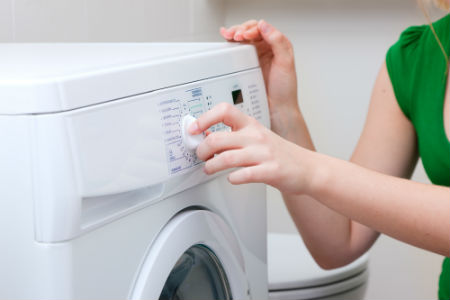 against your rough jeans in the washing machine is a very quick way to cause irreparable damage. The same goes for underwear. Shirt buttons and zips can't damage the lace on your lingerie if you use a garment bag.
3. Remove oil stains with dry shampoo
Yes, really.
Oil stains are tough and often won't come out through regular washing. In order to get the stain out on the first try, give the stain a quick spray with dry shampoo. Massage it into the fabric a little and then send the item of clothing through the wash. Watch as it comes out looking good as new.
4. Spot clean where possible
No, it's not just for lazy people.
Spot cleaning is a technique that all clothing-conscious people should use where possible. If you get a stain on a shirt that's just come out of the wash, resist the urge to chuck it straight back in and try to get the stain out by hand. Try and only wash clothes if they're smelly or sweaty. Small food stains can be spot cleaned out.
5. Make a washing powder paste for tough stains
The secret trick all mums know.
To get out really tough stains, sprinkle washing powder directly over the stain and add a few drops of water. Rub together until the powder becomes a paste covering the stain. Let this sit for a few hours before machine washing. Ta-dah! No more stain.
6. Try to always wash in cold
Save the hot water for your showers.
Cold water washes are much kinder to clothing. It causes less damage to the fabric and it is far less likely to make your clothing shrink. Unless you have particularly bad allergies, stick to cold water.
7. Store your clothes in garment bags
But not plastic ones.
To keep the moths and moisture out, keep your dresses and coats in fabric garment bags. Avoid using the plastic ones as they keep the moisture in and stop fabrics from breathing.
8. Fix damage as soon as possible
Before it gets way worse.
A little pull in a jumper? A run in your stockings? A tiny tear in a skirt? Fix it ASAP. Any small bit of damage will become way worse with continued wear. A tiny snag that could have been fixed with two stitches can become a total irreparable nightmare. If you notice something, get out a needle and thread and tidy it up straight away.
9. Stop wearing the same thing all the time
There's lots of reasons not to outfit repeat.
Yes, we know those are your favourite jeans, but the more you wear them, the sooner they wear out. Despite constant claims of "I have nothing to wear", we all have more than enough clothing. Try pulling out the pieces you wouldn't normally wear and get those into your outfit cycle. If you're feeling uninspired, head to Pinterest. It's the best place for outfit and style inspiration. It's perfect for when you're looking for new ways to wear things you already own.
10. Rotate and air out your clothes
Clothes need air too.
Airing out your clothes is important to ensure they don't go mouldy or become moth food. Every few weeks rotate your wardrobe and air out the pieces that haven't been touched in a while i.e. winter coats and knitwear.
11. Stop stocking ladders and fraying with nail-polish and hairspray
And oldie but a goodie.
This is a trick you probably heard from your mum years ago. It's an old one but a good one. Clear nail-polish can stop a ladder in you stockings from growing and destroying the whole pair. Likewise, fabric that has started to fray can be stopped with polish or hairspray.
12. Hook up bras and zip-up zips before washing
To prevent snags.
Make sure that you hook up your bras and zip up any zips before you put your clothes in the washing machine. This will stop delicate clothes from being snagged or pulled.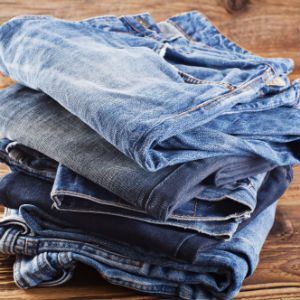 13. Clean jeans in the freezer
Weird but it works.
These days denim can cost big bucks so you don't want to ruin a great pair of jeans by putting them through the wash on a weekly basis. Some brands recommend never washing your jeans, and while that's not exactly possible if you like to live in your denim, you can extend the wash cycle of your jeans by putting them in the freezer.
Fold them up, put them in a bag and pop them in freezer. Leave them in for a day or two and you'll notice a difference. They'll feel crisper and they'll keep their shape.
14. Use your iron as a steamer
Especially on delicate fabrics.
Hang clothes on a wire hanger and then hold your iron a few centimetres in front. Then continuously press the stream button. For soft fabrics, this will get wrinkles out just as well as ironing but without the harsh heat and pressure of an actual iron. You could always buy an actual steamer, but ain't nobody got cash for that. An iron works just as well.
15. Don't use the dryer
Just don't do it.
Not only does it use an excessive amount of electricity costing you money and the environment a whole lot of carbon emissions, but it's just bad for your clothes. If you need to dry your clothes quickly, it's better to do an extra spin cycle in the washing machine. Then place clothes on an airer in front of an ajar window or door. The slightly open window or door will create a targeted airflow and dry your clothes faster.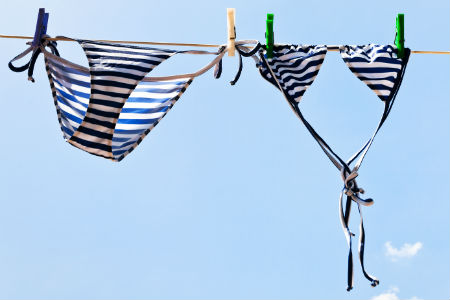 16. Rinse out bikinis asap
Like as soon as you take it off.
Don't throw your wet bikinis in the wash and wait for the next time you need to do a load. Instead, rinse them out in cold, fresh water immediately and hang them out to dry. This will make sure the elastic doesn't wear out and that they don't get mouldy.
17. Remove gum by freezing it
Your old pal, the freezer, is back.
Sat on gum? No sweat. Just throw the ruined item of clothing in the freezer for a day. When it comes out, you should be able to break the gum off. If the gum is really smooshed into the fabric, you should be able to gently scrape it away with a paring knife.
---
Latest Fashion deals: