Finder is committed to editorial independence. While we receive compensation when you click links to partners, they do not influence our content.
What a catch! Our 10 fave fishing boots for men and women
Designed for hardcore humans, unofficially endorsed by the Alaskan wilderness.
Xtratuf makes boots for people who never shy away from the task at hand, whether on or off the water. Think of these as your super sidekick for every slippery, oily, chilly and even dangerous job on your agenda. So when it's finally time to kick up your feet, those pups are just as happy as when you started out.
Understanding the slip-resistant ratings
When shopping for slip-resistant fishing boots, you'll likely come across three different ratings:
SRA. Requires testing on a ceramic tile coated with a dilute soap solution.
SRB. Indicates soles that've been tested on a smooth steel surface, coated in glycerol.
SRC. The highest level of slip-resistance, combining SRA and SRB.
These ratings follow the International Organization for Standardization (ISO) standards for personal protective equipment, so you can compare boots across different brands. To earn one of these ratings, the boots must pass slip-testing protocol that's used by the entire footwear industry.
All Xtratuf footwear — including boots and off-duty shoes — are SRA-rated, which means they can grip wet surfaces with ease.
Our favorites
Top 10 fishing boots for men and women
Discount alert: Active troops and their families get a 25% discount on all Xtratuf products.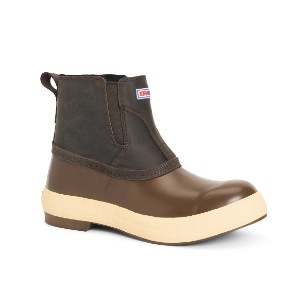 Men's Legacy Chelsea Boot
Keep your feet warm, dry and stylish in the Legacy Chelsea Boot, which were inspired by handsewn Alaskan footwear. These fishing boots will take you from land to water and back again, and are hip enough so you can stop for a cold one before calling it a day.
Why we love them:
100% waterproof
Acid chemical resistant
Women's Leather Deck Boot
These chic booties will add a pop of color to your outfit while safeguarding your feet against the elements. The pull loops make it easy to step in and out in a jiffy, and the sleek design means you can wear 'em to sea, the office and everywhere in between.
Why we love them:
Men's Bristol Bay Leather Boot
Searching for an über-comfortable work boot that looks just as cool as your off-duty shoes? Choose the Bristol Bay Leather Boot — they're made with a high-rebound, memory foam insole for all-day pressure relief.
Why we love them:
100% waterproof
Anti-fatigue insole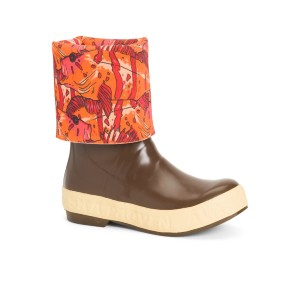 Women's Alaska Legacy Boot
This limited-edition boot has a slim fit, designed specifically for ladies. They're lined with a bright, energizing print that you can fold down for a touch of flair.
Why we love them:
100% waterproof
Acid chemical resistant
Unisex Homer Sneaker
Pamper your feet without lowering your sturdy boot standards. We love that these water-resistant sneaks are lined with faux shearling for dependable, lightweight warmth.
Why we love them: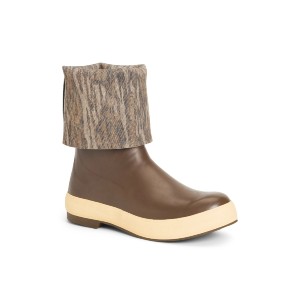 Men's Mossy Oak Legacy Boot
Light, comfortable, durable and built to work as hard as you. This boot is favored by commercial fisherman from the southern tip of Florida to the icy straits of Alaska.
Why we love them:
100% waterproof
Acid chemical and viral penetration resistant
Women's Insulated Legacy Boot
No need to cower at cold, windy weather — keep your toes toasty warm all the way down to -10°F in the insulated version of Xtratuf's iconic Legacy Boot. The best part? You don't need to sacrifice comfort, since they're made by hand to be flexible, with arch support and cushioning.
Why we love them:
100% waterproof
Acid chemical resistant
Men's Insulated Elite Legacy Boot
Tough doesn't begin to describe this heavy-duty fishing boot. Not only is it resistant to freezing temps down to -20°F, it's also resistant to oil, acid chemicals and pesky slips. And the mesh lining helps ensure that, even with all that protection, you still won't break a sweat.
Why we love them:
100% waterproof
Acid chemical resistant
Oil resistant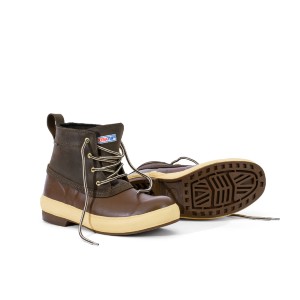 Men's Legacy Lace Boot
Fleece-lined, with rust-resistant hardware, these boots are ideal for people who work in slushy, snowy or just plain slippery conditions. Stay warm and dry, so you can focus on the work at hand.
Why we love them:
100% waterproof
Acid chemical resistant
Oil resistant
Women's Salmon Sisters Sharkbyte Leather Slip-on
We know these aren't technically boots, but with a nearly 5-star rating from over 100 reviews, these sweet, slip-resistant slides deserve a shoutout — for days when your fave pair of fishing boots take a well-deserved break.
Why we love them:
Water-resistant nubuck leather
What are the best boots for ice fishing?
The best Xtratuf boots for ice fishing are the Insulated Elite Legacy Boots, which will keep you warm deep into the negative digits without overheating your feet. The nylon upper boot is super stretchy, so you can avoid that dreaded stiff-leg feeling. And the chevron outsole makes for a real sturdy grip through snow, muck and piles of nasty, gray slush.
While these boots were designed for men, women can wear 'em too — just be sure to order one-and-a-half to two sizes down.
Top Xtratuf deals and coupons
More guides on Finder