Finder is committed to editorial independence. While we receive compensation when you click links to partners, they do not influence our content.
How to choose an engagement ring
Surprise your partner or pick one out together before hitting the path to forever.
When it comes time to shop for engagement rings, you'll likely know your partner well enough to narrow down an option they'd like. But if you aren't sure or are confused by the marketing, we're here to help. Start early to allow for ordering and tailoring to your exact specifications.
Where to buy your engagement ring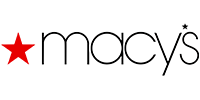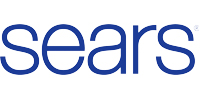 How much should an engagement ring cost?
It's among the first questions people think about before decide to pop the question, but the answer depends on the person who's asking. Consider your partner's preferences and style. After all, a minimalist might not be thrilled about lugging a huge rock around. And consider your financial situation to avoid starting a marriage financially behind before you leave the reception.
Then, maybe you're looking to splurge! If so, you'll find ways to finance an engagement ring you've got your heart set on. But don't forget: After the ring is out of the box and you've popped the question, there's still a wedding to pay for.
Which finger should the engagement ring be worn on?
Engagement rings traditionally are worn on the fourth finger of your left hand. The average women's ring finger is a size 6 or 7, whereas the average man's ring finger size falls between an 8 and a 10. Ask the jeweler about returns in case the ring doesn't fit or the ability to size it to fit your partner's finger.
---
Which metal should I choose?
Take a look at the rest of your partner's jewelry to learn which metal they normally wear. If you buy yellow gold, say, and they wear only white gold, a metal mismatch could be a problem for your partner. If your partner already mixes metals, consider a multitone ring that features more than one hue.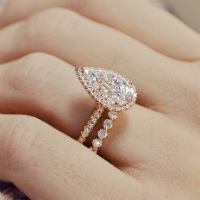 Rose Gold
Rose gold is becoming a more popular choice, its pink hue offering a feminine look. Most stores carry it as an elegant alternative. When shopping for rose gold, make sure to ask if your ring is pure rose gold or plated. Plated rings can chip and lose color with frequent wear, and engagement rings should be durable enough to be worn every day.
Which gemstone should you choose?
Choosing a gemstone is an exciting part of picking out a ring. Not only do you have to decide whether your love is a traditional diamond or nothing kind of person, but you can also experiment with color and find something that works for your price range. Maybe your future spouse is a bit more daring and prefers onyx or pearl to the traditional gems. No matter what you're after, all of these stones are incredibly popular and easy enough to find in stores. Make sure you're purchasing an authentic gem and research which stones are most durable.
Diamond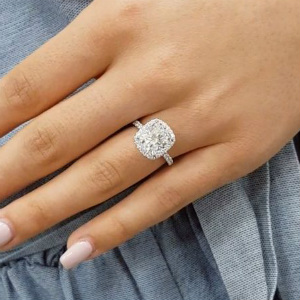 Sapphire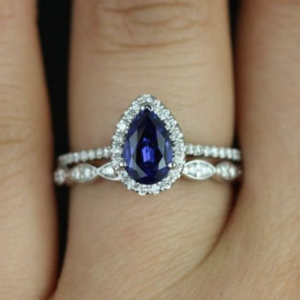 Emerald
Opal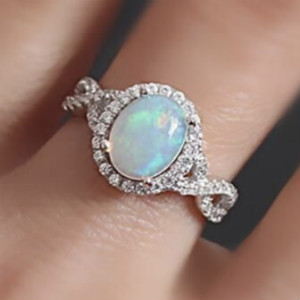 Ruby
Morganite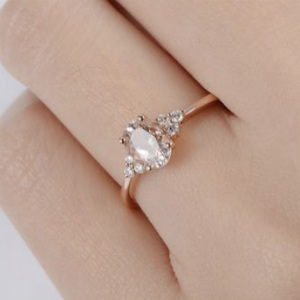 Pearl
Tanzanite
Amethyst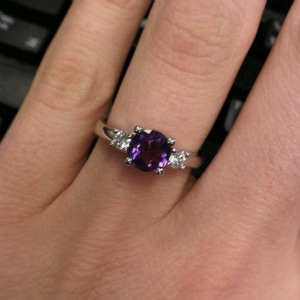 Onyx
Mossanite
Turquoise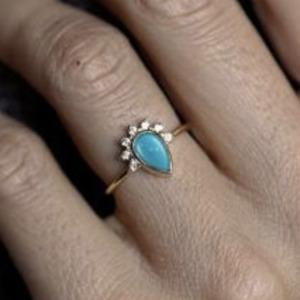 Images: Pinterest
Which cut should you choose?
The type of gemstone cut refers to the shape of the actual stone in the ring. Traditional rings are round or oval, but plenty cuts offer unique alternatives. Whatever style cut you choose, look for a wedding band that fits it.
Princess: square or rectangular with an inverted pyramid on profile
Cushion: square cut with rounded corners
Oval: elongated or modified round cut
Square: standard square shape
Teardrop: rounded at the bottom with a point at the top
Marquise: shaped like a football or boat with pointed ends and a wide middle
Heart: standard heart shape
Briolette: similar to a teardrop cut but with more facets
Baguette: generally rectangular with step-like facets
Emerald: cut in a square shape with step-like facets
Round: standard circular shape
Trilliant: triangular shape with facets
---
Do men wear engagement rings too?
Not traditionally, but there's no reason they can't!
Many of the traditions associated with weddings and engagements stem from a patriarchal period in history. But in a society that's far more accepting of a range of masculinity and femininity, LGBTQIA+ marriage and general gender equality, get your man a ring if that's your thing.
Pro tip: If your guy works outside, opt for a ring made of titanium or tungsten. These metals are more durable than gold to stand up to rough work and the test of time.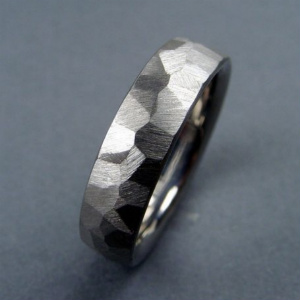 Dealing with diamonds
If you opt for a diamond, commit to the four Cs: cut, clarity, color and carat.
Cut. The cut of the diamond affects its proportion and the dispersion of light.
Clarity. Determined by the number of flaws in the diamond as seen under strong magnification.
Color. Diamonds are available in a range of hues. A diamond that looks clear on its own could appear yellow next to a white diamond.
Carat. Determined by its weight and alludes to the rarity of the diamond.
Your partner may be concerned with diamond mining and the ethical concerns that surround them. If so, consider an alternative stone or a lab-made option.
Our top deals on rings May 2021
Image: Shutterstock
More guides on Finder