Bud app review
Bud helps you reclaim your financial data, and lets you tailor your own experience.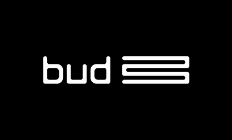 Bud is a banking app that takes a different approach to your finances. While there have been many fintech apps looking for their share of the market over the last few years, Bud has to be one of the most ambitious. Rather than focussing on one aspect of your finances, Bud attempts to bring them together on to one platform. From your bank balance to your investments, Bud wants to make everything easily accessible with the tap of a screen.
Read on to find out more about Bud and whether it might be the right option for you.
What is Bud?
Bud describes itself as a "plug and play financial services platform". It's a place where you can connect your different financial resources and access them at any time. You won't get a current account or a comprehensive financial plan, but your finances will all be accessible safely, and at any time.
How does Bud work?
At its core Bud works from an app on your smartphone, but Bud has to account for all the external programs it wants to support, which makes the app much more difficult to code. For this reason, Bud keeps its design minimal and functional.
While Bud does sacrifice a flashier design for a more streamlined user experience, this does not mean it is short of features. In fact, because of its simple design, Bud directs its energy on making sure its features have substance. These features include:
Budget. The meat of the app. A breakdown of your income and the different directions its heading in. If you have provided a detailed breakdown of your budget Bud can lend you a helping hand in making sure you're keeping up with your financial responsibilities.
Accounts. From here you can sync bank accounts to Bud and view accounts you have already linked. If your bank isn't listed on the Bud app, which is currently the case for many UK banks, you can enter your bank balance and details manually.
Transaction. Record a transaction on the Bud app, give a description of what it's for, when it cleared and for how much. This is then considered alongside your budget.
Settings. Self-explanatory. From here you can edit your budget settings, start a new budget, view your account details, read FAQs and write reviews.
Accounts. You can link all your bank accounts, credit and debit, to your Bud account. From this page you can see your balances and details, as well as add new cards and filter existing ones.
Transactions. A record of your transactions from your various accounts. Use this to manage your outgoings and budget if needed. You can also make a list of transactions for a certain event, and set a budget.
Insights. In addition to seeing a list of your transactions, Insights sorts your spending into separate categories such as entertainment, food and drink and utilities (among others). Insights also gives you an estimate of your daily, weekly and monthly spend.
Markets. Bud has a collection of third-party providers offering a variety of services for you to choose from. Browse through them from here.
Tailoring. Customise your account, review settings and security and more.
Using Bud abroad
Bud makes a great companion when you're on holiday. Not only does it act as a bookkeeper for you, it also lets you set a target and budget for your time away so you're not left short. Bud's marketplace may also be of help to you; with its collection of more than 60 partners offering loans, insurance and accounts, you may find something to help you while you travel.
If you're travelling abroad
If you are heading overseas and are thinking about travel money, head to our
travel money section
for the cheapest deals on foreign currencies, or to our
travel section
for tips on how to get cheap flights!
Bud fees, limits and pricing
Bud is currently free, but it is still in beta and relying on generous volunteers to help develop the best experience. This means that while you pay nothing for the app, you may be waiting a while to open an account. At the moment Bud has 10,000 beta tester, but this number may grow in the future.
Is Bud safe?
Bud makes sure it keeps all the valuable information it collects as safe as possible, and it does this in several ways. First, your account is secured behind a password of your choice, and if this is ever lost you must prove it's you to change it again. Bud only uses the data it needs from you, and while it does keep a record of your spending habits, there is no way of using your money from the app. Lastly, all data is encrypted, making it difficult to access.
Pros and cons of Bud
Pros
Get an overview of all your financial services on one platform.
Software to help you save.
Get a record of your transactions.
The marketplace offers a number of third-party services for you to choose from.
Safe and secure.
Useable anywhere and at any time.
Registered with the FCA and PRA.
Cons
Upselling from Bud can be annoying.
Still in beta.
Only 10,000 people are currently allowed on the app.
Only works as a companion to your financial services, not as a substitute.
While Bud doesn't work as a replacement for traditional banking services, it does make a great companion to them. The work that has gone into creating such a complex app definitely shows, and hopefully it will be available to everyone at some point in the future.
What else do I need to know?
You can manually enter your account balance and details which will allow you to use the app's features properly, but it's important to remember that Bud cannot work miracles, and requires effort on your part to stick to the budget.
Compare Bud against its competitors
Frequently asked questions