Best home insurance
Want to protect your home and belongings? See what to look for when comparing home insurance.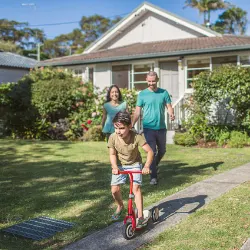 Your family home is likely to be the most valuable asset you own, so it makes sense that you'd want to get it the best protection you can. Whether you're a homeowner, tenant or landlord, there are insurance plans to cover your house and everything in it.
Find out how to best protect your house and compare home insurance policies now.
Compare home insurance
Search up to 50 UK home insurance providers
Get multiple quotes for free
Find the best cover for your home
What makes a good home insurance policy?
There are a number of factors that will help determine the best home insurance policy for you. This includes whether you're an owner-occupier, renter or landlord and whether you want to just protect the property itself, your possessions or both.
If you own your home, the type of building, as well as any additional features such as a garage or yard, may also affect the type of cover you may need. There are a few different types of home insurance, and they each provide cover against different things.
Finding the best home insurance policy is a matter of understanding your situation and needs as well as your budget and risk tolerance.
Best contents insurance
Contents insurance covers all the possessions you have in your house, such as white goods and TVs, computers and other valuable items. As such, it's useful for both home-owners and renters alike.
There are two types of contents insurance policies:
Replacement value. This type of policy will only cover the current value of your possessions, which depreciate over time. So while your five-year-old TV may have been worth £500 when you bought it, its current value may be well below that. In the event that it is lost or damaged, you would only be covered for the current value, not the original cost.
New-for-old. Unlike replacement-value cover, new-for-old insurance means you are covered for the cost of replacing the item with a new one. For example, if your five-year-old TV is damaged or lost, new-for-old insurance would cover the cost of buying an equivalent new TV. New-for-old cover is more comprehensive and is therefore likely to be more expensive than replacement-value insurance.
Contents insurance policies may also only cover items lost or damaged through "defined events", meaning incidents such as fire, flood or burglary. However, this does not extend to items that are damaged accidentally or damaged by an event not covered under a provider's "defined events".
As with any type of insurance, it's also important to understand what won't be covered under your contents insurance policy. This may include damage caused by natural wear and tear as well as rust, mould and rot. Your provider may also refuse your claim if you failed to take reasonable care of your belongings or failed to secure your home.
When finding the contents insurance policy that's best for you, it's important to keep the following in mind:
The type and value of your possessions. What items do you need to insure, and how much would it cost you to replace them? Highly valuable or irreplaceable items may need to be covered under separate individual policies.
The cost-effectiveness of your policy. Does the cost of insurance represent good value compared to the cost of replacing your possessions? This includes any premiums you may have to pay when making a claim.
Your risk tolerance. Do you only want to protect basic items from likely incidents, or do you want comprehensive cover that gives you greater peace of mind? Are you in an area that is likely to flood or has a high rate of burglary?
Best buildings insurance
Building insurance covers everything that makes a house a house – the brick and mortar structure itself. This type of insurance is suitable for owner-occupiers and landlords and will generally cover the property against "defined events" such as flood, fire, theft, burglary, explosions and other forms of damage.
The cost of buildings insurance is determined by the following factors:
The age and size of the house
The location and surrounding area
The type of property as well as any security features
If your home is severely damaged or destroyed, buildings insurance will generally cover the cost of repairs or rebuilding as well as temporary accommodation for the occupants.
Some policies will offer sum-insured cover, which is the maximum amount the provider will give you if your house is destroyed. This is meant to cover the cost of repairing or rebuilding your home, but if the actual rebuilding cost is higher, you may have to pay the difference yourself. Total replacement policies will cover the full cost of repairs or rebuilding, but will likely be more expensive than sum-insured cover.
When choosing the building insurance policy that's best for you, it's worth ensuring that the policy will cover the likely cost of any repairs or rebuild, and protect you against the types of damage you may experience.
Best tenants' insurance
If you're currently renting, there are two types of insurance to consider:
Tenants contents insurance. Like regular contents insurance, this covers the personal possessions you have with you.
Tenants liability insurance. This protects you against any accidental damage you may cause to your landlord's contents or property.
Depending on your situation, you may want to take out both types of insurance or only one. The best type of tenants' insurance will be the one that represents value for money compared with the value of your possessions. If your belongings are cheap to replace, you likely wouldn't need an expensive insurance plan.
Best landlord insurance
As a landlord, your rental property may be a primary source of income, so it's important to make sure you're protected against any damage to your property. If you're unable to rent out the home due to damage, landlord insurance will generally cover the loss of rental income resulting from the incident. This may be included in your policy or available as an optional extra.
Like regular building insurance, landlord insurance will protect you from "defined events" such as fire and flood. Landlord insurance policies may also cover your liability in the event that someone is injured on your property.
When choosing the best landlord insurance, you should look to ensure that you will be covered for any loss of income as well as for any liability in the case of injury.
Where can I find the best home insurance deals?
You can compare a large range of home insurance deals here.
Tips to keep the cost down
Combine policies. If you're an owner-occupier, you may be able to save money by bundling your building insurance with your contents insurance.
Don't make any claims unless absolutely necessary. Many providers offer a no claims bonus, which can help keep the cost of your policy down.
Compare a range of policies and providers. Never go with the first policy you see. Instead, research a number of providers, and keep an eye out for any special offers that may be available. After you've chosen a policy, you should still continue to compare other options, especially if your housing situation changes.
Only get the cover you need. While it may give you greater peace of mind to get the most comprehensive insurance available, you should try to only get the cover you need and to find a policy that represents value for money.
Frequently asked questions
The offers compared on this page are chosen from a range of products we can track; we don't cover every product on the market...yet. Unless we've indicated otherwise, products are shown in no particular order or ranking. The terms "best", "top", "cheap" (and variations), aren't product ratings, although we always explain what's great about a product when we highlight it; this is
subject to our terms of use
. When making a big financial decision, it's wise to consider getting independent financial advice, and always consider your own financial circumstances when comparing products so you get what's right for you.
Read more on this topic