Revolut review: The digital banking app popular with travellers
Get our expert view on the Revolut app, card and account options available in the UK.
Revolut is an app-based banking brand with a range of personal e-money accounts. It has a number of innovative features, such as allowing you to send and receive money without entering account details and organise your subscriptions into one place so you can easily track your spending on them. It also offers benefits for when you're travelling. Find out if it's right for you.
Compare Revolut accounts
What is Revolut?
Launched in 2015, Revolut claims to have more than 30 million retail customers worldwide, who make more than 400 million transactions a month.
Opening a "Standard" free account with Revolut (which we're reviewing here) will give you a UK e-money account, a Euro IBAN account, and a blue-ish, pink-ish payments card.
As well as all the usual things you can do with a e-money account, like send money to friends and withdraw money from an ATM, you can use an impressive range of other features, including free or low-cost international money transfers and global spending.
If you're a small business you can read our Revolut Business review to find out more about that account, and if you're looking for banking app for your child you should read our Revolut <18 review.
What can you do with Revolut?
Once you've decided that Revolut is for you, signing up is simple. You just need to download the app and register – you won't need a proof of address and there are no credit checks, which speeds up the process.
However, you will need to verify your identity by taking a picture of both yourself and a valid ID document. After you sign up, you can request a contactless Revolut card.
The app is simple, easy to navigate and streamlined. With Revolut you can:
Use it like a UK current account. You get a UK account number and sort code. You can set up recurring payments, withdraw cash at ATMs, make contactless payments, and use Apple Pay and Google Pay.
Open a joint account. As of this summer (2023), Revolut offers joint accounts to its existing customers. Perfect for duos that share everything.
Make international payments. The app enables you to transfer money in multiple currencies, fee-free, at the interbank exchange rate (the same rate that banks give each other).
Spend globally fee-free (on weekdays). All card spending abroad on weekdays is charged at the interbank rate, which is as good as it gets for consumers.
Hold different currencies. You can hold a balance on the app in multiple currencies.
Pay friends. Pay other people with ease or use the split bill feature to divide a group spend (more on Group Bills below).
View spending habits. Using analytics, you can see your spending, categorised by type of transaction, by merchant or by country.
Freeze your card and set spending limits. Freeze a card if you lose it, unfreeze it if you find it, set monthly spending limits and enable additional security.
Save money. Put money aside through regular payments or round up your spare change with Revolut's Vaults. You can also set up a Group Vault with your friends and family and save for a common goal, such as a holiday.
Add travel insurance. At the touch of a button, you pay by the day.
Trade. We explain how this works in our review of Revolut's trading features.
Use virtual cards for spending. You have an unlimited number of virtual cards to buy things online that will help prevent fraudsters from stealing your details and cloning your card.
Book hotels. With Revolut Stays you can book hotels with no booking fees and earn cashback when you are on one of Revolut's premium plans.
Pay group bills. Whether it's splitting the bill with housemates for a pizza takeaway or settling up the spending on a group holiday, Revolut customers can create and customise a Group to do this.
Receive your salary early. With Revolut's Early Salary you can often get paid a day earlier than normal depending on your payroll provider. There is also On-Demand Pay, that is a Revolut feature that lets its account holders access a portion of their earned wages before pay day.
What does the Revolut app look like?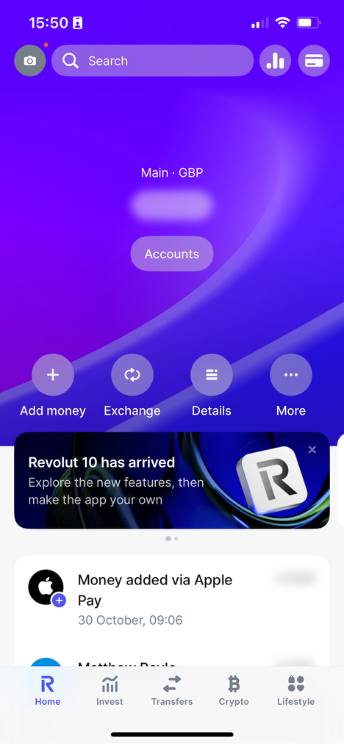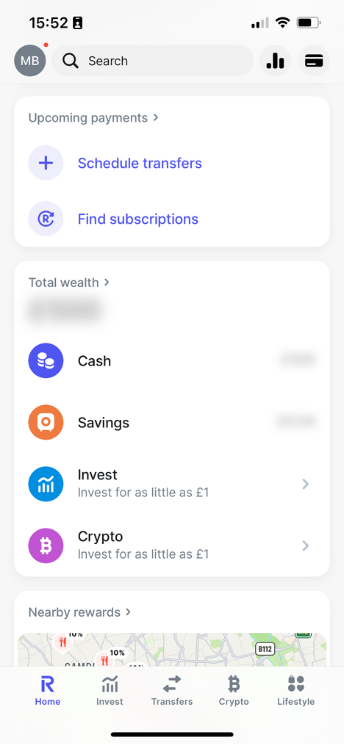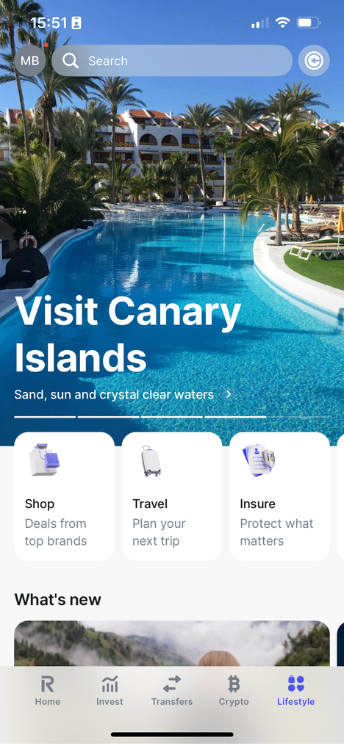 Revolut fees, limits and pricing
Revolut has 5 tiers: Standard, Plus, Premium, Metal and Ultra. This review covers the Standard offering, which is free. We've also reviewed Premium, Metal, Ultra and Revolut Plus – these essentially offer more features and benefits in return for paying a monthly fee.
The Standard Revolut account comes with a few fees:
Weekend markup on all foreign exchanges. If you make a currency exchange during the weekend (including card spending and ATM withdrawals), you'll be charged a markup. That's because the interbank rate is always fluctuating and may not be the same on a Monday as it was on the previous Friday.
Transfers. You get free money transfers to any UK account, as well as other Revolut accounts worldwide, plus its free to transfer euros to any account in the SEPA region. Fees for all other transfers depend on the currencies involved.
Withdrawals. You can make free ATM withdrawals up to a total of £200 per month (and across a maximum of 5 withdrawals), either in the UK or abroad. After this limit, there is a 2% fee.
No overdraft. You cannot go into the red with a Revolut account, so there are no overdraft fees. If a purchase exceeds your available funds the transaction will be declined.
Card delivery. This is a card delivery fee with a standard subscription.
A bit more on the weekend markup: keep in mind that overseas card payments, international ATM withdrawals and money transfers sent abroad all imply a currency exchange, so the weekend markup applies in all these cases. There's an easy way around it though: if you know you'll be travelling or sending money abroad over the weekend, exchange the currency in advance on a weekday and you'll avoid the fee. This will be possible with all the currencies that Revolut lets you hold.
And a note on "fair usage": Revolut's free Standard account comes with a fair usage limit of £1,000 per month for currency exchange transactions – which again applies to overseas card payments, international ATM withdrawals and money transfers sent abroad. After that, a 1% fee applies (in addition to any 1% weekend markup).
Can you use your Revolut abroad?
Yes you can. One of Revolut's most appealing features is that it lets you spend fee-free (on weekdays) at the interbank exchange rate in multiple currencies.
When you're spending abroad, you typically get hit with transaction fees or hidden charges. That's because most financial institutions will either charge you extra fees to use your card abroad, or they change money at a less competitive rate, or both.
Revolut doesn't do that, which is why it's popular with those who have a global lifestyle. Using it abroad is much like using it in the UK. However, don't forget the weekend markup and the £1,000 per month free limit on currency exchanges (both outlined above), plus the fact that free ATM withdrawals are limited to £200 a month – after which you'll be charged a 2% fee, whether you're in the UK or abroad. Learn more about using Revolut abroad.
When will my Revolut card be delivered and what are the design options?
After you've signed up for an account on your phone, your Revolut card should be dispatched the next working day. With standard delivery, it usually takes around 14 days to receive your card and with the express delivery, it takes up to 5 working days depending on the delivery country.
The card that comes with the free Revolut Standard account is a blue and pink colour mix. There are different colours available with the other paid-for accounts, and the Revolut Metal account comes with, unsurprisingly, a metal card.
Whichever Revolut account you have, there is now also the option of designing your own personalised card. Card holders can create a design of their choice via the app, using images, text, emojis and even freehand sketches. The designs are then laser engraved on the metal cards or printed on the cards for other plans. There is an additional cost for a personalised card.
What are Revolut Savings Vaults?
Revolut operates a system of "Vaults", which are essentially pots where you can put money aside. You can open a standard Vault and top it up through regular payments, or by rounding up your spare change from transactions and automatically adding it to your Vault. You can also set up a "Group Vault" with your friends and family and save for a common goal, such as a holiday.
"Savings Vaults" are one of the brand's latest launches. These are interest-earning deposits you place with banks via the Revolut app. Unlike Revolut accounts themselves, Savings Vaults are covered by the FSCS scheme because these savings pots are held at licensed banks, even though they are managed through the Revolut app (more on Revolut and the FSCS scheme can be found below). Savings Vaults are currently available in GBP to all customers whose sole tax residency is the UK. Learn more about saving with Revolut.
Is Revolut a bank and is it safe?
Despite not being a bank yet, Revolut is regulated by the FCA as an institution that deals in electronic money and has to hold all client funds in a "segregated account" at a licensed UK bank. This means that users' money is kept separate from Revolut's finances and that Revolut cannot invest it. So, even if something were to happen to Revolut as a company, your money couldn't be used to pay off its debts. Technically, this means Revolut is not a current account but an e-money account.
However, until it officially becomes a bank, funds held with Revolut aren't covered by the FSCS (Financial Services Compensation Scheme), which protects deposits up to a maximum of £85,000 in the event a bank goes bust. The exception to this is Revolut's "Saving Vaults" – even though these interest-earning savings pots are managed through the Revolut app, the customer funds themselves are deposited at licensed UK banks which have partnered with Revolut to provide savings products.
When it comes to security, Revolut's smartphone app is protected by a password or fingerprint ID. You can also immediately freeze or unfreeze your card in the app if it's been misplaced, lost or stolen. Further control can be added by turning online, ATM and contactless payments on or off.
Lauren liked being able to get her salary a day early
Lauren Hatfield
Chatham
The main feature I went for (when I chose Revolut) was getting paid earlier. The Early Salary feature helps, especially in the build-up to payday, and ensures funds are in my account so money can be sorted before direct debits are taken the next day.
If there's one thing you'd tell a friend who's thinking of getting this, what would it be? That it's easy to use and there's an option to get paid (a day) earlier.
Revolut customer reviews
Revolut was ranked third out of 18 current and e-money account providers in our independent 2023 customer satisfaction survey. Its users gave the brand 5 out of 5 stars and 89% said they'd recommend the e-money account service. Its users highlighted how easy the service is to use, especially when changing money into different currencies. Revolut's customer service was also a key factor in its high favourability rating. Here's what some of those Revolut customers had to say in our survey:
"It's easy to change money to different currencies and they offer good interest rates"
"Very easy to use and customer service are very helpful and polite"
"I think Revolut works very well, they offer a lot of additional services on the app"
"I like the online banking app"
On the Apple App Store, Revolut is rated 4.9 out of 5 stars from over 636,000 reviews. On the Google Play Store, Revolut is rated 4.4 out of 5 stars, from a substantial 2.5 million reviews (last updated, November 2023).
What is Revolut cryptocurrency trading?
We've covered Revolut's crypto service in our review of Revolut's trading features.
Our verdict
Revolut is a great account for travelling as it's packed with features such as fee-free currency exchange, airport lounge passes, travel insurance and cashback on accommodation booked through Revolut Stays. As it's app-based, it has functionality you won't see with other accounts. It also has a range of other innovative features such as the ability to set up automatic currency exchanges. To find out more and download the app, visit the Revolut website.
Fee-free spending abroad isn't as unique as it used to be though. Other challengers, such as Starling and Monzo, also offer fee-free card payments abroad, and unlike Revolut, these providers also have a full UK banking licence.
But if you're looking for a range of features, then Revolut is tough to beat – you won't find the international options, share trading or auto-exchange in the same place pretty much anywhere else. If you need a combination of those features, Revolut is probably your best bet. Get started by visiting Revolut's website and downloading the app.
Frequently asked questions
Banking ratings
The customer satisfaction score ("Customers say") is based on a survey of 2,944 customers carried out in December 2022.
We show offers we can track - that's not every product on the market...yet. Unless we've said otherwise, products are in no particular order. The terms "best", "top", "cheap" (and variations of these) aren't ratings, though we always explain what's great about a product when we highlight it. This is subject to our
terms of use
. When you make major financial decisions, consider getting independent financial advice. Always consider your own circumstances when you compare products so you get what's right for you.